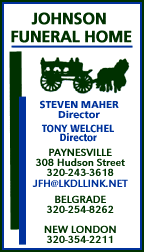 February 2021
January 2021
December 2020
November 2020
October 2020
September 2020
August 2020
July 2020
June 2020
May 2020
April 2020
March 2020
February 2020
January 2020
December 2019
November 2019
October 2019
September 2019
August 2019
July 2019
June 2019
May 2019
April 2019
March 2019
February 2019
January 2019
December 2018
November 2018
October 2018
September 2018
August 2018
July 2018
June 2018
May 2018
April 2018
March 2018
February 2018
January 2018

Paul Ampe, 68, Upsala, Minn.
Paul Albert Ampe, 68, of Upsala, Minn., died at his sister's farmhouse near Swanville on Friday, March 19, 2021. A memorial Mass of Christian Burial will be held at 11 a.m. on Wednesday, March 31, at St. Mary's Catholic Church in Upsala with Rev. David Grundman officiating. Inurnment will be at later date at St. John's Abbey Alumni and Friends Cemetery in Collegeville, Minn. Visitation was held on Monday, March 29, and from 10 to 11 a.m. on Wednesday, March 31, at the church. Paul Ampe was born to Peter and Clara (Weisser) Ampe, the beloved youngest of four children. He grew up on a farm near Paynesville, Minn., a happy, quiet, studious boy who achieved in school and helped on the farm. Early on, he felt called to religious life, but after graduating from Saint John's University, Paul attended the University of Minnesota to study languages and classics. He then took a year off to help his father on the farm before deciding to enter law school at William Mitchell in Saint Paul. He also completed a program in English as a second language at Hamline University. Paul opened a law practice in Albany, Minn., where he practiced for over 38 years. Paul's kind and respectful demeanor and fairness made him loved and respected by all. His prodigious memory and profound intellect were impressive. He had a limitless knowledge of history, knew everybody, and rarely forgot a name. An entertaining storyteller, he was careful to never identify the subject or betray a confidence. Paul lived on a farm near Upsala, where he raised Scottish Highland cattle, horses, and chickens and grew a large garden. He adored his dogs, Scout and Blue. Paul loved classical music, studied and played the cello in the St. Francis Orchestra, sang in the Minnesota Center Chorale, and for many years played in the Albany Area Community Band. Paul collected antiques, loved reading, and enjoyed canoeing and camping in the Boundry Waters. He looked forward to a future walking the woods with his dogs, delighting in nature and travel. He was struck down unexpectedly by pancreatic cancer in November 2020 and struggled with dignity and grace, always kind, patient, and respectful of his caregivers. While ill, when a friend called or visited, he often asked, "How are you doing?" even though he was miserable. He suffered a painful death, with his strong faith as his support. He was only 68. Paul was preceded in death by his parents; an infant brother; brother-in-law Gregory Beckel; and nephew Peter, who died in December 2020 of COVID-19. Left to mourn his loss are his brother, Peter (Donna); sisters, Elizabeth Beckel and Marilyn (Robert Schestak); many nieces, nephews, grand nieces and grand nephews; and his loyal secretary of many years, Diane Raden. Well loved and respected by the community, Paul will live in our memory. In lieu of flowers, memorials are preferred. Arrangements were made with Patton-Schad Funeral and Cremation Services of Melrose.


Audrey Bugbee, 94, Paynesville


With every labored breath she takes, slow and intermingled, we watch and wait. We know that it won't be long – days, maybe weeks. Or, is this the final moment, the final gasp of air that will cross her lips, the last bit of oxygen that will fuel this aging and frail body. We touch her skin and try to offer comfort. Her body is warm and soft; in contrast to the sometimes-regimented mother that raised us from birth. When she opens her eyes there's a sense of acknowledgement; she knows we're there – she knows we are near. We search for the significance of death. Moreso, the lessons of dying. Certainly, as we observe her peaceful repose, these are the lessons of life itself. There were times, we know, when our hearts wouldn't have been so tender; times when we had our disagreements – where we didn't see eye to eye, and times of unfulfilled expectations. There were times when we let her down and even times when she, perhaps, let us down. Age and maturity have a way of ironing out these wrinkles of life and living. Definitions of love don't always come quickly and, for sure, they don't always come easily. Watching this slow progression of dying, this labor of breathing or that of keeping her eyes open, along with the challenges of being comfortable or cognizant; we're left to wonder whose pain is worse, hers or ours? But in the end, we realize that dying is a time of forgiveness and grace. It is a time to find a deeper meaning of love; something that often eludes the living. Audrey Bugbee, 94, of Paynesville passed peacefully on Friday, March 26, 2021, shortly before 3 p.m. Son Paul and his wife Kella held her hand and embraced her spirit as she drew her last breath. Her beloved grandson Benjamin joined them within minutes, in time to say goodbye. In the five days preceding her death, she had seen and visited with each of her other children – Bruce, Mary Jill, Peter, and John – along with their spouses, Diana and Richard, and cherished granddaughters Natalie and Anna. Audrey Juanita (Swenson) Bugbee was born on June 17, 1926, to Swedish immigrants, Swen W. Swenson and Emma Victoria (Nelson), in Walnut Grove, Minn. She graduated from Walnut Grove High School in 1944 and obtained an elementary school teaching certification in 1946. She moved to Minneapolis and worked in a variety of jobs before teaching in a one-room schoolhouse and the Pennock school system between 1946 and 1948. On Nov. 13, 1948, she married William G. (Jack) Bugbee and began her career working and ultimately managing the Bug-Bee Hive Resort on Bee-Utiful Lake Koronis in Paynesville, Minn. She frequently lamented her mother's advice given before she married Jack, "All he's looking for is a wife who can clean cottages and fry fish." She was affectionately known as the "Queen Bee" around the resort and among friends. Audrey especially enjoyed an active social life with a close circle of friends throughout the Paynesville area. She was fond of big band music, loved dancing and singing, and loved to cook and entertain. Always a Swedish beauty queen, she was a Mrs. Minnesota finalist in a statewide competition in 1962. Audrey and Jack raised a family of five children at the resort, instilling a solid work ethic, independent thinking, financial prudence, and hospitality. She is survived by her children, grandchildren, sister Eunice Morgan, and many nieces and nephews. She was preceded in death by her mother and father; two sisters, Lorraine Schmiesing and Dolores Sorbel; a brother, Curtis Swenson; and her devoted and loving husband. Less than three hours before she died, we asked if she remembered that Dad, her husband, died exactly ten years before, on March 27, 2011. She opened her eyes, looked at us and, without hesitation, quietly responded, "I know that." You are invited to share in a gathering of family and friends at Paynesville Lutheran Church on Tuesday, April 6, 2021, at 10 a.m., followed by a service of remembrance at 11 a.m. Funeral arrangements are entrusted to the Johnson Funeral Home in Paynesville. The family is grateful for the many expressions of friendship, love, and support exhibited to our mother throughout her long and active life, especially those who cared for her in her final years. Memorials are preferred to the Paynesville Area Community Foundation, Koronis Manor, or Paynesville Lutheran Church.


Tony Leyendecker, 48, Burtrum


Anthony "Tony" R. Leyendecker, 48, of Burtrum, Minn., passed away on Sunday, March 14, 2021, at the Long Prairie Centra Care hospital. A Mass of Christian Burial took place on Saturday, March 20, at St. John the Baptist Catholic Church in Swanville, Minn., with Father Ron Dockendorf officiating. Burial was in the St. John's Parish Cemetery in Swanville.. Tony was born on Sept. 23, 1972, in Paynesville, Minn., to Louis and Shirley (Neu) Leyendecker. He grew up in Paynesville, Minn., where he attended Paynesville High School, graduating in 1990. Tony was currently working at Country Cat in Sauk Centre, Minn. He enjoyed being outdoors, riding motorcycle, camping, and he especially enjoyed going to rodeos with his family. Tony also enjoyed deer hunting and doing carpentry work, which he shared his talents with many friends and family. Tony married Susan Brake on July 13, 2002, at St. John the Baptist Catholic Church in Swanville, Minn. Tony is survived by Susan and their children, Logan (16), Dalton (12), and Chloe (10) all at home; father, Louis Leyendecker of Paynesville; siblings, Mark (Janelle) of Laporte, Minn., Darren (Brenda) of Litchfield, Minn., Kathy (Perry) Yungk of Paynesville, Minn., and Chris (Paula) of Roscoe, Minn.; mother-in-law, Helen Brake of Grey Eagle, Minn.; sister-in-law, Agnes (Robert) Bearson of Melrose, Minn.; brothers-in-law, Larry (Patty) Brake and Jim (Sarah) Brake of Grey Eagle, Minn.; and many nieces and nephews. Tony was preceded in death by his son, Jared, who passed away in 2015 at the age of 11 after a two-year battle with cancer; and his mother, Shirley Leyendecker in 2017. Funeral arrangements were with the Shelley Funeral Chapel in Swanville, Minn.


Dr. Ray Lindeman, 96, Paynesville


Dr. Raymond J. Lindeman passed away peacefully on Monday, March 15, 2021, at the age of 96. A celebration of life will be held later this spring. In lieu of flowers, memorials are preferred to Alzheimer's Association, Paynesville Lions Club, or Paynesville Lutheran Church. Dr. Raymond Jacob Lindeman was born June 23, 1924, in Delmont, S.D., to Jacob and Martha (Will) Lindeman. He grew up in Parkston, S.D,. and graduated from Parkston High School in 1942. Following high school, he graduated with a bachelor's degree from the University of South Dakota. It was there that he was cast in a musical production alongside Constance Kriens. He and Connie sang a duet, "Let the Rest of the World Go By." On Nov. 24, 1945, he and Connie were united in marriage. They moved to Tennessee, where he earned his medical degree from the University of Tennessee in 1948. Dr. Ray did his internship at Ancker Hospital in St. Paul, Minn., and moved to Paynesville in 1949. Ray enlisted in the Army Air Corps from 1942-46 and was a U.S. Air Force flight surgeon (captain) in 1954-55. Dr. Ray was a family physician in Paynesville from 1949 to 1994. He and Connie raised their five children in Paynes-ville, giving them all a solid foundation. His family station wagon doubled as the Paynesville Ambulance in those early years. He was known for his gentle bedside manner, kindness, and compassion. He proudly delivered well over 3,000 babies during his career in Paynesville. His wife Connie died in 1999, following a battle with multiple myeloma. In 2001, Ray married Mary Lou Strande. The two were married until her death in November 2020. During the course of his life, Dr. Ray was a member of the Paynesville Lions Club, where he earned perfect attendance from 1950-2000. He served in all roles at one time or another and served several terms as district governor of District 5M8. He was a dedicated member of Paynesville Lutheran Church, where he served in many capacities. Among the many accomplishments, he achieved in 96 years were being the president of the Minnesota Academy of Family Physicians, a 16-year member of the Paynesville School Board, clinical associate professor (in the Department of Family Medicine) at the University of Minnesota, and serving on the Mayo Clinical Reviews Committee from 1974 until…well into his retirement. Ray was a master woodworker, creating rocking horses, rocking chairs, toy boxes, games, cradles, and many other creations for his grandchildren. Those treasures have been proudly passed on to his 15 great-grandchildren. Later in life, he began designing and crafting wooden cremation urns. Ray donated much of his artwork to church bazaars and other charity events. In 2019, Mary Lou moved into the CentraCare Care Center, and shortly after Ray moved to Stearns Place. It was the perfect setup, with Ray being able to ride his scooter through the halls to visit his sweetheart. He took great care of her daily, holding her hand and making her feel safe. On his trips through the halls of the Care Center, many residents stopped him for advice or support, which he was happy to provide. The door of his apartment was always open for fellow residents to stop by and visit. Dr. Ray taught interested fellow residents in Stearns Place on topics such as gratitude, aging, mindfulness, and diabetes. Following Mary Lou's diagnosis of Alzheimer's, Dr. Ray was a champion in bringing the Paynesville and outlying communities together to raise awareness and increase education on Alzheimer's and dementia. Through sharing his own personal stories, profound medical education, heartaches, and struggles, he was able to relate to others and normalize a disease that has impacted so many families. Dementia Friends Champions worked to train hundreds of people in the Paynesville area, intending to help educate individuals about dementia and how they can make a difference in their community. Dr. Ray and his dedication inspired change in how we approach Alzheimer's, care for those living with it, and support the caregiver(s). His compassion for others and desire to make real change was featured in the Wall Street Journal in 2015. Perhaps what he has become most known for in the past few years has been his response to the typical question, "How are you?" Almost immediately, he would reply "grateful." And he meant it. The outpouring of condolences and support from community members and former patients has been overwhelming. The family is forever grateful for those who cared for him, especially everyone (staff and residents) at Stearns Place, CentraCare clinic and hospitals, CentraCare Care Center, and hospice. Dr. Ray was preceded in death by his parents; Connie, his wife of 54 years; Mary Lou, his wife of nearly 20 years; as well as two sisters and one niece. Dr. Ray is survived by children Glen Lindeman of Salem, Ore., Paula (John) Monahan of Little Falls, Bruce (Arlene) Lindeman of Paynesville, Marty Olson of Eden Prairie, and Mark (Laura) Lindeman of Paynesville, as well as 15 grandchildren, 15 great-grandchildren, and one niece, Janis (Gerry) Leischner of Oklahoma City, Okla.


Richard Dillon, 70, Paynesville


Richard L. Dillon, 70, of Paynesville died on Wednesday, March 10, 2021, at his home in rural Paynesville. A service will be held at a later date. Services are entrusted to Johnson Funeral Home in Paynesville: www.hafh.org. Richard Leo Dillon was born on Sept. 3, 1950, in Fargo, N.D., the son of Frank and Cyrilla (Lieser) Dillon. He grew up in the Minneapolis area, where he graduated from Benilde High School in St. Louis Park with the Class of 1968. After high school, Dick continued his education at the University of Minnesota. During college, Dick joined the Peace Corps where he served with them in Ecuador and the Fiji Islands. He returned to Minnesota in 1982, and he went back to college and earned his bachelor of arts degree in photo journalism. Dick then moved to Paynesville where he worked with his family at Cyrilla Beach Homes. He eventually took ownership of the business, where he worked until his retirement in 2004. Dick enjoyed hunting and fishing, especially pheasant hunting at the Owl Creek Ranch in Ideal, S.D., which he owned with dear friends. Dick was a member of the Green Roof Area Center and served on the board of directors there. He was an avid supporter of Ducks Unlimited and of the Paynesville community. Dick will be remembered as a proud Irishman who loved a good joke and told a great story. He, along with his family, left a legacy in Paynesville that will always be remembered. Richard is survived by his sisters: Mary (Rob) deRonnebeck of Lakeville, Jeanne Harding of Wayzata, and Ruth (Pete) Hullett of Maple Grove; three nieces; three nephews; beloved friends and caretakers, Amy Bast and Tracy "Millie" Miller; and many cousins and friends. He was preceded in death by his parents, Frank and Cyrilla.


Barb Eull, 66, Paynesville


Mass of Christian Burial will be held at 10:30 a.m. on Wed-nesday, March 17, 2021, at Assumption Catholic Church in Eden Valley for Barbara "Barb" J. Eull, 66, who passed away Thursday, March 11, at her home surrounded by her family. Father Aaron Nett will officiate, and burial will be in the parish cemetery. Visitation will be from 4-8 p.m. on Tuesday, March 16, at Williams Dingmann Family Funeral Home in Eden Valley and one hour prior to the services Wednesday morning at the church. Christian Mothers will pray at 3:45 p.m., followed by parish prayers at 4 p.m. on Tuesday at the funeral home. Barb was born April 19, 1954, in Litchfield to Raymond & Lucille (Holmes) Anderson. She married Tony Eull on July 6, 1974, at St. Philip's Catholic Church in Litchfield. They lived in Kerkoven until moving to Paynesville in 1977. Barb worked as a dental assistant for Drs. Dan and Jen Eckmann in Paynesville, retiring in 2019. She raised a family and helped in the family business. She was a member of Assumption Catholic Church, Lionesses, and was very involved in 4-H when her kids were younger. Barb enjoyed cutting grass on the rider, spending time outdoors, gardening, flowers, and cross-stitch. She was a faithful, quiet, gentle soul who had a great sense of humor and a great smile and laugh. Barb was strong-spirited, a fighter, and a caregiver who always put others first. She was kind, patient, and a huge animal lover. Family was very important to her. Survivors include her husband, Tony of Paynesville; sons and daughter, Tim Eull of Litchfield, Wayne (Megan) Eull of Rapid City, S.D., and Christie (Craig) Bischof of Paynesville; brother, Steve (Barb) Anderson of Savage; and grandchildren, Billy, Dan, Brantley, Colton, and one on the way. Barb was preceded in death by her parents; and her brother, Stan. Obituary, guest book, and video tribute available online at: www.williamsdingmann.com.


Carol Mohr, 83, Mesa, Ariz.


Carol Ann (Skeie) Mohr, 83, is in the arms of Jesus. She received her wings on Wednesday, March 7, with her husband Jerry by her side in Mesa, Ariz. A celebration of her life will be held at a later date for family and friends. Carol was born March 2, 1938, in Minneapolis, Minn., to Elmo and Marjorie ( Walby) Skeie. She graduated from New London High School in 1956 and then continued her education in Willmar and became an LPN. Carol was united in marriage on Oct. 23, 1959, to Jerome Mohr of Atwater, Minn. They shared 61 years together. Carol enjoyed working at the Paynesville Hospital for many years until her five children were born: Pam (Jeff) Lieser of Spring Hill, Jackie Fenske of Chandler, Ariz., Kelly (Kelley) Mohr of Mesa, Ariz., Romelle (Michael)Hentges of Paynesville, and Kerry (Dana) Mohr of Litchfield, Minn. Wanting to spend more time at home with her family, Carol decided to change careers. She then drove school bus for Paynesville Motor and Transfer. Her love of children and sports made this a great opportunity. She loved seeing the children grow from year to year. Driving to many sporting events and state wrestling tournaments were a highlight. Carol drove bus for 18 years until she and Jerry became snowbirds and moved to Mesa, Ariz., in 1993. Carol and Jerry would return to Paynesville every summer for family fun. Many hours were spent playing cribbage, cards, and Aggravation around the kitchen table. Grandchildren remember making several trips to grandma's candy drawer, which was always filled with salt water taffy, gum, and strawberry bon bons. Summer afternoons were also filled with family fish fries, topped off with rocky road or chocolate marshmallow ice cream cones. Evenings with Grandma/Mom were always special too. They were spent hanging out, eating buttery popcorn on her couch, playing music, and taking numerous pictures (which are now called selfies.) She always knew how to make everyone feel special and taught us how to laugh. Many special memories were made each summer with Grandma Carol. Family was everything to her, and she was everything to us. Her amazing, kind spirit will live on forever. Carol had many hobbies including reading all James Patterson books, teaching the grandkids how to sing karaoke and appreciate music, transplanting flowers, and cheering on her favorite basketball and football teams from college to pro. Faith, family, and fun were life lessons taught by Carol. Carol's family would like to extend a special thank you to all her caregivers over the years. We appreciate you. Carol Ann Mohr is survived by her husband Jerry; five children; 15 grandchildren; 25 great-grandchildren; numerous nieces and nephews; and six siblings, Thomas Skeie of Arlington, Texas, and New London, Minn., James (Martha) Skeie of Corcoran, Minn., Mary Anderson of Marshill, N.C., Richard Skeie of Brandon, Fla., Susan (Bruce) Scott of Golden Valley, Minn., and Kathy Phillips of Minneapolis, Minn. Her heavenly angels waiting to greet her are her parents, Elmo and Marjorie Skeie; brother Alan Skeie; sisters-in-law Linda Skeie and LeAnn Skeie; brother-in-law Dudley Anderson; nephews Eric Skeie and Kevin Skeie; and niece Gretchen Womack.


Kurt Wiese, 54, Coon Rapids


Kurt J. Wiese, 54, of Coon Rapids, Minn., died on Thursday, March 4, 2021, at his home in Coon Rapids. A private memorial service will be held at the Paynesville Evangelical Free Church. A public visitation will be held from 5 to 7 p.m. on Wednesday, March 24, at the Johnson Funeral Home in Paynesville: www.hafh.org. Kurt Joseph Wiese was born on Feb. 4, 1967, in Worthington, Minn., the son of Don and Gloria (Smith) Wiese. In 1974, the family moved to Paynesville. Kurt grew up on Lake Koronis where his family owned and operated Stonegate Resort. He received his education in Paynesville, graduating from Paynesville High School with the Class of 1985. During high school Kurt enjoyed playing hockey, fishing, and boating. After high school, Kurt moved to the Minneapolis area where he worked for the University of Minnesota. Kurt loved the outdoors. He spent his free time fishing area lakes with his dad. Kurt and Don also took many fishing trips together; he especially loved their yearly trip to Upper Red Lake. In addition to fishing, Kurt enjoyed hunting, taking many trips to South Dakota. He is survived by his father, Don of Paynesville; sister, Allyson (John) Holland of Coppell, Texas; brother, Ronald (Krista) of Excelsior, Minn., twin brother, Kent (Wendy) of Worthington, Minn.; and brother, Jason (Arlene) of Frisco, Texas; nieces and nephews, Ashley, John B. (Jennifer), Chris, Emily, and Abigail Holland; Ry and Greta Wiese; and Ian, Avery, and Hannah Wiese; and many aunts and uncles. Kurt was preceded in death by his grandparents; mother, Gloria; and infant sister, Kathy.


Joe Hanson Jr., 67, Paynesville


Joseph A. Hanson Jr., 67, of Paynesville passed away unexpectedly on Thursday, March 4, 2021, at his home. Services will be held at a later date. Arrangements are by the Daniel-Anderson Funeral Home, Paynesville. Joe was born Aug. 26, 1953, in Willmar, Minn., to Joseph and Dorothy "Belle" (Olson) Hanson Sr. He was a 1971 graduate of Willmar High School. In 1976, Joe started his 30-year career at UPS, retiring in 2006. Joe was united in marriage to Barbara J. Loher on Dec. 9, 1977, in Willmar. Joe enjoyed tending his gardens and being out and about visiting with people. Joe will be remembered for his pranks, jokes, funny notes, and humorous stories. Survivors include his wife, Barb; two daughters, Kelly of Paynesville and Rachel (Andrew) Jensen of Shakopee; two grandchildren, Annika and Maggie; two sisters, Dee Holm of Willmar and Linda (Larry) Holmberg of Shoreview; and numerous nieces and nephews. He was preceded in death by his parents; sister, Betty Tradd; and brother-in-law, Ron Holm.


Patricia Sorenson, 74, Paynesville


Patricia A. (Larson) Sorenson died peacefully on Monday, Jan. 4, 2021, at the CentraCare Hospital in Paynesville. Patricia was born Feb. 18, 1946, to Lewis and Olga Larson in Hawick, Minn. She attended New London schools. Patricia married Mike Sorenson on Dec. 26, 1963. She got a dental assistant's license in St. Cloud and worked in the field for a few years. She then graduated from St. Cloud Beauty School and opened a small beauty shop in Paynesville, Minn. In 1976, Patricia and Mike moved to Fosston, Minn., where she was co-owner of TrueValu hardware store and owner of Headquarters beauty salon. Patricia and Mike moved from Fosston to Norway Lake in Sunburg, Minn., in 1998. They also lived in New Hope, Minn., as caretakers of a condominium building for ten years. Patricia and Mike enjoyed spending the winters in Texas with her sisters, nephew, Larry, niece Jan, and friends. It was a wonderful time in her life, and she looked forward to it after every family Christmas. Patricia is survived by her son, Ty Sorenson of San Diego, Calif.; daughter, Gina Feinstein of Minneapolis; grandson Nash Feinstein of Minneapolis; daughter-in-law Laurie Ann Regondon; son-in-law,Michael Feinstein; two nieces; and 13 nephews. She was preceded in death by her parents; husband, Michael Sorenson; brother, Harvey Larson, sisters, Lenore Kiether, Genore Bork, Arlis Person, and Norma Mathison; and one nephew, Danny Mathison. A memorial service will be held for Sorenson at Harvey Anderson Johnson Funeral Home in Paynesville on Saturday, April 17. More details to follow.


Ruby Snyder, 87, Paynesville


Ruby Fern Snyder, 87, of Paynesville, died on Friday, Feb. 26, 2021, at GlenOaks Care Center in New London. Her funeral service was held on Tuesday, March 2, at Grace United Methodist Church in Paynesville. Burial will be at Salem Cemetery in rural Paynesville. Ruby was born on Oct. 30, 1933, in Waterbury Township Redwood County, Minnesota, the daughter of Victor and Ellen (Fell) Frank. She grew up on a farm where she walked a half mile to attend District #85 country school. In 1947, her family moved to Paynesville, where she attended Paynesville School until the tenth grade, when she stayed home to attend to her ailing mother. On Oct. 1, 1954, Ruby was united in marriage to Leslie Snyder at the EUB Church in Paynesville. This union was blessed with two sons and a daughter. The family made their home in rural Paynesville. Ruby was a former member of Salem Church in rural Paynesville and a current member of Grace United Methodist Church in Paynesville. She was very active in both churches, volunteering as the secretary of the Sunday School, teaching Sunday School and Vacation Bible School, and participating in the women's circles and bible studies. Ruby enjoyed writing the North of Town News article for the Paynesville Press for many years, gardening, sewing, and quilting. Above all else Ruby loved her family especially spending time with her grandchildren. She is survived by her husband, Les of 67 years; daughter, Debra Engwall of Willmar; son, Dan of Sioux Falls, S.D.; grandchildren, Tyler Engwall of Shakopee and Mariah (Kyle) Pundsack of Freeport; great-grandchildren, William Pundsack and Baby Pundsack arriving in June; and many nieces and nephews. Ruby was preceded in death by her parents; son Larry in 1958; brothers Vern, Glenn, and Roy; and sisters Joyce, Lois, and Jean. Services were entrusted to Johnson Funeral Home in Paynesville: www.hafh.org.


Darleen Glenz, 88, Paynesville


Darleen J. Glenz 88, of Paynesville died on Friday, Feb. 26, 2021, at CentraCare Health - Paynesville Care Center in Paynesville. Her funeral will be held at 11 a.m. on Wednesday, March 3, at Grace United Methodist Church in Paynesville. Burial will be at Grove Cemetery in rural Paynesville. A visitation will be held one hour prior to the service at the church. Darleen Joann Glenz was born on May 6, 1932, in Union Grove Township, the daughter of Deodor and Jenny (Dalhaug) Olson. Darleen grew up in rural Paynesville where she attended District #19 country school and went on to graduate from Paynesville High School. On April 21, 1951, Darleen was united in marriage to Roger Glenz at Nordland Lutheran Church in rural Paynesville. This union was blessed with four daughters and three sons. The family made their home in rural Paynesville where they ran a small farm. After her children were older, Darleen worked at Easterdays Department Store in Paynesville. Roger died in 1999; they were able to share in 48 years of marriage before his death. Darleen was a member of Grace United Methodist Church, where she was the organist for many years. She also enjoyed bowling in couples league with Roger, gardening, sewing, cooking, and baking. Darleen loved to entertain family and friends and hosting gatherings. More than anything else Darleen loved spending time with her children and grandchildren. She is survived by children: Rick (Michelle) of Spicer, Jody Shaw of Dent, Geri (Steve) Horn of Andover, Raymond (Sharon) of Paynesville, Brad (Debbie) of Paynesville, Tami Glenz of Dayton, Ohio, and Trudi (Billy) Corder of Leesville, S.C.; numerous grandchildren and great-grandchildren; sister, Glenice (John) Schaumann of Paynesville; and many nieces and nephews. Darleen was preceded in death by her parents; husband, Roger; grandson, Ryan Glenz; and siblings: Norman Olson, Murlin Olson, and Pearl Hendrickson. Services are entrusted to Johnson Funeral Home in Paynesville: www.hafh.org.


Fay Jones, 83, Paynesville


Fay Jones, 83, passed away peacefully at Cherrywood Advanced Living, surrounded by her family on Sunday, Feb. 21. Fay was passionate about everything she did, whether it was her work, her friends, or her family. Fay was born in Rock Springs, Wyo., on March 15, 1937. She went to Denver, Colo., for nurse's training and then to Albuquerque, N.M., where she met her husband, Ray. They were married on Oct. 5, 1957 in Albuquerque. She and Ray moved to Paynesville, Minn., soon after, where they made a life for their family. Fay worked as a registered nurse at the Paynesville Hospital for 20 years, as well as providing home care to finish her nursing career. She loved to spoil her grandchildren and was called Nany Fay – her favorite title after retirement. She had an immense love for reading and books. Some of her favorites were James Patterson and Louis L'Amour. She almost never went without a book in her hand. Fay's family would like to thank the staff at Cherrywood in St. Cloud, Moments Hospice, and Stearns Place in Paynesville for their love and care for her over the last few years and final days. Fay was preceded in death by the love of her life and husband, Raymond Jones, along with her parents Mabel and Carl Hafner. She leaves behind her and Ray's legacy – children: Lindy (Julie) Jones of Sartell, Lon (Denise) Jones of Becker, and Beth (Craig) Kendall of Becker; grandchildren and great-grandchildren: Molly and Phil Bruer, Ben, Jamie, Gabe and Baby Jones; Dani, Josh, Lucy and Baby Bjorlin; Libby Kendall; and Joe Knutson, Kelsey, Steel and Baby Hart; Erin Jones and Jack Jones. There will be a private family service at Fort Ripley Cemetery where she will be reunited with her husband Ray. Memorials are preferred to Moments Hospice.


Allard Christenson, Mahnomen


Allard Christen-son, 92, of Mahnomen, Minn., died Thursday, Feb. 25, 2021, at the Mahnomen Health Center Nursing Home. A funeral service will be held at 2 p.m. on Saturday, March 6, 2021, at the First Lutheran Church, Mahnomen, Minn. Visitation will be held one hour prior to the service at the church. Burial will be in the Nordland Lutheran Church Cemetery in rural Paynesville, Minn., in the spring. Following all COVID-19 safety protocols, social distancing will be practiced, and all must wear a mask to participate. The service will be recorded and available on the website shortly after the service. Allard John Christenson was born July 1, 1928, in the Paynesville Hospital. His parents were Alfred and Emma (Sunde) Christenson. He grew up on the family farm in Irving Township, Kandiyohi County. He attended District #24 through the eighth grade and graduated in a ceremony for country schools at the Willmar Auditorium. He then attended Paynesville High School and graduated with the Class of 1946. He attended Augsburg College for two years and then transferred to the University of Minnesota, where he majored in agronomy and minored in chemistry. He married Marguerite (Peggy) Daugherty on Oct. 18, 1957. He was employed by Northrup King, working in their hybrid corn department, He later worked for Land O'Lakes in their traffic division. In 1964, he became an agronomist/loan planner for the USDA Farmers Home Administration. The family lived in Litchfield and St. Cloud and Hampton, Iowa, prior to moving to Mahnomen, where Allard led the opening of a new FHA (Farmers Home Administration) office. He always loved farming and his goal was to help farmers make a good living farming. Allard was a very active member of First Lutheran Church where he was a council member, a choir member, and a Sunday School teacher. He was a faithful and enthusiastic fan of Mahnomen athletics, theatre, and musical activities, the Minnesota Vikings, and proudly talked of these activities. He was a gifted woodworker and built all of their furniture, made mostly of maple. He enjoyed fishing, deer hunting, snowmobiling, dancing, playing cards, coffee breaks, candy, camping, music, and traveling. He is survived by his wife, Peggy; children: Caryn Hewitt of Fargo, N.D.; Julie (Ron) Barrett of Glendale, Ariz.; Robyn (Rick) Spaeth of Paynesville; Mark (Mishelle) of Alexandria; and David of Paynesville; grandchildren: Martty, Kelsy, Alexys, Trevor, Justin, Lindsay, Abbriella, Jordan, Hayden, Lauren, Kendal, Micah, Keely, Daniel, Joey, Jacob, and Christopher, and great-grandchildren: Morgan, Molly, and Eli. He is also survived by sister Doris Behr. Arrangements were entrusted to Anderson Family Funeral Home in Mahnomen: www.andersonfamilyfh@arvig.net. Please feel free to sign the guestbook, send condolences, and view other opportunities which may be available to the public due to COVID-19 restrictions.