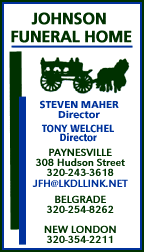 June 2022
May 2022
April 2022
March 2022
February 2022
January 2022
December 2021
November 2021
October 2021
September 2021
August 2021
July 2021
June 2021
May 2021
April 2021
March 2021
February 2021
January 2021
December 2020
November 2020
October 2020
September 2020
August 2020
July 2020
June 2020
May 2020
April 2020
March 2020
February 2020
January 2020
December 2019
November 2019
October 2019
September 2019
August 2019
July 2019
June 2019
May 2019
April 2019
March 2019
February 2019
January 2019
December 2018
November 2018
October 2018
September 2018
August 2018
July 2018
June 2018
May 2018
April 2018
March 2018
February 2018
January 2018

Clifford McCann, 84, Paynesville
Clifford McCann, 84, of Paynesville died on Tuesday, July 19, 2022 at Assumption Nursing Home in Cold Spring. Funeral services were held on Friday, July 22, 2022, at Grace United Methodist Church in Paynesville. Visitation was Thursday, July 21, at the Johnson Funeral Home in Paynesville and for one hour prior to the service at church. Burial was in Gausdal Lutheran Cemetery near Belgrade. Clifford Andrew McCann was born on July 12, 1938, in Willmar, the son of Ambrose and Pearl (Topp) McCann. He grew up in Georgeville, where he attended country grade school. On July 29, 1958, Cliff was united in marriage to Hattie Bothof in Brooten. They made their home in rural Belgrade where he farmed, drove truck, and worked through the years for Windy Hill, Jennie-O, and Liebl Farms, before retiring in 1998. He was a member of Gausdal Lutheran Church and Crow River Riders Saddle Club. He enjoyed horses, bingo, trips to the casino, junk collecting, and playing dominos and cards. He is survived by his wife of 64 years, Hattie; children, Allen (Colleen) McCann of Waukesha, Wis., Betty McCann of Belgrade, Danny McCann of Belgrade, Carol (Rob) Moe of New London, Susan Athmann (Jerry Brannan) of St. Augusta, Sandra (Daryl) Linder of Spicer, and Sara (Joshua) Baker of Cold Spring; 13 grandchildren; and eight great-grandchildren. He was preceded in death by his parents; and siblings, Dale Rosengren and Gloria Sonstegard.


Mary Helland, 91, Stewartville


Mary Caroline Bloomberg Helland, 91, died on Saturday, July 16, 2022 surrounded by family at Mayo Clinic Rochester – St. Mary's Campus. Mary was born on Aug. 8, 1930, to George and Mae (Sawtell) Bloomberg in State Center, Iowa. Mary spent much of her childhood in Ames, Iowa, graduating from Ames High School. She married Duane Helland on Oct. 31, 1948, at the Little Brown Church, Nashua, Iowa. They farmed near McCallsburg, Iowa, then Grand Meadow, Minn., and for 31 years near Stewartville. Mary worked in sales at JC Penneys in Austin and Rochester and for 25 years in the business office at Mayo Clinic in Rochester. They retired in 1993, moving to a home in Stewartville. Mary was a member of Zion Lutheran Church in Stewartville and was active with the Center for Active Adults and the Stewartville Lionesses. Mary and Duane moved to Prairie Meadows in Kasson in 2011, to Stewartville Root River Estates in 2014, and then to assisted living at The Meadows in Grand Meadow, where Mary has lived since 2015. Duane died in 2017. Mary loved traveling with her husband. She was an avid reader; she also enjoyed music, embroidering, and painting. She will be remembered for her gentle spirit, lovely smile, and positive outlook on life. She loved hugs and letters from her grandchildren and great grandchildren. The Helland family wishes to thank the many kind, compassionate workers at The Meadows. Surviving Mary are her four children: Mark (Lois) of Eau Claire, Wis.; Kathy (Ron) Jensen of Austin; Diane (Al) Peterson of Eyota; and Carol Smith (Ed Kunz) of Paynesville; 14 grandchildren; 24 great-grandchildren; and two great-great grandchildren. She was preceded in death by her husband, Duane; her parents; sister Evy Bishop; brother Jack Bloomberg; and grandson Jeremy Helland. The funeral service for Mary was held on Thursday, July 21, 2022, at Zion Lutheran Church in Stewartville with Rev. Tim Bowman officiating. A time of visitaion for family and friends took place one hour prior to the service at the church on Thursday morning. Burial took place at Woodlawn Cemetery in Stewartville. Arrangements were with Griffin-Gray F.H. in Stewartville. Memories and condolences of Mary are welcome at www.griffin-gray.com.


Paul Stang, 62, Lake Henry


Mass of Christian Burial was held on Friday, July 15, 2022, at St. Margaret's Catholic Church in Lake Henry for Paul J. Stang, 62, of Lake Henry. Paul passed away on Saturday, July 9, 2022, at the St. Cloud Hospital. Reverend Glenn Krystosek officiated. Burial took place in the St. Margaret's Parish Cemetery in Lake Henry. Paul was the son of Louis and Mary (Glatzel) Stang and was born on Dec. 31, 1959. He attended Lake Henry's grade school and graduated from Paynesville High School. He stayed on the family dairy farm and partnered with his brothers Charles and Roger to form Triple S Farms near Lake Henry. Paul was a brother to 10 siblings and to 31 nieces and nephews, who all loved him dearly. Everyone in the family has special memories of Paul. Of special note was his kind-hearted care for his mother after his father passed away. She counted on him to take her to Saturday evening Mass. His faith, family, friends, and neighbors were important to him. Paul will be deeply missed by his siblings Ruth (Charles) Schultz, Charles Stang, Roger Stang, Michelle (Roger) Watkins, Virginia (Vern) Scherping, Donna Bradford, Earl (Anne) Stang, Evelyn (Ronald) Nietfeld, and Sonia (Donald) Dickerson, 31 nieces and nephews, many farming neighbors and friends, the veterinarian and his family, and Sarah, who helps on the farm. Paul was preceded in death by his parents, grandparents, sister Marcia Stang, and brother-in-law Michael Bradford. A special thank you to chaplain Father Mark Stang and Father Glenn Krystosek, who helped Paul spiritually this past week, and to St. Cloud Hospital's cardiac care unit and oncology doctors and nurses who cared for Paul these past weeks. Memorials are preferred in lieu of flowers.


Eldon Hanson, 71, Hawick


Eldon J. Hanson, 71, of Hawick, died on Sunday, July 10, 2022, at the St. Cloud Hospital. Funeral services were held on Friday, July 15, 2022, at Nordland Lutheran Church near Paynesville. Burial with military honors was in the church cemetery. Eldon John Hanson was born on Aug. 15, 1950, in Willmar, the son of John and Edith (Larson) Hanson. He grew up on the family farm, attended country grade school in District #24, and graduated from Paynesville High School in 1968. After school, he entered the U.S. Army where he served as an MP stationed in San Francisco during the Vietnam War. He was honorably discharged and returned home where he worked several jobs including hauling turkeys for Jennie-O, maintenance for AMPI, and shopwork and painting out of his home. He retired in 2016 but continued to work out of his shop. Eldon was a member of Nordland Lutheran Church. He enjoyed working on old farm equipment and collecting toy tractors. He is survived by his brother, Laurel (Bianca) Hanson of Paynesville; niece, Amy Hanson; and numerous cousins. He was preceded in death by his parents; and half-brother, Duane Brix.


Jeanette Waldorf, 94, Paynesville


Memorial Mass of Christian Burial celebrating the life of Jeanette A. Waldorf, 94, of Paynesville will be held at 11:30 a.m. on Monday, July 25, 2022, at St. Louis Catholic Church in Paynesville. Jeanette peacefully passed away at home on Monday, July 11. Reverend Glenn Krystosek will officiate. Burial will be in the parish cemetery. Visitation will begin at 10 a.m. on Monday, July 25, at the church. Arrangements are with Daniel-Anderson Funeral Home, Paynesville. Jeanette was born on Aug. 21, 1927, in Lake Henry, Minn., to Michael and Elizabeth "Lily" (Lieser) Waldorf. She graduated from eighth grade at Lake Henry School. Her family moved to Paynesville in 1941, and Jeanette graduated from the Paynesville High School in 1945. They lived on Lake Street until moving to Minnesota Street in 1964. Jeanette never married and was caretaker of her mother. She also worked at the Ben Franklin Store and then became bookkeeper for the Pay-nesville Schools for 27 years. Jeanette was an active member of St. Louis Parish and Christian Women. She served as the church organist for 50 years. She also was a member of the Paynesville American Legion Auxiliary and volunteered at the Koronis Manor and the Good Samaritan Care Center. Jeanette enjoyed traveling with her sisters and spending time at the lake. Whenever the sisters got together, they enjoyed lots of music, singing, laughter, and maybe a beer or two! She is survived by her sister, Joanna Pendergast; and many nieces, nephews, and friends. She was preceded in death by her parents; sisters, Lucille (Norbert) DeMorrett, Irene (Jerome) Mady, Bernadette (Bernard) Steidl, and Margaret (Donald) Wendlandt; brother-in-law, Donald Pendergast; niece, Christine Steidl; and nephew, Robert Wendlandt. A special thank you to the staff of Koronis Place for their exceptional care. Memorials are preferred in lieu of flowers.


Nickolas Schmitz, Richfield


Mass of Christian Burial will be held on Monday, July 25, 2022, at 11 a.m. at St. Richard's Catholic Church in Richfield, Minn., for Nickolas Schmitz. Visitation will be on Sunday, July 24, from 2 to 4 p.m. at Morris Nilsen Funeral Chapel in Richfield, and one hour prior to service on Monday, July 25. Internment will follow on Monday, July 25, at 2 p.m. at Resurrection Cemetary in Mendota Heights. Please meet in Assembly Area B. Nick was raised in St. Martin, Minn., by his parents, George and Mathilda Schmitz. On Nov. 16, 1963, in Cold Spring, Minn., he married Jean Althoff. They were happily married until her passing in 1992. Nick worked in the sewer and water construction field for 40 years. He retired and then worked part-time at Rambow Foods for 12 years. After he retired for the second time, he volunteered at Arc Village in Richfield. Nick was an active 50-plus year member of the St. Richard's Church community. He was a member of the American Legion Post #0435, Knights of Columbus, Laborers International Union, and the Meat Cutter Union. He enjoyed a good conversation, spending time with his grandchildren, and traveling with his partner, Diane Elsberry. Nick was the original American Picker, always finding treasures to bring home and share. Nick is survived by his childrenm, Ronald Schmitz, Roger (Michelle) Schmitz, Maria (Kirk) Houseal, and Scott (Dook) Schmitz; grandchildren, Marc Schmitz, Quimera Schmitz, Sara Schmitz, Emily Schmitz, Nicole (Joe) Kerlin, Anna (Kris) Lopez, and Tayzo Schmitz; great-grandson, Sebastian Mann; partner Diane Elsberry; siblings Martin Schmitz, Herman Schmitz, Frances Remer, and Robert Schmitz; and nieces and nephews. He was proceeded in death by his wife, Helen Jean Schmitz; and siblings, Catherine Mehr, Leonard Schmitz, Herbert Schmitz, Henry Schmitz, Mathias Schmitz, and Paul Schmitz. Memorials are preferred to the Richfield Historical Society.


Donald Jensen, 76, Eden Valley


Donald C. Jensen, 76, of Eden Valley, died on Saturday, June 4, 2022, at his home on Rice Lake surrounded by loving family. A memorial service will be held on Saturday, July 23, at 11 a.m. at Peace Lutheran Church in Cold Spring. A visitation will be held one hour prior to the service at the church. Burial with military honors will be at 2 p.m. in the Paynesville Cemetery, following the lunch at church. Don Carl Jensen was born on Sept. 24, 1945, in Minneapolis, Minn., to Donald and Marlys (Lockrem) Prosch-Jensen. He spent his childhood honing his woodworking skills with his grandfather (Lockrem), a lifelong passion that yielded numerous pieces of furniture, toys, and several watercraft, including a speed boat and an innovative water sled that carried family and friends across Lake Koronis on countless summer afternoons. He loved to fish and passed on his knowledge of the best fishing holes and techniques to his daughters and grandchildren. Don also loved music, especially folk music, and often filled the house with the sounds of his guitar and banjo. In 1963, Don graduated from St. Louis Park Senior High School and embarked on a career in insurance that spanned 48 years. He took great pride in his role as an insurance manager (CIC), and deeply valued the relationships he built with his colleagues and clients, who he said were like family to him. Don was known for his deep knowledge of insurance, his "this will only take a minute" (an hour or more) meetings, and his genuine care and compassion for others. In 1965, Don enlisted in the Army National Guard, serving until he was honorably discharged in 1971. On Feb. 14, 1966, he was joined in marriage to Linda Burr, noting frequently that this was the best decision he ever made. Don and Linda settled in Albert Lea, Minn., in 1974, where they raised their three daughters. In addition to serving his clients, Don devoted time to the American Red Cross, American Legion, Albert Lea Chamber of Commerce, Deer Hunter's Association, Lions Club, Masons, and Jaycees. In 1997, Don and Linda moved to Rice Lake, near Eden Valley, Minn., fulfilling a lifelong dream to live on the lake, surrounded by wonderful neighbors and loving relatives. It is here that Don spent his retirement, spinning wild tales of Walter (the Walleye), serving as president of the Rice Lake Road Association, enjoying the beautiful chaos of family gatherings, and relishing the peace of watching the birds from his favorite chair in his den. Don is survived by his loving wife of 56 years, Linda; daughters, Kristin (James) Heaton of Mansfield, Ma., Melissa (Andrew) Losasso of Cartersville, Ga., and Donelle (James) Hintermeister of Becker, Minn.; grandchildren, Ainsleigh, Abigail, Emmi (Gray), Ethan, Samuel, and Sydne; sister, Liane (John) Pfaff; brother-in-law, Kevin (Verna) Burr; sister-in-law Jane Burr; and many wonderful nieces and nephews. He is preceded in death by his parents, Donald and Marlys; parents-in-law, Gerald and Iva Burr; brother-in-law, Jerry Burr; and nephew, Eric Pfaff.


Amanda Hirman, 36, Paynesville


Amanda K. Hirman, 36, of Paynesville (formerly of Willmar) died on Friday, July 15, 2022, at her home in Paynesville. A Mass of Christian Burial will be held at 11:30 a.m. on Thursday, July 21, at St. Louis Catholic Church in Paynesville. Interment will be at the church cemetery. A visitation will be held for one hour prior to the service at the church. Services are entrusted to Johnson Funeral Home in Paynesville. Amanda Kaye Hirman was born on April 6, 1986, in Killeen, Texas, to Todd and Mary (Driessen) Burlingame. Amanda's outgoing personality made it easy to make fast friendships in every new town the family moved to; she was never a stranger for long. She attended Paynesville High School, excelling in danceline and choir while working various jobs, and graduated in 2004. After high school, Amanda attended Minnesota West Community and Technical College, where she earned her dental assistant certificate. Amanda was blessed with two beautiful children, Addie and Oliver. The family made their home in Willmar, spending their days at the lake, the park, or thrift stores. Amanda worked as a dental assistant, caring for patients at Hanson and Fonkert Dental, where she was welcomed and loved like family. When Amanda wasn't cheering on the Minnesota Vikings, she enjoyed fishing, playing cards, and garage sale hunting. Amanda loved spending time with her family and her children were her world. She was an incredible mother and friend who blessed the lives of those around her with laughter, strength, and love. She was a giver who always put everyone's needs before her own. Amanda is survived by her children, Adeline Hirman and Oliver Hirman; parents Todd and Mary Burlingame of Paynesville; sister Kaitlin Burlingame of Minneapolis; grandmother Georgia Burlingame of Canby; and many aunts, uncles, and cousins. Her 'Amanda-ism's', her resilient spirit, and the tremendous love she shared will be remembered by all.


Victor Topp, 87, Manannah


Mass of Christian Burial was held on Monday, July 11, 2022, at Church of Our Lady in Manannah for Victor "Vic" J. Topp, 87, who passed away Wednesday, July 6, at CentraCare Health Care in Paynesville. Rev. Brian Mandel and Deacon Roger Osborne officiated, and burial was in the parish cemetery. Victor John Topp was born on Dec. 3, 1934, in Union Grove Township, Meeker County, to Harold and Mary (Garvey) Topp. He was baptized and confirmed at the Church of Our Lady, Manannah. Vic grew up on the Topp Family Farm in rural Eden Valley. He attended Rural District 18 through the eighth grade, then Paynesville High School where he graduated in 1952. Vic enlisted in the U.S. Army on Feb. 3, 1954, and was honorably released on Feb. 1, 1957. On Nov. 23, 1957, Vic married JoAnn Johnson at the Church of Our Lady. They resided in Maplewood, Minn., until moving to the family farm in rural Eden Valley in 1966. Vic loved Allis Chalmers tractors, farming, spreading manure, reading, earlier in life dancing to polka, later in life listening to music and enjoying a cold beer at Manannah Hilltop, attending his grandkids sporting events, going to the Topp cabin in Outing, RFD-TV, tractor parades, old classic country music, riding in the Ranger, and mowing grass. He loved eating home-cooked meals, cheeseballs, and moonshine. He is survived by wife, JoAnn; children, Dan (Bonnie), Bob (Elyse), Lori (Larry), Jim (Tara), and Kevin (Shannan); siblings, Rosemary (Gordy), Tess (Tom), David, and Colleen (Gary); sister-in-law, Carol; 17 grandchildren; and 18 great grandchildren. He was preceded in death by his daughter, Jody; his parents, Harold and Mary; brother, Harold Jr.; brother-in-law, Lloyd Theilen; and sister-in-law, Renee. May Vic's great attitude and humility carry on in all those he touched. Arrangements were entrusted to Williams Dingmann Family Funeral Home in Eden Valley. Obituary, guest book, and video tribute are available online at: www.williamsdingmann.com.


Helen Lehman, 98, Paynesville


Helen C. Lehman was born Feb. 11, 1924, on the country homestead near Rice Lake in Eden Lake Township, Minne. She went to be with the Lord on Thursday, July 7, 2022. At the young age of four, her father passed away leaving her mother to raise three young girls on the farm. Life was hard during these years, but the young family was resilient and made ends meet by opening a country store in their home and selling homemade bread, home brew, and canned goods. Helen attended country school and graduated from the eighth grade one year early. Despite pleading with her mother to continue her education, she soon began working, caring for an elderly woman, which ultimately became her life calling to care for those in need. During World War II, Helen temporarily moved to Connecticut and took on the role of 'Rosie the Riveter,' attaching gasoline tanks to Corsair airplanes at Chance-Vought Aircraft in Stratford. When the war ended, she celebrated V-J Day in New York Times Square. No longer having a job, Helen moved back to Minnesota and began working at Willmar State Hospital. Helen and Don were united in marriage on Aug. 26, 1946. They lived in Litchfield until moving to Paynesville in 1953. Two children, Meredith and Kathy, were born to this union. In 1972, Helen returned to school, passed her high school equivalency in April, and then graduated from the Licensed Practical Nursing program in October. She continued to work at Paynesville Community Hospital for 30 years until retiring in 1996. Helen was active in Grace United Methodist Church, teaching Sunday School and participating in the youth leader program. She served as a Brownie and Girl Scout leader, loved the outdoors and spent many hours hunting, fishing, gardening and golfing. Helen was a fantastic bridge player and also loved a good Scrabble game. She and Don enjoyed traveling and spent many years wintering in sunny Florida. Helen is survived by her daughter and son-in-law Kat and Gregg Torres; two granddaughters; six great-grandchildren; and one great-great-grandson. She was preceded in death by her husband Don; daughter Meredith; parents Arthur and Lillian Coser; and sisters Marilynne Larson and Madelon O'Keefe. We celebrate Helen's life, which was lived to the fullest. As she wished, there will be no memorial service.


Kurt Swanson, 54, Paynesville


Kurt Swanson, 54, of Paynesville (formerly of Hector, Minn.) passed away of natural causes on July 4, 2022, at the University of Minnesota Medical Center, Minneapolis MN. His family was with him. Kurt William Swanson was born in Olivia Minn. April 9, 1968, the youngest child of Harold and Margaret (Mead) Swanson. He was dedicated as an infant and baptized June 19, 1983, into the Church of God of the Abrahamic Faith. He attended Hector schools graduating with the Class of 1986. He was a drummer in the Bulldogs Marching Band carrying the big bass drum during parades. He played football and was one of the Big Guys in the backfield. Following high school, Kurt attended Granite Falls Vo Tech earning his degree in Fluid Power. Kurt was a people person. His chosen career in sales reflected that. His ability to relate to and become friends with anyone was one of his gifts. Kurt married Heather Johnson (as he always said "the beautiful neighbor girl") on October 3, 1999. Their daughter Ella GraceAnn was born in 2004. Ella was the light of Kurt's life and his pride and joy. He loved attending Daddy/Daughter dances, band concerts and the dramatic presentations in which she was involved. Kurt enjoyed hunting, fishing, grilling steaks, reading and enjoying the company of family and friends. Through the years he had many stories to relate from the hunting and fishing trips. One of his fishing trips was with "Grandpa Bill" when he was 12 or 13 and already six feet tall after which Grandpa remarked "I'm sure glad I don't have to feed that kid all the time". Kurt was currently employed by FCX performance as an account manager. Survivors include his daughter Ella and her mother Heather of Prior Lake, His Mother Margaret of Paynesville, sister Lynn Hennessey of Yakima Wash., nephews Caleb (Courtney and son Sawyer) Swanson of Hector, Jack Hennessey of Yakima WA, Jordan Hennessey of Minneapolis, many aunts, uncles, cousins, and friends too numerous to list. Kurt is preceded in death by his father Harold, brother Lee (in infancy), brother Jeff and Grandparents Albert and Mae Swanson and William and Cecelia Mead. The family wishes to thank everyone for their kindness during this incredibly difficult time. The family invites everyone to the luncheon at the church immediately following the committal service. Arrangements by the Hughes-Hantge Funeral Chapel in Hector. Online Obituaries and Guest Book available at www.hantge.com.


Arthur Hopfer, 86, Freeport


Mass of Christian Burial celebrating the life of Arthur J. Hopfer, 86, of Freeport and formerly of Lake Henry was held on Friday, July 1, 2022, at St. Margaret's Catholic Church in Lake Henry. Art passed away peacefully at home, with family by his side, on Monday, June 27, 2022. Reverend Glenn Krystosek officiated. Burial was at the parish cemetery. Arrangements were with Daniel-Anderson Funeral Home, Paynesville. Art was born on April 16, 1936, in Lake Henry Township to the late Leonard and Lauretta (Kraemer) Hopfer. After completing eighth grade, Art stayed at home and helped on the family farm. He married Rosella Sand on Nov. 5, 1957, at Immaculate Conception Catholic Church in New Munich, and they farmed near Lake Henry. Rosella passed away in 1993. Art married Jean (Thull) Solsrud on July 27, 2002, in Lake Henry. They lived in rural Freeport, and Art continued to farm, helping his sons. He was a member of St. Margaret's Parish in Lake Henry, St. Joseph's Society, Catholic Order of Foresters, and the Lake Henry Lions. He served on the Lake Henry Fire Department for 26 years and was fire chief for 17 years. Art loved farming, baseball, and dancing. He was active with the Lake Henry Lakers all of his life…playing, coaching, and cheering on his sons and grandsons. He is survived by his wife of almost 20 years, Jean; children, Liza Kampsen, Dan (Mary), Ruthie (Mike) Hopfer-Wensmann, Pete, Tom, Kaye (Dave) Vig, Jim, and Milissa (Andy) Schmidt; step-children, David Solsrud, Robert Solsrud, and Paul Solsrud; sister-in-law, Arlana Langner; and many grandchildren; great-grandchildren, great-great-grandchildren, relatives, and friends. He was preceded in death by his wife, Rosella in 1993; grandsons, Michael Kampsen and John Vig; daughter-in-law, Vicki Hopfer; granddaughter, Angie Hopfer; and siblings, Laura Eickhoff, Bill Hopfer, and Bill Langner. Memorials are preferred in lieu of flowers. A heartfelt thank you goes to St. Croix Hospice.