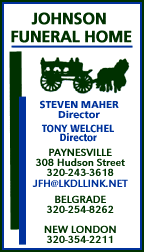 June 2021
May 2021
April 2021
March 2021
February 2021
January 2021
December 2020
November 2020
October 2020
September 2020
August 2020
July 2020
June 2020
May 2020
April 2020
March 2020
February 2020
January 2020
December 2019
November 2019
October 2019
September 2019
August 2019
July 2019
June 2019
May 2019
April 2019
March 2019
February 2019
January 2019
December 2018
November 2018
October 2018
September 2018
August 2018
July 2018
June 2018
May 2018
April 2018
March 2018
February 2018
January 2018

LuAnn Wegener, 81, Paynesville
LuAnn Myrtle (Liestman) Wegener, 81, of North Port, Fla., and Paynesville, Minn., passed away on Tuesday, Jan. 26, 2021. LuAnn was born on Aug. 3, 1939, in Litchfield to Milton and Myrtle (Nehring) Liestman. She graduated in 1957 from Paynesville High School. In 1960, LuAnn married her sweetheart Jerry. They raised their children in Coon Rapids, Minn., where they were active members of their community and Peace Lutheran Church. LuAnn retired from Target Corporation in Fridley, Minn., in 1997, and she and Jerry moved to the La Casa community in North Port, Fla. In their retirement years, LuAnn and Jerry spent the summers in Richmond, Minn., and their winters in Florida. LuAnn was friends with everyone and remembered a special detail about every person that she knew. She was involved in Bocce Club, Voices of La Casa Choir, the Grandmothers Club, Red Hat Society, Bowling Club, and the Morning Water Exercise Group. She enjoyed the small moments in life as much as she enjoyed the big moments. She loved fishing, time at the lake, and dancing with her loving husband Jerry. LuAnn's favorite people in life were her grandchildren. She was a very involved grandmother to her four grandchildren, she never missed a choir/band concert, soccer game, or graduation ceremony. Blessed with the gift of gab, LuAnn will be remembered for her sharp tongue, full social calendar, and famous potato salad and sticky buns. She is survived by sisters-in-law Ardamae Loberg and Carol (Revere) Liestman; children Dara and Lee Wegener; son-in-law Pat Sprague; daughter-in-law Jill (Schwinghammer) Wegener; grandchildren Emilee Velander, Madilyne, Gunder, and Leighton Wegener. She is preceded in death by her husband Jerry Wegener, daughter Jo Marie Sprague, brother Butch, and her parents Milton and Myrtle Liestman. There will be a Celebration of Life Service on Thursday, July 29, at Paynesville Lutheran Church (657 Maple St, Paynesville 56362) at 10:30 a.m. The visitation will begin at 10 a.m., and a reception at the church will follow. Friends and family are also welcome to join the burial at Morningside Memorial Gardens (11800 University Avenue NW, Coon Rapids 55448) at 3 p.m. on Thursday, July 29. LuAnn's family celebrated her life on Feb. 4, 2021, with an intimate service in North Port, Fla. To view a recording of the service follow this link: https://ytube.io/3EsO.


Rose Reinholt, 81, Paynesville


Rose Ellen Reinholt, 81, of Paynesville died on Thursday, July 22, at Koronis Manor in Paynesville. Rose Ellen Virginia Reinholt was born on Jan. 27, 1940, on the family farm in Granite Falls Township, the fifth daughter of Herman Theodore and Genevieve (Luft) Reinholt. She graduated from Maynard High School in 1958 and resided in Minneapolis, where she worked for Northwest National Life Insurance Company and Prudential Insurance Company. Rose Ellen was very talented with any craft items she took up, including decorative painting, knitting, quilting, and many other crafts. She had a giving heart looking after sisters, Judith and Sheila. She also wanted to be an organ donor, saying she wanted to help others. After several falls and needing care, she moved to Koronis Manor on September 28, 2018, to be near family. She also enjoyed her extended Manor family, taking part in activities and called everyone there by name. Her health failed after a bout of Covid and lastly Shingles. Rose Ellen is survived by her sisters, Norma Heschke of Paynesville and Janice Phelps of Sauk Rapids; and several nieces, nephews, and cousins. Rose Ellen was preceded in death by her parents; step-father, Palmer Loe; sisters, Viviette Brammeier, Judith Reinholt, Elaine Emmett, and Sheila Medenwaldt; and brother, Leon Reinholt. A special thank you to Marlys Pearson and to the staff at Koronis Manor for the kind and considerate care of Rosie. A celebration of her life will be held at 1:30 p.m. on Thursday, Aug. 5, at Johnson Funeral Home in Paynesville. Visitation will be one hour prior to the service. Burial will be in Immanuel Lutheran Cemetery in Clara City.


Virgil Fuchs, 90, Paynesville


Virgil M. Fuchs, 90, of Paynesville passed away Wednesday, July 14 at the Paynesville Care Center with his wife Virginia at his side. Virgil was born January 9, 1931, near Spring Hill, Minn. to Peter and Zita (Schaefer) Fuchs. He married Viriginia Moscho on May 26, 1953, at St. Martin Catholic Church in St. Martin. They farmed together for 31 years. He stayed a farmer all his life, but moved to Paynesville in 1984. In Paynesville, he worked for Meals-on-Wheels for 15 years. He was an active member of St. Louis Catholic Church, Knights of Columbus, and Catholic United Financial. Virgil enjoyed square dancing, playing cards, and mission groups, but loved to be with family and would light up when grandchildren and great grandchildren came by. Virgil is survived by his wife of 68 years Virginia; children, Ron (Sheryl) Fuchs of Paynesville, LaDonna (Richard) Palmietto of Aransas Pass, Texas, and Nancy (Gary) Palmer of Litchfield; 8 grandchildren; 12 great grandchildren; brother, Cletus (Marilyn) Fuchs of Paynesville; sisters, Isabell Meyer of Cold Spring and Cleone Nistler of St. Cloud; as well as many nieces and nephews. Preceding Virgil in death were his parents; son, Randy (1972); brother, Eldred Fuchs; and sister, Vivian Bertram. Mass of Christian Burial was held on Tuesday, July 20, at St. Louis Catholic Church in Paynesville. Reverend Glenn Krystosek 0fficiated. Entombment took place in the St. Louis Parish Mausoleum. A rosary was also prayed, led by the Knights of Columbus and Catholic United Financial.


Carol Cook, 87, Paynesville


Carol E. Cook, age 87, of Paynesville passed away Tuesday, July 13, at the Paynesville Care Center. Carol was born October 24, 1933 in Corcoran, Minn. to Frank & Ella (Hackler) Bauermeister. She married Gerald Cook on November 10, 1956 at St. John's Lutheran Church in Corcoran. They moved to Eden Valley in 1971 and have lived in Paynesville for the past 25 years. Carol was a homemaker, and she also worked at Bishmon Manufacturing for eight years prior to her marriage. She was a member of St. Paul's Lutheran Church where she was very active, serving as treasurer of the Ladies Aid, serving on the church council, member of the Altar Guild, and taught Sunday School. Carol loved working with flowers at the church. She enjoyed gardening, yardwork, playing cards, square dancing, ballroom dancing, bowling, trips to the casino, and traveling. Survivors include her husband, Gerald of Paynesville; sons, Joe (Beth) of Eden Valley and Paul of Litchfield; sister, Leona Cook of Hanover, Minn.; three grandchildren; and seven great grandchildren. Carol was preceded in death by her parents; brother, LeRoy Bauermeister; and sister, Shirley Bangert. Funeral Services were held on Saturday, July 17, at St. Paul's Lutheran Church in Eden Valley. Burial will be at Eden Lake Cemetery. Arrangements have been entrusted to Williams Dingmann Family Funeral Home in Eden Valley.


Rose Bertram, 91, Spring Hill


Rose Marie H. Bertram, 91, of Spring Hill passed away on Friday, July 16, at the Paynesville Care Center. Rose was born October 7, 1929, in Lake Henry, Minn. to John and Gertrude (Hopfer) Jaeger, Jr. She married Richard J. Bertram on August 26, 1952, at St. Margaret's Catholic Church in Lake Henry. Five children were born to this union. The couple farmed near Spring Hill, Minn. until their retirement. Rose was a member of St. Michael's Parish and St. Ann's Christian Women. Rose enjoyed gardening, quilting, gambling at casinos, playing cards and bingo, and especially spending time with her children and grandchildren. Rose is survived by her children, Bernice Monson of Atwater, Reuben (Cindy), and Robert (Jane), both of Spring Hill; seven grandchildren, Ryan, Christopher, Eric, Adam, Shawn, Kyle, and Diana; and 16 great grandchildren. She was preceded in death by her parents; husband, Richard on December 18, 1987; infant twins, David and Diane; sister, Viola Illies; brother, Gerald Jaeger; an infant brother; and Michael Urban. Mass of Christian Burial will be 11:00 a.m. on Thursday, July 22, 2021 at St. Michael's Catholic Church in Spring Hill. Reverend Marvin Enneking will officiate. Burial will take place at the parish cemetery. Visitation will be from 4 to 8 p.m. on Wednesday, July 21, and after 10 a.m. on Thursday, July 22, at the church in Spring Hill. Parish prayers will be 7 p.m. on Wednesday, July 21, at the church. Arrangements were made by the Daniel-Anderson Funeral Home, Paynesville.


Clark Swenson, 95, Buffalo


Clark Holger Swenson, 85, of Buffalo, died on Tuesday, June 8 from complications of Lewy Body dementia. The oldest of three children, Clark was born at home on April 5, 1936, in Jeffers, Minn. to Holger and Tonie Bernice (Aslagon) Swenson. Clark graduated in 1954 from Paynesville High School and went on to compete in track, specializing in high jumping, at St. Cloud State University where he also earned his bachelor of science in English and history education in 1958, and master's degree in English in 1962. After teaching for one year in Melrose, he accepted a job at Buffalo High School where he remained for 36 years, coaching track, directing numerous plays, and teaching in the English department. Clark met his wife Karen while teaching at Buffalo High School and together they raised three children. Always a quiet, patient, soulful man, he loved his wife, children, and grandchildren unconditionally. He found God and spirituality in church, in literature, in nature, and being with friends and family. In the fall of 1970, Clark, and friends, founded the Wright County Community Theatre with a production of Li'l Abner, followed by other community plays in Delano and Maple Lake. Clark wasn't afraid to take risks and choose difficult, often controversial plays for state contests and productions, resulting in numerous accolades from directors and theatres throughout the state. His accomplishments in theatre were many, but he was always most proud of his casts and crews; he expected much and stretched them to near breaking points with challenging material, but they always gave back 100%. Clark, a true Renaissance man, loved all the arts, classics, photography, sports and the outdoors. He was happiest taking family photos, making yearly albums, directing plays and photographing, taping, and cataloging each, camping in the Boundary Waters, fishing, entering fishing contests, picking bittersweet, hunting deer, and sitting in duck blinds while photographing every fish, goose, deer and duck he saw. A small corner of land on Lake Linka between Brooten and Glenwood, Minn. that his grandfather Gunvald Aslagson bought 103 years ago and where a family cabin now sits, afforded him hours of family and nature's wonders. Several cabin owners humorously commented that they set their watches by Clark's daily fishing hours. Clark is survived by his wife of 51 years, Karen; daughter, Mara (former son-in-law Jeff) of Buffalo, Minn.; sons, Grant (Melany) of St. Augusta, Minn., and Leif (Jenna) of Minnetonka, Minn.; grandchildren, Jordan, Makenna, Ari, Jonah, Isla, Ryder, and Zarik; great-granddaughter, Payton; sister, Jan Erickson (Clay Nicles) of Plymouth, Minn.; brother-in-law, Dane (Claudia) Wobschall of Waseca, Minn.; nieces, Brittany Wobschall of South St. Paul, Minn. and Megan Wobschall of Rochester, Minn. Clark was preceded in death by his parents and sister Margo. His family wil bury his ashes this summer in Trinity Lutheran Cemetery in Brooten, Minn. "I regard the theatre as the greatest of all art forms, the most immediate way in which a human being can share with one another the sense of what it is to be a human being.Ó playwright Thorton Wilder. A celebration of Clark's life was held on Thursday, June 24 at Zion Lutheran Church of Buffalo, Minn. Arrangements were entrusted to the Peterson Chapel of Buffalo, Minn.


Tyshawn Fulks, 28, Paynesville


Tyshawn R. Fulks, 28, of Paynesville, formerly of Chicago, Ill., died Sunday, July 4, due to an accident at Long Lake near Hawick. Tyshawn Robert Fulks was born June 17, 1993, in Chicago, Ill., to Deborah Kenard and Eddie Sharpe, Sr. Tyshawn's greatest accomplishments were his children, Cruz and Dior. Tyshawn was a loving son, father, brother, provider, and a wonderful, faithful friend to all that knew him. Affectionately called "Tee-Why,Ó Robert always had a smile, contagious personality, and an infectious laugh when surrounded by his family and friends. Robert was also an avid sports fan, and he loved to cook and fish. Robert suddenly departed this life while pursuing his love of fishing on Long Lake in New London, Minn., on Sunday, July 4, 2021, around 7:30 p.m. He leaves to cherish his memory his mother Deborah (Bill) Haines of Paynesville; his adoptive mother, Cynthia (Jerry) Fulks of Westchester, Ill.; his children, Cruz Robert and Dior Rayann Denise; his three brothers, Eddie Sharpe Jr. of Chicago; Rhyhem E. (Komeko) Valladay of Chicago, and Bryant C. Jones of Hazel Crest, Ill.; and a host of nieces, nephews, family, and friends. A funeral service will be held at 2 p.m. on Thursday, July 15, at the Johnson Funeral Home in Paynesville. A visitation will be held one hour prior to the service at the funeral home.


Vivian Bertram, 87, Greenwald


Vivian H. Bertram, 87, of Greenwald passed away peacefully on Tuesday, June 29, 2021 in Melrose, Minn. A Mass of Christian Burial was held on Tuesday, July 6, at St. Andrew's Catholic Church in Greenwald with Rev. Marvin Enneking officiating, Rev. Vince Lieser concelebrating, and Deacon Ernie Kociemba assisting. Interment was in the parish cemetery. Vivian Hildegard Fuchs was born April 22, 1934, in St. Martin, Minn., to Peter and Zita (Schaefer) Fuchs. On Sept. 7, 1953, she was united in marriage to Elmer Bertram at St. Martin Catholic Church in St. Martin. Vivian and Elmer farmed for 21 years until 1974 when they moved to Greenwald. She baked wedding cakes for 25 years and worked for the Melrose Hospital and Pine Villa for 10 years. Vivian volunteered for 10 years at Park View where she would help residents with their laundry. She was a member of St. Andrew's Catholic Church in Greenwald, St. Andrew's Christian Women, and the Elrosa Senior Citizens. Vivian was a former election judge for the city of Greenwald. She enjoyed embroidery, sewing, quilting, baking, gardening, playing cards, traveling, and spending time with her family. Vivian's greatest joy was being a mother, grandmother, and a great-grandmother. Survivors include her children, Patricia (John) Kraemer of Melrose, Gary (Lisa) Bertram of Greenwald, Audrey (Joe) Spengler of Albany, Jan (Dan) Nietfeld of Greenwald, Brenda (Tom) LeGassa of Cold Spring, Steve (Pam) Bertram of Otsego, and Scott (Clarissa) Bertram of Freeport; 14 grandchildren; 21 great-grandchildren; and brothers and sisters, Virgil (Virginia) Fuchs of Paynesville, Isabel Meyer of Cold Spring, Cletus (Marilyn) Fuchs of Paynesville, and Cleo Nistler of St. Cloud. Vivian was preceded in death by her husband, Elmer Bertram on July 22, 2000; her parents; one great-granddaughter, Grace; and brother, Eldred Fuchs. Arrangements were made with Patton-Schad Funeral and Cremation Services of Melrose.