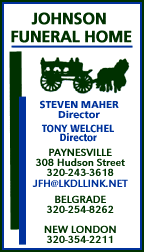 April 2020
March 2020
February 2020
January 2020
December 2019
November 2019
October 2019
September 2019
August 2019
July 2019
June 2019
May 2019
April 2019
March 2019
February 2019
January 2019
December 2018
November 2018
October 2018
September 2018
August 2018
July 2018
June 2018
May 2018
April 2018
March 2018
February 2018
January 2018
December 2017
November 2017
October 2017
September 2017
August 2017
July 2017
June 2017
May 2017
April 2017
March 2017
February 2017

Victoria Hopfer, 60, Lake Henry
Victoria J. Hopfer, 60, of Lake Henry died on Wednesday, July 22, 2020, at her home in rural Lake Henry. A memorial Mass will be held at 11 a.m. on Wednes-day, July 22, at St. Margaret Catholic Church in Lake Henry. Inurnment will be in the church cemetery. A visitation will be held on Tuesday, July 21, from 4-8 p.m. at Johnson Funeral Home in Paynesville and will continue Wednesday one hour prior to the service at the church. Victoria Jean Hopfer was born on Jan. 26, 1960, in Benson, Minn., the daughter of Virgil and Gail (Dengerud) Skindelien. She grew up in the Sunburg area attending KMS Schools, graduating with the Class of 1978. After high school, Vicki went on to earn her administrative secretary diploma from Willmar Vo-Tech. In December 1978, Vicki was united in marriage to Jack Swanson. The couple was blessed with a daughter and a son. They later divorced. On Sept. 18, 1993, Vicki was united in marriage to Peter Hopfer at St. Margaret Catholic Church in Lake Henry. This union was blessed with three daughters and a son. The family made their home in rural Lake Henry, where Vicki was a homemaker and helped farm. Vicki was a member of St. Margaret Catholic Church in Lake Henry. She served on the parish council for six years and volunteered in many other aspects of the church. Vicki was the Lake Henry Lakers biggest fan and also volunteered at Lake Henry Park for the baseball games. She also enjoyed horses, gardening, artwork, and cooking. Vicki was an extra mom to many of her kidŐs friends and was fondly called Momma Hop. She will be remembered for her love of life and as a great wife, mother, daughter, sister, and friend to all who met her. She is survived by her husband of 26 years, Peter; children: Maggie (Justin) Grothe of Kerkhoven, Bryon Swanson of Kandiyohi, Abigail Hopfer of Hermantown; Grace Hopfer of Spirit Lake, Iowa, Samuel Hopfer of Lake Henry, and Anna Hopfer of Lake Henry; grandchildren: Devon, Addison, Makenna, and Caleb; mother, Gail (Donald)Ottenson of Brooten; brothers, Charles (Shelia) Skindelien of Currie and Daryl (Barb) Skindelien of Lake Benton; step-siblings: Layne (Danyel) Otteson of Oak Grove, Rhonda Otteson of Willmar, Chad (Sarah) Otteson of Brooten, and Kari Otteson of Minneapolis; father-in-law, Arthur (Jean) Hopfer; and many nieces, nephews, cousins, and in-laws. She was preceded in death by her father, Virgil; mother-in-law, Rose Hopfer; and niece, Nicole.


Kay Hoffman, 74, Watertown, S.D.


Kathryn "Kay" Knebel Hoffman, 74, of Watertown, S.D., passed away on Monday, June 27, 2020, at Prairie Lakes Hospital in Watertown. A Celebration of Life was held on Friday, July 3, at Hosanna Lutheran Church in Watertown with Pastor Janine Rew-Werling officiating. Music was by Mary Larson accompanied by Angie Eickmeyer. Interment will be at a later date. Kathryn Karole Hoffman was born on March 27, 1946, to Arnold and Mildred (Blaurock) Knebel in St. Cloud, Minne. She grew up on a farm near Paynesville, Minn. She attended country school for the first six years and then attended and graduated from Paynesville High School. Kay worked at Northwestern Hospital in Minneapolis until she met and married the love of her life, Gary Hoffman. They were married on April 10, 1965, at the First Evangelical United Brethren Church in Paynesville. They were married for 55 years. They lived around Atwater, Minn., for about 15 years. Kay loved teaching "Cherub Choir" as well as singing for many special occasions. They moved to Clear Lake, S.D., in 1980 where they crop farmed for 30 years. They also spent over 30 years going to Mesa, Ariz., for the winters. They moved off the farm in 2011 and lived near Watertown, S.D. They were blessed with two children, Fay (Neil) Wiesner of Watertown, S.D., and Carey (DeVonna) Hoffman of Clear Lake, S.D. They have four grandchildren, Brady Wiesner, Brittoney (Chris) Serie, Chandler Hoffman, and Carter Hoffman; and three great-grandchildren, Alayah, Amerie, and Abigail Serie. Also grateful for having her in their life are: her husband, Gary Hoffman of Watertown, S.D.; two brothers, Charles (Kathy) Knebel of Cold Spring, Minn., and Mark (Millie) Knebel of Warroad, Minn.; three sisters, Barbara Baker of St. Cloud, Minn., Pennie (Chris) Miller of Becker, Minn., and Nancy (Paul) Baumert of Paynesville, Minn.; plus many nieces and nephews. Kay is preceded in death by her parents; two nephews, Paul Hollander and Justin Knebel; plus five brothers-in-law, Eldon Tritabough, Ervin Hoffman, Harley Hoffman Jr., Charles Hogrefe, and Chester Baker; and two sisters-in-law, Ruth Hoffman and Marty Hoffman. Arrangements are by Wight & Comes Funeral Chapel: www.wightandcomes.com.


Louisa Keller, 74, Paynesville


Mass of Christian Burial was held on Monday, June 29, 2020, at St. Louis Catholic Church in Paynesville for Louisa M. Keller, 74, of Paynesville, who passed away with family by her side on Thursday, June 25, 2020, at her home. Reverend Glenn Krystosek officiated. Burial was in the St. Louis Parish Cemetery. Louisa was born Sept. 28, 1945, in Wheaton, Minn., to Carl and Julia (Pillsbury) Andresen. She grew up on their family farm just south of Rosholt, S.D. Louisa attended East Harmon Country School and Rosholt High School. She was united in marriage to Kenneth Keller on Aug. 20, 1962. They lived in Benson, Minn., for the first five years of their marriage, moving to Paynesville in May 1967, where they remained for the majority of their nearly 58 years of marriage. Louisa worked various jobs at Wiman's, Animal Fair, Wonderalls, and as an in-home daycare provider. She found her true calling in 1983 when she began a 25-year career as a CNA at Paynesville Hospital. Louisa's kind heart and compassion for others were evident to both patients and her co-workers. She retired from this position in 2008 due to medical reasons. Louisa was known to her friends and family as an excellent cook, an immaculate housekeeper, and for her gifted quilting skills. Her greatest joy was spending time with her children, 14 grandchildren, and eight great-grandchildren for birthdays and holidays. Her family looked forward all year to Thanksgiving for her homemade dressing, buns, and pie. Louisa is survived by her husband, Kenny; five children, Michael (Diane) of Paynesville, Sheila (Terry Abraham) of Sauk Rapids, Mark (Lisa) of Inver Grove Heights, Christopher (Sheila) of Big Lake, and Craig (Heidi) of Buffalo; daughter-in-law, Laurie Keller of Sauk Rapids; 13 grandchildren and eight great-grandchildren; and her sister, Julie Piechowski of Fargo, N.D. She was preceded in death by her parents; grandson, Ryan; and brothers, Robert and Freddie.


Mary Etta Wittgraf, 81, Sartell


Mary Etta Wittgraf, 81, passed away on Thursday, June 25, at Chateau Waters in Sartell, Minn. Memorial services will be at a later date at a location to be determined, in order to allow family and friends to travel. Mary Etta Lundahl was born Feb. 16, 1939, in Fairmont, Minn., to Eugene and Celia (Fulton) Lundahl. She married Jon Wittgraf on Aug. 18, 1961, at St. John's Lutheran Church in Minneapolis. Etta worked as a substitute teacher, piano teacher, and homemaker, raising their two kind and gentle sons, Mike and Rick. Life took the family around Minnesota: Morgan, Bloomington, Paynesville, and New Ulm. After retirement, she and Jon lived for 30 years on Horseshoe Lake in Richmond, wintering in Harlingen, Texas. They made the difficult decision to leave the lake three years ago for a move to Sartell, Minn. Etta was a member of Bethlehem Lutheran Church in St. Cloud. Etta was definitely the health-conscious half of the Jon and Etta duo of characters. She was an avid golfer in her younger years and focused her lifestyle on nutrition and exercise. While constantly moving, walking, or jogging in place, she would encourage everyone around her to do the same. She is likely making a name for herself in heaven already, by interviewing each angel and finding out about their diet and whether or not they are first or second born. Her family is sure that since her death, there will be no more sugar in heaven, and that she has advised the heavenly administration that sugar should never have been created in the first place. Etta loved people, especially children, and made friends easily, chatting with anyone and everyone, no matter where she was or what she was doing. Her active lifestyle was a constant force throughout her day. She loved her garden, and spent countless hours weeding, watering, transplanting, and hoeing. If she visited your house, she would eventually find something to clean, fix, or recycle. Etta loved swimming and being on the lake. She was even known to pinch a penny or two. Etta had a special relationship her two granddaughters, Solveig and Inga. She loved playing in the garden and sandbox with them. She sent countless letters to Inga that all began with the greeting, "Happy Day" or "Merry Days." They ended frequent and loving phone conversations with the promise to send angels to each other. Etta's faith in God was very strong. She sent daily prayers and angels to her loved ones. She let God guide her in her daily living, her goals and aspirations, her relationships with friends, her family, and her concern for the well-being of everyone. She was so happy to have received so many prayers and thoughts during her last days and beyond. Now she is our angel, watching over all of us, and she will be missed. Survivors include her husband Jon of Sartell, Minn.; sons Michael (Pieper Bloomquist) of Grand Forks, N.D., and Richard (Andrea Ikola) of Portland, Ore.; sister Ann (James) Taylor of Vero Beach, Fla.; and grandchildren Solveig Bloomquist and Inga Wittgraf. Mary Etta was preceded in death by her parents. Arrangements have been entrusted to Williams Dingmann Family Funeral Home in Sauk Rapids. Please visit their online guestbook and share your memories of Etta: www.williamsdingmann.com. There are so many stories to tell and remember.


William 'Bill' Henry, 76, Roseville


William "Bill" Henry, 76, of Roseville, Minn., passed away on Monday, June 8, at Region's Hospital in St. Paul, Minn. Bill was born to George and Esther (Kruger) Henry on Sept. 21, 1943, in Kansas City, Mo. At the age of three, his parents moved to a farm on the north side of Lake Koronis near Paynesville, Minn., where he remained until graduation from college. Bill graduated from Paynesville High School in 1961. During his school years, he worked at the Sonstegard processing plant. He continued his education at the University of Minnesota, graduating in 1965 with a bachelor of science degree in agriculture education. He taught ag in the Henning, Olivia, and Stillwater districts. He was an active FFA advisor, winning many honors. After leaving teaching, he owned and operated a turkey egg laying farm in the Fergus Falls area. In later years, he worked for Farmers Insurance, Southwest Metro Transit, and delivered papers for the Minneapolis Star Tribune. At an early age, fishing became a part of Bill. He spent many hours fishing on Lake Koronis and the surrounding lakes with his sister and his friend Chuck Forman. Ice fishing became his favorite adventure. He liked spending time on Lake of the Woods both in summer and winter. Another great pastime was reading his many books and newspapers. He enjoyed discussing politics and drinking coffee with family and friends. He was an active member of Shepherd of the Hills Lutheran Church of Shoreview, Minn. A memorial service will be held at the church on Saturday, July 11, at 2 p.m. Bill is survived by his sister, Judy (and Paul) Dillon of Porter, Minn.; niece Kim (and Tom) Mielke of Eagan, Minn., cousins, Stanley and Marsha Herzberg, Neil and Patti Herzberg, and Gary and Marilyn Herzberg, all of Paynesville; and cousins Dean and David Herzberg of Paynesville, Stephanie Burr of Paynesville, and Kelly Rudney of St. Paul. Bill was proceeded in death by his parents, George and Esther (Kruger) Henry; his niece, Jean Dillon; and his cousin, Sandra Kearns.


Bernard Kampsen, Lake Henry


A gathering of family and friends will be held on Thursday, July 2, 2020, from 4 to 8 p.m. at the Daniel-Anderson Funeral Home in Paynesville for Bernard E. "Bernie" Kampsen, 61, of Lake Henry, who passed away on Tuesday, June 23, 2020, at the St. Cloud V.A. Medical Center in St. Cloud. Burial will be at the Sts. Peter and Paul Parish Cemetery in Elrosa. Bernard was born on Oct. 1, 1958, to Norbert and Lucille (Loch) Kampsen in Elrosa, Minn. He graduated from BBE High School in 1976. Bernie worked for various companies in the area, including working as a milk truck driver, Lake Henry Implement, Joe's Tree Service, and Nahan Printing, where he eventually retired. He honorably served his country in the U.S. Army, where he was stationed in Germany from 1976 until 1979. Bernie was an avid baseball player and fan. He especially enjoyed the Lake Henry Lakers baseball team, which he managed for a number of seasons. Bernie also played for the Lakers for many years, playing at shortstop, first base, and occasionally DH on bad days. Bernie is survived by his sons, Josh (fiancŽ, Emily Lingl), Adam (Erica), Shane (Brandi), and Jason; nine grandchildren; siblings and their spouses, Roger, Erma, Dennis, Alcuin, Marilyn, Sandra, Janet, and Brenda; brother-in-law, Elmer Von-Wahlde; and many nieces, nephews, other relatives and friends. He was preceded in death by his parents; son, Michael; sister, Shirley; and nephew, Chris. In lieu of flowers, memorials are preferred.


Arlene Topp, 84, Roseville


Arlene M. Topp, 84, of Roseville, Minn., passed away peacefully, surrounded by her loving family, on Thursday, June 25, 2020. For 30-plus years, Arlene ran a home daycare. She cared for many children and loved every one of them dearly. She rarely passed up a cold beer, a card game, or a run to the casino. Her family was her world, and she was ours! She was preceded in death by her parents, Henry and Margaret Hentges; and her siblings Ralph, LaVerne, Annie, Gilbert, Harold, Donny, Jerome, and Bob. She is survived by her husband Vern; daughters, Cheryl (Tim), Debbie (Rob), and Sue (John); 13 grandchildren; and seven great-grandchildren. A Mass of Christian Burial will be held at 11 a.m. on Wednesday, July 1, at St. Odilia Church (3495 North Victoria Street, Shoreview) with a gathering one hour prior to the service. Live streaming is available on St. Odilia's YouTube. A private interment will be held on Thursday, July 2.