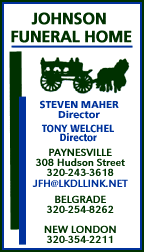 December 2021
November 2021
October 2021
September 2021
August 2021
July 2021
June 2021
May 2021
April 2021
March 2021
February 2021
January 2021
December 2020
November 2020
October 2020
September 2020
August 2020
July 2020
June 2020
May 2020
April 2020
March 2020
February 2020
January 2020
December 2019
November 2019
October 2019
September 2019
August 2019
July 2019
June 2019
May 2019
April 2019
March 2019
February 2019
January 2019
December 2018
November 2018
October 2018
September 2018
August 2018
July 2018
June 2018
May 2018
April 2018
March 2018
February 2018
January 2018

Martha Weber, 99, Loretto
Mass of Christian Burial was held on Saturday, Jan. 22, 2022, at Sts. Peter and Paul Church in Loretto, Minn., for Martha "Marty" (Howard) Weber, 99, of Loretto. Interment was in the St. Louis Catholic Cemetery in Paynesville, Minn. Born near Rush Springs, Okla., Marty grew up in a tennant, dirt-farming family and had a natural curiosity about everything. She loved going to school when she could, as well as her teachers at the Rocky Ford school, who fed a curiosity which developed into a lifelong passion for learning. Upon high school graduation, a rarity in those days, those same teachers recommended her to and helped her get a scholarship for a program in Oklahoma City for training staff workers to work in the just-beginning war effort. She accepted a military secretary pool position in Washington, D.C. Once there it didn't take long for her to want to "do more." So she and a girl friend moved across the river to Maryland and accepted positions as "Rosie Riveter" operators, and eventually she became a machinist. While living in Baltimore, she met a dear friend who would eventually lead her home to both the Catholic Church and, after the war, to Minnesota. Her next stop helping with the war effort was to work at Embry Riddle in Florida, where her don't-take-no-for-an-answer determination got her flying lessons. After becoming a pilot, she applied for and was accepted into the WASP (Women Airforce Service Pilots) program. After the war and following a short stay in California as a model, she moved to Minnesota where she met Douglas, which led to both their marriage on Jan. 30, 1950, and his deep and complete conversion to the Catholic faith. In addition to being a wife, over the next 30 years she spent time as a waitress at the Nankin Cafe, teacher and chemist (both of which she studied at the U of M,) seamstress, patternmaker, and clothes designer. Her years as a mother also saw her spending plenty of time volunteering in numerous ways including PTA, Cub Scout leader, and at Branch II (predecessor of Sharing and Caring Hands) food shelf in Minneapolis. After retiring, she and Douglas moved to Paynesville, Minn. These more relaxed years had her volunteering at the St. Louis Catholic Church's Befriender program, helping with Bible studies, taking siblings on trips to scour for family tree information, and becoming a devoted grandmother. A few years after Douglas' death, she wanted to be closer to her grandsons, so she moved to Loretto. When not with her grandsons, she could be found volunteering at Sts. Peter and Paul, helping with Bible studies, spending time working on her poetry, and becoming a writer. She was preceded in death by her parents; siblings, Radford, Cecil, Margaret Hare, Berry, Joe, one who died in infancy, Bertie Bolman, and Gilbert; and "her love" and husband Douglas Weber. She is survived by sister Flora Leaila Pettijohn of Marlow, Okla.; son Patrick (Terese) Weber; grandsons Douglas, John (Katrina), Peter, and Michael, all of Minnesota; and numerous nieces and nephews and their families. Arrangements were with the Iten Funeral Homes in Watertown and Delano, Minn.


Mary Ann Terres, 95, Spring Hill


Mary Ann R. Terres, 95, of Spring Hill, died peacefully on Thursday, Jan. 13, 2022, at Fairway Pines in Sauk Centre, Minn. A Mass of Christian Burial was held on Monday, Jan. 17, at St. Michael's Catholic Church in Spring Hill with Rev. Marvin Enneking officiating. Interment was in the parish cemetery. Mary Ann Rose Meyer was born on Dec. 25, 1926, in Lake Henry, Minn., to Simon and Gertrude (Laubach) Meyer. She was united in marriage to Jerome Terres on June 30, 1947, at St. Andrew's Catholic Church in Greenwald. The couple owned Jerry's Tavern in Greenwald from 1947 through 1957. They then farmed near Spring Hill until selling the farm to their son, Rick. While farming, Jerry and Mary Ann worked as a team, Jerry did most of the fieldwork while Mary Ann kept everyone fed. She cooked many meals and enjoyed making homemade bread and noodles. In her later years, Mary Ann enjoyed watching her grandsons play baseball with the Spring Hill Chargers, she had a soft spot for holding and cuddling babies, and loved her pets, especially her dog, Lucy. The one thing that brought so much joy to Mary Ann was her grandchildren and great-grandchildren; they truly brightened up her day. She was a member of St. Michael's Catholic Church in Spring Hill, Christian Women, and Catholic United Financial. Survivors include her children, Gene Terres of Minneapolis, Bob (Jane) Terres of Spring Hill, Rick (Brenda) Terres of Spring Hill, and Sharon (Gary) Thelen of Freeport; 12 grandchildren and 31 great-grandchildren. Mary Ann was preceded in death by her husband, Jerome "Jerry" Terres on Feb. 20, 2013; parents; brothers and sister and spouses, Clarence (Pauline) Meyer, Art (Leonora) Meyer, and Verena (Art) Terres; and sisters and brothers-in-law, Marie (Syl) Welle and Esther (Victor) Koska. Serving as casket bearers were Jason Terres, Mike Terres, Brad Terres, Brent Terres, Nathan Terres, Jamie Terres, Eric Terres, and Greg Thelen. Cross bearer was Kayla Schmitz, and scripture bearer was Megan Borgerding. Gift bearers were Kelly Lieser and Sara Christianson. Reader was Gary Thelen. Memorials are preferred to Poor Clares Monastery 421 Fourth Street South, Sauk Rapids, MN 56379. A video of her funeral service is available online at www.pattonschad.com/obituary/MaryAnn-Terres.


Corrine Nelson, 93, Little Falls


Corrine Blikstad Nelson, 93, of Little Falls, formerly of Grove City, Minn., went home into the presence of her savior Jesus Christ on Wednesday, Jan. 12, 2022, at the St. Otto's Care Center in Little Falls, Minn. Caring for Corrine and her family is the Shelley Funeral Chapel of Little Falls. A funeral service will be held at 2 p.m. on Friday, Jan. 21, 2022, at the Trinity Lutheran Church in Grove City with Pastor Megan Preston officiating. Burial will be at the Immanuel Lutheran Cemetery in Grove City. Visitation will be one hour prior to the service on Friday, Jan. 21, at the church. Corrine grew up in Dalton and Proctor, graduating from Hillcrest Academy in Fergus Falls in 1946. Corrine then attended Concordia College in Moorhead graduating in 1950 with a teaching degree in home economics and a minor in speech. In 1950, Corrinne came to Grove City to teach, where she met Stanley Nelson. On Aug. 10, 1952, Corrine married Stanley in Proctor, Minn. Together, they lived in Grove City their entire married life. She taught home economics, chemistry, and physical education at Grove City High School, and in the mid 1950s did a radio program.Corrine then taught home economics in Grove City, at Atwater High School, and at Paynesville Middle School, retiring in 1990. She also created a foster grandparents program between students and the local nursing home in Paynesville. Corrine is survived by her daughter, Karen (Tim) Johnson; two grandchildren, Kristen Johnson and Peter (Stephanie Okash) Johnson; one great-granddaughter, Maizy Johnson; son, Karl Nelson; step-grandchildren, Dylan (Summer) Roth, Dallas Roth, and Keana Roth; and step-great-grandson, James Roth. Corrine was preceded in death by her husband, Stanley; parents, Reverend Bersvend and Charlotte Blikstad; and sister, Solveig Rieke. Memorials are preferred to Gideons Foundation, to the Trinity Lutheran Church Library Fund in Grove City, or to the Immanuel Lutheran Church Cemetery also in Grove City. Corrine was a prayer warrior, praying for her family and friends by name daily. May God bless her memory.


Brenda Pinske, 52, Paynesville


Brenda Lee Pinske, 52, of Paynesville died on Sunday, Jan. 16, 2022, at the Centra-Care Hospital in Paynesville.  A Mass of Christian Burial will be held at 12 noon on Wednesday, Jan. 19, 2022, at the St. Louis Catholic Church in Paynesville. Burial will be in the church cemetery.  A visitation will be held from 10:30 a.m. to 12 noon on Wednesday, Jan. 19, at the church. Services are entrusted to Johnson Funeral Home in Paynesville: www.hafh.org. Brenda Lee Pinske was born on Aug. 1, 1969, in Paynesville, Minn., the daughter of Wallace and Arlene (Lee) Rudy. She grew up in Paynesville where she received her education. Brenda remained in Paynesville and was later married to Michael Pinske at the St. Louis Catholic Church in Paynesville. They made their home in Paynesville, where they raised two sons and a daughter. Brenda loved spending time with family and friends. She enjoyed playing bingo and loved playing cards. Brenda also was a licensed foster parent and opened her home and heart to all that were in need. Brenda gave endlessly of herself, and she made sure her kids always knew how much they were loved. Her family will miss the phone calls asking them, "Do you want to have a laugh?" Brenda is survived by her children: Eric of Paynesville, Shawn of Minneapolis, and Kayla of Paynesville; significant other, Louis Leyendecker of Paynesville; siblings: Roxanne (Randy) Gale, Darlene Bahner, Bonnie Hoglund, Danny (Bonnie) Rudy, Allen Rudy, and Donna (Greg) Lee; many nieces and nephews; and her dog, Max. Brenda was preceded in death by her parents, Wallace and Arlene; husband, Michael; infant son, Jordan; infant brother, Gary Rudy; nephew, Eric Gale; niece, Kylieanne Helm; and brother-in-law, Robert Bahner.


Grace Mills, 102, Waconia


Grace L. Mills, 102, of Waconia passed away on Saturday, Jan. 8, 2022, at the Auburn Home in Waconia. A funeral service was held on Saturday, Jan. 15, at Parkside Church (9560 Paradise Lane) in Waconia with Rev. Randy Burg as officiant. Interment was in Lakeview Cemetery, Waconia. Her service was live-streamed. Use https://vimeo.com/664394745 for access. Grace grew up on a farm near Donnelly, Minn., as part of a large Christian family. She attended a one-room country school for eight years. Then, in the days before school busing was available, she moved to Morris as a young teen so that she could attend high school. She worked in a restaurant, serving breakfast, lunch, and dinner, to pay for room and board. For her last two years of high school, she was given a scholarship to attend Oak Grove Lutheran School in Fargo, N.D., where she was a member of the choir. She taught herself to play piano, and music was a gift she shared with many. Following high school, she moved to Minneapolis where she attended business college. Grace met her husband, Les, while they worked together at Van's Beach Resort on Lake Koronis, near Paynesville, Minn. They were married in 1940 and were blessed with two daughters. They established a mink farm, and this vocation grew into a successful business, Lester Mills Fur Farm Supply Co. Les invented machines for processing the furs, so that they could be made into garments, and Grace used her skills and training to manage all the office responsibilities, with customers throughout the United States and Europe. Music was a priority throughout Grace's life. She sang in church choirs and for many years in the Eden Valley Trio, which produced a record in the l950s. Grace and Les loved living by the lake where they met and enjoyed swimming, boating, waterskiing, and snowmobiling. They also enjoyed traveling throughout the U.S., including to Alaska and Hawaii, as well as to Europe and many trips to the beaches of Mexico. Grace loved God, loved family, loved friends, loved others, and loved to laugh. Grace was preceded in death by her husband Lester; brothers Lawrence (Myrtle) Jergenson, Alfred (Dorothy) Jergenson, Conrad (Marge) Jergenson, Ruben Jergenson, and Arnold Jergenson; and sisters Ruth (Stanley) Strand and Palma (Erling) Johnson. Grace is survived by her loving family: daughters Karren Mills of Golden Valley and Janice (Dr. Bob) Needham of Waconia; grandchildren Kristina (Randy) Kallman, Sara (Thad) Rosenberg, Laura (Kevin) Cline, and Andrea (Nate) Sheppard; great-grandchildren Mitchell, Megan, Madison, Victoria, Kieran, Finley, Tova, Willow, Lucy, Maggie, and Benjamin; brother David Jergenson; sisters-in-law Jo Ann Jergenson and Dina Mills; nieces, nephews, other relatives, and friends. Serving as casket bearers were Thad Rosenberg, Nate Sheppard, Kevin Cline, Dave Grandy, and Todd Willsey. Arrangements were with the Johnson Funeral Home in Waconia: www.johnsonfh.com.


Delbert Tiffany, 96, Paynesville


Delbert E. Tiffany, 96, of Paynesville, passed away on Saturday, Jan. 8, 2022, at the St. Cloud Hospital. A memorial service will be held at a later date. Delbert Edward Tiffany was born on Oct. 9, 1925, to Homer and Dorothy (Wade) Tiffany in Appleton, Minn. He married Marcella Staton in 1948, and they welcomed one son Ronald and one daughter Shirley from a previous marriage. Del drove truck for West Central Coop for many years. Del resided in South St. Paul for a few years, where he met Faye Eiffler. They did many things together over the years. In 1991, Del moved to Paynesville to live on Lake Koronis. He kept busy in his garage tinkering on gadgets of all kinds. He enjoyed hunting and fishing. Del is survived by his son Ronald (Shirley) Tiffany of Litchfield, Minn., and his daughter Shirley (Marvin) Wirtjes of Morris, Minn.; eight grandchildren; 15 great-grandchildren; 14 great-great-grandchildren; sisters Loretta Becker and Dolly Weber; and special friend Faye Eiffler. He was preceded in death by his parents and six siblings. Please sign the online guestbook for Del at www.johnsonhagglund.com.


Glenice Schaumann, 81, Paynesville


Memorial Services were held on Monday, Jan. 10, 2022 at 11 a.m. at Crystal Hills Church in Paynesville for Glenice I. Schaumann, 81, of Paynesville, who passed away on Thursday, Jan. 6, 2022 at Koronis Manor in Paynesville. Pastor Tom Johnson officiated. Burial will be at the Zion Cemetery in Paynesville at a later date. Visitation was held from 10 a.m. until the time of the service on Monday at the Church. Glenice was born on Jan. 5, 1941 to Deodor and Jennie (Dalhaug) Olson in Paynesville, Minnesota. She attended District 19 country school and later graduated from Paynesville High School in 1959. She was united in marriage to Jonathan E. Schaumann on Sep. 12, 1959 at Nordland Lutheran Church in Paynesville. They were married for 62 years and made their home on Rice Lake. To this union five children were born. Glenice worked as a seamstress for Pederson's and KSA for many years. She was a member of Crystal Hills Church, where she played as an organist for 50 years. Glenice was a loving wife, mother, grandmother and great-grandmother. She loved spending time with her grandchildren and they had a knack at convincing her to do anything. She lived life barefoot, and was extremely creative. She could often be found turning random items into treasures, painting and cooking and baking wonderful meals. She always seemed to whip up the greatest food out of what most people considered to be an empty fridge. She also enjoyed her 3 o'clock coffee, going to garage sales and simply sitting by the bonfire at the lake. She will be remembered for her quiet ability to please her family. She is survived by her loving husband, Jonathan; children, Malissa (Tom) Johnson, Jonnie (Gretchen), Pat (Cynthia), Jennifer (Glen) Athmann and Vicki (Doug) Hawkinson; 16 grandchildren and 19 great-grandchildren; and many nieces, nephews, relatives and friends. She is preceded in death by her parents; and siblings. A special thank you to the staff of Koronis Manor and Moments Hospice for their loving and compassionate care of Glenice.


Lynda Corrow, 78, Paynesville


Lynda L. Corrow 78, of Paynesville, died on Thursday, Dec. 30, 2021, at her home in Paynesville.  A memorial service was held on Tuesday, Jan. 11, 2022, at the Johnson Funeral Home in Paynesville. Burial will be at a later date.  Lynda Lee Corrow was born on Dec. 13, 1943, in Redwood Falls, Minn., the daughter of Lee and Myrtle (Lehmkuhl) Overbey. She grew up in Redwood Falls where she received her education, graduating from Redwood Falls High School in 1961. On Aug. 27, 1961, Lynda married her high school sweetheart, David Corrow.  This union was blessed with a daughter and a son.  David was a military man, as well as working for Northwestern Bell. Because of his occupation, his family moved to various places including Rhode Island, Virginia, and numerous cities in Minnesota. Being a military wife, Lynda was asked to carry many loads on her own. She kept the family going in good times, and bad, by herself and did it well. Lynda had a wide range of talents. In 1959, she was the High School Rodeo Breakaway Roping Champion and also won seonnd place in barrel racing. Lynda also enjoyed riding motorcycles, quilting, and playing a wide range of musical instruments.  She also went from an entry-level position to management in three years at Visionease.  Lynda's faith was also very important to her. As a member at Riverside Presbyterian Church in Sartell, she volunteered as a deacon, Sunday school superintendent, and the Bible school director.  Lynda is survived by her husband of 60 years, David; daughter, Suzette (Mario) Licari of McHenry, Ill.; son, Tony (Jess) Corrow of Jackson; grandchildren, Amber Corrow, David Corrow, and Andrew Licari; and brother Al Overbey of Silver Bay.  Lynda was preceded in death by her parents, Lee and Myrtle Overbey. 


Harlan Palm, 90, Paynesville


Harlan Arthur Palm, 90, passed away peacefully on Monday, Dec. 27, 2021, at his home on Lake Koronis in Paynesville, Minn., surrounded by loved ones. A visitation was held on Monday, Jan. 3, 2022, at Johnson-Hagglund Funeral and Cremation Service in Litchfield. A private graveside service will be held later. Harlan lived a full and worthwhile life. He was born March 28, 1931, in Litchfield, Minn., to Harry and Agnes Palm. After attending school in Grove City, Minn., Harlan joined the United States Navy and served his country from 1951 to 1955. He was a flight engineer stationed in Panama City, Fla. Harlan, throughout his life, had an intense love of planes and aviation. Harlan met his wife of 63 years, Jeraldean Elsie (Cordes) Palm, in 1957 while working at the Minneapolis airport. They were married in 1958 at Grace Lutheran Church in South St. Paul. Harlan and Jerri returned to Grove City to raise their family and help his father on the family farm. This is where his interest in developing and manufacturing products began. Harlan had an incredible innovative spirit and an innate ability to see a need and to develop and produce products to fill that need. The Cozy Cab was one of his earliest business ventures. Harlan's next venture was the creation of Palm Industries in Litchfield, Minn. Palm Industries was instrumental in the creation and production of Roll Over Protection Systems (ROPS) for construction equipment prior to the eventual industry mandates for construction and agricultural equipment to be equipped with a ROPS. Palm Industries was sold in the late 1970s and was relocated to Watertown, S.D., and continues the manufacturing of these products. After a few other business ventures and with his continuing love of the construction industry, Harlan then began manufacturing and selling Towmaster Trailers. The family farm served as the location for this venture. In the early 1980s, Harlan was approached by a skid steer loader manufacturer to redesign their grader attachment. Harlan, with his innovative ability, took on the challenge and started Palm Attachments, which eventually developed and produced a complete line of attachments for skid steer and track loaders for the emerging markets in the compact equipment industry. Palm Attachments was sold to Bobcat Company in 1998 eventually transitioning to the Bobcat Company attachment plant in Litchfield, Minn. In 1994 Towmaster transitioned from the family farm and moved into the original Palm Industries building in Litchfield to manufacture and sell trailers. Towmaster trailers grew to become a nationally-known company, which had dealers in all 50 states. In 2009 a truck division was added to service the snowplow and ice industry. Towmaster designed and created the truck boxes and equipped the trucks with plows and needed accessories. Towmaster was sold in 2017 to Monroe Truck Equipment and remains at the Litchfield location, employing 200 people. Harlan, along with his wife Jerri, who was instrumental in all the business ventures, were most proud of being able to create good jobs for their community. Harlan was an avid reader and looked upon knowledge as an essential tool to achieve a successful and fulfilled life. He always spoke of the need for education and would routinely speak to young people and especially his grandchildren about the opportunities that education could provide. This, combined with their love of community, inspired Harlan and Jerri to establish The Harlan and Jeraldean Palm Scholarship Fund, which provides money to local students who have an interest in continuing their education in the engineering, manufacturing, and trade skills. With all these accomplishments, along with the trials and tribulations along the way, Harlan will be remembered most for his love of family (children, grandchildren, and great-grandchildren), his sense of humor, his extreme knowledge, and his capability to walk into a room of strangers and walk out friends with all of them. He was a man who took the time to learn about a person, their history, family, and their passions, regardless of their background or past doings. He was a lover of life who enjoyed traveling, splitting time between Minnesota and Arizona, an avid reader even to the end, and always the salesman. He lived life on his own terms and never quit thinking about the next big deal. Pretty sure his last big negotiation was with God. Harlan is survived by wife, Jerri Palm of Paynesville; children: Greg Palm of Paynesville, Janelle (Bruce) Johnson of Grove City, Jerolyn (Brian) Weseman of Spicer, and Joleen (Darek) Bebus of Paynesville; eight grandchildren: Nicole (Marlon) Charles of Victoria, Danielle (Nate) DeLeeuw of Atwater, Eric (Aubrey) Palm of Fargo, Gabby (Sam) Swisher of Grove City, Ashley (Ryan) Buer of Atwater, Alicia (Andy) Glimsdal of New London, Jordyn Bebus of Paynesville, and Jake Bebus of Paynesville; along with 16 great-grandchildren. Harlan was preceded in death by parents Harry and Agnes Palm; and brother Darrel Palm. Please sign the online guestbook at www.johnsonhagglund.com.


Carl Thelen, 39, St. Martin


Mass of Christian Burial will be held at 11 a.m. on Wednes-day, Jan. 5, 2022, at St. Martin Catholic Church in St. Martin, Minn., for Carl Brian Thelen, 39, who died on Monday, Dec. 27, 2021, in Montana. Burial will be in the parish cemetery. Relatives and friends may call from 4 to 8 p.m. on Tuesday, Jan. 4, 2022, at the St. Martin Parish Center in St. Martin. Visitation will continue from 9 to 10:30 a.m. on Wednesday morning at the St. Martin Parish Center. Carl Brian Thelen was born Oct. 23, 1982, in Melrose, Minn., to Jim and Cheryl (Borgerding) Thelen. He married Kayla Mackedanz on May 14, 2011, in Roscoe, Minn. He worked at Rotochopper Inc. in St. Martin and enjoyed driving semi with his dad. Carl and his wife shared three children together: Zoey, Parker, and Avery. Carl spent his time hunting, snowmobiling, four-wheeling, and camping. Mostly, he loved spending time with family and friends, especially his wife and daughters. Carl is survived by his wife Kayla; daughters, Zoey (9), Avery (5); parents, Jim and Cheryl Thelen; brother, Michael (Paula) Thelen; nieces, Kylee and Kymberlee; nephew, Zackery; grandma, Marion Thelen; father- and mother-in-law, Rick and Sandy Mackedanz; and brother-in-law, Chuck Mackedanz. He was preceded in death by his son, Parker; grandparents, Freddie Thelen and Alcuin and Margaret (Zierden) Borgerding. Arrangements are with the Wenner Funeral Home in Richmond, Minn.


Jesse Thelen, 43, St. Martin


Mass of Christian Burial will be held at 11 a.m. on Wednes-day, Jan. 5, 2022, at St. Martin Catholic Church in St. Martin, Minn., for Jesse James Thelen, 43, who died on Monday, Dec. 27, 2021, in Montana. Burial will be in the parish cemetery. Relatives and friends may call from 4 to 8 p.m. on Tuesday, Jan. 4, 2022, at the St. Martin Parish Center in St. Martin. Visitation will continue from 9 to 10:30 a.m. on Wednesday morning at the St. Martin Parish Center. Jesse was born Jan. 6, 1978, in Albany, Minn., to John and Carol (Schneider) Thelen. He married Jody Burg on Oct. 10, 2003, in St. Martin, Minn. They have a son, Mitchell, who was his pride and joy. Jesse enjoyed snowmobiling, dirt-biking, anything that involved being at a track, playing baseball, golf, hunting, and tinkering on anything he could find. He loved spending time with family, friends, and picking on his nieces and nephews. Jesse loved trucking and everything that came with it. He was a self-employed trucker with Thelen Trucking, and he loved the open road. Jesse is survived by his wife, Jody; son, Mitchell; parents, John and Carol Thelen; brother, Jacob Thelen; grandma, Marion Thelen; father- and mother-in-law, Rich and Sue Burg; brothers-in-law, James Burg and Jake (Angie) Burg; sisters-in-law, Janelle (Chris) Harlander, Joan (Jake) Dick, and Jenna (Jimmy) Thull; and many nieces and nephews. He was preceded in death by his sister, Emily Thelen; grandparents, Freddie Thelen and Werner and Flo (Urbasich) Schneider. Arrangements are with the Wenner Funeral Home in Richmond, Minn.


June Tierney, Paynesville


June was born to Bill and Rosie Hervin and raised on a farm in Hector, Minn. She met Tom Tierney at a dance in Cedar Mills. She converted to Catholicism to marry Tom, and with her new last name came an Irish heritage she embraced as her own. After they were married, they lived with Tom's dad and sister in Litchfield. They welcomed a son, Jerry, in 1942, shortly before Tom served in WWII. After the war, in 1949 the Tierneys moved to a little house in Litchfield and welcomed a daughter, Charon. Tom died in 1959, leaving June a young widow. She was as strong as she was stubborn and worked hard to make a good life for her family. Following her husband Tom's death, June took over Tierney Well Drilling, in a time when women weren't working, much less running a business. In the way of civic engagement, June was a Girl Scout leader, proud member of the American Legion Auxiliary (for 69 years!), and an ambassador and campaigner for the Democrats. She enjoyed hosting coffee parties for the politicians' wives as they campaigned, a favorite being Joan Mondale. When Charon graduated from high school, June sold the business and house. She moved to Minneapolis, lived with her sisters, and found work at the Carriage House where June's knack for hospitality shone for 20 years. June worked hard so she could buy herself – and her family – nice things. She had a penchant for fine china, linens, and Ralph Lauren. June and her family loved shopping or, more accurately, browsing at downtown Daytons, Southdale, and Ridgedale. She loved beautiful things – from furniture to Christmas Trees – and developed a devotion to the Pottery Barn in her mid 80s. June never remarried. When she retired, she moved to Lake Koronis (Paynesville) with her daughter and helped care for her granddaughter. June enjoyed time with family in the area, made friends in the Lady Lakers, planted several gardens, and became a casual bird watcher. As a mother and grandmother, June enjoyed trips to Minneapolis to go shopping, and faithfully attended choir and band concerts, Girl Scout ceremonies, plays, and other milestone moments for her family. She was a confidant, chauffeur, and packer of lunches. June appreciated a well-made reuben sandwich, a cold can of Coke, and "something sweet" (preferably chocolate…or ice cream…or something from the Cold Spring Bakery). June's wit was subtle, yet delightful; she was always good-humored. She never complained. In her 90s, June began reading Rolling Stone magazine and the New Yorker (she loved the cartoons). She regularly watched Almanac on PBS, and loved Seth Meyer's late show. Until recently, she read the Sunday Star Tribune in full every week. June was probably more up-to-date on current events and cultural trends than any of her peers. She cheered and campaigned for her favorite Democrats. June lived by the idea that you should NEVER tell people your age or they'll start treating you like you're old. She was young beyond her years, driving her Buick into her mid 90s. June was quiet and humble about the good that she did. She loved to pray the rosary. She tended to and visited her family members' graves. Everyone she knew – no matter how different – was respected and important to her. True to her small town roots, June knew how everyone she met was connected to someone else she knew, and she would get that information in the first 15 minutes of meeting. She was intuitive, thoughtful, and rarely wrong. Stories about June have become legend across several generations. With her family at her side, June passed away at her home on Lake Koronis on Monday, Dec. 27, 2021. June is survived by her daughter Charon Tierney; brother Andrew (Ethel) Hervin; granddaughters Beth Tierney (Pete Locke), Amy (Tom) Pollock, Sara Tierney, and Sami Tierney; great-grandsons Jake and Adam Pollock; former daughter-in-law Lori Tierney; and many nieces, nephews, and dear friends. June was preceded in death by her husband Tom Tierney; son Jerry Tierney; granddaughter Shannon Tierney; sisters and their husbands: Florence and Rudy Remus, Mildred and Loren Asklund, Gladys and Vernon Johnson, and Dorothy and George Kaddatz; and parents William and Rosa Hervin. June's funeral was on Tuesday, Jan. 4 at St. Philip Catholic Church, Litchfield. Arrangements were through the Johnson-Hagglund Funeral Home. Please sign the online guestbook at www.johnsonhagglund.com.