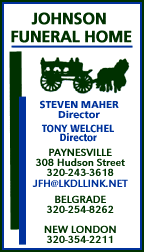 November 2022
October 2022
September 2022
August 2022
July 2022
June 2022
May 2022
April 2022
March 2022
February 2022
January 2022
December 2021
November 2021
October 2021
September 2021
August 2021
July 2021
June 2021
May 2021
April 2021
March 2021
February 2021
January 2021
December 2020
November 2020
October 2020
September 2020
August 2020
July 2020
June 2020
May 2020
April 2020
March 2020
February 2020
January 2020

Norma Walk, 83, Paynesville
Norma Lois Jensen was born on Aug. 29, 1939, in Austin, Minn., to Ernest and Ella (Hangge) Badenschier. She died peacefully on Wednesday, Nov. 30, 2022, at the Good Shepherd Memory Cottages in Sauk Rapids, Minn. She attended her first four grades of school in Kensett, Iowa, another grade at a country school in Hartland Township near Northwood, Iowa, and her last grades in Northwood, Iowa. She graduated from Northwood High School in 1957. She married Emil Jensen on June 1, 1958, at the Little Brown Church in Nashua, Iowa. They lived in Albert Lea, Minn., until moving to Paynesville, Minn., in 1974. Since her graduation, Norma held a variety of jobs. She worked as a stockroom clerk, retail clerk, seasonal farm laborer, at corn canning plants for Birdseye and Green Giant during the fall harvesting seasons, at seasonal potato farm warehouses, and as a restaurant hostess, among other odd jobs. Norma was a room mother to her children's classrooms and was a leader in the Paynesville 4-H Club. She was a charter member of the Koronis Nite Owl square dance group of Paynesville and served in the roles of president and vice president in this organization. She also belonged to the Roscoe Sportsman's Club. Norma was an avid cornhusker, winning several competition championships and awards both locally and nationally. Norma was a great animal lover of dogs, cats, and other animals and took great pride with her husband Emil in raising their purebred Polled Hereford herd. She is survived by daughters Delores (Harvey) Gertken and Kathy (Keith) Horky and son Douglas Jensen; grandchildren Kimberly (Shannon) Bertram, Molly (Scott) Sobania, Andrew (Cassie) Dingmann, Daniel (Tabitha) Gertken, Gregory (Erin) Gertken, Brian Gertken, Kaela Jensen, and Thi Jensen; and several great-grandchildren. She was preceded in death by husbands Emil Jensen and Dellis Walk, parents Ernest and Ella Badenschier, and grandchild Michael Dingmann. A memorial gathering will be held at the Daniel-Anderson Funeral Home in Paynesville, Minn., on Thursday, Dec. 29, from 12 noon to 4 p.m. Interment will be held at the Grandview Cemetery in Austin, Minn., at a later date.


James Atkinson, 96, Paynesville


James E. Atkinson, 96, passed away peacefully on Wednesday, Dec. 7, 2022, at Koronis Place in Paynesville. A memorial service celebrating his life will be held at 11 a.m. on Thursday, Dec. 29, 2022, at Paynesville Lutheran Church. Burial will take place at the Paynesville Cemetery. Visitation will begin at 10 a.m. on Thursday at the church. Arrangements are with Daniel-Anderson Funeral Home, Paynesville. Jim was born on Oct. 31, 1926, in St. Cloud to the late William and Lucy (Ruegemer) Atkinson. He married Betty Rien on Jan. 13, 1946, in Paynesville. They made their home in Paynesville and were blessed with six children. Jim was employed as an over-the-road truck driver with Cold Spring Granite and moved to Anderson Trucking when it was founded. He drove for over 45 years. Jim won a national award in 1990 for driving a million miles without an accident. Jim loved his family and enjoyed stopping at his out-of-state children's homes, taking routes so he could see them. He especially loved having all the children and grandchildren home or time with them at the cabin, creating many wonderful memories. He is survived by his children, Mike (Rita) of Paynesville, Peggy (Gary) Irrthum of Henderson, Nev., Curt (Karen) of Hawick, Mary (Robert) Hicks of Rancho Santa Margarita, Calif., and Bruce (Pauline) of Alamogordo, N.M.; 11 grandchildren; 20 great-grandchildren; and three great-great-grandchildren. He was preceded in death by his wife, Betty, in 2015; daughter, Susie; grandson, Trent Atkinson; and two great-0grandchildren. A heartfelt thank you to the staff of Koronis Place for their exceptional care.


James Woods, 76, Paynesville


James A. Woods, 76 of Paynesville, died on Saturday, Dec. 17, 2022 at his home in Paynesville. Funeral services will be held 11 a.m. on Thursday, Dec. 22, 2022, at Hawick United Methodist Church in Hawick. Visitation will be from 5-8 p.m. on Wednesday, Dec. 21, at the church and for one hour prior to the service. Burial, with military honors, will be in Grace West Cemetery in Belgrade at a later date. Arrangements are with the Johnson Funeral Home in Paynesville: www.hafh.org. James Alvin Woods was born on Feb. 15, 1946, in Miller, S.D., the son of George and Lola (Taylor) Woods. He grew up in Highmore, S.D., until moving as a teenager to rural Lake Lillian and attending Atwater High School. In 1964, he entered the United States Navy, where he served his country during the Vietnam War. He was honorably discharged and returned to Minnesota, making his home in Minneapolis and working as a carpenter and carpet layer. He moved back to the Atwater area in 1975, where he did dairy and crop farming. On June 5, 1998, Jim was united in marriage to Beverly (Oeltjenbruns) Jones. He retired in 2005, but continued to work as a handyman and doing odd jobs. He enjoyed having coffee with his friends, camping, woodworking, caring for his lawn, and spending time with family, especially his grandchildren. He is survived by his wife of 24 years, Bev (Oeltjenbruns) Jones-Woods; children, Tawnia (Dario) Lara and James George Jr. (Taryn) Woods; Bev's children, Chad (Bobbie) Jones, Pam Jones, and Steve (Chelsie) Jones; 22 grandchildren; and siblings, Verna Lynn Lundgren, Charles (Jane) Woods, and Cecil (Yvonne) Woods. He was preceded in death by his parents; sister, Carolyn; and Bev's son, Jim Jones.


Gerald Haagenson, 88, Crystal


Gerald A. Haagenson, 88, of Crystal, formerly of Paynesville, died on Tuesday, Dec. 13, 2022, at Methodist Hospital in St. Louis Park. Funeral services will be held at 11 a.m. on Thursday, Dec. 29, 2022, at Nordland Lutheran Church in rural Paynesville. Visitation will be for one hour prior to the service at church. Burial will be in the church cemetery. In lieu of flowers, consider a donation to Nordland Lutheran Church of rural Paynesville or the Michael J. Fox Foundation for Parkinson's Research. Arrangements are with the Johnson Funeral Home in Paynesville: www.hafh.org. Gerald Arthur Haagenson was born on Sept. 30, 1934, in Paynesville, the son of Melvin and Nellie (Olson) Haagenson. He was baptized and confirmed at Nordland Lutheran Church. He grew up on the family farm near Paynesville with his seven siblings. He and his brother, Ray, would eventually purchase the farm that they continued to farm throughout his life. He attended Paynesville High School, graduating in 1952. In June 1957, Jerry was united in marriage to Beverly Anderson. This union was blessed with three sons. They made their home in Crystal, where he worked for Graybar Electric for over 36 years and held many positions. In retirement, he worked with his son, Dean, in real estate for many years. Jerry was a lifelong member of Nordland Lutheran Church and former member of Calvary Lutheran Church in Golden Valley for over 50 years. He enjoyed playing golf that he picked up in his 40s and played in many leagues at Koronis Hills Golf Course. He also bowled in a bowling league for many years. He was an avid fisherman and loved being in the boat or fish house. Although he had many interests and passions through his life, family and faith were always his foundation. He is survived by his wife of 65 years, Beverly; sons, Dean (Debbie) Haagenson, Steve (Kris) Haagenson, and Jeff (Anna) Haagenson; grandchildren, Nicholas, Kelly, Ryan (Brianna), Peter (Kayte), James (Sloane), Brent, Leslie, Matthew, and Adam; great-grandchildren Andrew, Grace, Sadie, Lucy, Lola, and Nelle; sister, Marjorie; brother, Glen (Linda); and sisters-in-law, Barbara and Emilie. Jerry was proceeded in death by his parents; grandson, Andrew; great-grandson, Oliver; daughter-in-law, Jill; and numerous siblings and other family.


Joan Rothstein, 75, St. Martin


Mass of Christian Burial was held on Monday, Dec. 12, 2022, at St. Martin Catholic Church in St. Martin, Minn., for Joan M. Rothstein, 75, who died on Thursday, Dec. 8, at her home. Inurnment was in the parish cemetery. Joan was born Nov. 29, 1947, in Richmond, Minn., to Lawrence and Lorraine (Terres) Korte. She graduated from St. Cloud State University in 1969. She married Roger Rothstein on June 20, 1970, in St. Martin Catholic Church. Joan was an elementary school teacher and later was a bookkeeper for Lifestyle Lumber in St. Martin. She was the coordinator and a teacher for the St. Martin CCD program for many years. She loved to read everyday and was an amazing wife, mother, grandmother, and great-grandmother. Joan is survived by her husband, Roger; children, Scott (Rosario), Gina (Jim) Winter, and Kathryn; siblings, Gladys (Ron) Nienaber, Ruth Laine, Dennis (Irma) Korte, Ken (Pat) Korte, Mary (Conrad) Lauer, and Donna (Paul) Wellenstein; eight grandchildren; and four great-grandchildren, with another one on the way. She was preceded in death by her parents. Memorials are preferred to the St. Martin CCD program. Arrangements were with the Wenner Funeral Home, Richmond, Minn.


Karen Pratt, 90, Paynesville


Karen Freeman Pratt, 90, of Crystal and Paynesville, passed away on Sunday, Nov. 27, 2022. She was preceded in death by husbands, Donald Freeman and Paul Pratt; daughter, Kathy Anderson; and sister, Beverlee Wass. She is survived by children, Steve (Betsy) Freeman, Mark (Connie) Freeman, Edward Pratt, Barb (Rick) Sangren, and Carol (Steve) Lundeen; seven grandchildren, Justin, Andy, Daniel, Michael, and Kevin Freeman, Ryan Sangren, and Sara Misner; four great-grandchildren; other family; and friends. Karen was a longtime employee of the Federal Reserve Bank of Minneapolis and enjoyed volunteering at Albany Pioneer Days. A memorial service will be held on Monday, Dec. 19, at 1 p.m., with visitation one hour prior, at Valley Community Presbyterian Church (3100 Lilac Drive, Golden Valley). Interment will be at Glen Haven Memorial Gardens. Memorials preferred to the church in honor of Karen.


Thomas Robertson, 43, Wheaton


Thomas James Robertson was born Nov. 16, 1979, in Litchfield, Minn. He grew up in Central Minnesota playing, learning, working, and living the dairy farm life! This is where Tom was taught how to repair tractors and most everything else from his grandfather, dad, and others in his life. This started his love for mechanics and tinkering. He graduated from Paynesville Area High School in 1998. Tom moved to southern Maryland and worked at Leonardtown Ford from 1998-2006. Thomas earned an AA degree from Community College of Baltimore in automotive technology in the Ford Asset program in 2000. While taking classes at the College of Southern Maryland, he met the love of his life, Pika. Tom and Pika were married at St. Joseph's Catholic Church in Morganza, Md., on Aug. 10, 2002. The couple purchased their first home in Mechanicsville at the age of 23. They moved to Detroit, Mich., where Tom worked for Ford and Chrysler. Tom earned his bachelor's degree from Pennsylvania College of Technology in automotive science in 2007. Tom and Pika moved to the Chicago, Ill., area where Tom became a professor for the automotive program, where Tom shared his knowledge with eager students at the College of DuPage (Glen Ellyn, Ill.) for over 15 years. Tom also earned his master's degree from the University of Illinois in community college teaching and learning in 2010. Tom adored his family, especially all of the children in his life. He had so many friends because he treated everyone like they were his family. Tom, Pika and their good friend, Bob, own a cabin in Wisconsin, where they enjoy fishing on the lake, snowmobiling, entertaining friends and family, and remodeling their cabin. Tom was an avid adventurer and loved boating, hunting, shooting, teaching, tinkering, playing cards, and staying busy. He has had his private pilot license for two years and was about to test for his commercial pilot license. Tom lived a good Christian life. Tom and Pika had the pleasure of traveling the world, including Australia, Germany, Ireland, Dubai, Morocco, France, Spain, Japan, England, Alaska, and multiple trips to Hungary and Hawaii. Tom was currently in the Forest City Threshers Club, a gun club, and the IFC flying club. He also volunteered for SYB umpiring and coaching youth baseball, teaching Boy Scouts how to shoot, and countless other community programs from Minnesota to Maryland. Thomas left us unexpectedly on Nov. 25, 2022, after one final successful hunt with his brother, Jacob, leaving us broken hearted and lost. Thomas is survived by his loving wife of over 20 years-Piroska (Szorfy) Robertson of Wheaton, Ill.; his mother Susan L. Dingmann (Pete) of Paynesville, Minn.; his father Terry L. Robertson (Joy) of Lusby, Md.; his sisters: Jaime M. (Robertson) Schlangen (John) and nephews Jason and Jake of Richmond, Minn.; Kayla L. (Dingmann) Primus (Neil) and niece and nephews Faith, Anthony, and Gabriel of Becker, Minn.; Kelsey A. Robertson (Craig) and nieces and nephew Spencer, Phoenix, and Bensen of Concord, N.C.; and his brother Jacob W. Robertson (Dawn) and nephew, Jacob of Hollywood, Md. He is also survived by his grandparents Bill and Alice Wagoner of California, Md. mother- and father-in-law- Margit and Andras Szorfy of Gyor, Hungary; and sister-in-law Aniko Szorfy (Hugo) and nephew Alex of Ireland. He is survived by numerous caring aunts, uncles, and cousins. He was preceded in death by his grandparents: Bill and Pat Robertson of Watkins, Minn.; Harold and Leona Hemmesch of Richmond, Minn., and Alfred and Viola Dingmann of Roscoe, Minn., uncles Michael, Elmer, Victor, and Jerome Hemmesch, along with other extended relatives and friends. In lieu of flowers, please consider donating as the family sets up a scholarship fund in Thomas's memory for automotive students at the College of DuPage and at Paynesville Area High School. To donate to the Thomas Robertson Memorial Scholarship, go to https://foundation.cod.edu/donate/. Services will be held as follows: on Thursday, Dec. 1, 2022, at Rausch Funeral Home in Lusby, Md., and on Saturday, Dec. 10, at the St. Martin Catholic Church and Parish Center in St. Martin, Minn., with viewing from 10 a.m to 1 p.m. at the Parish Center with mass to follow at 1 p.m. in the church. A small luncheon will follow at the Parish Center. A third service will be held on Friday, Dec. 16, 2022, at the College of DuPage (425 Technology Education Center, RoomTEC1032, from 3-5 p.m. at 425 Fawell Boulevard, Glen Ellen, IL 60317


Doris Hess, 99, Paynesville


Mass of Christian Burial celebrating the life of Doris E. Hess, 99, of Paynesville was held on Monday, Dec. 5, at St. Louis Catholic Church in Paynesville. Doris passed away peacefully with family by her side on Tuesday, Nov. 29, 2022, at the Paynesville Hospital. Reverend Glenn Krystosek officiated. Burial was in the parish cemetery. Doris was born on March 4, 1923, on a farm near Regal, Minn., to John and Christine (Hemmesch) Fischbach and grew on a farm near Lake Henry. She married Elmer N. Hess on May 6, 1943, at St. Margaret's Catholic Church in Lake Henry. They lived in Lake Henry until moving to Paynesville in 1961. In addition to raising six children, Doris was employed making clothes at Wonderalls and later as a dietary aide at the Good Samaritan. She was a member of St. Louis Parish and Christian Women and Catholic United Financial. Doris also volunteered at VOSH (Volunteer Optometric Service of Humanity) and, through her work with them, she travelled to Third World countries. Because of her volunteer work with VOSH, she was given the Helen Keller Award by the Lions Club. Doris enjoyed playing bingo and cards, quilting, gardening, baking, watching the Minnesota Twins, and keeping up with the lives of her children and grandchildren. She will be remembered for her spunky and witty personality, love of family, and kindness to all. She is survived by her children, Ken (Lynnae), Donna Coulter, Jim (Margie), and Judy Hess, all of Paynesville, and Lois (Scott) Schwieger of Willmar; 14 grandchildren; 28 great-grandchildren; three great-great-grandchildren; daughter-in-law, Diane Hess of Hutchinson; sister, Arlene Raeker of Crystal; close friend, Helen Storkamp of Paynesville; and many nieces and nephews. She was preceded in death by her husband, Elmer in 1998; son, Ronnie in 2002; sister, Aurelia Fuchs; and brothers, Clarence, Harold, Ralph, Vernon, Nick, and Jerome Fischbach. Memorials are preferred. Arrangements were with the Daniel-Anderson Funeral Home, Paynesville.


Mark Herding, 65, Paynesville


Mass of Christian Burial will be held at 11 a.m. on Thursday, Dec. 8, 2022, at St. Louis Catholic Church in Paynesville for Mark A. Herding, 65, of Paynesville. Mark passed away on Thursday, Dec. 1, at the St. Cloud Hospital surrounded by his family. Reverend Glenn Krystosek will officiate. Burial will take place in the St. Anthony Cemetery in Regal. Visitation will be held from 4-8 p.m. on Wednesday, Dec. 7, at the Daniel-Anderson Funeral Home in Paynesville. Visitation will continue one hour prior to services on Thursday, Dec. 8, at the church. A rosary will be prayed by the Lake Henry Lions a 10:15 a.m. on Thursday in the church. Mark was born Feb. 10, 1957, in Paynesville, Minn., to Jerome and Leona (Manz) Herding. Ever since he was five years old, he helped with quite a few chores on the farm. After graduating in 1975, he continued farming with his dad. On April 19, 1980, he was united in marriage to Theresa Gruber, who also grew up on a farm. With the knowledge that both Mark and Theresa were passionate about farming, Mark's father Jerome decided to retire and offer Mark and Theresa to buy the farm. They did buy the farm, had a family, and their children are going to be the fifth generation living and working on the homestead. Mark is survived by his wife Theresa of Paynesville; his five children Judy Herding of Paynesville, Greg and Samantha Herding of New Munich,; Katie and Kassandra Herding of Paynesville; Mary and Sheri Herding of Paynesville; and Nick Herding of Paynesville; and seven grandchildren. He is also survived by his siblings Steven Herding of Belgrade, Dhiya and Helen Shaya of Yuma, Ariz., Susan and Mike Nienaber of Osakis, John and Theresa Herding of Belgrade, and Stephen and Shelly Burge of Lewisville, Texas. Mark was preceded in death by his parents Jerome and Leone Herding; in-laws Frank and Helen Gruber; and infant brother Mitchell.


Julie Moorhead, 83, Minneapolis


Julie Ann Moorhead, 83, of Minneapolis, Minn., formerly of Paynesville, Minn., and Ortonville, Minn., peacefully died on Tuesday, Nov. 22, 2022, at Chapel View Care Center in Hopkins, Minn., in the presence of her three surviving children. Julie was born on Jan. 9, 1939, in Breckenridge, Minn., the daughter of Joseph and Avis Brown Palmer Staber. She spent her childhood living on a farm near Wyndmere, N.D., and graduated from North Dakota State University in Fargo, N.D. Julie spent most of her career as the dietician at Ortonville Area Health Services. She loved her international and domestic travels, many trips with her camper, square dancing, and, most recently, spending her winters at Bentsen Grove Resort in Palmview, Texas. She was an active participant in the Council of Catholic Women, P.E.O., the Daughters of the American Revolution, and the Daughters of Isabella. Most of all, she loved her family. She will be greatly missed. She was preceded in death by her mother Avis Staber; her father Joe Staber; her husband Donald Moorhead; her daughter Lesley Moorhead; her fiancˇ Lee Hoffman; her husband Marvin Miller; two infant brothers; an infant sister; her brothers Joseph "Ronnie" Staber and Loris "Tony: Staber; and her sister Jacquie Staber. Julie is survived by three of her children: Ellen (Eric Larson) Hansen of Hopkins; Kirk (Jessica Maynard) Moorhead of Salt Lake City, Utah; and John (Clare) Moorhead of Coseley, England, U.K.; step-daughters: Sandi (Scott) Andreasen of St. Joseph, Minn., and Sue (Brian) Lemke of Avon, Minn.; four grandchildren: Zachary (Sydnee McMullen) Hansen of Aroma Park, Ill.; Jacob (Mary) Hansen of Medford, Minn., and Imogen and Felix Moorhead of Coseley, England; two great-grandchildren: Kai'den and Xaine Hansen of Medford. She is survived by her siblings, Chris Jane Petersonof Bonita Springs, Fla.; Joyce (Ronnie) Lee of Brooklyn Center, Minn.; Lisa Staber, M.D., of Grand Rapids, Minn., Joann (Jeff) Jodarski of Berlin, Wis, and Mark (Tara) Staber of Pillager, Minn.; eight stepgrandchildren; ten step-great-grandchildren; along with many nieces, nephews, cousins; and AFS student exchange children, Fernando Vela, Ecuador; Cedric Roh, Switzerland; Paulo Loureiro, Brazil; and Lucy Tousignant, Canada. Condolence cards and letters may be mailed to her address in Minneapolis: 3750 Harriet Avenue, Minneapolis, MN 55409. Her funeral mass will be held on Saturday, Jan. 7, at 11 a.m. at St. Louis Catholic Church (505 Burr Street, Paynesville, MN 56362) with interment to follow in the Paynesville Cemetery. In lieu of giving flowers, memorials are preferred to the church or, for those who are able, instead to donate to Catholic Charities of St. Paul and Minneapolis or another charity of choice. Arrangements are by the Harvey Anderson and Johnson Funeral Homes in Paynesville, Minn.

Home | Community | Marketplace