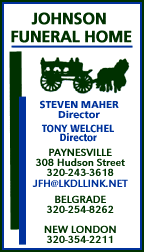 July 2021
June 2021
May 2021
April 2021
March 2021
February 2021
January 2021
December 2020
November 2020
October 2020
September 2020
August 2020
July 2020
June 2020
May 2020
April 2020
March 2020
February 2020
January 2020
December 2019
November 2019
October 2019
September 2019
August 2019
July 2019
June 2019
May 2019
April 2019
March 2019
February 2019
January 2019
December 2018
November 2018
October 2018
September 2018
August 2018
July 2018
June 2018
May 2018
April 2018
March 2018
February 2018
January 2018

Phillip Gottwald, 87, Paynesville
Memorial Mass of Christian Burial will be held at 10:30 a.m. on Tuesday, Aug. 17, 2021, at Assumption Catholic Church in Eden Valley for Phillip J. Gottwald, 87, of Paynesville, who passed away on Thursday Aug. 12, at the Paynesville Health Care Center (Koronis Manor). Rev. Aaron Nett will officiate. Entombment will take place in the St. Louis Parish Mausoleum. Visitation will begin after 9:30 a.m. on Tuesday, Aug. 17, at the church. Phillip was born May 31, 1934, in Lake Henry, Minn., to Joseph and Angela (Weidner) Gottwald. He attended school and farmed until he served in the U.S. Army in Germany during the Korean Conflict. He married Anna "Margot" Lang on June 16, 1956, in Contwig, Germany. They returned to farm in the Lake Henry area until 1975 when they moved to Paynesville. He then owned and operated Gottwald Oil Company from 1973 until retirement in 1994. He was a member of Lake Henry American Legion. Phillip enjoyed old cars, old tractors, trips to the casino, and playing cards. His family remembers his special devotion to the rosary, which he prayed throughout the day. He loved visiting with people, especially his grandchildren. Phillip is survived by his children Lucy Hoppe of Eden Valley, Martin (Troyce) of Kennedy, Ala., Judy (Bob) Wander of Paynesville, Edward of Kennedy, Ala., and Ursula (Ronald) Ruhland of Eden Valley; daughter-in-law Jane Mattonen; 24 grandchildren; 34 great-grandchildren; one great-great-granddaughter, and brother Leo of Miles City, Mont. Preceding Phillip in death were his parents; wife Margot; son Joseph; grandson Brandon Hoppe; brothers Gregor, Herbert, Albert, Vincent, and Joseph "Jim"; and sisters Elizabeth Clement, Marcella Irby, Marie Gottwald, Ursula Schramel, and Eleanor Maus.


Karen Tordsen, 78, Hutchinson


Karen Janice Tordesen, 78, of Hutchinson died on Monday, Aug. 9, 2021, at Fairview Southdale Hospital in Edina, Minn. Funeral Services were held on Monday, Aug. 16, at the Dobratz-Hantge Funeral Chapel in Hutchinson, Minn., with interment in the Ebenezer Church Cemetery in Paynesville, Minn. Officiating was Pastor Sara Hein, the organist was Vicki Wood, Vi and Cort Viesselman sang "I'll Fly Away" and "Precious Lord, Take My Hand," the congregation sang "How Great Thou Art," and casket bearers were Greg Schultz, Tom Walsh, Scott Liestman, Bob Liestman, Tim McCloud, and Kurt Gartner. Karen Janice Tordsen was born on June 29, 1943, in Eden Lake Township, Stearns County, Minn. She was the daughter of Alvin Schultz and Edna Liestman Schultz. Upon Edna's death, when Karen was just eight years old, she was taken into the loving care and home of Uncle and Aunt Lawrence "Fritz" and Bernice Liestman. Karen was baptized as an infant and was later confirmed in her faith at Ebenezer Church in Paynesville. Karen went to school and graduated from Paynesville High School in 1962. On Aug. 19, 1967, Karen was united in marriage to Robert William Arthur Tordsen at the Evangelical United Brethren Church in Paynesville, Minn. Karen and Bob lived in Hutchinson briefly before moving to their home of 17 years on Lake Marion and then to their Brownton home, where they resided 32 years. In 2018, Karen and Bob moved to their present home in Hutchinson. Karen enjoyed her career at 3M in Hutchinson, which spanned just short of 38 years. She retired at age 56 and enjoyed nearly 22 wonderful years spent with Bob in their retirement. Over their 54 years of marriage, Karen and Bob enjoyed traveling to the west and east coasts, nearly 50 years of bowling together in various leagues with teammates from the surrounding areas, fishing up north, and spending time at their cabin in Backus Ð one of Karen's favorite places to be. They were active members at Bethlehem United Methodist Church in Hutchinson, where Karen especially enjoyed serving as an usher. Karen was a member of the Brownton American Legion Auxiliary Unit #143 for over 30 years, and recently served as their membership chair. Karen is survived by her loving husband, Bob Tordsen; sisters-in-law, Diane (the late Ronald) Schultz and Lynn Mueller (the late Jack Mueller); cousin, John (Laurel) Liestman and their children, Stacey McKernan (Ragen and Bodie) and Shelly (Phil) Becker; cousin, Lynda Liestman; nephew, Greg (Nancy) Schultz and their children, Jake, Luke, and Jordan; niece, Pam (Tom) Walsh and their children, Hannah (Kurt and Annabelle) Gartner, Shelbie, Greta (Josh) Murrey, and Grace; uncle, Delmar (Donna) Liestman; and many other cousins, family, and friends. Karen was preceded in death by her parents, Alvin and Edna Schultz and Lawrence "Fritz" and Bernice Liestman; brothers, Ronald Schultz and Rodney Schultz; and sister-in-law, Beverly Schultz. Arrangements by the Dobratz-Hantge Chapels in Hutchinson. Online obituaries and guest book available at www.hantge.com.


Gene Nygaard, 80, Mound


Gene Nygaard, 80, of Mound, formerly of New London, died at his home at Harrison Bay Senior Living in Mound on Thursday, Aug. 5, 2021. His funeral service will be held at 11 a.m. on Tuesday, Aug. 10, 2021, at Nordland Lutheran Church in rural Hawick. Burial will be in the church cemetery. A visitation will be held one hour prior to the service at the church. Arthur Gene Nygaard was born on Jan. 8, 1941, on the family farm near Hawick, the son of Arthur and Gudrun (Swedberg) Nygaard. He attended country grade school and New London High School, graduating in 1959. After school he made his home in Paynesville, where he worked for G&T Foods as assistant manager until going to work for Minnegasco for 16 years. He moved to Albuquerque, N.M., in 1985 and returned in retirement to New London in 2001. Gene was an active member of Nordland Lutheran Church. He volunteered at the Little Theatre in New London and served as an officer in the New London Sons of the American Legion. In his earlier years he enjoyed hunting and fishing trips with his circle of friends, playing cards with his family, and having fun at the cabin on Lake Beauty. In retirement, he enjoyed gardening, bird watching, baking, coin collecting, watching Minnesota sports, playing cribbage, "and all that." He is survived by son, Mark (Mollie) Nygaard; grandsons, Max and Alec; sister, Audrey (Bud) Stulen; and sister-in-law, Doris Nygaard. He was preceded in death by his parents; siblings, Eileen, Clifton, and LinNae; his dog Snuffy; and former wife, Dianna. Services are entrusted to Johnson Funeral Home in Paynesville: www.hafh.org.


James Wegner, 91, Austin


James "Jim" Noel Wegner, 91, of Austin, Minn., passed away on Wednesday, Aug. 4, 2021, at St. Mark's Living in Austin. A memorial service will be held at 2 p.m. on Monday, Aug. 16, 2021, at Worlein Funeral Home Chapel in Austin. Visitation will take place one hour prior to the service. Private interment will be in the Paynesville Cemetery at a later date. Military honors by American Legion Post #91 and V.F.W. Post #1216. James was born in Paynesville, Minn., to Raymond and Marvel (Grover) Wegner on July 25, 1930. He attended school in Paynesville and graduated in 1948. Jim went on to attend the University of Minnesota - Duluth, graduating in 1953 with a degree in art education and a minor in social studies. Jim then served two years in the U.S. Army, putting his artistic talents to use by brush lettering maneuver charts for 7th Army headquarters. After his honorable discharge from the service, he began a teaching position in Chisholm. In 1956, Jim accepted a position in Austin, which was the start of a 38-year career. He spent 10 years with Austin Public Schools and 28 years with Riverland Commu-nity College, where the art gallery is named after him. On Dec. 29, 1956, Jim married Catherine Brown in a snowstorm. The couple were kindergarten friends. Jim continued his education at the University of Minnesota - Duluth, where he received a master's degree in painting and art history. He studied with major artists at both the University of Colorado and the University of Minnesota - Duluth. Jim was a master teacher for the London Dash for 22 years and for 24 years hosted gallery/theater tours to Chicago. He was an active volunteer and presenter with the Austin Art Center and also taught classes and held open studio sessions for budding artists. Jim was a member of the First United Methodist Church, where he helped select the organ, sang in the choir, and designed beautiful banners for the church. He was also a member of the American Legion Post #91 and Vision 2020. Jim sang in many musical groups including the Austin Male Chorus, Northwestern Singers, and Express Male. He was a president of the Mower County Horticulture Society and the Minnesota Art Educators for several years. He enjoyed gardening, photography, and traveling. While traveling Jim documented his trips through drawings. He will be dearly missed by all who knew and loved him. Survivors include his wife, Catherine Wegner of Austin, Minn.; sister, Carolyn Swyter of Paynesville, Minn.; and twin sister, Jean Moe of Paynesville; sister-in-law, Betty (Robert) Havens; special niece, Susie (Michael) Putzke of Paynesville; and other nieces and nephews. He was preceded in death by his parents, Raymond and Marvel Wegner. Memorials are preferred to the Austin Area Art Center or First United Methodist Church. Services are prearranged and performed by Worlein Funeral Home of Austin. Condolences may be expressed to the family online at www.worlein.com.


James Drimel, 86, Paynesville


James "Jim" Drimel, 86, of Paynesville, Minn., passed away peacefully on the morning of Wednesday, August 4, 2021, after a struggle with cancer. Jim was born on July 8, 1935, in Richmond, Minn., and graduated from Paynesville High School in 1953. Jim married Alyce "Ali" Weidner from Cold Spring, Minn., and raised three children, Craig, Ric and Lara, in Anoka, Minn. After retiring from Anoka Technical College, where he taught for 40-plus years, Jim and Ali spent winters in Arizona and summers at their cabin on Lake Koronis in Paynesville, Minn. Jim served in the U.S. Army after high school and was active in the Army Reserves for over 45 years after his service. Jim enjoyed playing golf with his friends in his spare time. Jim is preceded in death by his mother Leona; father Ray; sister Karen; as well as his sons Craig and Ric and granddaughter Katrina. He is survived by his wife Ali; daughter Lara Solberg; grandchildren Barrett, Aiden, and Rhenna Solberg; as well as his brother Bill (Dorine) Drimel and his sister Mary (Joe) Winter. Private services were held. In lieu of flowers, please give to your charity of choice.