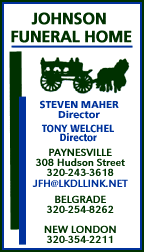 July 2022
June 2022
May 2022
April 2022
March 2022
February 2022
January 2022
December 2021
November 2021
October 2021
September 2021
August 2021
July 2021
June 2021
May 2021
April 2021
March 2021
February 2021
January 2021
December 2020
November 2020
October 2020
September 2020
August 2020
July 2020
June 2020
May 2020
April 2020
March 2020
February 2020
January 2020
December 2019
November 2019
October 2019
September 2019
August 2019
July 2019
June 2019
May 2019
April 2019
March 2019
February 2019
January 2019
December 2018
November 2018
October 2018
September 2018
August 2018
July 2018
June 2018
May 2018
April 2018
March 2018
February 2018
January 2018

Toma Chesness, 82, Paynesville
Toma Ethel (Teaney) Chesness, born Nov. 29, 1939, passed on Monday, Aug. 22, 2022, after a long battle with cancer. Born in South Dakota to Thomas and Ethel Teaney and sister Shirley, she moved to Paynesville, Minn. around age five. She met her husband at the local drugstore at age 16, graduated and got engaged on May 30, 1957, and married at age 18. She had four children. She loved nature and was an avid gardener, fisher, and sports fan. She found a way to merge her love of crafting with rocks and flowers to create so many unique and special pieces. A huge card shark, country music fan, line dancer, and excellent cook, she loved to travel and never found a place she didn't like. She was preceded in death by her parents and sister; her daughter Cindy Woods; and her granddaughter, Hannah St Martin. She is greatly missed and survived by her husband, Jim of 64 years; her children Terry (Guy) St Martin, Thomas (Jessica) Chesness, and Curt (Cyndie) Chesness; grandchildren Gary (Heather) Woods, Danielle (Brad) Nelson, Lauren (Saul) St Martin Sanchez, Austin Chesness, Kasi Chesness, Taylor Woods, Jordan Chesness, and Abby Chesness; seven great-grandchildren; and many more dear family and friends. Her celebration of life will be held on Sunday, Sept. 11, at 1 p.m. at the Sherwood Forest Pavilion in Aitkin, Minn.


Marilyn Simpson, 88, Paynesville


Marilyn A. Simpson, 88, of Paynesville died on Saturday, Aug. 20, 2022, at her home near Paynesville. A memorial service will be held at 2 p.m. on Thursday, Aug. 25, 2022, at Grace Methodist Church in Paynesville. Visitation will be for one hour prior to the service at church. Burial will be in Fort Snelling National Cemetery in Minneapolis at a later date. Marilyn Ann Simpson was born on May 7, 1934, in Lanesboro, the daughter of Millerd and Anna (Thompson) Bostrack. She grew up in Whalan, where she attended grade school. She graduated from Lansboro High School in 1950. On Feb. 26, 1956, Marilyn was united in marriage to Eugen Simpson at the Little Brown Church in Vale, Iowa. They made their home in Winona and were blessed with a son and two daughters. At the age of 41, Marilyn attended and graduated from cosmetology school, becoming a manager of a shop in the hospital and working as instructor at the vo-tech. In retirement, they moved to Rice Lake in 1994 and to Paynesville in 2002. Marilyn was a beautiful, wife, mother, grandma, sister, and friend. She loved to bake, clean and enjoyed her daily walk and bike rides. She was a faithful member of Grace United Methodist Church and had a great faith in her lord. In 1988, she suffered an AVM stroke, leaving her paralyzed on the right side. As discouraging as this was, she worked to overcome her disabilities and always remained patient and kind through her challenges. Gene was her main caregiver, along with her family. After Gene died, she lived with Tanya and Kevin until the time of her death. She will be remembered for her contagious smile, willingness to go anywhere at any time, and infectious attitude, with everyday being a good day to Marilyn. She is survived by her children, Mark Simpson of Rochester, Dee Dee Brown of Ft. Myers, Fla., and Tanya (Kevin) Beckius of Paynesville; grandchildren, Brooke Simpson, Joshua Simpson, Amy Brown, Michael Brown, Casey Masepchl, Megan Beckius, and James Beckius; great-grandchildren, Laney, Lila and Axel Hickman; siblings, Luther Bostrack, Marjule (Armond) Boehnke, Carolyn LeBrun, and Paul (Kathy) Bostrack; brother-in-law, Dennis (Shirley) Simpson; sister-in-law, Vicky (Dennis) Decker; and extended family, Cindy Anderson, Paul Coulter, Monica Scullen, and Mary (Tom) Voskuhl. She was preceded in death by her husband, Eugene; granddaughter, Jenna Jean; parents; and siblings, Phillip Bostrack and Geri Dottson. The family wishes to thank all who helped with Marilyn's care and support through the years, especially caregivers, Deb, Angie, Alexa and Crystal and Billiejay with hospice.


Pamela Nistler, 59, Paynesville


Pamela Rae Nistler was a caring friend, sister, mother, grandmother, and mentor to her community. She parted ways on Monday, Aug. 15, 2022, at her home. Pamela was born Aug. 6, 1963, the daughter of Linus and Janelda Nistler. She grew up in Paynesville and spent many adventurous years traveling and discovering her nature. She was devoted to her interests - gardening, woodworking, reading, and cooking - and sought to share her experiences and blessings. Who doesn't remember getting a "Hey Darlin'!" or being invited to Chinese Supper Night, where a good time was had by all. She was fiercely independent, kind hearted, and ready to help in a moment of need. She always provided guidance and sanctuary to those who found their way into her presence. She is survived by her two children; two grandchildren; siblings Christopher (Deb) Nistler, Kelly (Nancy) Nistler, Victor Nistler, and Rebecca Nistler; and her father Linus Nister. She was proceeded in death by her mother Janelda Nister and brother Patrick Nistler. A private interment will be held at a later date at Burr Oak Cemetery.


June Simpson, 94, Paynesville


June Simpson, 94, of Paynesville died on Monday, Aug. 1, 2022 at Rushseba Station in Rush City. Funeral services were held at 11 a.m on Monday, Aug. 8, 2022, at Paynesville Lutheran Cemetery in Paynesville. Visitation was one hour prior to the service at the church. Burial was in Pelican Lake Methodist Cemetery near Buffalo. Memorials may be directed to the Paynesville Lutheran Church or American Cancer Society. Arrangements were with the Johnson Funeral Home in Paynesville: www.hafh.org. June J. Simpson was born on June 25, 1928, in Buffalo, Minn., the daughter of Harry and Lena (Weinand) Link. She attended Buffalo High School and Tech High School in St. Cloud, where she graduated in 1946. On July 2, 1947, she was united in marriage to Howard Simpson. This union was blessed with a son and a daughter. They made their home in St. Paul until 1984 when they moved to Rice Lake near Paynesville. June and Howard were able to share in 60 years of marriage before his death on April 20, 2008. June was a member of Paynesville Lutheran Church. She was also was a member of the VFW Auxiliary Post #428 of St. Cloud and Disabled Veterans Auxiliary of Kansas City. She was a volunteer of the St. Cloud VA Hospital and Benedictine Center. She is survived by her children, Bruce (Vicki) Simpson and Cheryl (Mike) Tobin; seven grandchildren; 15 great-grandchildren; five great-great-grandchildren; and numerous nieces and nephews. She was preceded in death by her husband, Howard; parents; five brothers; and two sisters.


Pamela Pfeifer, 73, Paynesville


Pamela A. Pfeifer, 73, of Paynesville, died on Thursday, July 28, 2022, at the St. Cloud Hospital. Memorial services will be at 11 a.m. Wednesday, Aug. 10, 2022, at Paynesville Lutheran Church in Paynesville. Visitation will begin on Wednesday, Aug. 10, at 9:30 a.m. until time of service. Burial will be in the Minnesota State Veterans Cemetery in Little Falls. In lieu of flowers, memorials may be directed to Mission Experience of Haiti (www.missionexperienc.org) or to the PLC general fund. Arrangements are with the Johnson Funeral Home in Paynesville: www.hafh.org. Pamela Ann Pfeifer was born on Dec. 27, 1948, in Jersey City, N.J., the daughter of Arthur and Eleanor (Backe) Lindstrom. She grew up in Jersey City, where she attended Briggs Grammar School and Jefferson High School, graduating in 1967. She continued her education at Bethany Lutheran College in Mankato. On Sept. 13, 1969, Pam was united in marriage to Siegmund Pfeifer in Sparta, N.J. They made their home in Nicollet and Litchfield before moving to Paynesville in 2000. After her children were born, she enrolled at St. Cloud State University, where she received her degree in Early Childhood Special Education and brought the Early Childhood Family Education program to Paynesville. She retired in 2013. Pam was an active member of Paynesville Lutheran Church, where she sang in the choir, served on council, taught Sunday school, and participated in Bible study. She enjoyed young children, reading, family activities, spoiling her grandchildren, cooking, and collecting recipes. She is survived by her husband, Siegmund, of 52 years; children, Nicole (Paul) Johnson of Two Harbors and Eric Pfeifer of Blaine; and grandchildren, Joshua, Luke, Mallorie, and Olivia. She was preceded in death by her parents; and siblings, Arthur and Nadine.