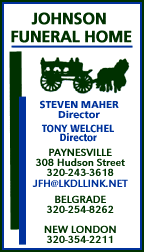 March 2022
February 2022
January 2022
December 2021
November 2021
October 2021
September 2021
August 2021
July 2021
June 2021
May 2021
April 2021
March 2021
February 2021
January 2021
December 2020
November 2020
October 2020
September 2020
August 2020
July 2020
June 2020
May 2020
April 2020
March 2020
February 2020
January 2020
December 2019
November 2019
October 2019
September 2019
August 2019
July 2019
June 2019
May 2019
April 2019
March 2019
February 2019
January 2019
December 2018
November 2018
October 2018
September 2018
August 2018
July 2018
June 2018
May 2018
April 2018
March 2018
February 2018
January 2018

Evelyn Brunlett, 98, Paynesville
Evelyn R. Bruntlett was born April 9, 1924, to Arvid and Christine Swanson in Renville, Minn. Evelyn was the youngest of five children: sisters Myrtle, Alice, and Mildred and a brother Vincent. She attended District #99 country school and Renville High School before her family moved to Paynesville, Minn., in 1938. She was a PHS graduate in the Class of 1942. Following high school, Evelyn moved to Minneapolis and worked at Minnesota Mining and Manufacturing (3M), as an IBM operator. In the fall of 1944, Evelyn –with her sisters Myrtle and Alice – enlisted with the Navy WAVES. Evelyn had a strong desire to serve her country. She also was passionate about travel and thus military service afforded her adventurous spirit the opportunity to see and learn of new places. Her pride in being a WAVE was something she carried throughout her life, evidenced by membership in the St. Cloud women's veterans association, Granite City WAVES. In her later years, she and her sister Myrtle were recognized for their service through participation of an Honor Flight to Washington, D.C. The 'sisters' received their Specialist(X), third-class training at Hunter College in New York City.  Evelyn was then stationed in San Francisco, Calif., as navy personnel with the Sixth Navy District. After the end of WWII, Evelyn stayed in California, working as a civilian as an IBM operator, until her return to Minnesota. Evelyn married Dale K. Bruntlett in September 1948.  They raised four children: Craig, Kevin, Kim, and Heidi on the family farmstead, just east of Paynesville, Minn.  She enjoyed her many friends and family as the years passed.  She was an avid bowler and gardener and loved to swim in Lake Koronis. Her card playing group not only played for fun, but also raised money for cancer research. She was fond of several charities and quietly gave to those in need. Evelyn worked for 10 years as a nursing assistant in the Paynesville Good Samaritan Community, and she was a Foster Grandparent in the Paynesville School District for six years. She cared about the lives she touched in fulfilling those jobs. She loved being useful, bubbly, and shared stories of her kindergarten kids with all her family. Evelyn loved watching sports, whether it was professional teams or her children and grandchildren in their school and community sports. Evelyn especially LOVED watching her grandson Eric play professional baseball! Her family was her pride and joy! After Dale passed away in 1982, Evelyn remained on the farm and managed the farmland. Evelyn moved to Paynesville in 2017 and resided in Roseville, Minn., at the time of her passing on Jan. 13, 2022. Her last request was to be a donor for research through the anatomy bequest program at the University of Minnesota. Evelyn is survived by her children: Craig (Angela) Bruntlett of Lafayette, Ind., Kevin (Gloria) Bruntlett of Paynesville, Minn., Kim Hough (Kirk Johnson) of Marine of St Croix, Minn., Heidi Bruntlett (Joe McCarney) of St Michael, Minn.; 12 grandchildren; and 15 great-grandchildren. Also, by many nieces, nephews, and friends. Evelyn was proceeded in death by her parents; her husband, Dale; and siblings, Vincent, Myrtle, Alice, and Mildred. There will a Celebration of Life at the Paynesville American Legion on Saturday, April 30, 2022 from 2-5 p.m. A short service will be held at 2:30 p.m. In lieu of flowers, please make donations in her name to Alzheimers Research, Cancer Research, or the American Heart Association.


Sheree Twedt, 64, Eden Valley


A memorial service will be 2 p.m. on Saturday, April 23, 2022, at Church of God in Eden Valley for Sheree J. Twedt, 64, who passed away peacefully Tuesday, April 12, at her home surrounded by her loved ones: her husband Walte and children Shannon, Edwin, and Hollynd after a courageous 14-year battle with cancer. Rev. Anne Fischhaber will officiate with a private burial at a later date. Visitation will be 5-8 p.m. on Friday, April 22, at Williams Dingmann Family Funeral Home in Eden Valley and one hour prior to the services at the church. There will be a prayer service at 7:30 p.m. on Friday at the funeral home. In honor of her favorite color, wear purple if you wish to do so. No flowers please. Complete obituary, guest book, and video tribute available online at: www.williamsdingmann.com.


Diane Ota, 71, Waite Park


Diane (Mueller) Ota was born on June 10, 1950, to Marcus and Vivian Wuertz Mueller of Lake Henry, Minn. She grew up on the farm and graduated from Paynesville High school in 1968. After graduation she went on to pursue a nursing career and graduated from Northwestern Hospital School of Nursing in 1970. Diane then moved to Colorado. In 1978, she married Otto Ota of Denver, Colo. From that union, a son Jacob was born in 1982, the light of her life. Diane spent all her adult life as an RN or working in the medical field. After retiring, she returned to Minnesota to help her ailing mother. She gave of herself selflessly and will always be remembered for the many kind things she did for all. After her mother's death in 2014, she built her dream patio home in Waite Park. She made many fine lap quilts and donated them to the nursing home residents in Waite Park. She passed away peacefully on Sunday, March 27, due to complications from cancer in the home she loved surrounded by family that loved her. Preceding her in death were her parents, Marcus and Vivian Mueller; maternal and paternal grandparents; aunts/uncles on both sides; infant nephew (Marcus J Mueller); and infant niece (Denise Wood). She is survived by: son Jacob Ota of Colorado (Harold Whipp); siblings Anita Campbell (Colie), Janice Brownie (Lawrence), Greg Mueller (Linda), John Mueller (Cookie), Mary Lauber (Brian), and Susie Danielowski (Jeff); significant other Jay Thompson of Paynesville; and many aunts, uncles, nieces, and nephews. Her significant other Jay Thompson was always there to encourage her to participate in all of life's joyous adventures. A special "surprise" birthday party for her was celebrated at a local park in the summer of 2021. Everyone was able to come and keep the surprise a secret. What fun was had by all! May Diane rest in peace. She will be missed and remembered by many. A special thank you to CentraCare Hospice, all those who brought food or other goods, and to anyone who offered kind words and encouragement to Diane or the family. You are so appreciated. No celebration or memorial is planned at this time.


Robert Schaefer, 92, Scottsdale


Robert (Bob) John Schaefer passed peacefully at his home in Scottsdale, Ariz., on Friday, March 25, 2022. Bob was born March 18, 1930, in St. Cloud, Minn., to Dr. Vincent and Jacqueline (van der Hagen) Schaefer. He was the oldest of four children and spent his childhood in St. Cloud, graduating from St. John's Preparatory School in 1948. He went on to graduate from the University of Minnesota in 1951 with a degree in agriculture. After graduation, he was drafted into the U.S. Army and fought in the Korean War. While on leave, he married Irene Kost and they were blessed with six children. In Minnesota, Bob first worked for the Minnesota Department of Soil Conservation and was later involved in the turkey business in the Paynesville area. In 1969, Bob moved his family to Scottsdale, Ariz., where he invested in multiple enterprises. He enjoyed traveling, which resulted in many wonderful trips with family and friends. He had many varied interests including jazz, hunting, Arabian horses, and WWII. Bob was preceded in death by his son Robert, his parents, a brother, and a sister. Bob is survived by his wife of 68 years, Irene; five children Eileen (Ken) Landes, Susan (Tom) Pusel, Tom (Linda) Schaefer, Karen (Bill) Blubaugh, and Mary Schaefer (David Crain); four grandchildren; four great-grandchildren; and one brother, James Schaefer. There was a funeral Mass and burial on Monday, April 4, in Scottsdale, Ariz. In lieu of flowers, please donate to Hospice of the Valley or St. Vincent de Paul, in memory of Robert Schaefer.


Charlene Dols, 92, Richmond


Service of Christian Burial will be at 1 p.m., on Monday, April 11, 2022, at the Wenner Funeral Home in Richmond, Minn., for Charlene (Char) Dols, 92, who died at Assumption Home in Cold Spring. Inurnment will be in Sts. Peter and Paul Parish Cemetery following the service. Relatives and friends may call from 10 a.m. to 1 p.m. on Monday, April 11, at the Wenner Funeral Home, Richmond. Charlene was born in New Munich, Minn., to Ray and Ella (Kulzer) Metzger. She country schooled next to the home farm and graduated from Melrose High School. Char married Jerry Dols on Oct. 9, 1951, (67 years of marriage), and they were blessed with six sons. Char and her family left Meire Grove and moved to Richmond, where they started a new business adventure in 1961 by purchasing the Richmond Creamery. Char and Jerry took a chance in 1966, sold the creamery, and without any food/beverage experience, they bought Tony's Bar and Cafe on the Main Street corner in Richmond. Enter their sons and a lot of good community employees, they started catering the bar and food for weddings and anniversaries all across Stearns County. Finding catering a lot of time and work, they decided to add a banquet room to the back of their building in 1972 and remodeled the bar, kitchen, and cafe, hence the creation of the landmark Jerry's Supper Club! Charlene was a very big part of the success of the supper club. It was always decorated beautifully, and her pride and joy was her delicious salad bar. Char was a wonderful, classy lady and always a friendly face to greet the customers, dressed to the nines and not a hair out of place. Char was a loving wife, devoted to her sons, and loved by all. In her free time, she enjoyed her Lady 500 card club for over 50 years. She traveled around the country, enjoying golf and Arizona where they vacationed, for many years. Char is survived by sons, Mike (Mar), David (Bonnie), Daniel (Linda), Gerard, and Paul (Pam); daughter-in-law, Corinna Campbell; siblings, Sister Gabriel (Joyce Metzger) and Linda Metzger-Lane; and sisters-in-law, Glady Metzger and Kim Lane. Char had 11 grandchildren and eight great-grandchildren. Char was preceded in death by her parents; husband, Jerry (2018); son, Greg Dols (1994); and siblings, Alquin, Anthony, and James. Following the funeral service, luncheon will be served at the Old Richmond Coliseum. Arrangements are with Wenner Funeral Home, Richmond.


Pamela Urbanski, 61, Paynesville


A gathering of family and friends will be held on Friday, April 8, 2022, from 4-8 p.m. at the Daniel-Anderson Funeral Home in Paynesville for Pamela J. Urbanski, 61, of Paynesville. Pam passed away peacefully on Friday, April 1, 2022, at CentraCare in Paynesville. Pam born on Aug. 21, 1960, in St. Paul to Richard and Lauraine (Cairl) Urbanski. She first worked at Hilltop Restaurant in Paynesville, went on to work at Animal Fair in Eden Valley, Fingerhut in St. Cloud, and most recently at Manhattan Toys in Eden Valley. Pam enjoyed playing cards, puzzles, and being outdoors at the lake. Pam is survived by her longtime companion Al Boie of Paynesville; sister Cynthia Wilson; as well as many other relatives and friends. Pam was preceded in death by her parents; sister Linda Urbanski, and brothers Richard Urbanski, Andrew Urbanski, and William Urbanski.


Patrick Johnson, 84, Paynesville


Patrick Charles Johnson passed away peacefully on Thursday, March 31. He left a large family that loved the stubborn old man immensely. His wife of 62 years, Beverly, will miss his daily jokes, all of her gifts from Fleet Supply, and his ability to make anything she desired. He leaves four children and five granddaughters that value the knowledge and life lessons he offered, even some excellent examples of what not to do. He enjoyed the best of Paynesville, the ladies that brightened his day at Casey's, the clerks at Fleet Supply that continued to accept the returns of "things we really didn't need," the liquor store who treated him like family, and the gentlemen at Paynesville Auto that he would visit for "a quote." Their genuine kindness and conversation were always appreciated. Patrick did many things in his life including being an Eagle Scout, serving in the Navy, running several businesses, and building homes. One of his best days was when his 10 brothers and sisters found him and his brother bringing 12 siblings together for the first time when he was 60 years old. His greatest accomplishment was his family and his legacy of quiet determination to a flaw. Patrick, knowing he should have never lived this long, donated his body to science. In lieu of gifts, please thank your clerks, cashiers, and other service members in your community and realize how important they are to people they serve.