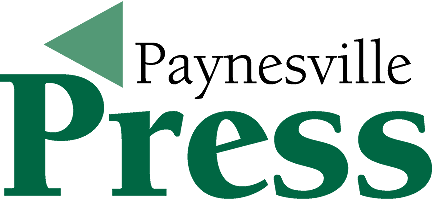 ---
Information about the Paynesville Press



Paynesville Press: Paynesville's award-winning weekly community newspaper for 130 years -- 1,900 paid circulation. Deadline is Monday noon.

Central Minnesota Area Shopper: A weekly shopper with 6,600 circulation, delivered Saturday or Sunday by our delivery system. Deadline is Thursday noon.

Classy Canary: -- a 36,000 common supplement with a Thursday noon dealine.


To subcribe to the Paynesville Press:
Mailed Subscription Rates are $38 for Paynesville City residents; $41 in Stearns County; $51 in Meeker and Kandiyohi counties; $56 in the rest of Minnesota; and $68 for out-of-state residents for one year;

Online Digital Subscriptions: $29.00 online digital subscription for one year

COMBO Online and Mailed Subscriptions: Paynesville Residents, $57; Stearns, $60.00; Meeker and Kandiyohi counties, $70; Rest of Minnesota, $75; and out-of-state, $87.

Others: Temporary Address Change, Periodical Mailing, $2.50/Month; Temporary Address Change, First Class Mailing, $1.50/week

To subscribe: Send your name, mailing address and how you would like to pay (check or credit card) to:
circulation@paynesvillepress.com


CONTACT US!

Paynesville Press
211 Washburne Ave., PO Box 54
Paynesville, MN 56362

320-243-3772 • 1-888-223-1371
Fax: 320-243-4492

News
editor@paynesvillepress.com
reporter@paynesvillepress.com

Advertising
adsales@paynesvillepress.com
ads@paynesvillepress.com

Subscriptions
circulation@paynesvillepress.com

Design/Commercial Printing
design@paynesvillepress.com

Society
society@paynesvillepress.com

Classifieds
classifieds@paynesvillepress.com

Public Notices/Legals
legalnotices@paynesvillepress.com

Billing/Accounting
accounting@paynesvillepress.com



History of the Press
Paynesville has had a printed weekly newspaper since 1887. This is over 130 years of recorded history for the community of Paynesville and the surrounding area. For the last 20 years, the Paynesville Press has also distributed a shopper called Press Plus, which is now known as the Central MN Lakes Area Shopper.

Now the Paynesville Press had expanded from those printed publications to bring community news, advertising, opinions, sports, community information, and classifieds to the world wide web. The Paynesville Area Online pages will bring the information about the Paynesville area to the world electronically through the Internet and can bring the world back to Paynesville.

We hope you enjoy our pages. Give us your reactions, questions, ideas.

Peter and Lynne Jacobson, publishers of the Paynesville Press from 1973-2006, retired in June 1, 2006.
Farewell column | Story about their 25 years as publishers.



---
[Home | Community | Marketplace]
---