---
Sports Stories
For the week of June 14, 2006
---
Dogs head to state...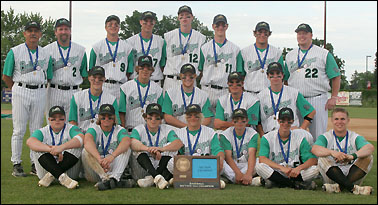 The PAHS baseball team won the Section 5AA title on Thursday,
defeating Litchfield 9-6 at Joe Faber Field in St. Cloud,
and qualified for the Class AA state tournament this week.
The Bulldogs will play Mora on Thursday at 12:30 p.m. at Dick Putz Field
in the first round at state. Win or lose, they will play again
on Thursday at 5:30 p.m. against either Morris or Maple River.
Pictured with their section championship trophy are: (front) Chuck Mackedanz,
James Paul, Trent Hansen, Alex Naujokas, Brett Savelkoul, Tyler Zimmerman,
and John Hemingson; (middle) Steve Gerding, Ryan Hess, Mark Andrie,
Derek Looman, and Mitch Mueller; (back) assistant coach Dick Realdsen,
head coach Brad Skoglund, Sean Glenz, Cory Nietfeld, Ben Moser,
Derek Stanger, Sam Bayer, and assistant coach Tom Ludwig.
State Baseball Bracket

---

Return to Archives • Return to Sports
---
[ Home | News | Marketplace | Community ]

---
Comments regarding the stories can be
addressed to editor@paynesvillepress.com

© 2006, Paynesville Press, Inc. All rights reserved.
---