The PAHS girls' 3,200-meter relay competed at the Class A State Track and Field Meet at Hamline University on Saturday afternoon, finishing tenth and just missing earning All State honors.

The top nine individuals and relays earned medals and All State honors at the state meet, which was moved from the National Sports Center in Blaine to Hamline University in St. Paul this year.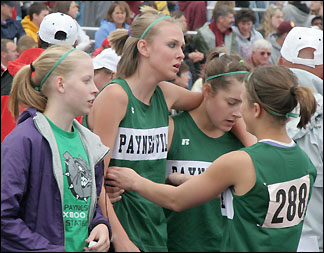 Two weeks ago, the Dogs' 3,200-meter relay - ninth grader Linda Keller, junior Tanis Beireis, junior Kacy Nehowig, and sophomore Kaitlyn Frenchick - qualified for state by winning the Section 5A title, setting a new school record of 9:57.73 in the process.
Relay teammates Linda Keller, Kaitlyn Frenchick, Tanis Beireis, and Kacy Nehowig gather for a group hug after finishing tenth in the 3,200-meter relay at the Class A state meet on Saturday at Hamline University.
At state, they were seeded ninth out of 11 teams in the 3,200-meter relay, in which each runner makes two laps, running 800 meters per relay leg.
Keller sprinted to the early lead for the Dogs and held it for most of the second lap but faded down the stretch. The Dogs were ninth on the first handoff and 11th by the second handoff. Nehowig passed the Deer River/Northland runner during her second lap, and Frenchick the race with the Dogs in tenth.
Perham (9:31.62) won the race with East Grand Forks (9:40.05) second and Sauk Centre (9:40.21), a conference rival of the Dogs, third. Staples-Motley (9:42.12) was fourth; Pipestone (9:49.81) fifth; LaCrescent (9:50.12) sixth; Visitation (9:56.86) seventh; St. Croix Lutheran (9:57.68) eighth; and Fairmont (10:09.41) ninth. The Dogs (10:22.81) were tenth followed by Deer River/ Northland (10:40.46) in 11th.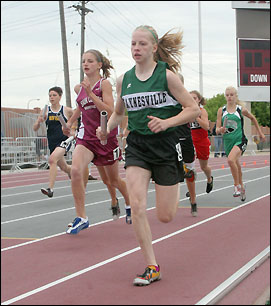 The Dogs' goal was to finish in the top nine and earn All State honors, as the Dogs' 1,600-meter relay did last year by finishing seventh. Had the Dogs run the same school-record time as sections, they would have beaten Fairmont but still finished just ninth.
Ninth grader Linda Keller sprinted to an early lead in the 3,200-meter relay at state on Saturday but faded down the homestretch.
They ran 25 seconds slower in the blustery conditions at the state meet at Hamline on Saturday.
Conference rivals Sauk Centre and St. Cloud Cathedral both finished in the top ten in Class A at state. The Crusaders' 1,600-meter relay, which edged the Dogs' at sections by a step, finished second at state, lowering their time at state by four seconds.
The 3,200-meter relay team was only the second girls' relay to race at state, joining last year's 1,600-meter relay (Bri Jaeger and Kally Felling, now ninth graders; 2005 grad Kendra Johnson; and Frenchick).
It was Frenchick's and Nehowig's second time each running at the state track meet - Nehowig having run in the 3,200-meter run in 2004 - while Beireis and Keller ran at state track for the first time. All four have qualified for state individually in cross country with Keller earning All State honors last fall and Nehowig in 2002 and 2003.
Top Ten Team Scores
1. Blake 52.0
2. Litchfield 44.5
3. Watertown-Mayer 40.0
4. Pillager 36.5
5. Jackson County Central 36.0
6. Sauk Centre 33.0
7. Tracy-Milroy-Balaton 31.0
8. St. Cloud Cathedral 29.0
9. GM/LOK/Southland 28.0
United South Central 28.0
51 additional schools scored team points at the state track meet.
Individual Results
3,200-meter relay: Linda Keller, Tanis Beireis, Kacy Nehowig, and Kaitlyn Frenchick, tenth, 10:22.81.
---
Contact the author at editor@paynesvillepress.com • Return to Sports
Home | Marketplace | Community
---