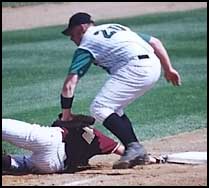 The state tournament experience of Blue Earth Area combined with first game jitters for Paynesville to lead to an opening round 14-9 loss for the Dogs on Thursday morning.
This was the first state tourna-ment baseball game in the history of Paynesville Area High School, and it showed over the first three innings, as the Buccaneers took a 9-0 lead after three at bats.
Blue Earth, who were playing in their third straight state baseball tournament, scored five runs in the top of the second and four more in the top of the third, capped by a three-run homer by leadoff hitter T.J. Stallman with two outs in the third.
"We looked tight," said head coach Brad Skoglund. "As hard as it is, you have to be relaxed to play good ball."
Sophomore Adam Kampsen makes a late tag at third on a Blue Earth runner during the Dogs' 14-9 loss on Thursday.
Blue Earth took third last year and second this year, advancing to the title game before losing to Rochester Lourdes 15-0 in five innings. To beat Blue Earth, the Bulldogs probably would have needed to play a nearly flawless game, like they did in the section finals in beating Waconia twice in the same night.
Instead the Dogs committed five errors, including one apiece in the second and third innings. Of Blue Earth's first nine runs, eight were unearned.
Admirably, though, the Bulldogs didn't quit. In what was a microcosm of their entire season, the team kept battling when they could have given up. "The kids kept their heads up, battled at the plate, and came back," said Skoglund.
Over the last four and a half innings, the Dogs outscored Blue Earth 9-5, making the final 14-9. "At first we were nervous, after that we settled down and played good baseball," explained sophomore Adam Kampsen.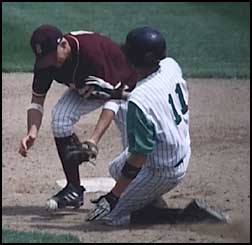 Senior Wes Lieser, sliding safely into second, had three hits and three RBIs against Blue Earth on Thursday.
The Bulldogs got their bats going in the third inning, after Blue Earth lifted starting pitcher Lee Hodges to save him for later in the tourney. Senior Max Meagher singled, stole second, and scored on a double to left by junior Josh Kampsen.
Meagher keyed a three-run rally in the fourth inning. After senior Pat Rohe walked and senior Nic Fuchs doubled to left-center, Meagher drilled a double down the rightfield line to score two. He then scored on an RBI single by senior Jeremy Fuchs.
In the fifth inning, Kampsen singled, reached second on a wild pitch, and scored on an RBI single by senior Wes Lieser.
Trailing 14-5, the Bulldogs scored four runs in the bottom of the seventh. Kampsen reached base on a Blue Earth error, and junior Josh Krupke doubled to put runners on second and third. Both scored on Lieser's single. After Rohe walked for the third time in the game, both he and Lieser scored on Nic Fuchs' double.
While the Bulldogs did not manage to rally and win, they did get their bats going and get some momentum on their side for their next game against Jackson Country Central, said Skoglund.
| | | | | | | |
| --- | --- | --- | --- | --- | --- | --- |
| Blue Earth-- | 054 | 121 | 1 | - 14 | 13 | 1 |
| Paynesville-- | 001 | 310 | 4 | - 9 | 11 | 5 |
Blue Earth - Batting: T.J. Stallman 2-3 HR 2B RBI-4; Andrew Arndt 2-4 3B RBI-2 R; Todd Rasmussen 2-4 2B R-2 SB; Lee Hodges 2-4 2B RBI R; Jim Grant 2-5 R-2 RBI-2; Jay Fredrickson 2-5 2B R-3 RBI-2; Kurt Van Kley 1-2 R-2 RBI; Pitching: (ip-h-r-er-bb-k) Hodges (2-1-0-0-0-3); Arndt (W) (5-10-9-8-4-5).
Paynesville - Batting: Wes Lieser 3-4 RBI-3 R; Max Meagher 2-4 2B R-2 RBI-2 SB; Nic Fuchs 2-4 2B-2 RBI-2; Josh Kampsen 2-4 2B R-2 RBI; Josh Krupke 1-3 2B R; Jeremy Fuchs 1-4 RBI; Pat Rohe 0-1 BB-3 R-2; Pitching: (ip-h-r-er-bb-k) Josh Kampsen (L) (2.2-6-9-1-3-1); Jeremy Fuchs (4.1-7-5-3-5-3).
---
Contact the author at paypress@lkdllink.net • Return to Sports
Home | Marketplace | Community
---