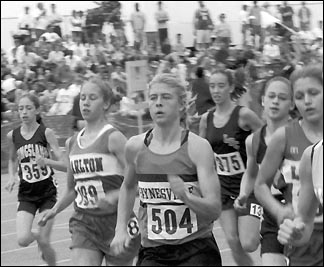 On Friday evening, senior Jen Hess stepped onto the now familiar blue stadium track at the National Sports Center in Blaine for the state track and field meet for the fifth time in her career. Before hanging up her high school spikes, she gave the spectators a final run for their money, winning the 3,200-meter run, claiming her third high school state title.
She is the first three-time individual state champion in school history. (She won the Class A cross country titles the past two years.)
Hess also added to her state medal collection with a runner-up finish in the 1,600-meter run on Saturday afternoon. She was joined on the medal stand by senior teammate Melissa Bachman, who put on quite a show herself, vaulting her way to a fourth-place finish in the pole vault.
With just those two athletes, Paynesville, as a team, tied for sixth place out of more than 80 schools. Section 5A rivals Holdingford and Delano finished 1-2 in Class A.
Hess' victory in the 3,200-meter run is her third career individual state championship and her first in track. She joins Tiffany Karsch as the seconnd girls' track state champion in school history. Karsch won the high jump in 1993. (Hess and Karsch were joined by senior Josh Trees on Saturday, who won the triple jump and became the third track champion for PAHS.)
After the first lap in the 3,200-meter run, Hess had already broken away from the pack and was followed only by the defending state champion, Catherine Ferrell of St. Paul Academy. But after the third lap, Hess opened up a gap on Ferrell, too, and her lead grew for the remainder of the race.
"Her first lap was so strong that the rest of the runners couldn't stay with her," said coach Dave Randgaard. "She dominated."
The crowd cheered in awe as Hess crossed the finish line in 10:58.95 ­ an astounding 25 seconds ahead of the second-place finisher.
Hess came within a second of breaking her school record in the two-mile run, which she set at 10:58 in 2000. That year she took second at state, as she did again last year. "I didn't think I'd ever run under 11 minutes again. I thought those days were over," admitted Hess.
She had a little more company on Saturday in the 1,600-meter run. In her usual fashion, she commanded an early lead, but unlike the two mile she could hear the sound of her competitors' footsteps pounding behind her. When the bell sounded on the final lap Liz Palkie, a sophomore from Carlton-Wrenshall, made her move.
The duo ran neck-in-neck for much of the last lap, but in a sprint to the finish, Palkie came out on top.
"I beat Liz yesterday in the two-mile, and she beat me today in the mile. We just swapped places," Hess said casually. "She's a really nice girl," she added.
Last year, Hess finished third in the mile and second in the two mile. She did the same in 2000 and took third in both in 1999.
This year she improved in both events, placing second in the mile and first in the two mile.
Hess has now earned 12 state medals in her high school career: eight in track and four in cross country. She remembers this year's repeat victory in cross country as special because she was also able to compete as part of a team. In addition to her individual victory, she earned a silver medal for the team's second place finish. "It was fun to be there with the whole team," said Hess.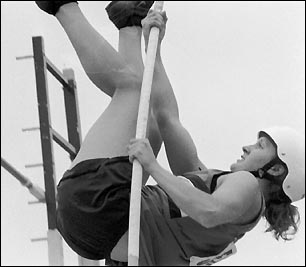 Bachman also made school history with the highest state finish in the girls' pole vault ever. She entered the meet seeded third after vaulting 10' 6" at sections, which was a new school record and set a Section 5A record.
Bachman felt good in warm ups and then cleared 9' 6" with ease on her second attempt.
At 10' and 10' 3", Bachman strapped on her helmet and removed her pole from a pile of poles sharing the same rack. Charging down the runway, she sprang into the sky. Once airborne, she fell from the height of the bar and landed on the padded mats, clearing both heights in her first attempt.
"I'm shakin' just a little after that one," said Bachman with wide eyes after spring boarding over the bar at 10' 3".
By the time she cleared that, all but four competitors had been eliminated. Clearing 10' 6" proved a challenge worthy of multiple attempts for all the remaining vaulters. Bachman just brushed the bar once, and twice she made it over but made contact on the way down.
The top seed ­ Theresa Kramer of Murray County Central ­ also dropped out at 10' 3".
This trip to state was Bachman's third. She was an entrant in the pole vault in 1999 and 2000. "I'm happy with a medal, but I was hoping for the blue," she said with a smile.
"These two girls are two of the most successful girls in the history of Paynesville track and field," said Randgaard. "They are extremely dedicated to their events, and their work ethic is outstanding. Missy pole vaults year round at SCSU and has also hit the weight room hard. And nobody runs more than Jen."
Boys' coach Darrell Carstens, who has worked closely with Hess in cross country and in track, hates to think about next season without her. "Jen will be unbelievably missed," he said. "Everything else has already been said. Class act. Class girl. It'll be real tough not to see her in the fall."
Both girls will compete collegiately next year. Bachman will compete at the Division II level at St. Cloud State University, and Hess will compete at the Division I level at the University of Minnesota.
Team scores
1. Holdingford - 56
2. Delano - 46
3. Pipestone-Jasper - 43
4. Cedar Mountain - 31
5. Blake - 28.5
6. Paynesville Area - 28
6. Deer River - 28
8. Carlton/Wrenshall - 26
9. Visitation - 24
10. Lewiston-Altura - 22
11. Minnesota Valley Lutheran - 21
12. Breck School - 20
12. Janesville-Waldorf - 20
14. Mayer Lutheran - 19
15. St. Cloud Cathedral - 18
15. Marshall School, Duluth - 18
15. Milaca - 18
15. Blooming Prairie - 18
19. Triton - 17
20. Tracy-Milroy-Balaton - 16
20. Dilworth/Glyndon/Felton - 16
20. Brooklyn Center - 16
20. Fulda - 16
24. LeSueur-Henderson/Clevel - 15
25. New Richland-H-E-G - 14.75
26. International Falls - 14
26. Frazee - 14
26. Minnehaha Academy - 14
29. Roseau - 13
29. Hayfield - 13
31. Perham - 12
31. Wadena-Deer Creek - 12
(79 teams scored at the state meet)
Individual Results

1,600-meter run: Jen Hess, second, 5:07.30;
3,200-meter run: Jen Hess, first, 10:58.95;
Pole vault: Melissa Bachman, fourth, 10' 3".
---
Contact the author at paypress@lkdllink.net • Return to Sports
Home | Marketplace | Community
---