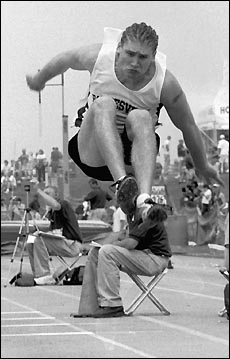 Senior Josh Trees became the Class A state champion in the triple jump on Saturday afternoon. The state meet track and field meet was held at the National Sports Center in Blaine.
Trees became the third state track champion for Paynesville, and the first male to take first place at state. He joins Tiffany Karsch, who won the high jump in 1993, and classmate Jen Hess, who won the 3,200-meter run on Friday.
The weather was quite warm for this year's state meet, with cloudy skies in the early part of Saturday afternoon.
Trees was ranked first due to his jump of 46 feet at sections, which set a meet record. That is now the school record.
Trees took seven jumps at state, three in the preliminaries and four in finals. His final jump of the preliminaries was his best. It measured one quarter of an inch shy of 45 feet. "I wanted to go a little farther, but nobody was jumping well," Trees said,
Except for his very first jump, which was a scratch, every jump Trees took would have gotten him the state title. Trees had five jumps that were over 44 feet. The second place jump was 42 feet 11.25 inches.
Last year Trees had a leap of 42 feet 7.5 inches at state, good enough for second place. It had been a goal of his all year to win the state title, and he did it with ease.
Trees' nearest competitor was over two feet behind. "It feels great to be the state champ!" said Trees.
Trees was also part of the 400-meter relay team, which just missed earning state medals. The relay team came into the state meet ranked seventh. The top six reach the podium and are awarded medals. The relay team of seniors Ryan Whitcomb, Nic Glenz, Adam Schaefer, and Trees was looking to upset at least one team to reach the podium.
Unfortunately the team placed exactly where they were ranked, in seventh.
The team was in ninth place when Trees got the baton for the final leg. Trees flew down the final stretch and passed two competitors, but was unable to catch any others, finishing seventh.
"I wanted to be on the platform, but at least we made it (to state)," said Schaefer.
The relay team from Plainview won the race with a time of 43.42. Maple River was second, followed by Concordia Academy in third, La Crescent in fourth, Redwood Valley in fifth, and Pine River-Backus in sixth.
"I knew the competition was stiff coming in. Even though we ran our fastest time ever, we just didn't run fast enough to make the platform," said Glenz, who was making his third trip to the state meet. He has competed in a different event each year.
This isn't the first time Glenz has been quite close to the state medal platform. In 2000, Glenz missed the platform by one place when he was part of a seventh place 1600-meter relay team. Other members were Jeff Voss, Luke Trees, and Eric Rausch.
Last year, Glenz placed 12th in the pole vault.
This year's relay team missed the podium by six tenths of a second. The team's hand offs were not as good as they had been in recent meets. "Hand offs are the key in the 400-meter relay," said Whitcomb. "Ours were okay, but they could have been better."
Not only did the team miss the platform by one place, they also missed the school record by two tenths of a second. The school record of 44.60 seconds was set in 1980 by Paul Voss, Mike Thyen, Eric Setterberg, and Bryan Bork. Whitcomb, Glenz, Schaefer, and Trees ran it in 44.80 on Saturday.
Coach Darrel Carstens was happy with the performances his athletes put forth. Carstens said that you can never ask for more than an athlete's best performance. The relay had a personal best day, and he certainly couldn't ask for more than the state championship performance Trees gave.
"We placed right where we were ranked to place in both of the events," he said.
The two alternates for the relay were sophomore Lee Fuchs-Thielen and junior Milan Virant.
Team scores
1. Plainview - 65
2. St. Croix Lutheran - 36
3. Warroad - 33
4. Maple River - 30
5. Luverne - 29
5. Staples-Motley - 29
7. Concordia Academy - 26
7. Hills-Beaver Creek - 26
9. Lake Crystal - 25
10. Crosby-Ironton - 24.5
11. Milaca - 24
12. Atwater-Cosmos-Grove City - 23
13. Long Prairie-Grey Eagle - 20
13. Mounds Park Academy - 20
13. Mesabi East - 20
13. LeSueur-Henderson - 20
17 Redwood Valley - 17
18. St. James - 16
18. Holdingford - 16
20. Paynesville - 15
20. New London-Spicer - 15
20. Stewartville - 15
20. Kingsland - 15
24. St. Agnes-St. Bernard's - 14
24. St. Cloud Cathedral - 14
26. Cannon Falls - 13
27. Lake Benton - 12
27. Zumbrota-Mazeppa - 12
27. Madelia-Truman - 12
27. Esko - 12
(78 teams scored points at state)
Individual Results 400-meter relay: Ryan Whitcomb, Nic Glenz, Adam Schaefer, Josh Trees, seventh, 44.80;
Triple jump: Trees, first, 44' 11.75".
---
Contact the author at paypress@lkdllink.net • Return to Sports
Home | Marketplace | Community
---