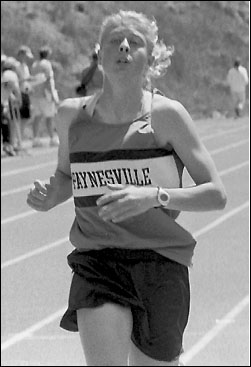 Seven girls from the Bulldogs girls' track team competed at the Section 5A track and field meet on Wednesday, May 29, at St. John's University. They all did an excellent job, and two girls - seniors Melissa Bachman (pictured below) and Jen Hess (pictured at right) - advanced to the state meet this weekend.
To qualify for state, athletes either had to win or take second in an individual event, run on a winning relay, or meet a state-qualifying distance, height, or time. Hess won both the 1,600- and the 3,200-meter runs to advance to state in track for the fifth time. She won the section title in both events for the fourth consecutive year.
In the past three years, she has placed in the top three at state in both events, including runner-up finishes in the 3,200-meter run in both 2000 and 2001.
Bachman is advancing to state in the pole vault for the third time. She won the pole vault competition last week by getting her personal best (10' 6"). She also set a new school record, beating her old record by two inches, and she set a new Section 5A record.
Bachman beat the old section record, set in 2001, by six inches. She is the third Bulldog female trackster to hold a Section 5A record, joining Sara Realdsen who set the 100-meter dash record of 12.4 in 1986 and Hess who set the 3,200-meter run record in last year at 11:01.71.
This was Bachman's first section championship. In her previous two state trips, she had met the state qualifying standard.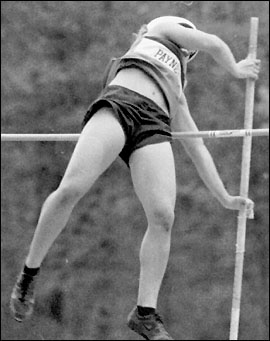 Eighth grader Brooke Schmitz ran outstanding in both the 800- and 1,600-meter runs, running her personal best in both and taking third in each. She just fell short of qualifying for state by one place in both events. In the 800-meter race, Schmitz missed a state berth by less than a second.
In the hurdles, ninth grader Kendra Johnson placed seventh in both the 100-meter and the 300-meter hurdle races. She had her personal best time (50.10) in the 300-meter race.
In the shot put, senior Heidi Jansen placed seventh with a put of 32' 11". She finished a great season and career in the shot put, setting a new school record in the event (36' 6") in winning the conference title.
Seventh grader Kacy Nehowig placed 12th in the 3,200-meter or two-mile run, and eighth grader Tara Schmidt ran in the 200-meter dash at sections but unfortunately wasn't able to place.
With only seven athletes competing, the Bulldogs managed to take sixth as a team. Delano won the Section 5A title again, with Holdingford second and St. Cloud Cathedral - who edged the Bulldogs for the conference title - taking third.
The state meet will be held at the National Sports Center in Blaine, just off Highway 65, on Friday, June 7, and Saturday, June 8.
On Friday, Hess will compete in the finals of the 3,200-meter run. Class A events start at 4 p.m., and Hess's race could start around 6:30 p.m., depending on the progress of the preliminary races and on the weather.
On Saturday, the Class A girls' pole vault competition begins at 12 noon. The Class A girls' finals in the 1,600-meter run are scheduled to start at 12:18 p.m.
Team Scores
1. Delano 89
2. Holdingford 72
3. Cathedral 67
4. Mayer Lutheran 65
5. ACGC 51.5
6. Paynesville 46
7. Sauk Centre 44
8. Milaca 37
9. Becker 34
10. LPGE 28
11. Annandale 25
12. Norwood-Young America 22
13. Foley 21
14. Albany 17
15. Watertown-Mayer 14
15. Maple Lake 14
17. New London-Spicer 13
18. Pierz 9
18. Belgrade-Brooten-Elrosa 9
20. EV-W/Kimball 8.5
21. Holy Trinity 6
22. Lester Prairie 5
23. Melrose 3
24. Holy Family 2

Individual Results
100-meter hurdles: Kendra Johnson, seventh, 17.5;
300-meter hurdles: Johnson, seventh, 50.10 (personal best);
200-meter dash: Tara Schmidt, did not place, 28.3;
800-meter run: Brooke Schmitz, third, 2:24.15 (personal best);
1,600-meter run: Jenny Hess, first, 5:10; Schmitz, third, 5:21.87 (personal best);
3,200-meter run: Hess, first, 11:19.82; Kacy Nehowig, 12th, 13:14;
Shot put: Heidi Jansen, seventh, 32' 11 1/2";
Pole vault: Bachman, first, 10' 6".

---
Contact the author at paypress@lkdllink.net • Return to Sports
Home
| Marketplace | Community
---