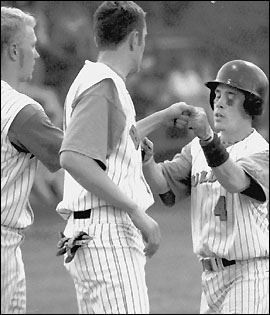 Playing according to cliché, the Bulldogs baseball team used pitching, defense, and timely hitting to claim the Subsection 20AA title last week. The Bulldogs ­ now on a four-game winning streak ­ beat Annandale and Rockford last week for the subsection title in Maple Lake, the Dogs' first since 1996.
Senior Ryan Schneider is congratulated by teammates Wes Lieser (center) and Adam Kampsen (left) after scoring the Bulldogs' first run in their three-run sixth.
"It's really pleasing," said coach Brad Skoglund, who will coach a team at sections for the second time.
An 11-hit attack propelled the Dogs, seeded second, to victory in the subsection final against Annandale, the fourth seed, on Thursday night. The Dogs scored five runs in the third inning and three more in the sixth to win 9-3.
In the third, senior Craig Thomes walked and advanced to second on a hit by senior Jeremy Fuchs. Annandale then tried a trick pick-off play by faking a wild throw to second. Thomes managed to dive back safely to second to avoid a tag from the pitcher, and the attempt seemed to make the Dogs more determined.
Thomes scored the Dogs' first run when junior Josh Krupke's hard-hit ball eluded the Cardinals' first baseman. Then sophomore Adam Kampsen walked to load the bases, and senior Wes Lieser brought home two runs with a double to right. Kampsen scored on a groundout by senior Pat Rohe, and Lieser scored on an RBI single by Nic Fuchs.
The Bulldogs gave up an unearned run in the fourth but got it back in the fifth, when Rohe hustled his way to third on a three-base throwing error and scored on a sacrifice fly by Nic Fuchs.
In the sixth, after Annandale cut the lead to 6-3, senior Ryan Schneider led off with a bunt single, and Thomes grounded a single to center. Schneider scored on a sacrifice fly by Jeremy Fuchs, Thomes scored on an RBI double to rightcenter by Krupke, and Krupke in turn scored on a double to left by Kampsen.
In the bottom of the sixth, the Bulldogs made a nice defensive play to thwart the Cardinals and keep the momentum. With two on and nobody out, Schneider ­ the catcher ­ threw to senior Max Meagher at second to pick off the lead Cardinals runner, which hurt the rally and dented the Cardinals' hopes for a comeback. "You could just see the air go out of Annandale's balloon," said Skoglund.
The Cardinals also had two on and no out in the seventh inning, but Kampsen struck out the final two batters for the complete-game victory. He became the third Dogs player to pitch a complete game in the playoffs and win, joining his brother Josh Kampsen and Jeremy Fuchs.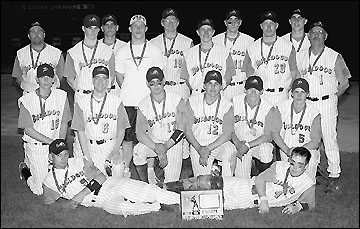 Both Annandale and Paynesville have advanced to the section playoffs. Annandale played the Subsection 17AA runner-up in an elimination game on Monday at 5 p.m. at Faber Field in St. Cloud.
Members of the Bulldogs' varsity baseball team posed with their subsection championship trophy. In front are Jeremy Fuchs and Ryan Schneider; middle are Aaron Nietfeld, Danny Schutz, Pat Rohe, Nic Fuchs, Russ Leyendecker, and Scott Thomes; in back are head coach Brad Skoglund, Josh Krupke, Dustin Humbert, Josh Kampsen, Scott Buermann, Craig Thomes, Wes Lieser, Adam Kampsen, Max Meagher, and assistant coach Dick Realdsen.
The Bulldogs played Waconia ­ the Subsection 17AA champion ­ in the winner's game on Monday at 7:30 p.m. and lost 12-1. Waconia advanced straight to the section finals, while Paynesville had to play Annandale again on Tuesday.
The Section 5AA final will be held on Thursday, June 6, starting at 5 p.m. If Paynesville makes it to the final, the Bulldogs would have to beat Waconia twice to advance to state.
| | | | | | | |
| --- | --- | --- | --- | --- | --- | --- |
| Paynesville-- | 005 | 013 | 0 | - 9 | 11 | 3 |
| Annandale-- | 000 | 120 | 0 | - 3 | 5 | 3 |
Paynesville ­ Batting: Nic Fuchs 2-2 RBI-2; Max Meagher 2-4 2B; Wes Lieser 1-4 2B RBI-2 R; Josh Krupke 1-4 2B R-2 RBI; Craig Thomes 1-3 R-2; Adam Kampsen 1-2 2B R RBI; Jeremy Fuchs 1-3 R RBI; Ryan Schneider 1-4 R; Russ Leyendecker 1-1 SB; Pitching: (ip-h-r-er-bb-k) Adam Kampsen (W) (7-5-3-2-5-6).
Rockford ­ Batting: Marcus Zahn 3-4 HR 2B; Dylan Sprague 1-2 RBI; Greg Horsch 1-3; Pitching: Matt Cordell, Bryce Connick (3), and Eric Feldseth (6).
Paynesville 5, Rockford 2
The #2 Bulldogs beat #3 Rockford 5-2 with pitching and defense on Wednesday in Maple Lake. This game was originally scheduled for Tuesday but was delayed a day because of wet field conditions.
The Bulldogs' defense helped them defeat Rockford despite being outhit 9-5. In the second inning, for instance, Rockford had the bases loaded with no one out, but the Dogs turned a 1-2-3 double play and then got the final out on a fly out. The double play went from pitcher Jeremy Fuchs to catcher Ryan Schneider for the force at home to Wes Lieser at first.
"That (play) was huge," said Skoglund.
Schneider also threw out a runner trying to steal in the fifth and the Dogs ended the fourth inning, when Rockford scored their two runs by throwing out a runner at third base.
The Bulldogs took a 1-0 lead with a run in the second as Lieser walked, advanced on error, and scored on a groundout by Max Meagher.
After Rockford took a 2-1 lead in the fourth, the Bulldogs responded with three runs in the sixth. Meagher walked, stole second, and scored on Craig Thomes' two-out single. Fuchs reached on an error, and both he and Thomes scored on Josh Krupke's double.
The Bulldogs added another run in the sixth as Adam Kampsen doubled, advanced to third on senior Pat Rohe's single, and scored on a groundout by Nic Fuchs.
Jeremy Fuchs pitched a complete game for the victory against Rockford, scattering nine hits.
Junior Josh Kampsen, a pitcher and catcher, hurt his arm in an amateur baseball game over the Memorial Day weekend and did not play last week. He is questionable to play this week at sections.
| | | | | | | |
| --- | --- | --- | --- | --- | --- | --- |
| Rockford-- | 000 | 200 | 0 | - 2 | 9 | 3 |
| Paynesville-- | 011 | 031 | x | - 5 | 5 | 1 |
Rockford ­ Batting: Jason Lesser 2-3 R; John Meegan 2-3 R; Dusty Littlefield 2-4; Pitching: (ip-h-r-er-bb-k) Marc Michlitch (L) (6-5-5-2-2-3).
Paynesville ­ Batting: Josh Krupke 1-3 2B RBI-2; Adam Kampsen 1-3 2B R; Craig Thomes 1-2 R RBI; Wes Lieser 1-2 R; Pat Rohe 1-3 SB; Pitching: (ip-h-r-er-bb-k) Jeremy Fuchs (W) (7-9-2-2-2-5).
---
Contact the author at paypress@lkdllink.net • Return to Sports
Home
| Marketplace | Community
---