---
Headline Stories
For the week of Oct. 12, 2005
---
Schools celebrate Homecoming week...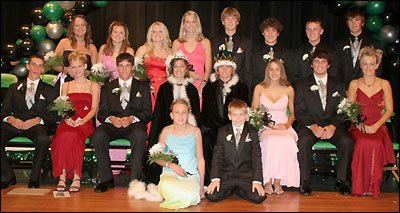 Members of the Homecoming court were: (front) sixth graders Breanna Hess
and Cole Woehler; (seated) ninth grader Zachary Humbert and
Amanda Mackedanz, junior Sam Bayer, queen Kayla Nelson, king Jamie Paul,
junior Celia Frieler, and sophomores Kevin Kline and Natalie Leadem;
(back) senior candidates Katie Bertram, Amber Jensen, Ashley Lieser,
Lynn Lieser, Justin Bork, Trent Hansen, John Hemingson, and Derek Looman.
---
Return to Archives • Return to the News Page.
---
[ Home | News | Marketplace | Community ]

---
Comments regarding this web page can be
addressed to paypress@paynesvillepress.com

Comments regarding the stories can be
addressed to editor@paynesvillepress.com

© 2005, Paynesville Press, Inc. All rights reserved.
---