This summer, Mike and Rita Garding accomplished a long-term goal by riding their motorcycle into Needles, Calif. In reaching this dusty city on Interstate 40, located on the border of California and Arizona, the Gardings traveled in their 48th state on motorcycle.

The Gardings, who have been cycling for 30 years, since they were married in August 1974, set their sights on reaching all of the lower 48 states in 2001, when they took their first extended motorcycle trip.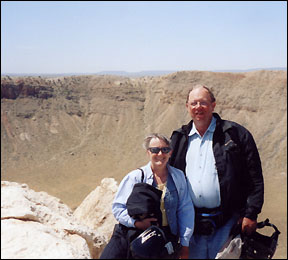 That year, the last of their six kids left their Lake Henry farm, and Mike and Rita left on a two-week trip three days later. They drove to the Rocky Mountains in Montana and Alberta, Canada, and then decided that since they were so close, they might as well drive to Washington state and Oregon.
Rita and Mike Garding posed by a meteor crater in Arizona, their 47th state, in June. The Lake Henry couple reached California - their 48th, and last, state in the continental United States - a few days later.
Having reached the far northwestern corner, they decided to set a goal to reach all 48 states in the continental United States."We wanted to take more trips," explained Mike of their decision. "Let's do it. We're young enough to do it."
They soon learned that avid motorcyclists Pat and Virg Vagle had already reached the lower 48 states, which solidified their decision that this was a reachable goal.
By 2001, the Gardings already had ridden their motorcycle in 17 states, including Minnesota. In the 1980s, during weekend trips, the Gardings hit seven states: Illinois, Iowa, Indiana, Michigan, North Dakota, South Dakota, and Wisconsin. In the 1990s, a motorcycle trip to Colorado added both that state and Nebraska. And, in 2001, they drove 4,300 miles in 13 days, including seven states: Montana, Wyoming, Idaho, Oregon, Washington, Nevada, and Utah.
In 2002, they did not have time for a long trip and just took a short trip to Winnipeg, but for the past three years, they have taken longer trips, averaging 4,000 miles per trip over 10 days on the road.
In 2003, they went to the southeastern United States, hitting 16 states: Kansas, Missouri, Texas, Oklahoma, Arkansas, Louisiana, Mississippi, Alabama, Florida, Georgia, South Carolina, North Carolina, Virginia, West Virginia, Tennessee, and Kentucky.
In 2004, they headed east, reaching another 12 states: Ohio, Pennsylvania, Maryland, Delaware, New Jersey, New York, Conneticut, Rhode Island, Massachusetts, New Hampshire, Maine, and Vermont.
Finally, in 2005, the Gardings went west again, reaching their last three states among the lower 48: New Mexico, Arizona, and California.
When they reached California, "we high-fived each other on the bike," said Rita.
The Gardings would like to motorcycle to Alaska, but the length of the trip has kept them from going so far. Rita would really like it to go to Alaska, as would Mike, and they said they have talked about going there in passing. Their problem is it would take a month to do, explained Mike, who farms 200 acres and does tractor repairs on their farm. Rita is a paraprofessional at the school, so she could leave for a month in the summer, but Mike would have trouble leaving for that much time.
Maybe they could drive through British Columbia and just take a ferry to lower Alaska, Mike said.
Hawaii would be too expensive and is impossible to drive to. "Part of the trip is getting there, I think," said Rita.
The Gardings always drive their motorcycle for the entire trip. They load the touring system (trunk, top rack, saddlebags, special rack built by Mike for their cooler) and hit the road. They have to do laundry on the road, have room only for a point-and-shoot camera, and no room for souvenirs.
They enjoy traveling by motorcycle, without all the possessions that you can fit in a car. "After 100 miles, you've left everything behind," explained Mike. "In the car, you can just sit. On the bike, it's more of a trip, to us."
"With the bike, you see and hear and smell everything. You're more aware of your surroundings," he added. Unfortunately, that includes rain. The Gardings said they have been lucky to have had mostly good weather during their trips. The worst is actually mist, said Mike, which is just nice enough to keep driving but wet enough to drench them. If it really rains, they would stop driving.
Riding a bike is a great way to meet people, said the Gardings. People see the bike and start a conversation about where they are from, where they've been, and where they are going.
Mike began motorcycling at 27 with an old Honda, and Rita joined him two years later when they got married in August 1974. Mike has driven approximately 300,000 miles, including just routine driving from the farm to town, said Mike, and his wife "likes it as much as I do."
They started with weekend trips in Minnesota and neighboring states. In the 1980s, they drove to Illinois, to see Abraham Lincoln's home in Springfield, Ill., and then another trip around Lake Michigan.
In Minnesota alone, Mike estimated that they have driven 12,000 miles on short day or weekend trips. "If you take all the states, we're pretty fortunate with what we've got here," he said. Drivers, though, are as aggressive in Minnesota as anywhere, he added.
When their last child left the house in August 2001, they went on their first extended trip three days later. "We will take a trip this year," Rita remembered thinking.
The Gardings do drive freeways, to save time, but also like rural highways. They didn't do a lot of sightseeing during their travels. Because their trips were limited by time, they had to keep driving to hit all the states. "It's just nice seeing the country," said Mike.
Now driving a 2002 Honda Gold Wing, the latest in several models of Gold Wings, they get mid 40s for gas mileage, said Mike. Mike likes Hondas for their reliability and does routine maintenance on the bike before leaving home. His biggest worry on the road are the tires.
They stay in motels on the road, Super 8s, which they call ahead during the day when they figure how far they will get.
They already are planning another trip for next year, and plan to continue to motorcycle, despite high gas prices. In addition to going to Alaska, they would like to go back to some of their favorites spots. "We say we want to go someplace and stay for three or four days, but we'd never last that long," said Mike.
They have no plans to quit biking, said Mike. Not until their kids take the keys away, joked Rita. Even then, Mike said he has three keys to their motorcycle that are hidden!
Favorite State: Colorado.
Best View: Rocky Mountain National Park, Colorado.
Favorite Trip: To the Pacific Northwest in 2001, including Montana, Washington, and Oregon, as well as Canadian provinces of Alberta and British Columbia.
Favorite Spot: Lake Louise, Alberta, where they visited in 2001.
Scariest Drive: The steep drive to the top of Mt. Evans in Colorado (elevation of 14,264 feet), the highest paved road in the United States.
Most Aggressive Drivers: Minnesota due to tailgating and speeding.
Most Apprehensive to Drive In: New York City, but they skirted the city and it turned out to be relatively easy.
Most Intimidating Driving: Chicago, where they were surrounded by semis on four sides.
Most Maze-like Streets: Portland, Maine.
Most Lost: "We don't use that word 'lost,' " explained Mike. "I always tell her, 'I'm not lost; I'm just not sure where we are." Mike likes to say that he is "just confused."
Worst Weather: That trip to Springfield, Ill., was cold and wet the entire weekend.
Hottest Spot: McCook, Nev., 104 degrees; followed by the Hoover Dam, 102 degrees; and Needles, Calif., 98 degrees. Their 2005 trip to the southwest was their hottest.
Coldest Spot: Duluth, during a March trip in 2003, 34 degrees. (Ice was still on Lake Mille Lacs as they drove north for a weekend trip, and the second ship was just leaving Duluth, the ice in Lake Superior having just been broken.)
Biggest Surprise: That the south- eastern states are so wooded.
Most Out-of-the-way States: Arizona, California, and New Mexico, which required a 4,000-mile trip to hit.
Most Expensive Motel: $88 for one night on the Gulf of Mexico.
---
Contact the author at editor@paynesvillepress.com • Return to News Menu
Home | Marketplace | Community
---