---
Headline Stories
For the week of August 24, 2005
---
Sixty years after Nagasaki...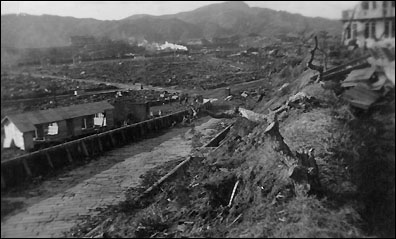 The second atomic bomb was dropped on Nagasaki, Japan,
on Aug. 9, 1945, causing devastation in the main valley
of the city. Orion Johnson of Union Grove Township
arrived in Nagasaki in September 1945 and stayed 10 months,
participating in the clean-up and rebuilding of the city.
---
Return to Archives • Return to the News Page.
---
[ Home | News | Marketplace | Community ]

---
Comments regarding this web page can be
addressed to paypress@paynesvillepress.com

Comments regarding the stories can be
addressed to editor@paynesvillepress.com

© 2005, Paynesville Press, Inc. All rights reserved.
---