While studying for a master's degree in Spanish, in a program that took her to Madrid for eight months, Paynesville native Elizabeth McCarney expanded her cultural knowledge of Spanish countries beyond the Latin American base she had gained while studying and teaching in Mexico.

McCarney would like to find a position as a community college professor of Spanish and knew it would be "hard to explain to a class what a country is like by reading about it out of a book." When she looked for a program, then, she only researched schools offering graduate degrees that included study in Spain. A professor from her undergraduate program at Hood College in Maryland - where she graduated with a double major in economics and Spanish - told McCarney that Middlebury College in Vermont was one of the best language colleges in the country.

Her program first took her to Vermont for three classes, which were completed in an intense six-week period, said McCarney. While there, she enjoyed class with "one of the most dynamic professors I've ever had," in an anthropology course that met outside in lawn chairs. It was a "total immersion," and she spent 90 percent of her time speaking in Spanish, in addition to hearing Spanish music, and watching Spanish television. That was just the preparation, however.

Spain was next, and she arrived in Madrid in early September 2004 with one week to explore the city before classes began. With three million people, an unbelievable number of shoe shops, and numerous parks, clubs, and museums to explore, Madrid offered plenty of adventures, said the 1998 PAHS graduate.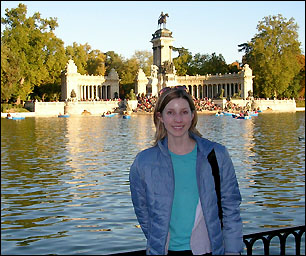 McCarney had such expert professors that she came across their work while doing research. She even quoted one of her professors in a class project, she said.
During the year she spent in Madrid earning her master's degree in Spanish, Elizabeth McCarney explored the city and relaxed in its parks, like Retiro Park, where she is pictured.
One of her art classes helped her experience the city, which she called the "cultural center of Spain," by taking her to ten different museums. Beyond that, the program provided her with 40 Euros each semester for cultural activities. Even though her classes required a lot of "reading and investigating and researching" on her part, McCarney found time to explore.
She believed that her group was the largest the college had sent to Spain, and though it "didn't really have the facilities or the staff" for the number of students, her classes gave her the historical background she had been lacking.
After spending one semester and two summers in Mexico while completing her undergraduate work and then teaching English for two years in Mexico, McCarney had only a slight language adjustment to make. A number of vocabulary words that she had not used for three years before her arrival in Spain, because synonyms for them were used in Mexico, had to be relearned, though. Additionally, Spain is the only Spanish-speaking country that uses an informal plural you, changing the conjugations, but learning that and adjusting to faster speech was not very difficult for her, McCarney said.
She got to share her language with a Spanish friend pursuing a master's in business who, in turn, shared his language with her. They participated in a program where they met a couple of times a month for a few hours, speaking half in English and half in Spanish. The well-matched pair would "order a beer and talk for hours," said McCarney.
Though she was "a little naive" when she arrived - thinking that Spain would be more like Mexico - she reflected that by the time her mother, Paynesville resident Marsha McCarney, and cousin came to visit over New Year's, she knew the city well. Showing them around was "one of the better experiences I had ever had," she said, because she had adapted to life there and could share that.
Part of that adaptation was learning things like how many groceries were too many to carry back to her apartment, because there was no car to throw the bags into. She also knew that, though it was unusually dry while she was there, if it was raining, she might have to wait for three weeks for her clothes on the line to dry, since no dryers are used in Spain.
Other cultural differences applied to time and speaking volume. Daily siestas, when shops closed between one and two o'clock in the afternoon before reopening between four and five o'clock, were a change. When she went to buy shampoo on the first Sunday there, she was surprised to find that everything was closed except for a few restaurants. In fact, in small towns, all businesses close for the weekend at siesta time on Saturdays.
The Spanish are "generally louder, I think, than people from other countries," McCarney added, saying that their normal speaking voices can sound like screaming.
She learned a lot through her time in Madrid and travel in 30 other Spanish cities, visiting, she believed, every region. McCarney spent time on gorgeous beaches (her favorite was in Cadiz) and wandering the "most condensed Roman ruins in Spain" (found in the Extremadura region), but did not limit herself to one country. During her eight months abroad, she experienced traveling alone and called that "a wonderful, eye-opening experience."
Eight days in Tunisia, including a "camel ride through the Sahara at sunset" and 11 days in Morocco let her experience northern Africa. Despite a little bit of worry because both are Muslim countries, McCarney met many nice people and said she had no problems as she spent time admiring the beautiful architecture.
A weekend in both Portugal and Germany while classes were in session were other fun trips, and when the program finished, she spent five weeks traveling around Spain and then 20 days based out of a friend's home in Germany. She got along fine in the country, though she said she does not "remember or speak German." She had taken the language when attending high school here, but has forgotten it. (This did not pose a problem, because so many Germans speak English, though she discovered when she was in Spain that many locals there do not speak English.) From Germany, she also traveled to The Netherlands, spending time in Amsterdam as well as traveling around more of Holland.
McCarney arrived home at the end of June and plans to leave in August for Chicago - where she knows family and college friends - to look for a job teaching and interpreting.
Regardless, she will use what she learned while in Spain, she said. She not only learned the customs and the culture of the land in Madrid, her favorite Spanish city, but she experienced them. One of them may even help her find a job soon, if superstition holds. This was a New Year's Eve custom that she shared with her mother, cousin, and many of the Spanish in the square watching fireworks. They purchased 12 grapes in a can and ate one on each stroke of the clock for luck as 2005 began.
---
Contact the author at editor@paynesvillepress.com • Return to News Menu
Home | Marketplace | Community
---