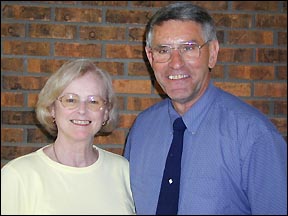 Wally and Darlene Thyen have come to be respected as a pillar of the community ­ but their reputation came only with years of work in Paynesville.
Wally chuckles when he thinks back to a Chamber of Commerce meeting when he had only been around a couple of years. After a close, heated vote on the carnival location, Wally shared his vote and someone said, "You young squirt, you probably won't even be here next year!"
Decades later, the Thyens have been named grand marshals of the 54th annual Town and Country Days parade. "We're honored to have been named grand marshals," said Wally graciously.
Wally grew up in Richmond but attended Eden Valley High School and played sports with Elmo Gaspar's son. Instead of going back to Richmond to eat supper before practice, Wally would often eat with the Gaspar family in Eden Valley.
Darlene also attended Eden Valley high school, and the couple have been sweethearts since they were sophomores. "I was a cheerleader, and Wally played sports. It was pretty typical," remembers Darlene.
What wasn't typical, however, was Wally's extra hustle on the football field. Gaspar saw that Wally was a hustler and offered him a job as a manager at his recently purchased Paynesville store. "It was enough for him to take a risk on me, I guess," said Wally humbly.
In 1970 the store moved from its original James Street location (now part of Ben Franklin) to its current location. Wally became part owner of the business, making it G&T Foods. He continued buying a greater share of the business until he became the sole owner in 1987. Last winter he sold the business and now considers himself semi-retired. The store is now known as Paynesville SuperValu.
Wally is renowned for his friendliness and his ability to remember customers' names. "I just try to make a special effort to keep track of who people are and how they're doing," he said. He often cuts out pictures from the newspaper and posts them in his office in order to get to know newcomers to Paynesville. He also makes a list of people who are in Paynesville only during the summer months so he can remember their names when they come back.
Darlene is no stranger to the community either. Many people may know her from her substitute teaching work in Paynesville. She also worked as a reporter at the Paynesville Press for nearly ten years.
Darlene currently serves as the executive secretary of the Koronis Lake Association, which promotes water quality and helps finance farm updates.
The Thyens are both well-known at the Church of God in Eden Valley, Darlene's home church. She shares her talented organ playing with the congregation and is the church's only organist. The couple has performed together at many funerals and weddings, with Darlene playing the organ and Wally singing.
Wally's ties with the community also extend beyond his numerous acquaintances from the grocery store. He was a charter member of the Paynesville Community Club (back when they were known as the Jaycees), he was on the board of the Chamber of Commerce, and he was a member of the Lions Club.
With a little twist of fate, however, Wally and Darlene may never have ended up in Paynesville.
Right out of high school Wally actually played baseball with the St. Cloud Rox ­ a minor league affiliate of the Chicago Cubs. He turned down an offer from the University of Minnesota when the Cubs signed him to a contract and sent him to a rookie league in Morristown, Tennessee.
Wally was competing alongside future Hall of Famer Lou Brock, and when the Cubs kept Brock and released Wally, he decided to settle down in Paynesville, even though he was contacted by other Major League organizations.
Now that Darlene and Wally finally have a little more time on their hands, they've made a couple plans. Darlene is currently working on a large genealogy project, and Wally continues to coach his grandchildren's teams in Eden Valley.
"Coaching and young people have become my pastime," said Wally.
"We're able to be part of all our grandchildren's activities now that we're less busy," added Darlene.
In the near future the couple plans to spend some time travelling together.
---
Contact the author at paypress@lkdllink.net • Return to News Menu
Home | Marketplace | Community
---