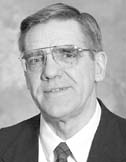 After serving 10 years as a state lawmaker and giving 45 years of public service, Rep. Bob Ness (R-Dassel) announced last week that he will not seek a sixth term in the Minnesota House.
Ness currently represents District 20A in the Minnesota House, which includes Meeker County and Union Grove and Manannah townships in the Paynesville area. Due to redistricting, that district has changed its number but is relatively the same shape, still encompassing Meeker County.
"Serving as a state representative has been a tremendous experience," said Ness. "I have enjoyed the camaraderie of members at the Capitol, but most of all, I have enjoyed meeting many wonderful people and representing their interests and needs in St. Paul."
Ness is an advocate for rural Minnesota schools, agriculture, and rural economic development. His experience as a former superintendent also made him a valuable voice on education legislation.
He said he hopes that returning and new lawmakers will continue to hear his voice on the issues he passionately fought for. "I will always speak out for the needs of rural Minnesota and why it is problematic to have two state economies: one in struggling rural Minnesota and the other in the vibrant metro area."
Ness served as chairman of the Agriculture and Rural Development Finance Committee for the past four years. He also served on the Agriculture Policy, Education Policy, and K-12 Education Finance committees.
He will not seek re-election because he wants to spend more time with his family and because he wants to pursue other interests. "I've got fish to catch, ducks and deer to hunt, and lots of projects," he said. "It's time for another transition in my life. I've always believed life is a journey, not a destination, and I'm thankful for the opportunities I've been given. It is time to spend more time with my wife, our family, and our ten grandchildren's events and activities."
"Serving as a state representative is a privilege few people have the chance to experience," he added. "I am very thankful for this opportunity and for the people who have encouraged and supported me during my time in the Legislature."

---
Contact the author at paypress@lkdllink.net • Return to News Menu
Home
| Marketplace | Community
---