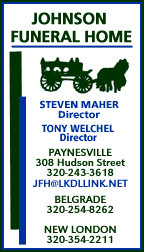 January 2019
December 2018
November 2018
October 2018
September 2018
August 2018
July 2018
June 2018
May 2018
April 2018
March 2018
February 2018
January 2018
December 2017
November 2017
October 2017
September 2017
August 2017
July 2017
June 2017
May 2017
April 2017
March 2017
February 2017

Doris Monson, 90, Paynesville
Doris J. Monson, 90, of Paynesville, died on Monday, Feb. 4, 2019, at the Koronis Manor in Paynesville. Her funeral service was held on Saturday, Feb. 9, at Grace United Methodist Church in Paynesville. Burial will be at Salem Church Cemetery. Doris Jane Monson was born on March 31, 1928, on the family farm near Paynesville, the daughter of Albert and Anna (Gehrke) Heitke. She grew up on the farm, where she attended a small country school through the eighth grade and then went on to Paynesville High School, where she graduated with the Class of 1946. On April 30, 1966, Doris was united in marriage to George N. Monson at Salem Church in rural Paynesville. This union was blessed with a daughter, Jane. The family made their home in Hawick. After two years of marriage, tragedy struck, and George passed away. After George's death, Doris and Jane moved back to Paynesville to live with Doris' twin sister, Delores. Doris worked at the Paynesville Schools, the Lake Koronis Assembly Grounds, and the Paynesville Good Samaritan Center. She was a hard worker and was loved by all who worked with her. Doris was a member of Grace United Methodist Church in Paynesville. She was active in the Women's Circle, teaching Sunday School, helping on the funeral committee, and attending adult Sunday School. Doris also enjoyed the flower shows through Grace Church, gardening, cooking, baking, homemaking, and loved teaching Sunday School. She is survived by her daughter, Jane Monson of Paynesville; twin sister, Delores of Paynesville; and many nieces and nephews. Doris was preceded in death by her parents, Albert and Anna; husband, George; and siblings Clinton Heitke, Irene Schindel, and Ethel Heitke.


Ellsworth Schultz, 86, Paynesville


Funeral Services were held on Monday, Feb. 18, 2019, at Grace United Methodist Church in Paynesville for Ellsworth M. Schultz, 86, of Paynesville, who passed peacefully on Wednesday, Feb. 13. Pastor Bob Kandels officiated. Burial, with military honors, will take place at Ebenezer Cemetery in rural Paynesville. Ellsworth, the son of Anna and Herman Schultz, was born on March 4, 1932, in Paynesville Township. He went to country school and graduated from Eden Valley High School. Ê He served in the U.S. Army from 1956 to 1958. He married his first wife, Elaine McMillan, on Aug. 4, 1956. Together they raised five children. Elaine died in 1989. Ê Ellsworth married Kathy Ruprecht in 1991. Ellsworth was a lifelong farmer and was always a great steward of the land using natural farming practices and caring for the land for future generations. During the first half of his life, Ellsworth was an avid hunter and fisherman. Ellsworth's interests included performing with the harmonica band, singing in the church choir, woodworking, walking in the woods, playing softball, reading the Bible, writing in his daily journal, and spending time with family. Ê Ellsworth enjoyed spending many Sunday afternoons at Rice Lake with his family and extended family. He never grew weary of pulling skier after skier with his speed boat. Ellsworth was heavily involved in preserving the history of the Paynesville area by serving on the boards of the Paynesville Historical Society and the Ebenezer Cemetery Association. He was also a member of the Rice Lake Association. He valued his role as a grandfather and passed on much wisdom to his grandchildren. He is survived by his wife, Kathy; children, Donald (Shereen) Schultz of Laguna Beach, Calif., Janie (Jeff) Ruprecht of Paynesville, Jill (Bryan) Stout of St. Cloud, Deborah (Gary) Kawlewski of Sauk Rapids, Diane (Jon) Taxdahl of Prior Lake; step-children, Jeff (Janie) Ruprecht of Paynesville, Cindy Ruprecht of Hudson, Wis., Randy Ruprecht of Virginia, and Steve (Julie) Ruprecht of Maple Grove; and many grandchildren and great grandchildren. Ellsworth was preceded in death by his parents; first wife, Elaine; brothers, Melvin, Myron, Orville, and LeRoy Schultz; sisters, Idella Tritabaugh, Rosemond Schultz, Beatrice Flanders, Marella Hickman, LuVerna Tysdal, Dorothy Nehring, Joyce Spaulding, and Bernice Busse; nephew, Eldon Tritabaugh; and nieces, Kim Spaulding, Beverly Voss, and Barbara Schoenherr.


Levi Bundy, 33, Paynesville


Levi Charles Bundy, 33, of Paynes-ville passed away at the St. Cloud Hospital on the morning of Tuesday, Feb. 6, 2019, ending his 16-year battle with cancer Levi was an avid hunter and fisherman. He also enjoyed watching and attending Vikings and Twins games with family and friends. He was a collector of novelties and baseball cards. He liked to read and play his guitar. His family will remember him mostly for his kindness and generosity. There will be a celebration of his life at the Paynesville Area Center (aka the R.O.S.E. Center) on Friday, Feb. 15, from 3 to 7 p.m.


Judy Cummings, 78, Paynesville


Judith "Judy" Cummings, 78, of Paynesville, formerly of Riverside, Calif., died peacefully in her sleep on Tuesday, Nov. 6, 2018, at the Koronis Manor in Paynesville. A Celebration of Life will be held for her on Saturday, Feb. 23, from 4 to 7 p.m. at the Paynesville American Legion. Born on Aug. 26, 1940, in Michigan, she was predeceased by her parents, Cyril and Margaret Dryden, and her brother, David Young of Minneapolis, Minn. Judy enjoyed a 25-year career of school bus driving in California, where she retired and made many lifetime friendships. Upon moving to Minnesota, she left retirement to resume school bus driving. In 2005, she met her significant other, John Stanger of Paynesville, and fulfilled her second passion by helping John take care of dogs and cats at his boarding kennel. Survivors include John Stanger of Paynesville; John Cummings, the father of her three daughters, Pam (Dan) Nusser of Riverside, Calif., Kellie (Mike) Saia of Yuba City, Calif., and Leslie (Richard) Perez, Key West, Fla.; four granddaughters; one grandson; 18 great-grandchildren; three nephews; two nieces; as well as her very dear and best lifetime friends, Allen and Eileen Hertzberg, of Paynesville. The family wishes to thank the kind staff at Koronis Manor who cared for Judy during her final days.


Rich Olmscheid, 76, Paynesville


Richard Anthony Olmscheid, 76, of Paynesville passed away peacefully on Saturday, Feb. 2, 2019. Mass of Christian Burial will be held on Friday, April 26, at 11 a.m. at St. Louis Catholic Church in Paynesville. Inurnment will be in St. Louis Parish Cemetery Mausoleum in Paynesville. Visitation will be held on Thursday, April 25, at St. Louis Catholic Church in Paynesville and also one hour prior to the services on Friday, April 26. Rich was born and raised on a farm near St. Martin, Minn., and graduated from Melrose High School. He married Kathy (Stang) on Aug. 12, 1967. He served in the National Guard and moved to the Twin Cities, where he worked at Sears for 13 years. In 1979, he purchased the Electric Motor Center in Paynesville. Rich loved spending time with his grandchildren, fishing, hunting, traveling, playing cards, and restoring his Corvair. Rich was a member of the St. Louis Catholic Church, the American Legion, and the Knights of Columbus. He is survived by his loving wife, Kathy; son, Lee (Melissa); daughter, Tanya (Ken) Casperson; grandchildren Nico, Megan, Davis, and Keira; sister Joyce (Virg) Meyer; and many nieces and nephews. He was preceded in death by parents Alois and Sophie (Brix)Olmscheid and his brother, Don.


Ruby Haagenson, 94, Fergus Falls


Ruby Lenora Haagenson, 94, of Fergus Falls, died on Saturday, Feb. 2, 2019, at Park River Estates in Coon Rapids, Minn. A funeral service will be held at 3:30 p.m. on Saturday, Feb. 9, at the Olson Funeral Home Chapel in Fergus Falls. Visitation will be held one hour prior to the service at the funeral home. Interment will be in the Knollwood Memorial Gardens in Fergus Falls. She was born on Dec. 27, 1924, on the home farm in rural Cosmos Township, Meeker County, Minn., one of six children to Roy and Lillie Olson. Ruby was raised on the family farm and graduated from Litchfield High School in 1942. She was then employed as secretary to the president of First State Bank in Litchfield from 1942 to 1947. Ruby met her husband, Russell D. Haagenson from Paynesville, Minn., at the roller-skating rink in Litchfield. They were united in marriage on Nov. 30, 1947, at First Evangelical Lutheran Church in Cosmos. They resided in Willmar, Minn., for four years before moving to Fergus Falls in 1952. They had one son and two daughters. Ruby stayed home to raise their children until 1966, when she had the pleasure of working for Dr. Ahmad Orandi, as a medical secretary, for 24 years. She retired in 1990. Ruby was active in her church choir at Zion and Cosmos churches. She was a Boy Scouts den mother with her son; and was a charter member and active in her GALS Homemakers Group from 1955-2015, at which time she moved to Brooklyn Park, Minn., to be closer to her youngest daughter, who helped care for her. Ruby enjoyed gardening, canning, camping, fishing, embroidery, traveling with friends, and jigsaw puzzles, until her vision no longer allowed her to participate in most activities. Preceding her in death were her parents; five siblings; husband, Russell; daughter, Karin Johnson; and son, Lynell Haagenson. Survivors include her daughter, LuAnn (Peter) Dehne of Brooklyn Park, Minn.; son-in-law, Steven C. Johnson of Fergus Falls; four grandchildren, Abby (John) Briles of Grosse Pointe Farms, Mich., Tina Johnson of Golden Valley, Alyssa Dehne of Champlin, and Kelsey Dehne of Brooklyn Park, and three great-grandchildren, Scarlett, Rosalie, and Emmett Briles of Grosse Pointe Farms, Mich. Condolences may be sent online at www.olsonfuneralhome.com.


Gilbert Stadley, 78, Paynesville


Gilbert J. Stadley Jr., 78, of Paynes-ville, died on Wed-nesday, Jan. 30, 2019, at the St. Cloud Hospital. His funeral service will be held at 11 a.m. on Wednes-day, Feb. 6, at the Paynesville Evangelical Church in rural Paynesville. Burial will be at Ft. Snelling National Cemetery. A visitation will be held from 10 to 11 a.m. on Wednesday before the service at the church. Services are entrusted to Johnson Funeral Home in Paynesville. Gilbert (Gil) was born in July 1940 in New Jersey to Rev. Gil and Inga Stadley. The family moved to Paynesville in 1950. Gilbert graduated from Paynesville High School in 1958. He attended St. Cloud State, graduating in 1962. He then taught at SCSU for a year. In October 1963, he enlisted in the U.S. Army Intelligence Corp. He served until September 1987, reaching the rank of sergeant major. Among his awards were: Bronze Star, Legion of Merit, and the Meritorious Service Medal. He served two years in Vietnam and 10 years in Okinawa and Japan. While serving in Okinawa, he married Kiyoko (Kay) in 1967. They were blessed with three children. While overseas he was active in military chapels, and he taught English and Bible at a number of Japanese churches. Some of his students went on to become pastors. After his military retirement, the family moved to Paynesville. He served 15 years in the Stearns County Veterans Services Office before retiring in 2004. While retired, he was active in supporting missionaries in India and Japan. He sent many packages of literature, music, and needed supplies to missionaries. He also served as a counselor at two Billy Graham crusades. Every fifth year after retirement, Gil and Kay attended a worldwide festival for Okinawans returning to their homeland for a one-week festival. Gil enjoyed celebrating with the thousands of overseas Okinawans from many different countries who attended the festival. Gil was a member of Disabled American Veterans. He was an ordained Baptist deacon and a member of the Paynesville Evangelical Free Church. Gil is survived by his wife of 51 years, Kay; children: Michele (Pat) Duffin, David Stadley, and Melissa Stadley; sisters, Kathy Palmisano and Kelly Palmisano; and brother, Michael Stadley. Gil was preceded in death by his parents; stepfather, Ira; and sister, Beverly.


--
Obituary Archives

Return to Top &#149 Return to Paynesville Area