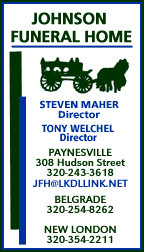 April 2020
March 2020
February 2020
January 2020
December 2019
November 2019
October 2019
September 2019
August 2019
July 2019
June 2019
May 2019
April 2019
March 2019
February 2019
January 2019
December 2018
November 2018
October 2018
September 2018
August 2018
July 2018
June 2018
May 2018
April 2018
March 2018
February 2018
January 2018
December 2017
November 2017
October 2017
September 2017
August 2017
July 2017
June 2017
May 2017
April 2017
March 2017
February 2017

Terrance Bowar, 68, Danbury, Wis.
Terrance Leo Bowar (Terry), 68, a resident of Danbury, Wisconsin passed away on Tuesday, April 28, 2020, following a courageous 20-year battle with cancer. Terry's unwavering faith in God and always optimistic attitude throughout his battle was a source of inspiration to many. Terry was born in Faulkton, S.D., on Nov. 7, 1951, to Benjamin and Geraldine (Gebhart) Bowar. Terry was the oldest of eight children and resided with his family in South Dakota and Miles City, Mont., before moving to Paynesville, Minn. Terry was fondly remembered by his mother for his protective instincts and how helpful he was in caring and preparing meals for his younger siblings while growing up. Terry graduated from Paynesville High School in 1970. Following graduation, Terry attended Southwest State University in Marshall, Minn., where he studied engineering. Terry married Deb Stautz and was blessed with two sons, Chad and Jake, when they resided in Princeton, Minn. Terry later relocated to Wisconsin and met Connie Main on a blind date. They were married in 1988. Their blended family included Connie's children Todd, Troy, and Kerrie as well as Terry's two sons. Terry and Connie built a beautiful home near Danbury, Wis., where they loved spending time with family and friends, hosting get togethers, or helping out in the community. Terry began his work life with Lou Lang Construction in Paynesville. Terry had a tremendous respect for Lou and valued this work experience. Terry had a long working history in retail grocery and was employed by Sanitary Food Market, Haleys Foods with his uncle, Holiday Companies where he worked as a district manager for stores in Minnesota, Wisconsin, Iowa, and Michigan, and also spent time working for the Metropolitan Airport Commission. Before retiring, Terry spent over 15 years at Walmart in Rice Lake as a co-manager. Terry had a true gift of connecting with people and found his experience with cancer helped give him purpose by offering support for his fellow associates and sharing his faith. He could talk to anyone and found countless opportunities to try and make a difference for his customers and co-workers, who fondly nicknamed him Terbear. Terry did not waiver in his belief that he could beat cancer, and loved to share the story of his journey. Terry was selfless, compassionate, and always put others first. He had a huge, generous heart, a positive attitude, and was ready to lend a hand wherever he was needed. Terry had a great sense of humor and was known for remembering birthdays and anniversaries. Terry shared a strong faith with Connie, and they were always ready to serve. He was a faithful contributor to Interfaith Caregivers and volunteered for Ruby's Pantry, served as an usher at Siren Covenant Church, where he was a member, and was part of the adult Bible study and men's ministry and enjoyed being a part of the church family. Being a grandpa was one of Terry's true joys in life, and he loved attending his grandchildren's activities and sharing in their accomplishments. He was a role model whose perseverance and strength taught them to never quit. We thank God for Terry and special thanks to his care team at St Croix Regional Medical Center. Terrance was preceded in death by his father, Ben; and by Connie, his loving wife of 28 years. He leaves behind his mother, Geraldine "Gerry" Bowar; children, Chad (Rita) Bowar, Jake Bowar, Kerrie (Jarrod) Washburn, Todd (Laura) Main, and Troy Main; his Godchild, Angela Johnson; grandchildren Jordan, Samantha, Haylee, Jack, Owen, Ava, Matt, and Madison; great-grandson, Oliver; sisters, Barb (Rick) Wagner, Beverly Bowar, Marilyn (Bill) Anderson, Ginny (Steve) Chevalier, Mary Bowar, Carol (Steve) Kubista; brother, Craig Bowar (Brenda Leigh); sister-in-law, Phyllis (Ron) Pardun; along with many nieces, nephews, other relatives, and dear friends. A private family service will be held at Siren Covenant Church. Information regarding the service will be posted. In lieu of flowers, memorials can be made to the family. Arrangements were entrusted to Swedberg-Taylor Funeral Home, Webster, Wis. Online condolences can be made at www.swedberg-taylor.com.


Carolyn Reeck, 90, St. Peter


Carolyn T. Reeck, 90, passed away peacefully on Monday, March 30, 2020, of natural causes in St. Peter, Minn. Carolyn Laverne Thomas was born on May 15, 1929, in Fairmont, Minn., to Rev. William Robert Thomas II and Essie D. (Friend) Thomas, the third of five children. During her childhood, the family moved to Brainerd, Minn., and then to Maple Grove, Minn., where she graduated from Osseo High School in 1947. On Oct. 3, 1948, Carolyn married Warren Ferris Reeck of Paynesville, Minn. They farmed north of Paynesville on the Reeck family farms in the Salem Church community until Warren's death on April 20, 1990. They had five children. Carolyn continued to live on the farm until 2015 when she moved to St. Peter. She was the first woman president of the Paynesville Lutheran Church congregation, sang in the choir, and taught catechism. Following Warren's death, she became clerk of Zion Township until 2013, where their home served as the township meeting place, just as it had a generation before. She was active in Democratic Farmer Labor politics at both the local and state level. During the Farm Crisis of the 1980s, she marched with both Paul Wellstone and Jessie Jackson. The farm/rural crisis hotline was answered in her kitchen. Carolyn was devoted to her family and many friends and loved to bake and entertain. The fun-loving North of Town Birthday Bunch, community women friends for more than six decades, would serenade each other before dawn on their birthdays. She loved to play Scrabble and often won with stunning scores. Her grandchildren and great-grandchildren meant the world to her, and they, in turn, loved the excitement of being with her at the farm. Carolyn is survived by her sister and brother-in-law Catherine (Rev. Leon) Hayen; brother, James Thomas; her children, Renee (Philip) Bryant, Gary (Lu Anne) Reeck, Lynne Reeck, Nancy Reeck, and Sharon (Thomas Fish) Reeck; grandchildren, Joshua (Helena Ballester-Bon) Bryant, Benjamin Bryant, Elizabeth Bryant, Amanda Reeck, Justin (Lisa) Reeck, Megan (Daniel) Roberts, Patrick O'Brien, Warren Fish, Clara Fish, and Eleanore Fish; five great-grandchildren; and many nieces and nephews. She was preceded in death by her parents; her husband Warren; her brother David Thomas; her sister and brother-in-law Margaret (Dr. Ernest) Simard; sister-in-law Katherine Thomas; all of her husband's family; and grandson Nathan Reeck. Carolyn appreciated and her family is grateful for the excellent caregivers, medical, and support staff of the Benedictine Living Center of St. Peter, Minn. Her burial was private. A memorial service will be held at a future date due to the current global pandemic. In lieu of flowers, memorials are preferred to: Paynesville Meals on Wheels Fund, 1105 West Main Street, Paynesville, MN 56362; or to Salem Historical Church, Paynesville, Minn. at www.salemhistoricalchurch.com. Condolences for the family can be left at www.saintpeterfuneralhome.com.


Irene Albrecht, 85, Paynesville


Irene Theresa Albrecht, 85, of Paynesville, Minn., originally of rural Roscoe, died on Wednesday, March 25, 2020 at CentraCare Health Ð Paynesville. Due to the recent health crisis COVID-19, a memorial Mass celebrating Irene's life will be held at a later date. A private graveside service will be held at St. Agnes Cemetery in Roscoe with Reverend Glenn Krystosek officiating. Irene was born Aug. 5, 1934, in Munson Township, Stearns County, Minn., the daughter of Leo and Gertrude (Hemmesch) Mackendanz. She grew up on the family farm and attended country school, all in rural Roscoe. She married Orlin W. (Slim) Albrecht on April 16, 1955, at St. Agnes Catholic Church in Roscoe. Six children were born to this union. She waitressed and bartended for 30-plus years, including being the face at Al's Tavern in Roscoe. She loved taking care of all her animals and was especially proud of her pigs. She loved spending time with family, playing cards, shaking dice, and fishing. She looked forward every year to dressing up for the Roscoe Fun Day. Known as the "Queen of Roscoe," selling sweet corn every year was also a highlight. She especially looked forward to taking care of her grandchildren or just hanging out with them. When they walked into her home, her face lit up with joy. She was a member of the Paynesville American Legion Post Auxiliary #271 and St. Agnes Catholic Church in Roscoe. Survivors include her children: Carol (Donald) Kohnen of Roscoe; David "Squirrel" (Joyce) of Paynesville; Margie (Brian) Willemsen of Roscoe; Donald "Chopper" (April) of Roscoe; Mary VanderBeek (Allen Flint) of Roscoe; and Billy (Jennifer) Albrecht of Paynesville; 12 grandchildren; 23 great-grandchildren; brothers and sisters: Charles Mackendanz, Ferdinand Mackendanz, Ione Fuchs, Joyce Holthaus, Janet Mehr, Dorothy Leyendecker, and Delores Schwagel; other relatives; and many friends In addition to her parents and husband Slim on Jan. 31, 2001, she was preceded in death by two granddaughters, Brenda Kohnen and Candy Willemsen; brother Danny Mackendanz; and great-grandchild Gabriel Veurink. Casket bearers will be Donald Kohnen Jr., Chris Vanderbeek, LuAnn Veurink, Krista Smith, Kim Fette, and Heather Albrecht. Honorary casket bearers will be Jennifer Vanvleet, Melissa Dierkhising, Susan Sexe, Amanda Mattheisen, and Karla Burg. Cross bearer will be Ava Albrecht. Memorial are preferred in lieu of flowers.


Margaret Garvick, 78, Cold Spring


Margaret Katherine Garvick died on Wednesday, March 25, 2020, at the Assumption Home in Cold Spring, Minn. Memorial services will be held at a later date. Margaret was born on March 15, 1942, in Willmar, Minn., to Ronald and Harriet (Olson) Tait. Margaret loved her family and was always willing to help anyone in need. Survivors include her children, Michelle (Keith) McCarney, Leonard Garvick, Debbie (Pat) Bertram, Gerald (Andrea) Garvick, Lori (Steve) Zimmerman, and Ronald Garvick; siblings, Audrey (Dennis) Dailey, Luverne Tait, and Steve (Mona) Tait; in-laws, Ron Ingeman, Dawn Tait, Doug Fields, and Kathy Tait; 17 grandchildren; and 20 great-grandchildren. She was preceded in death by her parents; and siblings, Bernice, Berdelle, Kathy, Jerome, and Jim.


Christine Hemmesch, 95


A private family graveside service will be held at the St. Boniface Parish Cemetery in Cold Spring for Christine G. Hemmesch, 95, who died on Sunday, March 29, 2020, at the St. Cloud Hospital. A celebration memorial Mass will be held at a later date. Christine was born on Aug. 27, 1924, in St. Martin Township, Minn., to Nicholas and Theresia (Bauer) Olmscheid. She married Peter Hemmesch on May 18, 1943, in St. Martin Catholic Church. Auf Wiedersehen, Christine. Faith, family, and food describe Christine's passions so very well. Watching Mass, praying the rosary, spending time with family, hosting hundreds of Saturday suppers, and playing countless hands of cards will be part of her lasting legacy of 95 wonderful years. Holiday gatherings, birthday celebrations, and every day in between will not be quite the same. Her love for her family was unconditional, and that is a wonderful thing we will all cherish. Christine would always say when we were leaving her house, "Please come again." Please save a seat for us at the dinner table when our earthly journey is complete. We know you will be waiting there with a smile. She is survived by her children, Jerome, Eileen, Jim (Barb), Lenore Adey, Marion Sell, Joe (Schelly Heinen), and Linda (Roman) George; grandchildren, Shannon Ficker, Michael (Michelle) Hemmesch, Shawn (Eva) Burke, Jennifer (Mark) Ring, Brian Burke, Eric (Jessica) Sell, Kari (Nick) Waller, Peter (Kalina Larsen) George, and Maddy George; great-grandchildren, Kylie Ficker, Kimmi Ficker, Keaton Ficker, William Hemmesch, Alex Hemmesch, Elena Hemmesch, Bennett Ring, Camden Ring, Dustin Burke, Dominic Burke, Mason Burke, Colton Burke, Hailey Sell, Josie Sell, Karlie Sell, Aubrey Sell, Daniel Waller, and Emma Waller; siblings, Joe (Verena) Omscheid of Belgrade, Elmer (Marilyn) Olmscheid of Cold Spring, Rose Terres of Cold Spring, and Norine Olmscheid of St. Martin. She was preceded in death by husband, Peter; grandchildren, Kate Sell, Aaron Sell, Kristen Sell, and Gabrielle George; siblings, Leander (Marie) Olmscheid, Lidwina (Ambrose) Rothstein, Lucille (Clarence) Jonas, and Francis; and brother-in-law, Ray Terres. Arrangements are with Wenner Funeral Home, Cold Spring.


Joseph Hutton, 64, Waite Park


Joseph "Joe" Hutton, 64, of Waite Park, Minn., passed away on Thursday, March 19, 2020, at Quiet Oaks Hospice after a brief illness with esophageal cancer. Joe was born on July 8, 1955, to Samuel and Betty (Fearing) Hutton in Minneapolis, Minn. He grew up in California and moved back to Minneapolis in 1981. In 1983, he married Pauline Hemmesch in Richmond, Minn. They raised three children. Joe was an RN and worked at hospitals in California, Paynesville, and Litchfield. He later worked as a computer programmer for DeZURIK, followed by his work as a retirement counselor for the State of Minnesota until his retirement. Joe valued education and enjoyed traveling, reading, and trips to the casino. Joe is survived by his wife, Pauline; children, Justin, Chantyl, and Christopher; brother, K.C. (Jana); in-laws, Nick (Nettie) Hemmesch, Eileen (Dave) Schwindel, Jerry (Kathy) Hemmesch, Rosie (Daryl) Steil, and Alma (Rick) Hansen; and many nieces and nephews. He was preceded in death by his parents. Due to the coronavirus, a gathering of family and friends will be held at a later date.