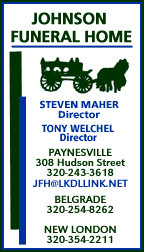 January 2017
December 2016
November 2016
October 2016
September 2016
August 2016
July 2016
June 2016
May 2016
April 2016
March 2016
February 2016
January 2016
December 2015
November 2015
October 2015
September 2015
August 2015
July 2015
June 2015
May 2015
April 2015
March 2015
February 2015
January 2015
December 2014
November 2014
October 2014

Rosa Schefers, 98, Paynesville
Mass of Christian Burial celebrating the life of Rosa M. Schefers, 98, of Paynesville, will be held at 11 a.m. on Friday, Feb. 10, at St. Louis Catholic Church in Paynesville. Rosa passed away peacefully on Thursday, Feb. 2, 2017, at Koronis Manor Care Center in Paynesville. Reverend Glenn Krystosek and her nephew, Reverend Eberhard Schefers, will officiate. Entombment will take place at St. Louis Parish Cemetery Mausoleum. Visitation will be from 4 to 8 p.m. on Thursday and after 10 a.m. on Friday, both at St. Louis Catholic Church. Rosa was born on Oct. 27, 1918, to John and Christine (Arceneau) Blonigen in a stone house south of St. Martin, built by her great-grandfather. In 1942, the family moved to a farm south of Richmond. In her youth, Rosa was a member of St. Martin Parish and attended school in St. Martin. As a young woman, she would help families during times of child birth and illness. Rosa married Leander J. Schefers on May 22, 1944, at Sts. Peter and Paul Catholic Church in Richmond. They farmed in Zion Township until 1979 when they retired and moved to Paynesville. Rosa was a member of St. Louis Parish, St. Anne's Christian Women, Catholic United Financial, and the Daughters of Isabella. Rosa had very little need for material things. Spending time with family, relatives, neighbors, and friends was her joy. She also enjoyed birds, gardening, and reading. Above all, she treasured her family and they were always well cared for. Rosa is survived by her children: Joan Plantenberg Witzig of Brooklyn Park, Kenneth (Julie) Schefers of Paynesville, Beverley (Richard) Sauer of Becker, and Ralph Schefers of Paynesville; 12 grandchildren; 16 great-grandchildren; and sister, Christine Maleska. She was preceded in death by her husband, Leander; grandson, John-Paul Schefers; son-in-law, Steven Witzig; sisters: Veronica Schlangen, Clara Minnerath, and Louise Linz; and brothers: Paul, Frank, Daniel, and Clement Blonigen.

AnnaMae Sturm, 87, Cold Spring
AnnaMae (May) Sturm, 87, of Cold Spring, died on Saturday, Feb. 4, 2017, surrounded by her family after a long battle with cancer. A Celebration of Life Mass will be held on Saturday, Feb. 11, at 10:30 a.m., at St. Agnes Catholic Church in Roscoe. Burial will be in the parish cemetery. Relatives and friends may call on Friday, Feb. 10, between 4 and 8 p.m., at the Wenner Funeral Home in Richmond. St. Agnes Christian Women will pray a rosary at 3:30 p.m. AnnaMae was born on Oct. 11, 1929, in Roscoe, to John and Anna (Braegelmann) Flint. She married Richard May on May 1, 1951. They were blessed with eight children. Richard passed away on Jan. 26, 1967 from Melanoma. She continued to raise her eight children, and on Aug. 14, 1972, she married Bill Sturm. Bill's family included two sons that joined the family. AnnaMae and Bill moved to North Browns Lake. She was a devoted mother, grandmother, and great-grandmother. AnnaMae enjoyed sewing, quilting, knitting, gardening, and canning. Her real passion was fishing on North Browns Lake with her family or simply by herself. AnnaMae also enjoyed watching the Minnesota Twins. You quickly learned to not call or disturb her while the game was on. She was competitive in cards and farkel. One game of farkel was never enough. AnnaMae loved to travel, mostly day trips to the casino with family and friends. As she requested on her headstone "Always Remembered, Laughed Often, Loved Forever." Survivors include her children: Lorraine (Jerry) Svihel, Chuck (Debbie) May, Susan Will, MaryLou May, Steve (Kathy) May, Mike May, Janet (John) Dierkhising, Marlene (Jeff) Bertram; step-children: Wayne (Tamara) Sturm and Greg Sturm; siblings: Sally Lane and Val Foster; sister-in-law, Irene Flint; 14 grandchildren; five great-grandchildren; and two great-grandchildren on the way. She was preceded in death by her husbands, Richard May (1967) and Wilfred Sturm (2001); siblings: Regina Schlangen, Sylvester Flint, Gregor Flint, Leander Flint, Loretta Schlicht, Norbert Flint, and Andrew Flint.

Thomas Nelson, 71, Sartell
Thomas "Tom"" Ross Nelson, 71, of Sartell, passed away on Friday, Jan. 13, 2017. Services were held on Saturday, Jan. 28, at the Miller-Carlin Funeral Chapel in St. Cloud. Chaplain Gregg Valentine officiated. Tom was born on Feb. 16, 1945, to Henry and Hannah (Langseth) Nelson, in Saint Cloud. He grew up with two siblings and attended Paynesville High School. Tom proudly served his country in two military branches. He joined the United States army in 1968 and served for two years before joining the Navy, where he spent the rest of his 21 year military career. Tom was a "corpsman," a Navy medic with training similar to an LPN. He received a number of meritorious awards for his service in Vietnam and to his country. Tom married Mary Czeck in 1971, and they welcomed two children, though they later divorced. He was employed by Fingerhut as a factory worker for 20 years until his retirement in 2008. Tom was a member of the St. Cloud VFW Post 428. He enjoyed fishing and playing cards. Cribbage, euchre, and whist were among his favorites. He was a major fan of Minnesota sports. He most enjoyed following Gophers and Vikings football. Tom was happiest relaxing, talking smart, and sharing his sharp wit and dry sense of humor. It was said he teased most those he loved best. He was a patriot to the core and was a humble, private man. He shared his kind and generous spirit with his family and friends. Tom is survived by his children: Kelly Palmersheim of Hudson, Wis., and Tom (Kim "Kimmy")Nelson of Cottage Grove, Minn; his brother, Ken "Kenny" (Jackie) Nelson of Va.; his sister, Diane Schultz of Litchfield; his grandchildren, Colin and Rylan Palmersheim of Hudson, Wis.; several nieces and nephews; and his friends. He is preceded in death by: his mother, Hannah Nelson; his father and step-mother, Henry and Julie Nelson; and his brother-in-law, Ron "Ronnie" Schultz.


Return to Top • Return to Paynesville Area