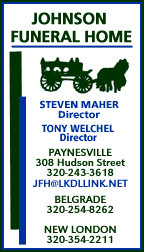 March 2019
February 2019
January 2019
December 2018
November 2018
October 2018
September 2018
August 2018
July 2018
June 2018
May 2018
April 2018
March 2018
February 2018
January 2018
December 2017
November 2017
October 2017
September 2017
August 2017
July 2017
June 2017
May 2017
April 2017
March 2017
February 2017

Jason Dahl, 48, Cold Spring
Jason James Dahl, 48, of Cold Spring, passed away peacefully, at home, surrounded by family on Thursday, April 11, 2019. Jason was diagnosed with non-Hodgkin's Lymphoma on July 20, 2018, which he battled fiercely during his cancer journey. A celebration of life will be Thursday, April 18, 2019, from 4:30 to 9 p.m. with a memorial service from 6:30 to 7:30 p.m. at The Olde Coliseum, 691 Main Street West, Richmond, Minn. Jason was born June 9, 1970, to Elmer and Geraldine (Fuchs) Dahl. He graduated from Paynesville High School in 1988 and then obtained his law enforcement degree from Alexandria Technical College. In 1992, Jason enlisted in the United States Air Force and served until he was honorably discharged in 1997. Jason was married to Patricia Melton on Feb. 7, 1995, and they were blessed with two amazing daughters, Ali and Payton. Jason started his law enforcement career with the City of St. Joseph and then served at the Stearns County Sheriff's Department for nearly 20 years. He had a strong desire to help others, whenever possible. Above all, Jason was the proudest of his family. He shared a great love for his parents, siblings, daughters, sons-in-law, and grandson, Bennett. Jason had a large circle of family and friends. He enjoyed neighborhood parties, hunting, fishing, golfing, motorcycling, snowmobiling, spending time on the lake, and Wednesday Wing Night at the Red Goat in Watkins. Jason is survived by his children: Ali, Joe, and Bennett Anderson, St. Cloud; Payton and Nick Swanson, Mankato. He was also survived by his siblings: the Karen Dahl family, St. James; James and Margaret Dahl family, Delano; John and Kim Dahl family, Spicer; Jeff and Jackie Dahl family, Lake Henry; JoAnn and Dennis Spaulding family, Paynesville; Jerome Dahl and Amy Hanson-Beseman family, Sauk Rapids; and Jack and Peggy Dahl family, Paynesville; godchildren: Jonathon Dahl, Delano; Elizabeth Dahl, Paynesville; and Sierra Roeser, Paynesville; godparents: James and Irene Jaeger, Lake Henry; dear friends: Patricia and Randy Seykora, Cold Spring; Jon and Sherry Norstedt, Spicer; the Vic and JoAnn Topp family, Paynesville, the Wednesday Night Wing crew; and co-workers from the Stearns County Sherriff's Department. Jason was preceded in death by his parents: Elmer and Geraldine Dahl; grandparents: Salem and Agnes Dahl and Alphonse and Sarah Fuchs; and siblings: infant brother Dahl, Mary Dahl, Joseph Dahl, and Jacob Dahl; cousin Gerald Roeser II; and other relatives. A special thank you to Dr. Hani Alkhatib, nurse Siri K., the Coborn Cancer Center, the St. Cloud Hospital, and Mayo Clinic and Hospitals for their kind and compassionate care. In lieu of flowers, memorials and plants are preferred. Care was entrusted to the Wenner Funeral Home, Cold Spring.


Leland Wendroth, 85, Richmond


Memorial services will be held on Saturday, April 20, 2019, at 4 p.m. at the Church of God in Eden Valley for Leland Charles Wendroth, 85, who passed away peacefully at his home on Saturday, April 13. Visitation will be one hour prior to services at the church on Saturday. Pastor Anne Fischhaber will officiate. Leland C. Wendroth was born on Sept. 27, 1933, in Manannah Township to Elmer and Esther (Coulter) Wendroth. He proudly served our country in the United States Army during the Korean War. Leland married Karen Greeley on April 9, 1960. They lived in Eden Valley all their lives and were members of Church of God in Eden Valley. Leland was very involved in his church and for many years volunteered for Meals on Wheels in Paynesville with Karen. He worked as a wiresaw operator at Cold Spring Granite Company for 36 years and retired in 1999. Leland taught his children to appreciate the outdoors and to be honest. He was a caring and hardworking outdoorsman who enjoyed camping, fishing, and hunting. Most importantly, he enjoyed spending time with his grandchildren and great-grandchildren. Survivors include his children, Daryl Wendroth (Mae Raske) of Eden Valley, Gerald Wendroth of Richmond, and Debra Ramey of Summerfield, N.C.; siblings, Wilmer Wendroth of Cross Lake, Beulah Wendroth of Albert Lea, and Ruby Wendroth of Spicer; eight grandchildren; and seven great-grandchildren. Leland was preceded in death by his parents; wife, Karen; daughter, Gayle Wendroth; brother, Ronald Wendroth; and infant brother, Donald Wendroth. Obituary, guestbook, and video tribute available online: www.williamsdingmann.com.


Allan Thomes, 58, Cold Spring


Mass of Christian Burial will be held at 11 a.m. on Wednes-day, April 17, 2019, at St. James Catholic Church in Jacobs Prairie, Minn., for Allan J. Thomes, 58, who died on Thursday, April 11, at the St. Cloud Hospital surrounded by his family. A gathering of family and friends will be from 4 to 8 p.m. on Tuesday, April 16, at the Wenner Funeral Home in Cold Spring. Parish prayers will be at 3:45 p.m. Visitation will continue on Wednesday morning from 9 to 10:30 a.m. at the church. Allan was born on May 13, 1960, in St. Cloud, Minn., to Frank and Loretta (Zierden) Thomes and grew up on the family farm in St. Martin. He married Joanne Blum on Aug. 9, 1980, in St. James Catholic Church, Jacobs Prairie. Al worked 40-plus years in construction and loved woodworking, hunting, and fishing. He enjoyed going to his cabin and being with his family, especially his grandchildren. He is survived by his loving wife of 38 years, Joanne; sons, Jamie, Shawn (Mary), and Troy (Hannah); grandchildren, Lola, Logan, Gloria, and grandbaby on the way; mother, Loretta; siblings, Duane (Sheryl), Marilyn, Donald (Helen), Theresa (Dick) Geers, Shirley (Mark) Pelz, Mel (Bonnie), Linda (Donnie) Mayer, Kevin, and Sharon (Terry Kulzer) Thomes; and many nieces and nephews. He was preceded in death by his father, Frank and sister, Kathleen. Arrangements are with Wenner Funeral Home, Cold Spring.


Hubert Lieser, 75, Paynesvile


Mass of Christian Burial celebrating the life of Hubert B. Lieser, 75, of Paynesville was held on Tuesday, April 16, 2019, at the St. Martin Catholic Church in St. Martin. Hubert passed away peacefully at home with family by his side on Thursday, April 11, after an 11-month battle with brain cancer. Hubert donated his brain to science for further education. His brothers Rev. Vincent Lieser and Rev. Greg Lieser, along with Rev. Edward Vebelun, OSB, officiated. Burial will be in the Minnesota State Veterans Cemetery, Little Falls. Hubert was born on March 13, 1944, in Zion Township, Stearns County, Minn., to Bernard and Caroline (Garding) Lieser. He proudly served in the U.S. Army. during Vietnam from 1962-1965. He married Agnes Hassing on Jan. 31, 1969, at St. Boniface Catholic Church in Cold Spring. He farmed for 30 years and also enjoyed trucking until his retirement in 2014. Hubert also raised draft horses for many years and obtained his private pilot's license. He owned a Cessna 172 Skyhawk, which he loved piloting. Hubert was a 51-year member of the Othmar Braun Lake Henry American Legion #612, and during his time he held several offices and was on the drill team. Hubert really enjoyed honoring his fellow veterans. He was also a member of St. Joseph's Society and a lifetime member of the Stearns County Pioneer Club. Hubert is survived by his wife of 50 years, Agnes; sons, Christopher (Ping) of Maryland Heights, Mo., Tony (Denise Crowley) of Maynard, Bill (Sarah) of Paynesville, Tom (Mary) of Elk River; honorary daughter, Meredith Lieser; grandchildren, Rebecca, Drake, Karley, Natalie, Zachery, and Matthew Lieser and Alex Pierson; siblings, Stanley (Bertha) of Texas, Rev. Gregory of Sauk Rapids, Bernie (Larry) Gresko of California, Rev. Vincent of Sauk Rapids, Colette Petitt of Virginia, and Issy (Alvina) of Waite Park; and many nieces, nephews, and friends. He was preceded in death by his parents, Bernard and Caroline; in-laws, Clement and Catherine Hassing; niece, Doris Dingman; nephew, Mark Hanley; brother-in-law, Charles Petitt; and sister-in-law, Carol Kersting. Memorials are preferred. A special thank you to CentraCare Home and Hospice for their awesome care. Arrangements were with Daniel-Anderson Funeral Home, Paynesville.


Dorothy Hendrickson, 93


Dorothy B. Hendrickson, 93, of Paynesville, died on Friday, March 29, 2019, at the St. Cloud Hospital. Her memorial service will be held at 11 a.m. on Saturday, April 13, at Nordland Lutheran Church in rural Paynesville. Burial will be in the church cemetery. A visitation will be held on Friday, April 12, from 5 to 7 p.m. at Nordland Lutheran Church in rural Paynesville and will continue one hour prior to the service at the church. Services are entrusted to Johnson Funeral Home in Paynesville. Dorothy Bernice (Pederson) Hendrickson was born on Oct. 25, 1925, to Dewey and Bernice (Jacobson) Pederson of rural Paynesville, Minn. She was baptized and later confirmed at Nordland Lutheran Church. Dorothy attended elementary school at District #20 in Meeker County and graduated from Paynesville High School in 1943. After high school, she enrolled in the Swedish Hospital School of Nursing in Minneapolis, graduated in 1946, and became a registered nurse. On June 21, 1947, Dorothy married Chester Hendrickson of rural Grove City, Minn. They farmed in partnership with Chester's brother Orville and his wife Pearl on the Hendrickson family farm in Union Grove Township, Meeker County, for 34 years until Chester's ill health forced his retirement from farming. Dorothy was a lifelong, active member of Nordland Lutheran Church, where she served in many leadership positions. She was especially interested in music, singing in the church choir and ladies' sextet, as well as performing solos. She also faithfully served as a member of the NLCW, Sunday School teacher, and worker in the church kitchen. When her children were young, Dorothy was a full-time mom. When her children grew older, Dorothy worked at Koronis Manor Nursing Home as a part-time RN charge nurse for 10 years. She also cared for several members of her family when they needed nursing care. Dorothy died on Friday, March 29, in the St. Cloud Hospital at the age of 93 years, five months, and four days. She is survived by two daughters, Kay (David) Owen of Wayzata and Susan Warner of Paynesville; two sons, Thomas (Mary) Hendrickson of Paynesville and Richard (Jean) Hendrickson of Maple Grove; nine grandchildren: Erik (Jane), Brook, and Andrea Johnson; Brian, Joe (fiancée Becca Quimby), Jennifer, and Lindsay Hendrickson; Molly (Michael Northrup) Hendrickson and Megan (Nick) Jackson; and four great-grandchildren: Miles and Dean Johnson and Eliana and Isaac Northrup. Also surviving are Dorothy's brother, Robert Pederson (Susan), and numerous nieces and nephews. She was preceded in death by her husband, Chester in 1987, her parents, and her sister, Margaret Anderson. Her children remember Dorothy as a dedicated Christian, loving and devoted mother, patriotic American, faithful friend and neighbor, and generous supporter of her congregation and community. She loved cooking, gardening, Norwegian baking, and Lake Koronis, and she had a hearty and ever-present sense of humor. Dorothy's grandchildren will always remember the creative "treasure hunts" she hosted for them, and later the special joy of receiving a "grandchild of the month" letter. All who knew Dorothy were blessed, enriched, and inspired by the example of her life. Blessed be her memory in each of us.


Nettie Paul, 82, Paynesville


Annette (Nettie) Paul, 82, of Paynesville passed away at home on Monday, April 1, 2019. A visitation will be held from 4 to 7 p.m. on Thursday, April 11, at St. Louis Catholic Church (505 Burr Street) in Paynesville. A funeral mass will be held at 11 a.m. on Friday, April 12, also at St. Louis Catholic Church, with a reception to follow in the church hall. Nettie will be interred in the mausoleum at the St. Louis Catholic Church cemetery in Paynesville. Nettie was born April 21, 1937, to Christ Schreiner and Hilaria Klein Schreiner of Eden Valley, Minn. Nettie was known for her hospitality, great hearty meals, baked goods, and her kindness. She had a deep faith and was a stern and loving guide post for those she knew. She loved hosting family and friends and playing cards and board games. Nettie was also a faithful member of Alcoholics Anonymous for the last 35 years and helped many people achieve sobriety. She is survived by her husband of 63 years, Harold F. Paul of Paynesville; children Kristin Yoder and Joe Coffran, Kathey Paul Chellsen and David Chellsen, Tom Paul and Jim Urbom, Dan Paul and Everett Eastman, Richard and Jill (Nepsund) Paul, David Paul, and Shauna Dulas; grandchildren: Jessica and Jamie Scheevel, James and Molly Paul, Jennings Paul, Brent Yoder, Greg Yoder, Nicholas Chellsen, Brittaney Chellsen, Alex Chellsen, Aaron Chellsen, Jonathan Chellsen, Audriona Chellsen, Angel Chellsen, Shekinah Chellsen, Rachel and Derek Blumke, Milee Lynn Peavey, Christ Paul, and Cati Paul; great-grandchildren: Teague Paul, Josselyn Scheevel, Jeter Paul, Jilonnie Scheevel, and Faith Blumke; and siblings: Elaine Ludwig, Mary Lou Ruhland, Joan Doyle, Robert Schreiner, and James Schreiner. She is survived by many but forgotten by none. She will live on in our memories and guides us from above and from within our hearts.


Pete Hoppe, 86, Paynesvile


Mass of Christian Burial will be held at 11 a.m. on Wednesday, April 10, at St. Louis Catholic Church for Aloys P. "Pete" Hoppe, 86, of Paynesville, who passed away on Friday, April 5, 2019, at his home with family by his side. Reverend Glenn Krystosek will officiate. Military rites will be performed after the funeral service on Wednesday at church. Private interment will take place at the Minnesota State Veterans Cemetery in Little Falls. Family and friends may call from 4 until 8 p.m. on Tuesday and after 10 a.m. on Wednesday at St. Louis Catholic Church in Paynesville. Arrangements are with Daniel-Anderson Funeral Home in Paynesville. Pete was born on Aug. 1, 1932, in Albany, Minn., to Albert and Katherine (Woebkenberg) Hoppe. He served honorably in United States Army. Pete was united in marriage to Joyce Elfering on Oct. 18, 1958, at Seven Dolors Catholic Church in Albany. He worked for many years as a lineman for Northern States Power Company, retiring in 1993. He was a member of St. Louis Catholic Church, Catholic United Financial, Knights of Columbus Council #3820, the Melrose V.F.W. Post #7050, and the Paynesville American Legion Post #271, where he was very active. Pete enjoyed, hunting, fishing, camping, and happy hour. He loved the time spent with his family, especially the grandchildren and great-grandchildren. Pete is survived by his wife of 60 years, Joyce; eight children, Steven (Nancy) of Hackensack, Kevin (Paula Maus) of Hackensack, Sheila (Jeff) Spanier of Cambridge, Patrick (Kelly) of Becker, Jody (Mike) Kotschevar of Paynesville, Rodney (Jessica) of Cannon Falls, Jennifer Hoppe of Minneapolis, and Maria (Chris) Croatt of Madison, Minn.; 15 grandchildren, Melissa (Andy) Grosberg; Chala (fiancé, Jesse Medalen), Cassandra, and Chase Hoppe; Michael (Denesa), Ryan (Jenny), and Brad (Mandi) Spanier; Josh, Megan, and Amanda Hoppe; Krista (Kelvin) Listul and Eric Kotschevar; James Hall; and Jenna and Jacob Croatt; 18 great-grandchildren; brothers, Ray, Tom (Marion), and Jack; sisters, Betsy Keep and Louise Mermod; sister-in-law, Mary Jane Hoppe; and many nieces, nephews, and friends. He is preceded in death by his parents; brothers, Joe, Cyril, Jerome, Jim, and Dan; and sister, Ceil Olson. Memorials are preferred in lieu of flowers.


Vivien Langston, 106, Albany


Vivien Langston, a 106-year-old resident of Mother of Mercy, passed away on Tuesday, March 26, 2019. Please join us in celebration her life. A memorial service will be held on Saturday, April 6, from 9:30 to 11 a.m. at Mother of Mercy Chapel, 230 Church Ave., Albany. A funeral service and interment will be held in Blackduck, Minn., later this spring.


Duane Jones, 80, California


Duane Jones, 80, passed away on Monday, March 25. A celebration of life will be held at the Church of Jesus Christ of Latter-Day Saints at 7009 Van Maren Lane, Citrus Heights, Calif., on Saturday, April 6, at 11:30 a.m. All are welcome to attend. Duane was born in Minneapolis, Minn., to Petra and Edward Jones. He was one of eight boys and learned the value of hard work while growing up on a farm in Minnesota. Duane had a desire to travel and experience new things, and moved to Nevada after graduating from college and serving in the U.S. Army during peacetime. He met the love of his life, Leslie Joan Griffin, in Las Vegas, Nev., and was married for time and all eternity on June 6, 1970, in the St. George LDS Temple in Utah. Duane and Leslie raised six children together and moved to their home in Citrus Heights, Calif., in the summer of 1984. Duane's favorite pastime was fishing with his brothers during his many trips to Minnesota to visit his family. He spent a lot of time fishing with his children out in California but had a lot of difficulty catching anything, so those Minnesota trips were special. He loved hunting, camping, hiking, being outdoors, and traveling to exotic places like the Holy Land, the ruins in Mexico, and China during his retirement years. He had a special love of golf and enjoyed playing weekly golf games with his friends, and occasionally, with his sons (who were no match for him). Duane had a great sense of humor and always enjoyed a good joke. He enjoyed telling stories and sharing some of his wit and wisdom with his many friends and family members. Duane is survived by his loving and devoted wife, Leslie; children, Robert, Marcy, Jerry, Brian, Jennifer, and Allison; 13 grandchildren; and six great-grandchildren, all of whom he loved dearly. He was preceded in death by his mother and father and two brothers, Earl and Glenn. In lieu of flowers, donations can be made in Duane's memory to his favorite charity, the Salvation Army, or to the American Cancer Society.


--
Obituary Archives

Return to Top &#149 Return to Paynesville Area