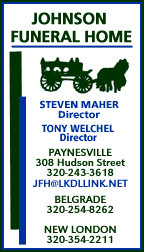 June 2017
May 2017
April 2017
March 2017
February 2017
January 2017
December 2016
November 2016
October 2016
September 2016
August 2016
July 2016
June 2016
May 2016
April 2016
March 2016
February 2016
January 2016
December 2015
November 2015
October 2015
September 2015
August 2015
July 2015
June 2015
May 2015
April 2015
March 2015
February 2015
January 2015
December 2014
November 2014
October 2014

font size=4 COLOR="BLACK" face="helvetica, arial, sans serif"> Clarice Rudd, 92, Fergus Falls
Clarice M. Rudd, 92, a resident of Fergus Falls, died on Thursday, July 13, 2017, at Park Gardens in Fergus Falls. Services were held on Monday, July 17, at Olson Funeral Home Chapel in Fergus Falls. Reverend Ned Eerdmans officiated. Burial was at Oak Grove Cemetery in Fergus Falls. She was born on Jan. 10, 1925, to Melvin and Nellie (Olson) Haagenson, of rural Paynesville. Clarice grew up in Paynesville and graduated from Paynesville High School. On June 10, 1944, she married Warren H. Rud. The couple lived in Willmar until 1948, when they moved to Fergus Falls. Warren died in 2004. On April 14, 2006, she married Lloyd P. Rudd Jr. Clarice was a long-time active member of First Baptist Church, now Crossroads Church. Her family was very important to her and she to them. There was much fun and laughter in her home. She was a kind, loving mom and helpmate to both of her husbands. Her life was a testimony to her faith. She enjoyed traveling and camping with her young family and added several fishing trips to Alaska in her later years. She loved gardening and sharing her bounteous crops, and she enjoyed cooking and baking – especially krumkake. Her home was always open to friends and family. She will be greatly missed. Preceding her in death were her parents; husband, Warren Rud; grandchildren, Melissa Rademacher and Darrick Rademacher; sister, Phyllis Anderson; brothers, Russell Haagenson and Ray Haagenson; brothers-in-law: Lloyd Rudd Sr., Kermit Rud, Clarence Rud, Ray Anderson, Ed Peterson, Sivert Seeland, and Alf Everson; sisters-in-law: Mae Peterson, Esther Seeland, Naomi Everson, Geneva Larson, Shirley Rud, Pearl Schmidt, and Laura Rudd. Survivors include her husband, Lloyd of Fergus Falls; children: Cathlyn (Don) Peterson of Fergus Falls, Mary (Richard) Beck of Maple Grove, Mark (Carolyn) Rud of Baudette, JoAnne (Daryl) Rademacher of Foxholm, N.D., and Jan (Brad) Vigen of Princeton; step-children, Randy (Eve) Rudd of Stuart Island, Wash. and Laurie (Mark) Bader of Hugo; grandchildren: Scott (Jackie) Peterson of Abercrombie N.D., Jill (Wes) Duellman of Rochester, Matt Beck of Eden Prairie, Marc (Susan) Beck of Anchorage, Alaska, Andrew (Liz) Beck of St. Michael, Paul Rud of Fergus Falls, Eric (Devon) Rud of Jordan, Wade (Amber) Rademacher of Foxholm, N.D., Katie (Griffin) Johnson of East Bethel, and Laura (Luke) Karels of Rogers; step-grandchildren: Adam Rudd and Jamie Rudd of Friday Harbor, Wash. and Kelly and Ashley Bader of Hugo; great-grandchildren: Lily, Zander, and Quinn Duellman of Rochester; Isabella, Landon, and Bergen Beck of Maple Grove; Andrew, Charles, and Henry Beck of Anchorage, Alaska; Brooke and A.J. Beck of St. Michael; Jillian and Charlie Rud of Jordan; Aubrey, Ellie, and Nolan Karels of St. Michael; and baby-to-come Johnson of East Bethel; siblings: Kenneth (Barbara) Haagenson, Jerry (Bev) Haagenson, Marge (Denny) Anderson (all of Golden Valley), and Glenn (Linda) Haagenson of Eugene Ore.; sisters-in-law, Ruby Haagenson of Brooklyn Park and Emily Haagenson of Golden Valley; and brother-in-law, Philip Rud of Paynesville. Also surviving are numerous nieces and nephews. Arrangements provided by Olson Funeral Home in Fergus Falls. Online condolences may be sent to www.OlsonFuneralHome.com.


font size=4 COLOR="BLACK" face="helvetica, arial, sans serif"> Darlene Wendlandt, 80, Belgrade


Darlene J. Wendlandt, 80, of Belgrade and formerly of Paynesville, passed away peacefully after a long illness on Tuesday, July 4, 2017, at the CentraCare Koronis Manor in Paynesville. Funeral services were held on Saturday, July 8, at Grace United Methodist Church in Paynesville. Pastor Bob Kandels officiated. Burial was at the Paynesville Cemetery. Darlene was born on Sept. 16, 1936, in Paynesville Township to Rudolph and Martha (Driver) Block. She married Eugene Wendlandt on June 15, 1955. They later divorced. To this union, eight children were born. Darlene was employed as a certified nursing assistant at the Paynesville Area Health Care System for 32 years. She retired in 2005. She was a member of Grace United Methodist Church. Darlene was an avid flower gardener and had beautiful, decorative flower beds all across her lawn. In the winter time before her failing health, she would decorate her yard with many Christmas ornaments. People would come from miles around to see her impressive summer gardens and winter displays – it gave her great joy to see her hard work being admired. Darlene also enjoyed collecting antiques and trips to the casino in Morton and Granite Falls. Darlene is survived by her sons: Kip (Judy) of Belgrade, Jay (Jeanne Wenz) of Paynesville, Ken (Kristi) of Paynesville, Tod of Belgrade, Lee (Kim) of New London, and Tim (Lisa) of New London; daughter, Lyn (Roy) Cromwell of Paynesville; brothers, Dennis (Kathleen, almost sister) Block and Rick (Norma) Block, both of Paynesville; 19 grandchildren; 16 great-grandchildren (one on the way); numerous nieces, nephews, great-nieces; great-nephews; and her beloved dogs: Sugar, Coco, and Bailey. She was preceded in death by her parents; one son, Guy on Sept. 5, 1977; an infant grandson; an infant great-granddaughter, Hailey Wendlandt; nephew, Dean Block; and her dogs, Copper, Penny, Rocky and Tweety. Memorials are preferred in lieu of flowers.


font size=4 COLOR="BLACK" face="helvetica, arial, sans serif">Richard Haines, 86, Paynesville


Richard Haines, 86, of Paynesville, died on Friday, July 7, 2017, at Koronis Manor in Paynesville. A Memorial Mass was held on Monday, July 10, at St. Louis Catholic Church in Paynesville. Inurnment was at St. Louis Catholic Cemetery. Richard George Haines was born on Nov. 14, 1930, in Paynesville to Chester and Rose (Rassier) Haines. He grew up in Paynesville where he attended elementary school and graduated from Paynesville High School with the Class of 1949. On March 18, 1953, Dick enlisted in the army. He served his country until March 2, 1955, when he earned his honorable discharge. On Sept. 29, 1952, Dick was united in marriage to Bernadette Lieser at St. Louis Catholic Church in Paynesville. This union was blessed with three daughters and three sons. The family made their home in Paynesville where Dick worked in the family electrical business. He later became owner of the business and ran it until his retirement in 1996. After his retirement, Dick continued to help out and give directions at the office. Dick was a member of St. Louis Catholic Church. He was also a member of the Paynesville American Legion and a retired volunteer firefighter with the Paynesville Fire Department. Dick enjoyed amateur baseball, hunting, and fishing. He especially loved watching his grandchildren play sports. Dick will be remembered for his sense of humor and how he loved to make people laugh. He is survived by his wife of 64 years, Bernie; children: Rick of Paynesville, Jill (Bill) Kack of Willmar, John of Apple Valley, Joan (Rick) Edstrom of Rogers, Jane (Joe) Flaherty of Ham Lake, and Tom (Joelle) of Paynesville; 13 grandchildren; one great-grandchild; and many nieces and nephews. Dick was preceded in death by his parents, four sisters, and three brothers. Services are entrusted to Johnson Funeral Home in Paynesville. www.hafh.org


font size=4 COLOR="BLACK" face="helvetica, arial, sans serif">Elizabeth 'Betty' Louis, 97, Paynesville


Elizabeth A. 'Betty' Louis, 97, of Paynesville died on Friday, June 9, 2017, at the Koronis Manor in Paynesville. A Memorial Mass of Christian Burial will be held on Saturday, July 15, at 12 noon, at the St. Louis Catholic Church in Paynesville. Rev. Glenn Krystosek will be the celebrant. Interment was at an earlier date. Visitation will be from 10 a.m. to 12 noon on Saturday, July 15, at the church. Betty was born on Aug. 24, 1919, in Cologne, Minn., to Henry and Agnes (Eiden) Storms. She attended St. Bernard's Catholic School and later Norwood Young America School. She was united in marriage to Alfred Louis on May 7, 1940, at St. Bernard's Catholic Church in Cologne. Five sons were born to this union. After their marriage, they moved to Paynesville, where Alfred was a blacksmith. She enjoyed gardening, playing cards, shopping, and spending time with her family – especially her grandchildren and great-grandchildren. Betty was very active in her community. She was a member of St. Louis Catholic Church and was a founder of the Christian Women. She was also a member of the Daughters of Isabella, Catholic United Financial, and Paynesville Senior Citizens. After Alfred died on April 16, 1989, she continued to live in Paynesville and became a resident of CentraCare Health's Koronis Manor in 2016. This has been her home since that time. In addition to her parents and husband, she was preceded in death by one granddaughter, Melanie Louis; one great-granddaughter, Charlotte Louis; her brothers and sisters: Michael, Anna, Gertrude, Peter, Alois, Alexander (Sandy), and Dorothy; and one daughter-in-law, Carla Louis. She is survived by her five sons: Dale (Mary Ann) of Breckenridge, Colo., Myron of Buffalo, Minn., Leo (Lou) of Paynesville, Cecil (Mari) of New London, and Adrean (Jean) of Paynesville; 15 grandchildren; 21 great-grandchildren; five step-grandchildren; seven step-great-grandchildren; and other relatives and many friends. Betty's family wishes to thank the staff of CentraCare Health Koronis Manor and Heartland Hospice. She loved you all.


font size=4 COLOR="BLACK" face="helvetica, arial, sans serif">John Buermann, 86, Cold Spring


John Buermann, 86, died Wednesday, June 28, 2017, surrounded by his loving family at Koronis Manor in Paynesville. Mass of Christian Burial was held on Saturday, July 1, at St. Agnes Catholic Church in Roscoe. Burial was in the parish cemetery. John was born in Richmond, to John and Elizabeth (Blonigen). He grew up on Big Lake near Richmond and attended school at the local country schoolhouse. His first jobs were as a mechanic and an electrician. He enjoyed tinkering and fixing and was known for being charitable and helpful with his skills. John started his own road maintenance company and serviced many townships until his retirement. He married Lorraine Catherine Hageman of Roscoe in 1958, and they were blessed with six children. John loved music – especially old-time music, playing concertina, and leading his 'Buermann Family Band.' Music was his passion, and he dedicated his life to it since first starting to play at the age of 16. After 16 years of marriage to Lorraine, he became widowed and was fortunate to connect with and marry his lifelong friend, Elizabeth "Betty" Wolf of St. Joseph. They played music together and traveled frequently until Betty's passing. John could fix anything, loved to socialize, was very spiritual, and will be remembered for his gift of music, which he shared with the world. He was a member of Knights of Columbus, St. Agnes Church Choir, and Parish Board. Survivors include his children: LeAnn (Brad) Beck, John Jr. (Edith), William (Dorine), Alan (Lynn), Janelle (Landi) Bregu, and Charlene (Jim) Provost; siblings: Roman, Herbert, Joe, Irma, and Martha; 22 grandchildren; and 10 great-grandchildren. He was preceded in death by his wife, Lorraine (Hageman); wife, Elizabeth "Betty" (Wolf); infant daughter, Mary; siblings: Martin, Edmond, Norbert, Robert, Alma, Eleanor, and Rosalia. In lieu of flowers, the family prefers memorials that will be donated to charities in John's honor. Arrangements are with Wenner Funeral Home, Richmond.


font size=4 COLOR="BLACK" face="helvetica, arial, sans serif">Lois K. Potter-Bridges, 94
Lois K. Potter- Bridges, 94, passed away peacefully on Friday, June 9, 2017. Lois (Virginia) was born to William and Anna (Blank) Kissner on Feb. 25, 1923, on the family farm near Sleepy Eye, Minn. She told us many stories about life on the farm and that she was the one to help her father with the outside chores, while her older sisters, Mildred and Dorothy, helped in the house. Her only brother, Roger, was the youngest. After graduating from Sleepy Eye High School, she attended nursing school in New Ulm, Minn. She married John F. Potter in 1943, and together they had three sons and a daughter. While raising the family she continued to work in area hospitals and nursing homes. Lois was a wonderful nurse and was known for her hard work and soothing backrubs. Lois married Charles Bridges in 1978. They moved to the Wenatchee area in 1981 to be near her grandchildren. Many fond memories were made and will be treasured of the times they spent together. She continued to work as a nurse at the Parkside Manor and later for In Home Health Care agencies. Lois often talked about what a kind and gentle soul her father was; we know she missed him, and now they are together again. She was preceded in death by her parents; siblings; and sons, Steven and Douglas. Lois is survived by daughter, Lori and son, Thomas; five grandchildren: Michelle, Bryan, Zach, Dana, and Melanie; and four great grandchildren: Zoe, Siri, Xavier, and Birk. You are invited to view her online guestbook and leave condolences at www.HeritageMemorialChapel.com. A memorial was held on Thursday, June 15, 2017, at Heritage Memorial Chapel, East Wenatchee.



Return to Top • Return to Paynesville Area