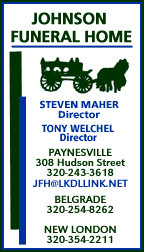 August 2019
July 2019
June 2019
May 2019
April 2019
March 2019
February 2019
January 2019
December 2018
November 2018
October 2018
September 2018
August 2018
July 2018
June 2018
May 2018
April 2018
March 2018
February 2018
January 2018
December 2017
November 2017
October 2017
September 2017
August 2017
July 2017
June 2017
May 2017
April 2017
March 2017
February 2017

Janet Stanger, 75, Cold Spring
Janet K. Stanger, 75, of Cold Spring, passed away on Wednesday, Sept. 4, 2019, at the Koronis Manor in Paynes-ville. A celebration of life was held on Saturday, Sept. 7, at the Paynesville Area Center. Jan was born Aug. 7, 1944, in Amery, Wis., to Kenneth and Jeanette LaBlanc. She graduated from Clayton High School in Clayton, Wis. Jan received her lab technician degree, which brought her to Paynesville Hospital as her first job. She met and married John Stanger. They raised two children but later divorced. Jan received her LPN degree at Ridgewater College in Willmar and worked most recently as a nurse at the VA in St. Cloud. She enjoyed spending time with family and friends. Jan is fondly remembered for her infectious laugh and sense of humor. She is survived by her daughter Janine (Daniel) Stevenson; seven grandchildren, Jadine, Lachlan, Conall, MacKenna and Josalynne Stevenson and Jessica Del Grande and Samantha Stanger; seven great-grandchildren, Isaac Darian, and Grace Del Grande and Felix, Dominic, Logan, and Sofia; and ten brothers and sisters, Cheryl Dunemann, Terry (Shari) LaBlanc, Rick (Mary) LaBlanc, Val (Jim) Stanger, Deb (Paul) Stanger, Denise (Dave) Leschisin, Darla (Doug) Larson, Randy (Tracy) LaBlanc, Todd (Melanie) LaBlanc, and Kevin LaBlanc. Jan was preceded in death by her son, John Kenneth Stanger, and her parents.


Amos Yoder, 102, Grove City


Amos J. Yoder, 102, of rural Grove City died on Wed-nesday, Sept.11, 2019, at his home. A funeral service was held on Sunday, Sept. 15, at the Paynesville Evangelical Free Church in rural Paynesville. Burial will be Burr Oak Cemetery in rural Grove City. Amos J. Yoder was born on Nov. 26, 1916, to John A. and Barbara (Yoder) Yoder, in Custer County, Okla. He passed away at his home in Grove City at the age of 102 years, 9 months, and 16 days. Oklahoma always had a special place in his memories, especially attending Deer Creek School with Native American and Amish children and farming during the Depression. Amos was known as a good horseman who could make sharp corners with a horse and plow. Amos was baptized in September 1935 and became a member of the Old Order Amish church in Custer County. The Second World War brought huge changes to his life. He registered as a conscientious objector. When the letter came, he rode his horse seven miles to Weatherford early in the morning, then turned the horse loose to walk home by itself while Amos boarded the bus to report for Civilian Public Service. He was told he would be gone for a matter of months, but it was five years before the war ended and he was free to go home. During this time he served in a variety of CPS camps in the west, where he served as camp cook and also worked in soil conservation, forestry, and dairy farming. After CPS, Amos was asked to serve with Mennonite Central Committee in Paraguay. He and five other young men took a freighter to Brazil and then went upriver to Paraguay, where Russian Mennonite refugees were being resettled. Amos returned to the U.S., and, in an unusual step for an Amish man, attended Eastern Mennonite College in Harrisonburg, Va., and received a bachelor's degree in German in 1954. During breaks from college, Amos would visit his college friend Moses Beachy in Iowa, where he was introduced to Sara Miller, the daughter of Adam and Anna Miller. Amos and Sara were married at her parents' home in Kalona, Iowa, on June 15, 1954. This union was blessed with six children. They were married for over 59 years before Sara passed away in 2013. In the years following his marriage, Amos earned a master's degree at the State University of Iowa. He also taught school in a number of different states and communities, including two different Hutterite colonies in Montana. The family moved to Grove City, Minn., in 1972. Amos farmed for a number of years, then continued raising various animals until well into his 90s. He remained in Minnesota until his death. Amos was known for his curious mind, his love of reading, and his prolific letter-writing. He was fascinated by different cultures and loved talking to strangers and figuring out their national heritage. After Sara's passing, Amos lived with his son Marcus and his wife Anna. He spent many hours writing a history of his life. These stories were compiled and published into a book called A Chirp From the Grass Roots. Amos is survived by his six children: Philip, of Newberg, Ore., Marcus (Anna) of Grove City, Fred (Loraine) of Corn, Okla., Rebecca (Rod Barbo) of Chicago, Ill., Dorcas (Paul Smucker) of Harrisburg, Ore., and Margaret (Chad Koehn) of Cheraw, S.C.; 17 grandchildren; three great-grandchildren; his brother, John Yoder, Jr.; and many nieces and nephews. He was preceded in death by his parents; five siblings; his wife, Sara; and one grandson, Leonard Yoder. Services were entrusted to Johnson Funeral Home in Paynesville.


Francis Olmscheid, 83, St. Martin


A memorial Mass of Christian Burial was on Friday Sept. 13, 2019, at St. Martin Catholic Church in St. Martin for Francis J. Olmscheid, 83 of St. Martin who passed away on Tuesday, Sept. 10, 2019, at his home (the same farm he was born on) surrounded by his family after a short battle with brain cancer. The burial will be private and take place at a later date. Francis was born on Sept. 24, 1935, to Nicholas and Theresia (Bauer) Olmscheid in St. Martin Township. He married Norine Thull on Sept. 24, 1957, in New Munich. Francis was a passionate farmer all his life, working up until the day of his illness. Francis' pride and joy were his wife, children, grandchildren, and great-grandchildren. His love of music cultivated many special friendship's during his journey on earth. He always enjoyed visiting with family, friends, and neighbors and was a renowned distributor of food and beer to all who visited the farm. Francis is survived by his wife of 62 years, Norine of St. Martin; his children: Kaye Wenker of Sartell, Dean (Sue Becker) of St. Martin, Kim of St. Cloud, and Cara of St. Martin; his grandchildren: Eric (Kayla) Wenker, Adam (Samantha) Wenker, Kelsey (Nate) Presler, Jennifer (Nathan Culler) Terres, and Patrick (Abby Rademacher) Terres; his great grandchildren: Courtney Pratt, Amery Terres, and Everett Wenker; his siblings: Elmer (Marliyn) of Cold Spring, Joe (Verena) of Elrosa, Christine Hemmesch of Cold Spring, and Rose Terres of Cold Spring; and generations of nieces and nephews. Francis was preceded in death by his parents Nicholas and Theresia Olmscheid; children Dale and Dana; granddaughter Melissa Terres; brother and sister-in-law, Leander and Marie; sisters and brothers-in-law, Lidwina and Ambrose Rothstein and Lucille and Clarence Jonas; and brothers-in-law Pete Hemmesch and Ray Terres. Francis' wish to his family and friends: "May the road rise up to meet you. May the wind be always at your back. May the sun shine warm on your face. May the rains fall softly upon your fields. And until we meet again, may God hold you in the palm of his hand." Love, Francis.


Patty Kruger, 63, New London


Memorial services celebrating the life of Patty Jo Kruger, 63, of New London, were held on Tuesday, Sept. 17, 2019, at Grace United Methodist Church in Paynesville. Rev. Bob Kandels and Rev. Wayne Kopitzke presided. Patty passed away on Thursday, Sept. 12, at her home after a brief and severe bout with cancer. Burial of her cremated remains will take place in the Paynesville Cemetery. Patty was born on Nov. 17, 1955, in Paynesville to Daniel and Irene (Schultz) Kruger. She graduated from Paynesville High School and went on to achieve her teaching degree from St. Cloud State. She attended the University of Minnesota to further her education. She will be remembered as an elementary school teacher in New London for 26 years. She married Jim Holen on Dec. 28, 1994, at First Lutheran Church in Tofte, Minn. She was a member of Grace United Methodist Church in Paynesville. Patty is survived by her husband Jim and many other relatives and friends. She is preceded in death by her parents. Arrangements were entrusted to the Daniel-Anderson Funeral Home in Paynesville.


Art Schlangen, 65, Richmond


Arthur Schlangen, 65, of Richmond died on Wednesday, Sept. 4, at his home of natural causes. Art was born in Richmond to Alfred and Elizabeth (Olmscheid) Schlangen. Art served in the U.S. Army Reserve. He enjoyed farming and was very involved in baseball. He coached Little League and Legion baseball teams in Roscoe, Farming, and Richmond. He was inducted into the Minnesota Amateur Baseball Hall of Fame in 1993 and was recognized by KARE-TV 11 for many years of volunteering. He is survived by 11 siblings; a sister-in-law; and many nieces, nephews and friends. He is preceded in death by his parents; brothers Denis, Richard, and James; a brother-in-law; a niece; and a nephew.


Kayla Smith, 30, Fort Myers, Fla.


Kayla Rose Smith, 30, passed away on Wednesday, Aug. 21, 2019, at Lee Memorial Hospital in Fort Myers, Fla., following a long struggle with chemical dependency. A memorial service will take place at Salem Church, Zion Township, in rural Paynesville on Saturday, Sept. 7, at 11 a.m. Kayla (Krupke) Smith was born on Sept. 15, 1988, to Denise Bahr and Brady Krupke in Paynesville. Kayla grew up in rural Paynesville. She was baptized and confirmed at Paynesville Lutheran Church. She attended grade school and high school in Paynesville. Kayla loved animals, especially horses, cats, and dogs. She spent much of her childhood caring for animals and dreamed of becoming a veterinarian. She had an adventurous spirit and loved being outdoors. She loved reading and always had a book in her hand. She enjoyed music - everything from rap to country - and was always sharing music with others. She was a strong person who cared deeply about her friends and family and always tried to make them smile. During the past decade, Kayla lived in both California and Florida - most recently in the Fort Myers area. Kayla is survived by her mother, Denise Bahr of Richmond; father, Brady Krupke of Paynesville; sister, Tiffany (Andrew) Gnirk of Holdingford; half-sister, Alicia (Scott) Varner of Watkins; grandmother Annabelle Krupke of Paynesville; grandfather Dean Bahr of Paynesville; and numerous other aunts, uncles, and cousins. In lieu of flowers, memorials are preferred.


Melvin Fuchs, 89, St. Cloud


Mass of Christian Burial was held on Saturday, Aug. 31, 2019, at St. Michael's Catholic Church in St. Cloud for Melvin L. Fuchs, 89, of St. Cloud, who passed away on Monday, Aug. 26, 2019, at St. Benedict's Center in St. Cloud. Rev. Timothy Gapinski officiated and entombment was in Minnesota State Veterans Cemetery in Little Falls. Melvin was born on April 19, 1930, in Lake Henry to William and Ermalinda (Meyer) Fuchs. He proudly served our country in the U.S. Army. Melvin married Ione Mackedanz on Sept. 30, 1953, at St. Agnes Church in Roscoe. He worked for Stone Container as a supervisor for 30 years and after his retirement drove for the St. Cloud Times for 10 years. Melvin was a member of St. Michael's Catholic Church and a past member of the Eagles Aerie #622. Melvin enjoyed fishing, boating, snowmobiling, and riding on his Harley. Melvin always took pride in his cars and trucks. He and Ione also enjoyed traveling, going on many cruises, and a yearly trip to Branson, Mo. He was a hard worker and some might even say he was a perfectionist. He always made time for his family, and some of the best memories were times spent at the lake. Melvin is survived by his wife, Ione; children, Dianne Davis of St. Cloud, LuAnn (David) Wenning of Albany, Marlene (Daniel) Hills of Avon; seven grandchildren; ten great-grandchildren and one on the way; and brother, Ronald Fuchs of Roscoe. He was preceded in death by his parents; brothers, LuVern and Werner Fuchs; and son-in-law, Maurice "Butch" Davis. The family would like to extend a special thank you to St. Benedict's Senior Community and CentraCare Hospice for their loving care given to Melvin. Arrangements were entrusted to Williams Dingmann Family Funeral Home in St. Cloud. Obituary, guest book, and video tribute available online at: www.williamsdingmann.com.