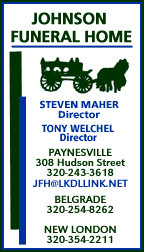 September 2018
August 2018
July 2018
June 2018
May 2018
April 2018
March 2018
February 2018
January 2018
December 2017
November 2017
October 2017
September 2017
August 2017
July 2017
June 2017
May 2017
April 2017
March 2017
February 2017

Clayton Hislop, 87, Paynesville
Clayton John Hislop, 87, of Paynesville, died Thursday, Nov. 8, 2018, at his home in rural Paynesville. His funeral service was on Tuesday, Nov. 13, at Nordland Lutheran Church in rural Paynesville. Burial was at Burr Oak Cemetery in rural Grove City. Clayton was born to John and Ella (Flanders) Hislop on Oct. 26, 1931, on the family farm in Union Grove Township near Paynesville. He grew up on the farm where he attended and graduated from District #19 country school. After his schooling, at the age of 14, he rented his first farm and began his life of farming. On Jan. 29, 1953, Clayton was united in marriage to Dorothy Wendroth at St. Paul Lutheran Church in Eden Valley. This union was blessed with a daughter and three sons. The family made their home on the farm in Union Grove Township. Clayton and Dorothy loved farming and lived on the farm their entire lives. Dorothy passed away on July 18, 2015. They shared in 62 years of marriage before her death. After Dorothy passed away, Clayton continued to live on the farm, passing away there on Thursday, Nov. 8, 2018, at the age of 87. Clayton was a member of Nordland Lutheran Church. He enjoyed playing softball, bowling, and hunting. His passion in life was farming and he excelled at it. Clayton was a selfless man – he always made sure those in need came before his needs. Clayton is survived by his children: Steve of Paynesville, Renae (Bob) Nelson of Paynesville, Ken of Apple Valley, and Dale (Joyce) of Paynesville; grandchildren: Brad Nelson, Kimberly (Jeremy) Floer, Tammy (Troy) Buermann, Heather (Chris) Anderson, Ryan (Anzu) Hislop, Aaron Hislop, and Nicole Hislop; and great grandchildren: Emily and Darien Nelson, Elizabeth and Coraline Floer, Dylan and Olivia Buermann, and Paxton and Maddox Anderson. Clayton is also survived by his sisters-in-law: Evelyn (Duff) Davidson, Dolores Hislop, and Darlene (Roy) Sparks. Clayton was preceded in death by his parents; wife, Dorothy; grandson, James Hislop; sisters, Lilah and Dolores; and brother, Glenn.


Irene Kruger, 95, Paynesville


Irene O. Kruger, 95, of Paynesville, passed away on Thursday, Oct. 18, 2018, at the Koronis Manor in Paynesville. Memorial Services celebrating her life will be held at 11 a.m. on Thursday, Nov. 15, at Grace United Methodist Church in Paynesville. Reverend Wayne D. Kopitzke will officiate. Burial will take place in the Paynesville Cemetery. Visitation will begin at 10 a.m. on Thursday at the church. Arrangements are with the Daniel-Anderson Funeral Home in Paynesville. Irene was born at home on Nov. 15, 1922, in Zion Township, to Gustave and Esther (Knebel) Schultz. She attended the rural Zion District #43 school. Having spoken only German at home, she was faced with the challenge of learning English. She graduated with her class in 1936. She married Daniel D. Kruger on June 28, 1952. She was employed by Paynesville Produce and later by Animal Fair, Inc., in Eden Valley, retiring in 1988. She was an active member of Grace United Methodist Church, having taught Sunday School, serving on the funeral, nursery, and flower committees, and was a member of the Mary Circle. Irene was a woman of strong Christian faith, loving the simple things in life – the rain, birds singing, and flowers. She will be remembered for her baking, canning, embroidering, gardening, and playing Rook. Irene is survived by her daughter, Patty (Jim Holen) of New London; son, Dick (Kim) Kruger of Paynesville; and many nieces and nephews. Preceding Irene in death were her parents; husband, Daniel (1977); and brothers, Earl and Ervin Schultz.


Weston Nehring, 86, Paynesville


Weston Craig Nehring, 86, of Paynesville, died on Wednesday, Nov. 7, 2018, at his home in Paynesville, with his beloved wife of 63 years by his side. His funeral service will be at 2 p.m. on Saturday, Nov. 17, at Paynesville Lutheran Church in Paynesville. Burial will be at the Paynesville Cemetery. A visitation will be held Friday, Nov. 16, from 5 to 8 p.m. at Johnson Funeral Home in Paynesville and continue one hour prior to the service at the church. Wes was born on Aug. 1, 1932, in Paynesville. He was the son of Millard "MJ" and Ruby (Johnson) Nehring. He grew up in Paynesville where he attended school, graduating from Paynesville High School with the Class of 1950. On Dec. 9, 1952, Wes was drafted into the United States Army. He served his country during the Korean War, earning his honorable discharge on Oct. 27, 1954. After the war, Wes returned home and began working with his father at the Nehring Locker. On Aug. 6, 1955, Wes was united in marriage to Lois Nelson at Bethany Lutheran Church near Shelly, Minn. This union was blessed with a son and a daughter. The family made their home in Paynesville where Wes worked with his father at the locker. In 1961, MJ died and Wes and Lois bought the locker plant and ran it. He owned and operated the locker for 29 years before his retirement. After his retirement, Wes began working at Koronis Hills Golf Course with the grounds crew. The golf course was a passion of his. He began golfing there when he was seven years old and had been a member longer than anyone at 79 years. Wes was a member of the Paynesville American Legion where he was a past commander, member of the honor guard, and he began decorating graves with them when he was a child. Wes was also a member and past Master of the Paynesville Masonic Lodge before it closed, current member of the Litchfield Masonic Lodge, was a member of Zuhrah Shrine, member and past president of the Minnesota Association of Meat Processors, served on the Paynesville Cemetery Board of Directors for over 30 years, volunteered at the Paynesville Historical Society, installed Lifeline and Medical Alert Systems in area homes for many years, and a member of Paynesville Lutheran Church. Wes loved local sports and was very proud to be honored as the 2016 Paynesville High School Fan of the Year. Wes volunteered much of his free time but also loved spending time with family at the lake. His favorite pastime was teasing his nephews, nieces, and grandchildren. He is survived by his wife, Lois; children, Lori (Daniel) Kvalheim of SunPrairie, Wis., and Michael (Mary) Nehring of Paynesville; grandchildren: James (Stephanie) Kvalheim, Michael (Jenna) Kvalheim, Kristen Kvalheim, and Kelsey Nehring; step-grandson, Alex Erickson; great-grandchildren: Claire, Jack, Aaron, and Caleb Kvalheim; sister, Elizabeth (William) Schwarze of Lester Prairie; and many nieces and nephews. Wes was preceded in death by his parents; infant son; brother, Norval; and sister, Frances.


Adeline Lang, 89, Paynesville


Adeline Lang, 89, of Paynesville, died on Wednesday, Oct. 31, 2018, surrounded by family at her home in Paynesville. Funeral services were held on Monday, Nov. 5, at the Paynesville Evangelical Free Church near Paynesville. Burial was in the East Irving Mission Cemetery near Paynesville. Arrangements were with the Johnson Funeral Home in Paynesville. Adeline Viola Rud was born on April 16, 1929, on the family farm in Irving Township. She was the daughter of Clarence and Hazel (Kalkbrenner) Rud. She grew up in Irving Township, attended grade school in District #24 and Paynesville High School, and graduated in 1948. On June 16, 1951, Adeline was united in marriage to Llewellyn Lang at East Irving Mission Church near Paynesville. They made their home in Paynesville where she worked as a homemaker. After her children left home, she worked in catering and later as a sales clerk for Twice's Nice for 24 years, before retiring in 2014. Adeline and Lew were able to share in 64 years of marriage before his death on May 5, 2015. Adeline was a member of Paynesville Evangelical Free Church where she was active in ladies aide, serving committee, and taught Sunday school. She enjoyed sewing, baking, gardening, quilting, following her families sporting events, and was an avid bowler until 2014. She will be remembered by her family for her devotion and service to others. She is survived by her children: Susan "Sue" (Tom) Arts of Valdez, Ark., Keith (Paula) Lang of Paynesville, Cecelia "Cece" (Jim) Scheierl of Paynesville, and Janet (Gordy) Olson of Warroad; daughter-in-law, Barb Lang of Becker; grandchildren: Reuben (Josie) Arts, Heidi (Danny) Langan, Shannon (Ben) Heaps, Carl (Sarah) Arts, Shawn (Kelly) Lang, Ryan (Melissa) Lang, Aaron (Maria) Lang, Kristin (Matt) Kerzman, Joe Scheierl, Ben Scheierl, Adam (Alyssa) Knebel, Kyle (Cristine) Lang, Sarah Lang, Nathan (Christine) Lang, and Katelyn (Mike) Southard; great-grandchildren: Noah, Joshua, Adalee, Ayla, Ezra and Amy Arts, Zebadiah Langan, Hannah, Abigail, Faith, Grace, Matthew and Stephen Lang, Evelyn Lang, Morgan and Molly Lang, Olive, Evan and Ezekiel Kerzman, AJ and Bennett Knebel, Chelsey Brown, Dixie Jo and Axle Lang, Gabriella and Georgia Lang, Leland and Maria Ketz, and Adelynn Lang; and siblings: Robert (Ely) Rud, Beverly (Rodney) Schultz, and Betty (Merlin) Cropp. Adeline was preceded in death by her husband, Lew; son, Jonathan "Jon"; grandson, Justin Knebel; brother, Paul; and parents.


Harper Grandstrand Hart, 4 1/2 mos.


Harper Moiraine Grandstrand Hart was born on Thursday, June 14, 2018 to her loving parents, Summer Hart and Connor Grandstrand, in Sioux Falls, S.D. She received her angel wings on Saturday, Oct. 27, 2018, at the age of 4½ months old. Harper was such a happy child. She lit up our lives with her smile and sweet personality. She will forever be in our hearts and will be greatly missed. Her service was held on Thursday, Nov. 1, at Atonement Lutheran Church, in St. Cloud, Minn. She is survived by her parents, Connor and Summer; protective big brother, Liam; sister, AshleyJo; grandparents: Ryan and Tina Hart, and Dean and Patti Grandstrand; great-grandparents: James and Linda Hart, James and Kathy Magnuson, Leona Hofius, and Dorothy Grandstrand; great-great grandparent, Loraine Hart; aunts: Kristin Hart, Taylor Hart, and Chelsie Grandstrand; uncles: Matthew Hart, Kegan Grandstrand, and Dalton Grandstrand; and cousin, Braedyn Hart. She was preceded in death by great-grandparents: Larry and Judy Graton, Ruth Magnuson, Dalton Hofius, and Roy Grandstrand; and great-great-grandparents, Melvin and Irene Grandstrand. Summer and Connor want to say thank you to everyone for their support in these difficult times. Funeral arrangements were made by Benson Funeral Home in St. Cloud, Minn. Monetary donations are requested in lieu of flowers.


--
Obituary Archives

Return to Top &#149 Return to Paynesville Area