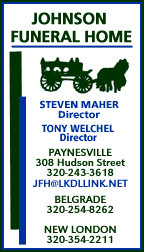 June 2019
May 2019
April 2019
March 2019
February 2019
January 2019
December 2018
November 2018
October 2018
September 2018
August 2018
July 2018
June 2018
May 2018
April 2018
March 2018
February 2018
January 2018
December 2017
November 2017
October 2017
September 2017
August 2017
July 2017
June 2017
May 2017
April 2017
March 2017
February 2017

Beverly Schultz, 78, Paynesville
Beverly A. Schultz, 78, of Paynesville died on Thursday, June 27, 2019, at the St. Cloud Hospital. A funeral service was held on Monday, July 1, at the Pay-nesville Evangelical Free Church near Paynesville. Burial will be in Ebenezer Cemetery near Paynesville. Beverly Ann Schultz was born on June 30, 1940, on the family farm in Irving Township, the daughter of Clarence and Hazel (Kalkbrenner) Rud. She attended country grade school in District 24 and then Paynesville High School, graduating in 1958. On June 18, 1960, Bev was united in marriage to Rodney F. Schultz at East Irving Mission Church. They made their home in Virginia while Rodney served in the U.S. Army until 1963 when they moved to Minneapolis. They later moved to Phoenix, Ariz., and returned to Minneapolis, before retiring in 2005 and moving to Paynesville. Bev worked as a bookkeeper throughout her career for numerous companies. Bev was a member of the Paynesville Evangelical Free Church. She enjoyed shopping, fishing, and traveling with Rod. She is survived by her husband, Rodney of 59 years; siblings, Robert (Elynor) Rud and Betty (Merlin) Cropp; and numerous nieces and nephew. She was preceded in death by her parents; and siblings, Adeline Lang and Paul Rud.


Alice Jacobson, 99, Paynesville


Alice M. Jacobson, 99, of Paynesville died on Saturday, June 22, 2019, at Koronis Manor in Paynesville. Her memorial service will be held at 2 p.m. on Tuesday, July 9, 2019, at Stockholm Lutheran Church in rural Cokato. Burial will be at Stockholm Township Cemetery in rural Cokato. A visitation will be held one hour prior to the service at the church. Services are entrusted to Johnson Funeral Home in Paynesville. Alice Marie Jacobson was born on April 6, 1920, to Anna (Betson) and Axel Jorgenson. She is the last survivor of her Jorgenson family of 14. Alice grew up on her family farm in Cokato. She often told stories of her school days, farm experiences, ice skating on the river and lakes, and the other"adventures" her brothers and sisters had growing up. Alice married Leon C. Gilmer on March 3, 1936. They both worked at Northern Pump in the cities during the war (making ammunition). They raised four children. Their lives included many visits from relatives on both sides of their families. Alice was known for being a good cook and serving others. It was a family tradition to make their famous potato sausage and Christmas cookies as a family activity. Alice married Eric Jacobson in 1972 in California. Eric enjoyed Alice's hobby of gardening, and they both enjoyed traveling. One of their highlights in life was their trip to Sweden. Alice learned many things about her Scandinavian heritage while there. Alice and Eric lived in Anoka, Minn., until Eric's passing in 1975. The last man in Alice's life was Willis Daniels. Their friendship spanned more than 14 years. Willis enjoyed Alice's passion for traveling and for buying and selling houses. Alice loved and cared for her children. She took great pride in their accomplishments, even when distance sometimes separated them. She was always joyful when another grandchild was born. She was fortunate to hold some of her great-great grandchildren. Besides being a homemaker, she also worked at Baker's Department Store, Crystal Furniture, and did housecleaning and home care for others. Alice is survived by her children: Gloria (Quinten) Kaunzner of Isanti, Minn.; Deloris (Robert) Haines of Paynesville, Minn.; Joyce (Charles) Ford of Minneapolis; and James Gilmer of Paynesville; nine grandchildren; nine great-grandchildren, and five great-great grandchildren. The family gives special recognition to Alice's friends: Margie Hoiseth; the Pam and Jeff Lieser family; and her Koronis Manor Care Center family. Memorials preferred to the Koronis Manor Care Center or the R.O.S.E. Center, both of Paynesville.


--
Obituary Archives

Return to Top &#149 Return to Paynesville Area