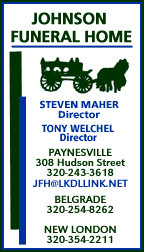 October 2017
September 2017
August 2017
July 2017
June 2017
May 2017
April 2017
March 2017
February 2017
January 2017

Obituary Archives

Eileen Olson, 94, Paynesville
Eileen A. Olson (Curtiss), 94, was called to join her Savior on Friday, Nov. 3, 2017. She was a resident of Stearns Place in Paynesville. Services will be held on Wednesday, Nov. 8, at 11 a.m., at the Grace United Methodist Church in Paynesville. Visitation will be held one hour before service at the church. Interment will be in the Burr Oak Cemetery. Eileen was born to Homer and Ruth Curtiss on June 2, 1923, in Atwater, Minn. She graduated from Atwater High School in 1941. In 1942 she married Adolph Olson. Together they raised three daughters and farmed by Grove City in Union Grove Township. Eileen worked daily on the farm, helping Adolph milk cows, feed livestock, work the fields and also took care of a very large vegetable and flower garden which was admired by many. She was a member and officer in the local S.W.A.Ps (Sisters with a Purpose) and an active member of the Grace United Methodist Church, where she served on several committees and attended Sunday services, adult Sunday School, and Joanna Circle. She moved off the farm into Stearns Place in 2013. She enjoyed bingo, daily coffee, and any and all scheduled outings that were offered. She loved to be on the go! She is survived by her daughters: Bonnie (Ken) Miller of Rochester, Etta (Ron) Holmgren of New London, and LuAnn (Dave) Yattaw of Minnetonka; sisters: Shirley DeBoer of Litchfield, Marlene Radunz of Dassel, and Judy (Norm) Silge of St. Croix Falls, Wis.; six grandchildren: Cindy (Randy) Hoffert, Tom (Tammy) Miller, Aaron (Leah) Holmgren, Christopher (Holly) Yattaw, Amber (Steve) Vick, and Britt (Chris) Clark; 15 great-grandchildren; and one great-great grandchild. She is also survived by many, many friends, nieces, nephews, and neighbors. Eileen is preceded in death by her husband, Adolph; and brothers: Howard (Bud), Wally, Sheldon, and Arlin Curtiss. Memorials will be donated to Grace United Methodist Church and The American Heart Association.


Dr. Ernest Aulick, 90, Paynesville


Dr. Ernest J. Aulick died peacefully in his sleep at home, during the early morning hours of Friday, Oct. 27, 2017. He was 90 years old. A memorial is planned for Tuesday, Nov. 21, at 3 p.m., at Grace United Methodist Church in Paynesville. Ernie, as he was known, was born in the family farmhouse in Todd County, on Jan. 29, 1927. He was the firstborn of Walter and Violet Aulick, and 10 years later another son, Donald, was born. The family lived in South St. Paul, where his father was a foreman for the Swift Meat Company. Ernie attended a private Seventh Day Adventist school, Maplewood Academy in Hutchinson for his junior and senior years. There, he met his classmate and future wife, Ruth Naustdal. The two continued dating during the freshman year at Union College in Lincoln, Neb., with Ernie pursuing a chemistry major and Ruth studying nursing. During this first year, Ernie was drafted into the U.S. Army during WWII and served as a medic. He was stationed in San Francisco, Calif., and cared for wounded patients on military trains that crisscrossed the country. During this time, Ruth continued her education in the bachelors nursing program. Following military discharge, Ernest returned to college, this time as a pre-med student. The two were married in 1948. Ernest earned his medical degree from Loma Linda University in Loma Linda, Calif., in 1954, and interned at select hospitals in the Los Angeles area. During this time, Ruth worked as an RN, supporting the couple's family of three children. It was also during this time that he bought a 25 cent paperback book about sailing and taught himself to sail in the waters off the southern California beaches. This became a lifelong passion. Ernest and Ruth always planned to return to their home state of Minnesota. They moved to Belgrade following completion of internship. There, he saw patients in both the Willmar and Sauk Centre hospitals. Eventually the Aulicks discovered Lake Koronis and fell in love with its islands and bays and the opportunity to continue sailing. A one-bedroom cottage at the north end of the lake – close to the road to town – was available. This became their weekend getaway. As Paynesville became an increasingly attractive place to live, Ernie decided to relocate his practice there. He went to talk with Drs. Myre and Lindeman to let them know of his decision to move his practice to town. There was a surprise ending when the three doctors formed a new partnership based on a handshake – no paperwork. This was an incredible relationship that lasted 40 years without a single argument. Soon the family moved into the one bedroom cottage and called it home. Aulick's 6' 3" height was challenged every time he entered the front door and had to stoop several feet due to the low ceiling. He began working on what his children called the "nightly house plans," designing and drawing up plans for the new lake home. Many years later he designed and drew up plans for their log home. Aulick's practice began during a time when medicine was much simpler. He went on house calls and the reverse was also true. Patients would sometimes come to the house to see him if the clinic was closed. Payment was sometimes produce, eggs, baked goods or whatever the farm produced. Aulick had multiple interests, including converting two city buses to motor homes. As time allowed, he enjoyed life at the lake and had boats of multiple types for the family, including much loved sailboats. He and Ruth were also avid snowmobilers and along with other couples, traveled as much as 100 miles a day. The travel bug called the couple to America's great scenic areas via a Harley Davidson "hog." They motored to northern Alaska, Nova Scotia, Florida, Colorado, Texas, and parts between. It was on a motorcycle trip through northwestern Montana that they stopped at Flathead Lake to visit another Paynesville couple who owned a cherry orchard. Taking in the beauty of the giant 30 mile long lake in the foothills of Glacier National Park, they decided to buy an orchard that was for sale. This became a working vacation place during the month of July for the next ­­­15 years. Lots of cherry jam was made and cherries were sold at a roadside stand. Ernie also shipped cherries to Wally Thyen's grocery store and to the twin cities grocery chain then known as Byerlys. Having worked on the farms of relatives as a boy and also during high school years, Ernie had interest in horses and cattle. For several years he had three riding horses and also raised and bred 12 head of cattle. One cold evening after work, he stopped at the pasture to check on a cow about to calf. The calf was born but was not nursing and not nuzzling with its mother. In the shivering drizzling night air, it was doubtful that the calf would survive. Aided by his daughter, the two lifted the calf into his old Travelall and took the newborn to the warmth of his heated garage. The next morning, the calf was standing bright eyed and ready to return to its mother. However, the calf imprinted on the Travelall and tried to nurse under one of the wheel wells. Soon its mother nudged it away and the calf began to nurse with gusto. During Ernie's career, his wife Ruth was his strong support, even as she dedicated her passion for helping others through the community services. They began to look forward to and planning for retirement, agreeing to end their years of public service simultaneously. During this transitional time, Ernie returned to his love of sailing, this time on Lake Superior. Many family and friends, including the medical community, enjoyed three or four day trips among the Apostle Islands. Those were among his fondest memories, and he faithfully videoed and documented these trips. In more recent years, these videos were a source of great pleasure recalling good times with great friends. Ernie and Ruth purchased a motorhome and soon began wintering in Florida and traveling along the southern states to the west coast. It was a time to visit with children in Maryland and California, and other family and friends along the route. During their 20 years of motorhome traveling, they enjoyed concerts, camped along the CCC waterway parks, visited historical sites, and made many wonderful new friends with whom they stayed in contact. Health issues brought an end to their motorhome travels, and the couple was once again in Paynesville full time. In recent years, they often talked about how much fun they've had through the years. Ernie is survived by his wife of 69 years, Ruth; children: Jim (Ann) Aulick of Buffalo, Minn.; Judy (Rob) Vandeman of Silver Spring, Md., and Janet (Bob) Fiala of Paynesville; grandchildren, Keri (Deric) Tomenko of Tacoma Park, Md. and Kevin (Sol) Vandeman of Washington, D.C.; Amber (Christoph Spring) Aulick-Petersen, Seattle Wa., Brian Aulick Portland, Oregon and April Aulick, Eugene,Oregon three great-grandchildren: Nicoli, Elena, and Natalia; and brother, Donald Aulick of Chanhassen, Minn. Ernie was preceded in death by his parents, Walter and Violet Aulick. In lieu of flowers, donations can be made to Paynesville Community Service Center, CentraCare Health – Paynes-ville, or the Tri County Animal Humane Society.


Grace Langen, 92, Paynesville


Grace Darling Langen, 92, of Paynesville, passed away on Thursday, Oct. 19, 2017. She was a loving wife, mother, and friend. She was a loving and loyal wife to her husband Larry for 64 years. They had five children together: Larry Thomas, Cindy, Les, Nancy, and Bill. Grace's family was her #1 priority. She stayed at home with her children until they were in school. She worked at St. Louis Park School as a health aid. Grace enjoyed playing bridge, canasta, and reading. She was an active member in the Eastern Star, Paynesville Lutheran Church, volunteered at Paynesville Senior Manor, and was a Cub Scout leader. In retirement, Grace spent time at her lovely home on Lake Koronis and winters in Clearwater, Fla., with her loving husband, Larry. Grace, our dear mother, will truly be missed even though she lives on in our hearts.


Connie Olmscheid, 64, Hutchinson


Connie Susan Olmscheid, 64, of Hutchinson, formerly of Paynesville, died on Saturday, Oct. 28, 2017, at Abbott Northwestern Hospital. Funeral Services will be held on Thursday, Nov. 2, at 11 a.m., at Lake Union Evangelical Covenant Church near South Haven. Pastor Mark Andrews will officiate. Burial will follow at Lake Union Cemetery. Visitation will be held on Wednesday, Nov. 1, from 4 to 7 p.m., at Dingmann Funeral Care Chapel in Kimball and one hour prior to the funeral at the church. Casket bearers include: Javan Olmscheid, Devean Donnay, Dustin Looman, Derek Looman, Dave Jacobson, Logan Looman, Preston Looman, Brandon Looman, and Emma Olmscheid. Connie was born on Dec. 21, 1952, in St. Cloud, to Melvin 'Buck' and Carole (Norgren) Looman. She lived in Kimball as a child, and later moved to Paynesville. She graduated with the Class of 1970 from Paynesville High School. Connie was a part of Lake Union Covenant Church. She worked many jobs, often times holding three jobs at one time. Her main employment included working as a book keeper at Fleet Supply in Paynesville, driving school bus for Paynesville Schools, and as a process specialist for HTI in Hutchinson. Connie was a good worker, great mom, and an even better grandma. She loved her time with family and cherished the time she spent with her grandchildren. Connie enjoyed gardening, talking on the phone with Barb, and caring for kids. She is survived by her son, Corey (Amanda) Olmscheid of Hutchinson; three grandchildren: Javan Olmscheid, Devean Donnay, and Emma Olmscheid; mother, Carole Looman of Hutchinson; brothers, Bruce (Nandra) Looman of Paynesville and Brad (Kerri) Looman of Kimball; and five nephews. Connie is preceded in death by her father, Melvin 'Buck' Looman and niece, Deidra Sue Looman. Arrangements are entrusted with Dingmann Funeral Care Burial and Cremation Services of Kimball.