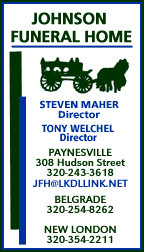 September 2019
August 2019
July 2019
June 2019
May 2019
April 2019
March 2019
February 2019
January 2019
December 2018
November 2018
October 2018
September 2018
August 2018
July 2018
June 2018
May 2018
April 2018
March 2018
February 2018
January 2018
December 2017
November 2017
October 2017
September 2017
August 2017
July 2017
June 2017
May 2017
April 2017
March 2017
February 2017

Harold Swanson, 80, Paynesville
Harold E. (Harry) Swanson, 80, of Paynesville – and formerly of Hector, Minn. passed away at his home on Saturday, Oct. 12, 2019. Services will be held on Saturday, Oct. 19, at 11 a.m. at the Eden Valley Church of God (553 Maple Street, Eden Valley, Minn.). Visitation will be held at the church on Friday afternoon, Oct. 18, from 4 to 8 p.m. and from 10 to 11 a.m. prior to the service. Inurnment at 4 p.m. on Saturday, Oct. 19, at the Hector City Cemetery. Pastor Anne Fischhaber will serve as the officiant. Arrangements are with the Neptune Society of Golden Valley, Minn.


Dorothy Martinson, 82, Paynesville


Dorothy J. Martinson, 82, of Paynesville died on Tuesday, Oct. 8, 2019, at the Paynesville Hospital after the cancer she triumphed over in 2002 returned with a vengeance. A memorial service was held on Saturday, Oct. 12, 2019, at Nordland Lutheran Church in rural Paynesville. Burial was in the church cemetery. Dorothy Johnson Martinson was born on Feb. 3, 1937, to Clara Johnson. Her father, Eddie Johnson, died before she was born, so she was raised in Paynesville and Minneapolis by her widowed mother, grandmother, and four aunts. Surrounded by strong and independent women, she learned early the importance of resilience, trusting her own strength, and caring for others – lessons she later passed on to her own children. She married Bob Martinson in 1955, and they remained in Paynesville to farm and raise their family. After Bob's death in 1982, Dorothy earned her bachelor's degree from Southwest State University and began playing golf, which became a favorite hobby. She played an integral role in the expansion of Koronis Hills Golf Course, where she won four club championships (1995, 1996, 1998, and 2001) and also recorded her first hole-in-one. Nordland Lutheran Church was her spiritual home; she was baptized and remained an active member her entire life, eventually becoming one of the matriarchs of her church family. Her faith was central to her identity, and she was generous with her time, talents, and love. She volunteered with multiple community causes; created countless quilts for friends, family, and those in need; and shared her gift of music throughout her life. Dorothy is survived by five children: RaNae (Rick), Luke (Laura), Matthew (JoAnn), Katey (Pete), and Sara; as well as seven grandchildren; seven great-grandchildren; her partner, Chuck Chesness; numerous nieces and nephews; and countless people who considered her a bonus mother, grandmother, aunt, sister, and friend. She will be missed, although she was looking forward to being reunited with her husband, mother, sisters, brother, and missing finger. Friends were invited to bring any quilt that Dorothy made to her funeral and to hang it over the pews as a visual reminder of the love she draped around so many. Services were entrusted to Johnson Funeral Home in Paynesville.


Zachary Zniewski, 70, St. Louis


Zachary Zniewski, 70, born on Feb. 28, 1949, died on Saturday, Sept. 21, 2019, in St Louis, Mo. A memorial service for Zachary will be held on Saturday, Oct. 26, at 1 p.m. at Amore Coffee (879 Smith Ave. S, West St Paul, Minn.). All who knew him are welcome. Interment will be in Marathon, Texas. Zach grew up in Paynesville, Minn., where he graduated from high school. He held a degree in Orthotic Technology from Century College. Although for a short time in the 1970s he lived in Berkeley, Calif., building and repairing guitar, his primary residence was Minneapolis as a member of the West Bank community. He helped start both the New Riverside Cafe and the Blind Lizard Rally. He worked at Hoffman Guitars, North American Cart and Carrousel, Durable Goods Hardware, Events and Shows at Dayton's Department Stores, the Minneapolis Public Library, and James and Mary Laurie Booksellers. He loved vintage motorcycles, Raleigh bicycles, cooperative community, and wood stoves. He had a mammoth library, as well as a small art collection. He created animatronics, built and repaired motorcycles and bicycles, and worked as a librarian. He read voraciously, a dozen books at a time. He moved to Marathon, Texas, in 2001 where he served as librarian, local builder, donkey rescuer, and ranch hand. He lived in Marathon for 18 years where he built a barn, house, and shop using only hand tools. His grandson, daughter, and wife visited regularly. He spent the last year and a half in St. Louis, Mo. He loved motorcycles and rode a 1962 Triumph with Steib sidecar thousands of miles. He and his family visited Davenport, Iowa, for motorcycle meets. He was an artist, lover of all music, caller of crows, dweller in the garden, plant aficionado, and good friend. While working on projects at his shop, Zerstöration Werks, he discovered both Kroizinex, and Nu-away. He died as he lived, a free spirit, an anarchist, owing allegiance only to his own heart. He is survived by daughter Maya Zniewski; grandson Ian Zniewski; ex-wife Carolyn Zniewski; brothers Timm Zniewski (wife Jeri Johnson) and Dana Zniewski; sister Mary Prokott (husband Wayne Prokott); nieces, Maddy, Megan, and Taylor; and nephew, Graham Prokott; girlfriend Francie Broderick; and friends from all corners of the universe. He was proceeded in death by his parents, Frederic and Bertha Zniewski; and grandparents Agur and Dahlia Robbin and Frederic and Minnie Zniewski.


Mary Peterson, 92, Paynesville


Mary A. Peterson 92, of Paynesville, died on Sunday, Oct. 6, 2019, at the Koronis Manor in Paynes-ville. A memorial service was held on Tuesday, Oct. 8, 2019, at Nordland Luth-eran Church in rural Paynesville. Burial will be in Brule Cemetery in Brule, Neb. Mary Asenible Peterson was born Sept. 23, 1927, to George and Sylvia Huntley in Silverton, Ore. When she was one, her family moved to Logan County, Neb. Mary attended Mackley School in Tallin, Neb., and Callaway, Neb. She graduated from high school in Brule, Neb. In 1954, she married Lynn Hull. She and Lynn were married for 27 years before he passed away in 1977 after a long illness. Mary continued to live in Brule, Nebraska until she married Walter (Wally) Peterson in 1980 and moved to his farm in Regal, Minn. Wally passed away in 1987. Mary worked as a bookkeeper for 35 years for Larson Oil Company in Brule, Neb. Wally was a custom combiner and followed the wheat harvest from Faxon, Okla., to Mohall, N.D., in the summer. Wally and his first wife, Julie, parked their trailer in the yard of Mary's parents during their stay in Brule. Lynn and Mary and Wally and Julie were friends for many years until Lynn's passing. Mary and Wally loved traveling and snowmobiling in the winter months. They honeymooned in the Netherlands and England. Mary was a baptized member of Brule Congregational Church but joined Nordland Lutheran Church, rural Paynesville, after she married Wally. She served as church treasurer for about 17 years. She was also active in Nordland Lutheran Church Women. She enjoyed quilting and, although not Norwegian, created beautiful Hardanger pieces and counted cross stitch embroidery. She was preceded in death by both husbands, Lynn and Walter, as well as her parents and two sisters. She is survived by her brother, Clarence (Bill) Huntley, of Ogallala, Neb.; sister, Betty (Jo) Leonard of Elsie, Neb., as well as Wally's two daughters, Jeanne (Larry) Ent of College Station, Texas, and Shirley (Bob) Fletcher of Seaside, Ore.; two step-grandchildren, Brian Fletcher of Reno, Nev., and Cynthia Fletcher of Portland, Ore.; and one step-great grandchild, Lilia Fletcher, of Reno, Nev.


Kevin Kincade, 57, Paynesville


A time of sharing was held on Friday, Oct. 4, 2019, at the Daniel-Anderson Funeral Home in Paynesville for Kevin George Kincade, 57, of Paynesville. He died on Sunday, Sept. 29, 2019, surrounded by his family at the Paynesville Hospital. Kevin was born on Feb. 11, 1962, in Sauk Centre, Minn., the son of Verlyn and Margaret (Grecula) Kincade. He grew up in Long Prairie, where he attended and graduated from high school. On Oct. 1, 1983, he married his longtime sweetheart at St. Mary's Catholic Church in Long Prairie. They moved to Tucson, Ariz., for 20 years where he worked as a shop foreman at a Honda dealership. While in Arizona, they became proud parents of three wonderful daughters. In 2004, they moved back to Minnesota, settling in Paynesville. He then worked at the Honda House in St. Cloud and opened Fatty Daddy Auto in Willmar in 2008. Cars, cars, and more Cars were most of his life. He enjoyed fixing, collecting, and going to car shows. Kevin also enjoyed camping, woodworking in his wood shop, spending time with his daughters and granddaughters at the cabin, collecting antiques, building relationships with his customers, and having pride in working on their vehicles. He was also proud to have a great working staff that, he said, were like his sons, "the boys he didn't have." He was also proud of the fact that he offered free auto care to the spouses of deployed active duty military members. Kevin is survived by his wife, Debra of Paynesville; three daughters, Kailey (Nathan) Lieser of Paynesville, Jenna Kincade of St. Louis Park, and Whitney Kincade of Paynesville; four granddaughters, Kaydence, Kendall, Karah, and Keira; his parents, Verlyn and Margaret Kincade of San Manuel, Ariz.; three brothers, Alan Kincade of Arizona, Dave Kincade of Phoenix, Ariz., and Jeff Kincade of San Manuel, Ariz.; one sister, Jackie Kincade of San Manuel, Ariz.; his father-in-law and mother-in-law, Lloyd and Doris Laine of Paynesville; one sister-in-law, Julie (Gary) Fearing of Paynesville; two brothers-in law, Rick (Marcia) Laine of Osakis and Greg (Laura) Laine of Hibbing; nieces and nephews; other relatives; and many friends. He was preceded in death by an infant son in 1981.


Richard Quill, 61, Baxter


Richard A. Quill, 61, of Baxter, passed away on Wednesday, Sept. 18, 2019, in Blaine. Services were held on Monday, Sept. 30, 2019, at Nelson-Doran Funeral Home in Brainerd. Burial was with military honors in Minnesota State Veterans Cemetery.


Dawn Meyer, 43, Watertown, S.D.


Dawn F. (Mrs. Rick) Meyer, 43, of Watertown, S.D., passed away on Tuesday, Sept. 17, 2019, as a result of an automobile accident in Watertown, S.D. A Celebration of Life will be from 5 to 8 p.m., with a supper at 5:30 p.m. on Wednesday, Oct. 2, 2019, at City Hope Church (413 Franklin Ave. NE) in St. Cloud, Minn. Please bring a memory to share. Dawn Florina Meyer, the daughter of Jerome and Beth (Benzing) Schlangen was born on Aug. 23, 1976, at Rice Memorial Hospital in Willmar, Minn. She grew up in rural Willmar, Appleton, and Benson. While living in Benson, Dawn worked at Perkins, Hardees, and Country Inn & Suites. Dawn graduated from Benson Christian School in 1994. On July 11, 2010, she married Richard "Rick" Meyer in Watertown, S.D. Dawn was employed in customer service at Hy-Vee, The Other Place Cafe, and Hardees. She was currently employed at Sparton, Inc. She was involved with the Beacon Center and the Salvation Army. Dawn loved family activities and camping with the Schlangens. She was an avid sports fan and enjoyed watching the Minnesota Twins and Minnesota Vikings. She also enjoyed attending Christian music festivals, watching movies, and reading. Dawn is survived by her husband, Rick; her children, Dominic Ascheman of Wahpeton, N.D., and Gage Ascheman of Watertown, S.D.; her parents, Jerome and Beth Schlangen of St. Cloud; her sisters, Carrie (Stacy Sanders) Buddy, Bonnie Johnson, and Lee Bowen; her grandmother, Ardis Garrett; and numerous aunts, uncles, nieces, nephews, and cousins. She is preceded in death by her grandparents, Marcus and Florina Schlangen and Papa Jack Benzing. Arrangements by Wight & Comes Funeral Chapel: www.wightandcomes.com.