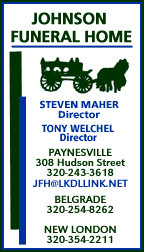 December 2016
November 2016
October 2016
September 2016
August 2016
July 2016
June 2016
May 2016
April 2016
March 2016
February 2016
January 2016
December 2015
November 2015
October 2015
September 2015
August 2015
July 2015
June 2015
May 2015
April 2015
March 2015
February 2015
January 2015
December 2014
November 2014
October 2014

Thomas Nelson, 71, Sartell
Thomas "Tom" Nelson, 71, of Sartell, passed away on Friday, Jan. 13, 2017. Funeral arrangements are with Miller-Carlin Funeral Home in St. Cloud. Service date and time to be determined.

Arnold Stang, 83, Richmond
Arnold J. Stang, 83, died on Saturday, Jan. 7, 2017, at Koronis Manor in Paynesville. Mass of Christian Burial was held on Saturday, Jan. 14, at Sts. Peter & Paul Catholic Church in Richmond. Entombment will be in the parish cemetery. Arnie was born on Dec. 21, 1933, in St. Martin, to John and Helena (Schlangen) Stang. He married Theresa Gruenes on June 10, 1958, at Assumption Church in Eden Valley. He was a devoted husband for 58 years. He and Theresa farmed on the Stang Family Farm until the year 2000 when they retired and moved to Richmond. Arnie enjoyed farming, fishing, snowmobiling, a good game of cards, and good friends. He loved his nieces and nephews. Arnie's faith was very important to him. He was a Eucharistic Minister and belonged to the Men's Society in St. Martin. Arnie was also a member of Queen of Peace 4th Degree Knights of Sauk Centre, 3rd Degree Knights of Columbus of Paynesville, St. Martin Lions, Catholic United Financial, Crosier Apostolate, and St. Jude Mission of Richmond. Survivors include his wife, Theresa; sister, Cora Obermiller; in-laws, Ruth Stang and Math Schaefer; and many nieces and nephews. He was preceded in death by his siblings: Martha Hieserich, Sister Colette Stang O.S.B., Sister Brigetta Stang O.S.B., Herbert Stang, Theresa Schaefer, Ceil Harris, and Clarence Stang.

Michael Sorenson, 72, Sunburg
Michael Kaye Sorenson, 72, of Sunburg, passed away on Wednesday, Jan. 4, 2017, at St. Cloud Hospital. His private memorial service will be held on Thursday, Jan. 12, at 11 a.m., at Johnson Funeral Home in Paynesville. Visitation will be held from 4 to 8 p.m., on Wednesday, Jan. 11, at Johnson Funeral Home. Burial will be at a later date at East Irving Mission Cemetery in Paynesville. Memorials are preferred to Wounded Warriors Project. Michael Kaye "Mike" Sorenson was born on March 8, 1944, in Willmar. He was one of three children born to Grant and Blanche (Bishop) Sorenson. He attended school in New London. Mike married Pat Larson on Dec. 26, 1963, at the Assembly of God in Paynesville. Following their marriage, Mike joined the U.S. Navy at age 18, where he proudly served his country for four years. After Mike's honorable discharge, Mike and Pat moved to Fosston, where they owned the Coast to Coast Hardware and eventually True Value Hardware, for 23 years. During this time, Mike was an active member of the Kingo Lutheran Church, where he was on the church Consul. He was also a volunteer firefighter for 22 years, active on the Fosston Lions, and a member of the Fosston American Legion. After retiring from the hardware store in 1997, Mike and Pat moved to the Sunburg area, where they bought a house on Norway Lake. Mike again became active in the New London American Legion. Mike also enjoyed classic cars and belonged to the Sunburg Troll Car Club. He enjoyed spending time on his 1938 Chevrolet Street Rod. He is survived by his wife, Pat Sorenson of Sunburg; children: Gina Feinstein and grandson, Nash of Minneapolis; and Ty (Laurie) Sorenson of San Marcus, Calif.; sister, Karen (Roger) Olson; and sister-in-law, Betty Sorenson; four nephews; and one niece. He was preceded in death by his parents and brother, Keith Sorenson.

Earl Eisenbacher, 77, St. Regis, Mont.
Earl Henry Eisenbacher, 77, passed away on Monday, Jan. 2, 2017, at his home in St. Regis, Mont., with family members at his side, after a valiant battle against cancer. A funeral Mass of Christian Burial was held on Saturday, Jan. 7, at St. Mary Queen of Heaven Catholic Mission in Superior, Mont. There will also be a memorial service and final burial at Our Lady of the Lakes Catholic Church in Spicer, in July 2017. Earl was born in St. James, Minn., on Oct. 1, 1939, to George and Florence Eisenbacher. He was raised on a farm near Calhoun Lake in Spicer. He attended Atwater schools as a child. In 1963, Earl enlisted in the United States Army. After proudly serving our country for 30 years, he retired in September of 1999 from the Montana National Guard as a Master Sergeant E-8. On May 28, 1966, he married Kathryn (Fuchs) Eisenbacher and they were married until her death on March 24, 2011. They had four children: Dawn (Don) Kelley of Elkland, Mo.; Michelle (Jerome) Cann, of Richmond, Va.; Sarah Sue (Randy) Miller of Hickory, N.C.; and Matthew (Sara) Eisenbacher of Springfield, Mo. They had eleven grandchildren and four great-grandchildren. Earl met Judy Minson in March 2014, and found love again. They were united in marriage on Aug. 30, 2014. In their two very short years of marriage, they went on many new adventures together and were inseparable. With this marriage, four adult children, their spouses, and grandchildren were added to the family: Rance Minson of Bonnie Lake, Wash.; Tessie (Scott) Van Hoff of Kingston, Wash.; Richard Minson of Kalispell, Mont.; and Carolyn (John) Ericksen of Wilsonville, Ore. Earl used his many talents to build, fix, maintain, produce, and create. He farmed the land and milked cows in Hawick until 1975 and then opened his own automotive repair shop, "Earl's Repair." The next adventure began in 1983 by moving his family to St. Regis, Mont. He pioneered the land into a sustainable farm, including a log home built by hand from his own timber. This was a life-long dream fulfilled. In Montana, Earl reopened his repair shop and also worked for the St. Regis school system. After retirement, his hobbies expanded into a museum-quality collection of antique farm engines, hand tools, and equipment. He prided himself in teaching the children of the community about our American heritage. His life inspired many others to follow his footprints of strong faith, stature, principles, and family. He was one-of-a-kind and will be missed by many. In lieu of flowers, please send contributions to the Kootenai Cancer Services Fund at www.kh.org > foundation > donate, the St. Mary Queen of Heaven Catholic Mission Altar Society (P.O. Box 329, Frenchtown, M.T. 59834), or a cancer research charity of your choosing.

Elvin Lieser, 82, St. Martin
Elvin "Smiley"" Lieser, 82, died on Tuesday, Dec. 13, at his home, surrounded by his family. Mass of Christian Burial was held on Saturday, Dec. 17, 2016, at St. Martin Catholic Church. Burial was held in the parish cemetery. Elvin was born on April 28, 1934, in Zion Township, to Berthold and Arcella (Lenz) Lieser. He married Elnora Schaefer on June 20, 1956, in the St. Martin Catholic Church. Elvin was a farmer and self-employed at Lieser Masonry for 50 years and was on the Board of Directors for the St. Martin National Bank. Elvin loved ice cream, baseball, fishing, bowling, softball, deer hunting, auctions, coffee, and dice. He was a charter member of the St. Martin Fire Department, played for the St. Martin Baseball team for 25 years, and was a lifetime fan. Elvin was also a member of St. Joseph Society, Catholic United Financial, and St. Martin Parish. Survivors include his wife, Elnora; children: Donald Lieser, Ladonna (Paul) Rothstein, and Carl (Ruth) Lieser; siblings: Vicky Hartmann, Marion (Stanley) Olmscheid, Anna (Leroy) Patrick, Verna (Norb) Kalthoff, Sister Jean Lieser, Dorothy Welle, Irene Bertram, Ralph (Sylvia) Lieser, and Willie (Deanna) Lieser; sisters-in-law: Pat Carstens and Norine Lieser; 11 grandchildren; and 15 great-grandchildren. He was preceded in death by his parents; brothers: Ronny Lieser and Joey Lieser; brothers-in-law: Alvin "Bub" Hartmann, Junior Welle, and Duane Bertram; granddaughter, Kim Lieser; grandson, Joseph Lieser; and great-grandson, Isaac Lieser. A special thank you to Heartland Hospice, CentraCare Health Paynesville, and Koronis Manor.

Annie Knebel, 62, Palm Harbor
Annie Knebel, 62, passed away peacefully at her home in Palm Harbor, Fla. on Sunday, Dec. 25, 2016. Annie is survived by her loving husband, Jay of 44 years; sons: Michael (Shannon), Christopher (Erin), and Jeffrey (Adrianna); grandchildren: Sophie, Lily, Annabelle, and Casey; and sister, Virgie (Wade) Roland; as well as numerous nieces and nephews. A celebration of life will be held at Curlew Hills Funeral Home on Saturday, Jan. 7 from 2 to 4 p.m.

Janet Spanier, 70, Paynesville
Janet LaRae Spanier (Sparby) passed away peacefully in her home surrounded by the love of her family on the morning of Saturday, Dec. 24, 2016, after battling ALS (Lou Gehrig's Disease). She never gave up the fight. Funeral service was held on Saturday, Dec. 31, 2016, at St. Louis Catholic Church in Paynesville. Janet was born on Jan. 4, 1946, in Britton, S.D. to Clifford and Helen. She married Wilfred Spanier on Sept. 12, 1970, at the St. Louis Catholic Church in Paynesville. They lived in Brooklyn Center and moved to Paynesville around 2003, where they reside now. Janet enjoyed spending time with her family and friends. She especially enjoyed spending time with her grandkids. She loved to play BINGO, go fishing, playing cards, reading, and putting together puzzles. Janet was known for her trademark of drinking Diet Coke and eating popcorn. Janet is survived by her deeply loving husband of 46 years, Wilfred; daughters: Kim (Bill) Mellon and Michelle (Scott) Gilles; and son Chris (Michelle). Janet was a proud grandma to: Will, Emily, Madeline, Joseph, Jackson, Kelsey, and Brandon. She is also survived by her brother Dennis (Diana) Sparby; sisters: Arrah Sparby and Stacia (Steve) Gorman. She is proceeded in death by her parents Clifford Sparby and Helen Johnson; and sibling Steve Sparby. In lieu of flowers or gifts, memorials are preferred to the ALS Association Minnesota/North Dakota/South Dakota Chapter. Special thanks to Heartland Hospice for their exceptional care they provided for Janet. We would also like to thank Father Glenn, Dr. Malling and his staff, and Dr. Maizer and staff at HCMC ALS Clinic.

Janice Jackson, 74, Pittsboro
Janice Marilyn Block Jackson, 74, of Pittsboro, N.C., died on Thursday, Dec. 22, 2016, at Peak Resources Nursing Facility in Graham, N.C. She was born on Feb. 22, 1942, and was raised in Paynesville to the late Anna Abbott Block and Ben Block. She married Robert "Paul" Jackson on Dec. 18, 1963. Janice trained as a beautician, but spent the majority of her time working in retail management. She eventually worked for a medical equipment manufacturer, before retiring in 2010. In addition to her parents, Janice is preceded in death by her older brother, Eldon Block, of Saint Anthony, Minn. She is the mother of two wonderful sons: Dylan Kyle Jackson and Ryan Cary (Susan Tollers ) Jackson; and a loving grandmother to Morgan Elizabeth Jackson and Cooper Zane Jackson. The family received friends and family on Tuesday, Dec. 27, at Donaldson Funeral Home in Pittsboro, N.C. In lieu of flowers, please honor Janice by making a contribution of any amount to: The American Heart Association/American Stroke Association (4217 Park Place Ct., Glen Allen, VA 23060-9979).


Return to Top • Return to Paynesville Area