Fun to Beth Schlangen, a recent PAHS graduate, is biking 338 miles. That is how far she biked in the Arctic Circle on a recent trip to Norway.

In June, she and eight other people traveled to Norway to bike for two weeks. The four students and five adults started their trek in Tromso and ended it in Oksford, both located north of the Arctic Circle.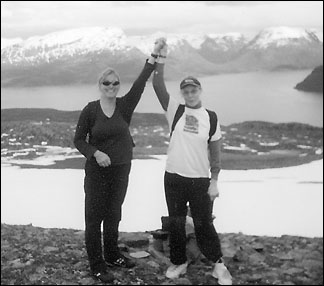 Beth heard about the trip, which was organized by Two Wheel View, from the man who sets up trips to the Boundary Waters for the Crow River Trail Guards. The Trail Guards sponsored Schlangen, a longtime member of the group, but she had to do fundraisers and get donations from people she knew to help pay for the trip.
Beth Schlangen recently biked 338 miles through the Arctic Circle in Norway, where she climbed two mountains. Above, Schlangen (right) and a leader celebrated after they reached the top of a mountain first.
Beth's favorite part of the trip was seeing the mountains because she had never seen any before.
She also got to experience having sunlight for 24 hours, since the sun never sets in the Arctic summer. She said she adjusted to it very quickly and had no problem sleeping. In fact, sleeping in the dark at home was hard to adjust to when she got back, she said.
In Norway, Beth got to see reindeer and sheep while biking, and she also saw two dolphins while watching the midnight sun.
The bikers stayed with Norwegian families for one and a half days while on their trip. The other days they stayed in tents at campsites, and in hotels.
Beth said food and clothing in Norway are expensive compared to in the United States.
Most people spoke English, she said, and the people who didn't still tried to help the bikers as much as they could.
Beth noticed Norway is a very clean country. She said they have garbage cans placed randomly along the roads.
Something Beth noticed that she thought was different was that cities had more yield signs than stop signs. She also said they had small cars that were all diesel.
Beth said she had fun on the trip and that she wants to go on more bike trips. She wants to go to Argentina and back to Norway.
---
Contact the author at editor@paynesvillepress.com • Return to News Menu
Home | Marketplace | Community
---