John Lundberg, 81, Paynesville
John Leighton Lundberg, 81, of Paynesville, died on Sunday, Aug. 22, 2004, at the Koronis Manor in Paynesville.

A private family service will be held. Arrangements are with Johnson Funeral Home of Paynesville.

John was born Jan. 23, 1923, in Graceville, Minn., the son of Raleigh and Irene (Ludwig) Lundberg. He grew up in Wheaton where he graduated from high school. He attended Macalester College in St. Paul and served his country in the U. S. Navy during World War II.

On June 21, 1946, John married Marion DeBlois in St. Cloud.

John was a U.S. Treasury agent for the Civil Service, which meant he and his family lived in many cities throughout the country, including St. Paul, Chicago, San Francisco and Los Angeles. He retired in 1978 and he and Marion moved to Paynesville in 1988.

John is survived by his wife, Marion of Paynesville; daughters, Mary Lundberg of Paynesville, Susan (Charles) Kelly of Edina, Kathryn (Kent) Wiedenmann of Vallejo, Calif.; five grandchildren; a brother, Dan (Aimee Lou) Lundberg of Lodi, Calif.; and nieces and nephews.

He was preceded in death by his parents and sister, Beth Merritt.

Francis Schreifels, 75, Sauk Rapids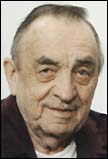 Francis "Fran" Schreifels, 75, of Sauk Rapids, Minn., died on Sunday, Aug. 15, 2004, at the Good Shepherd Lutheran Home in Sauk Rapids.
Mass of Christian Burial will be at 10 a.m. on Wednesday, Aug. 18, at St. Anthony's Catholic Church in St. Cloud. Burial will take place at the Minnesota State Veterans Cemetery in Little Falls with full military honors.
Friends may call from 4-9 p.m. on Tuesday, Aug. 17, at the Daniel Funeral Home in St. Cloud and after 9 a.m. on Wednesday at the church. Waite Park American Legion Post 428 will pray at 6:15 p.m. on Tuesday at the funeral home followed by the Eastside VFW Post 4847 at 6:30 p.m. and parish prayers at 7:30 p.m.
Fran was born Feb. 22, 1929, in Watkins, Minn., to Nicholas and Susan (Kinzer) Schreifels. He served in the U.S. Air Force from 1947-1959.
He married Lorraine Hierlmaier-Hartneck on June 27, 1959, at St. Peter's Catholic Church in St. Cloud.
Fran worked at the DVA Medical Center in St. Cloud from 1970-1979 and later at St. Cloud Truck Sales for 14 years, retiring in 1988.
He was a member of St. Anthony's Catholic Church, St. Anthony's Catholic Aid, Sauk Rapids Senior Citizens, Sacred Heart Catholic Aid, Waite Park American Legion Post 428, and a member and past commander of Eastside VFW Post 4847. He also volunteered at the Good Shepherd Community.
Fran is survived by his wife Lorraine of Sauk Rapids, a son Bryan (Glory) Schreifels of Brooten; stepchildren, Marvin (Carol) Hartneck of St. Cloud, Carol (David) Ulring of St. Cloud, Jean (Michael) Woods of St. Cloud, Maynard Hartneck of St. Cloud, and Doris (Patrick) Gillespie of Hutchinson; grandchildren; great-grandchildren; and sisters, Delphine Carson of Las Vegas, Nev., Marion Dold of Cold Spring, and Delores (Jack) Libby of Burbank, Calif.
He was preceded in death by his parents and two grandchildren.

Denise (Ludwig) Vogt, 37, Clear Lake
Denise G. Vogt, 37, of Clear Lake, Minn., died on Monday, Aug. 9, 2004.
Services were held at 11 a.m. on Thursday, Aug. 12, 2004, at St. Agnes Catholic Church in Roscoe. Burial was in the parish cemetery.
Denise was born in Paynesville on April 17, 1967, to Bernard and Geraldine (Moser) Ludwig. She married Jeffrey Vogt on July 1, 1989.
She worked at the Merrill Corporation in St. Cloud for the last five years.
Denise enjoyed camping and water sports, especially jet skiing.
She is survived by her husband, Jeff; children, Adam and Brittany, both at home; parents, Bernard and Geraldine Ludwig of Richmond; sisters and brothers, Diann (Bob) Bellmont of Cold Spring, Darleen (Roger) Utsch of Paynesville, Doris (Tom) Wendlandt of Paynesville, Donna (Dale) Mackedanz of Roscoe, Dennis (Kathy) Ludwig of St. Cloud, Daniel (Connie) Ludwig of Paynsville, Duane Ludwig of Paynesville, Della Ludwig of Sartell, and Darren Ludwig of St. Cloud.
She was preceded in death by her grandparents, Mary and Joseph Ludwig and Leo and Rose Moser; a brother David; and a sister, Denae.

Jesse Mithaugen, 19, Belgrade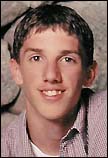 Jesse John Mithaugen, 19, of Belgrade, died Friday morning, Aug. 6, 2004, at Glacial Ridge Hospital in Glenwood, due to injuries suffered in an automobile accident.
Mass of Christian Burial was at 10:30 a.m. on Tuesday, Aug. 10, at St. Francis de Sales Catholic Church in Belgrade. Father Ethan officiated. Burial was in South Lake Johanna Cemetery.
Jesse was born on Nov. 17, 1984, in Paynesville, Minn,, the son of Donald L. and Mary Kay (Pauly) Mithaugen. He was baptized and confirmed in the Christian faith at St. Francis de Sales Catholic Church. He grew up in rural Belgrade where enjoyed playing with his sisters, country life and participating in the Boy Scouts.
He attended Belgrade elementary and Belgrade-Brooten-Elrosa High School, graduating in the class of 2003. In high school he participated in cross country, wrestling, and golf. He continued his education at Ridgewater Community College where he studied carpentry. He was currently working with John Moe Construction through the summer.
Jesse enjoyed nature, deer hunting, fishing, going to the rodeo, spending time at the cabin, woodworking, spending time with his friends and playing with his softball team.
He was an organ donor.
Jesse is survived by his father, Donald Mithaugen of Hackensack; mother, Kay Mithaugen of Belgrade; two sisters, Jamie (Matthew) Moe of Sauk Rapids and Cassie Mithaugen of Belgrade; one nephew; and numerous, aunts, uncles, cousins, family and friends.
He was preceded in death by his maternal grandparents, Jack and Dolores Pauly and paternal grandparents, Doris and Melvin Mithaugen.

Thelma Hartmann, 89, California
Thelma C. Hartmann, 89, of Whittier, Calif., died on Wednesday, Aug. 4, 2004, at The Royal Court Health Care in Whittier.
Thelma was born on Jan. 22, 1915, in Brockway Township, near Opole, Minn., the sixth of nine children born to Elizabeth (Czech) and Henry Chirhart. In the early 20s the Chirharts moved to St. Cloud where Thelma was educated in St. Cloud's parochial school system and graduated from St. Cloud Technical High School.
She worked as a waitress at the Tick-Tock Cafe in St. Cloud before marrying Al Hartmann in the mid-30s. They had four children. She live in Pierz until the early 50s.
She later married Earl Boldt and they lived in California. She and Earl had three children.
Thelma is survived by her children, Don Hartmann, Mary Kay McCormack, Dave Hartmann, Gary Schons, Nancy Smoke, and Joan (Daniel) Eighner of Paynesville. She was preceded in death by one son, Bob Hartmann.

Olga Skoglund, 101, Atwater
Olga Pauline Skoglund, 101, of Atwater, died on Sunday afternoon, Aug. 1, 2004, at the GlenOaks Care Center in New London.
Services were held at 1:30 p.m. on Wednesday, Aug. 4, at Immanuel Lutheran Church in Atwater. Rev. Art Wiese officiated. Interment was in the Lake Florida Mission Covenant Cemetery.
Friends may call from noon until time of services at the church.
Olga was born on July 18, 1903, in Winfield Township, Renville County, Minnesota, the daughter of Julia (Olson) and Ole Larson. She moved with her family to Amery, Wis., where she grew up and received her education. She later moved to St. Paul where she worked for Bethesda Hospital.
On June 6, 1925, she married Victor E. Skoglund in St. Paul. They continued making St. Paul their home until 1944, when they moved to Atwater.
Olga was active in church and with Atwater Senior Dining. She enjoyed crocheting, reading scriptures, poetry, and exercising.
Olga is survived by one grandson, Brad (Terry) Skoglund of Paynesville; two great-granddaughters; nieces and nephews; and other relatives and friends.
She was preceded in death by her parents; husband, Victor in 1983; son, Verdon (Marlene) Skoglund; one grandson; three brothers; and four sisters.

Return to Top • Return to News