Clarence Thielen
Clarence M. Thielen, 84, of Monticello and formerly of Duluth, died on Wednesday morning, Aug. 20, 2003, at the Monticello-Big Lake Nursing Home.

Funeral services were held on Saturday, Aug. 23, at 10 a.m. at St. Henry Catholic Church of Monticello. Father Tim Rudolphi officiated. Interment was at Fort Snelling National Cemetery in Minneapolis.

Clarence was born on March 24, 1919, in Roscoe to John and Theresa (Bell) Thielen. He served with the U.S. Army in the South Pacific during World War II and was decorated several times. He was united in marriage to Amelia Maksymow on Oct. 19, 1946.

Clarence worked for Zieglers in Bloomington and Duluth for over 37 years, retiring in 1981. He and his wife made their home in Duluth from 1973 until moving to Monticello in July 2003.

Clarence is survived by his wife, Amelia; daughters, Joyce McMartin of Eden Prairie and Margy Peterson of Champlin; sons, Bruce of Monticello and Andy of Hermantown; 13 grandchildren; and several brothers and sisters.

He was preceded in death by a daughter, Jean Hamann.

Mary Krupke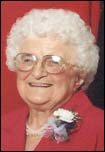 Mary Krupke, 91, of Paynesville, died on Wednesday, Aug. 20, 2003, at the Koronis Manor in Paynesville.
Funeral services were held at 10:30 a.m. on Saturday, Aug. 23, at Grace United Methodist Church in Paynesville. Rev. Denny Curran officiated. Interment was in the Salem Cemetery, rural Paynesville.
Mary was born June 12, 1912, in Ventura, Iowa, the daughter of Henry and Katie (Nei) Brauchler. She grew up on the family farm near Paynesville where she also attended country school.
On June 3, 1931, she married Walter Krupke in Paynesville. Following their marriage they farmed in Zion Township for three years. In 1934 they bought a farm near Regal, retiring in 1977 when they sold the farm to their son Merlin.
Following Walter's death in 1982, Mary lived with Ken and Kristi Wendlandt until 1984 when she moved into Paynesville. She has been a resident at the Koronis Manor since Sept. 1, 2000.
Mary has been a member of Crystal Hills Assembly since 1931. She enjoyed music and sang at church, the Good Samaritan Care Center, and the Koronis Manor. In 1996, Mary was named Good Samaritan of the Year for her volunteer service. She also liked to play games.
Mary is survived by her sons, Merlin (Elda Mae) of Paynesville and Stan (Carol) of Cedar, Minn.; 10 grandchildren; and 33 great-grandchildren.
She was preceded in death by her parents; husband; a daughter, Lois, on Aug. 21, 1999; a grandson; three infant brothers; sisters, Julia Zimmerman, Kathryn Hickler, and Christine Corell; and a brother, Henry Brauchler Jr.

Roger Bertram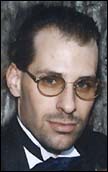 Roger K. Bertram, 31, of Paynesville, died Saturday, Aug. 16, 2003, from injuries sustained in an airplane crash near Willmar.
Funeral services were on Thursday, Aug. 21, 2003, at 11 a.m. at St. Martin Catholic Church in St. Martin. Reverend Julian Schmiesing, OSB, officiated. Burial was in the parish cemetery.
Roger was born on Aug. 11, 1972, in Paynesville to Wilfred and Janine (Spoden) Bertram. He was a 1991 graduate of Paynesville High School and later attended Willmar Vocational-Technical College.
He was employed for several years by Jennie-O Foods of Willmar and currently was employed by Orkin Pest Control.
Roger enjoyed flying and was currently pursuing his private pilot license. He also liked to play paintball, skydive, and collect model planes.
He was a member of St. Martin parish, Willmar Jaycees, and the Experimental Aircraft Association.
Roger is survived by his parents, Wilfred and Janine Bertram of Paynesville; brothers and sister, Rick of Sauk Centre, Alvin (fiancÚ Sue Daak) of Hutchinson, Judy (Wilfred) Blonigen of St. Martin, Bill of Hawick, and Dean (Amy) of Hutchinson; and nephews and nieces.

Gloryann Weber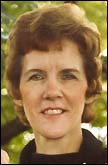 Gloryann Weber, 71, of Eden Valley, died on Monday, Aug. 4, 2003, at her home in Eden Valley after being diagnosed with colon cancer in January.
Services were at 11 a.m. on Thursday, Aug. 7, at St. Paul's Lutheran Church, Eden Valley. Rev. Juan Palm officiated and burial was in Eden Lake Cemetery, Eden Valley.
Gloryann was born on Dec. 28, 1931, in Eden Lake Township to Fred and Anna (Haag) Gorr. She was married at St. Paul's Lutheran Church in Eden Valley in 1949. She remained married until 1962. She lived in the Eden Valley area her entire life and was a custodian at the Eden Valley School District for 31 years.
She was a member of St. Paul's Lutheran Church, Ladies Aid, Lutheran Women's Missionary League, and was a Sunday school teacher.
Gloryann is survived by two sons, Dale (Laurie) Weber of Eden Valley and Darrell (Wendy) Weber of Phoenix, Ariz.; four grandchildren; and three great-grandsons.
She was preceded in death by her parents; twin sister, Roseann Bates; and brother, LeRoy Gorr.

Ruth Loudon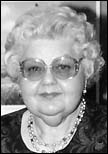 Ruth Emma Louise Loudon, 74, of Kimball, died on Saturday, Aug. 2, 2003, at the Koronis Manor in Paynesville.
A memorial service to celebrate Ruth was held at 11 a.m. on Saturday, Aug. 16, at Kimball United Methodist Church. There was a private family burial service.
Ruth was born July 29, 1929, in Paynesville, to Rudolph and Lucinda Heitke. Over the years, Ruth worked at North American in Paynesville, was a school bus driver in Kimball, and worked at Fingerhut in St. Cloud.
Ruth is survived by her husband of 56 years, Neal; son Jeffrey (Diane); sister, Betty Pro; two grandchildren; two great-grandchildren; and other relatives and friends.
Ruth was preceded in death by her parents and brother, Cliff Heitke.

Carol Plimpton
Carol B. Plimpton, 98, of Frankfort, Indiana, died on Saturday, Aug. 2, 2003, at Wesley Manor in Frankfort.
A memorial service will be held at 10:30 a.m. on Friday, Sept. 12, 2003, at the Wesley Manor Chapel in Frankfort. Rev. Don Weaver will officiate.
Carol was born Dec. 28, 1904, in Paynesville, the daughter of William G. and Mabel M. (Davis) Bugbee. She graduated in 1923 from Paynesville High School. She was also a graduate of the McPhail School of Music in Minneapolis. Carol became a teacher and taught in Iowa, Wisconsin, and Montana.
On July 12, 1933, she married George L. Plimpton in Paynesville. They were longtime residents of Schererville, Ind.
Carol was a member of the Dyer United Methodist Church in Dyer, Ind.
She is survived by one son, Peter Plimpton of Menominee, Mich.; one daughter, Susan Burgeson of Sitka, Alaska; one brother, Jack Bugbee of Paynesville; one sister, Virginia Anderson of Norfolk, Virg.; five grandchildren; seven great-grandchildren; and several nieces and nephews.
She was preceded in death by her parents, one sister, and one brother.

Dale Vadner
Dale Lester Vadner, 76, of Paynesville, died Wednesday, July 30, 2003, at the St. Cloud Hospital.
A memorial service were held at 11 a.m. on Monday, August 4, at Paynesville Lutheran Church. Rev. Jeff Bergman officiated. Inurnment was in the Paynesville Cemetery.
Dale was born July 31, 1926, in Buffalo, the son of Lester and Alma (Coulter) Vadner. He grew up in Buffalo where he was baptized and confirmed at Buffalo Lutheran Church. He also attended school in Buffalo. During the Korean War, he served his country in the U. S. Army for seven years.
On July 5, 1958, Dale married Wanda Custer in Paynesville. Following their marriage they lived in Paynesville where Dale worked at A.M.P.I. for 36 years, retiring in 1991.
He was a member of Paynesville Lutheran Church. Dale love working with wood in his workshop.
Dale is survived by his wife, Wanda of Paynesville; sons, James (Terri) of St. Cloud and Robert (Connie) of Eden Valley; daughter, Faye Vadner of Paynesville; four grandchildren; one great-granddaughter; brothers, Kermit (Beulah) of Nashville, Tenn., Russell (Donna) of Paynesville, Douglas (Vivian) of Fair Haven, and Walter (Lois) of Andover, Minn.; sisters, Evelyn (Leslie) Austvold of Sedan, Beulah Clapshaw of Villard, and Kathleen (Carl) Anderson of Alexandria; and several nieces and nephews.
He was preceded in death by his parents and brother, John.

---
Return to Top • Return to News