Fred Lobitz, 93, Paynesville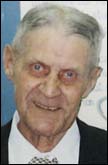 Fred Lobitz, 93, of Paynesville, died on Sunday, April 25, 2004, at the Paynesville Area Hospital.

Funeral Services will be at 2 p.m. on Wednesday, April 28, at Grace United Methodist Church in Paynesville. Reverend Richard Koehn will officiate. Burial will take place in the Paynesville Cemetery.

Friends may call after 1 p.m. on Wednesday at the church. Daniel-Anderson Funeral Home in Paynesville made the arrangements.

Fred was born March 21, 1911, in Paynesville to Gustave and Elizabeth (Schwartz) Lobitz.

He married Violet Pelkey on July 1, 1940, in South Dakota. They lived in the Paynesville area where they farmed until 2000 when they moved to town.

Fred is survived by his wife Violet of Paynesville, his brother Henry, and nieces and nephews.

He was preceded in death by his parents, brothers Ed and Louis, and infant brother Daniel.

Cleopha Weiss, 89, Sleepy Eye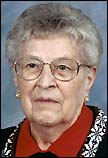 Cleopha Margaret Weiss, 89, of Sleepy Eye, died on Tuesday, April 20, 2004, at Sleepy Eye Care Center in Sleepy Eye.
Service was held at St. Mary's Catholic Church, Sleepy Eye, on Friday, April 23, at 11 a.m. Father Brian Oestreich officiated. Interment was in St. Mary's Catholic Cemetery.
Cleopha was born on April 9, 1915, in Bashaw Township, Brown County, Minnesota, the daughter of Andrew and Margaret (Kreitinger) Lang. She grew up and attended school in Comfrey.
Cleopha married Roman Weiss on October 20, 1936, at St. Paul's Catholic Church in Comfrey. The couple made their home in Sleepy Eye until October 1973 when they moved to Paynesville on Lake Koronis. Cleopha and Roman returned to Sleepy Eye in 1989. Roman died on Dec. 11, 1998. Cleopha lived at Countryside Apartments for seven years.
She was a member of St. Mary's Catholic Church, a past member of Divine Providence Auxiliary and the CCW. She loved flowers, gardening and fishing.
She is survived by her children, Jerry (Marge) Weiss of Sleepy Eye, Alice (Bill) Rothfork of Melrose, Carol (Tom) Vogl of Monticello, and Bob (Rita) Weiss of Sleepy Eye; 13 grandchildren; 13 great-grandchildren; and sisters, Leona Meidl of Divine Providence Home in Sleepy Eye and Margaret Zenk of Olivia.
She was preceded in death by her parents; husband, Roman; four brothers; and three sisters.

Edna Helmer, 88, New London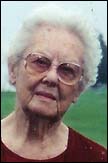 Edna Christine Helmer, 88, died on Sunday, April 18, 2004.
A memorial service was held at 3 p.m. on Saturday, April 24, at the Hawick Methodist Church. Burial was in the Hawick Cemetery.
Edna was born on July 26, 1915, in Sioux Falls, S. D., to Knute and Sigrid Hinseth. She married Chester Helmer on Aug. 29, 1937, and lived and worked in the New London area until 1995. She has resided at the White Hall Multi-Care Center in White Hall, Ill., for the past five years.
She was a member of Grace Evangelical Free Church in Burbank, and later Crystal Hills Assembly of God near Paynesville. She played piano and guitar, and was active in Sunday school, Bible studies and women's missionary activities.
Edna enjoyed cooking, the outdoors, traveling with her children, and helping and encouraging others.
Edna is survived by four sons, Donovan (Karen) Helmer of Jacksonville, Ill., Gary (Jean) Helmer of Houston, Texas, Eldon (Karen) Helmer of Tucson, Ariz., and Ralph (Pat) Helmer of Ball Ground, Ga.; five brothers, Herman (Phyllis) Hinseth of Rockford, Minn., Gordon (Mary) Hinseth of Bloomington, Minn., Orville (Esther) Hinseth of Lakewood, Colo., Clinton (Dorothy) Hinseth of Sunburg, Minn., and Howard (Beverly) Hinseth of Minneapolis, Minn.; one sister Nina of Willmar, Minn.; 10 grandchildren; and 26 great-grandchildren.
She was preceded in death by her husband, Chester; her sisters, Maureen Hinseth and Doris Schoumaker; her parents, Knute and Sigrid Hinseth; and one grandson.

Hilda Schultz, 85, Paynesville
Hilda Louise Schultz, 85, of Paynesville, died Saturday, April 17, 2004, at the Koronis Manor in Paynesville.
Funeral services were held at 2 p.m. on Tuesday, April 20, at the Johnson Funeral Home in Paynesville. Rev. Rich Hubert officiated. Burial was in Ebenezer Cemetery in rural Paynesville.
Hilda was born Aug. 24, 1918, in Paynesville Township to Alfred and Ida (Schultz) Schultz. She grew up on the family farm near Paynesville and attended and graduated from School District 162.
She continued her education in 1939 by attending Holiness Methodist Bible College of Minneapolis. She graduated on April 1, 1942, and became an ordained minister. She then went to Niangua, Missouri, as their pastor, returning home in 1950 until her mother's death in 1952. While home, she did mission work in Union Corner, near Wadena.
Hilda also worked as a pastor and helped with the sick in Kansas, Missouri, Wyoming, Oregon, and Montana. She returned to Paynesville in April 1998.
She is survived by her sister-in-law, Deloris Schultz of Paynesville; an aunt, Bessie Schultz of Paynesville; and three nephews, all of Paynesville.
She was preceded in death by her parents; two brothers, Norman and Wilfred Schultz; and one sister, Alice Olson

Robert Kuhl, 43, Willmar
Robert Matthew Kuhl, 43, of Willmar and formerly of Melrose, died on Thursday, April 15, 2004, at Rice Memorial Hospital in Willmar.
A memorial service will be held at 11 a.m. on Tuesday, April 27, at St. Louis Catholic Church in Paynesville. Father Richard Leisen will officiate. Inurnment will be in St. Mary's Catholic Cemetery in Melrose.
There will be no visitation. Johnson Funeral Home of Paynesville is making the arrangements.
Robert was born on May 2, 1960, in Melrose, the son of Mark and Eileen (Rademacher) Kuhl. He was baptized and confirmed at St. Martin Catholic Church and grew up in Melrose. In 1978, he graduated from Big Lake High School.
On Sept. 28, 1985, He married Ann Frieler in Greenwald. Following their marriage they lived near Elrosa and later near St. Martin for several years. They later divorced.
Robert worked as a welder and truck driver until he suffered serious injuries from an automobile accident five years ago. Since then he has lived in Willmar.
He is survived by two daughters, Jolene and Jennifer Kuhl of Melrose; two sons, James Adrian and John Kuhl of Melrose; father, Mark Kuhl of Paynesville; sisters Karen (Don) Neu of Paynesville, Audrey (Gordon) Mostoller of Deer River, Minn., Lois (John) Villcheck of Sartell, and Sandy (Jim) Traeger of Avon; brothers, Stephen Kuhl of Outing, Minn., David (Della) Kuhl of North Branch, and Jim (Mary) Kuhl of St. Cloud; and several nieces and nephews. He was preceded in death by his mother.

---
Return to Top • Return to News