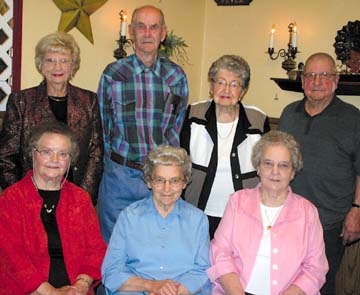 Class of 1943
The Class of 1942 from Paynesville High School held their 65th reunion on Saturday, Sept. 17, in Paynesville.
Attending the reunion were: (front) Dorothy (Pederson) Hendrickson, Wava (Pauls) Johnson, and Clarice (Haagenson) Rudd; and (back) Phyllis (Rutgers) Gelinas, Charlie Ampe, Ruth (Knebel) Hoeft, and Charlie Weidner.
---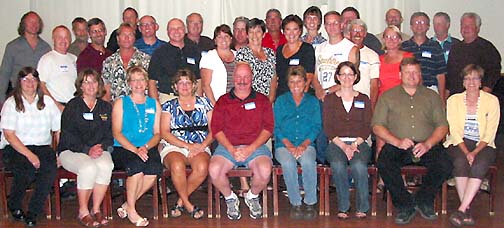 Class of 1978
The PHS Class of 1978 held their 30-year reunion on Saturday, Aug. 23, in Paynesville. Thirty-nine class members attended.
Pictured are: (front) Ione Buermann, Doris (Ludwig) Wendlandt, Lorie (Schmidt) Meagher, Kathy (Thorson) Welle, Brett Mohr, Debbie (Leyendecker) Tessmer, Mary (Meagher) Stommes, Cedric Buermann, and Tylynn (Dietrich) Theis; (middle) Pat Meagher, Eric Fischbach, Tim Burr, Leroy Scheierl, Pam (Mohr) Lieser, Bonnie (Mayer) Thomes, Diane (Werner) Burnett, David Barthel, Steve Hoppe, LuAnn Orbeck, David Hess, and Dennis Spaulding; and (back) Paul Weis, Allan Thomes, Don Koshiol, Gary Dosdall, Martin Gottwald, Barry Flanders, Don Lang, Karen (Strodtman) Bachman, Russ Orson, Ken Hislop, and Karl Schlangen.
Also attending, but not pictured, were: Leah (Younkin) Budde, Larry Kern, Mark Mackedanz, Scott Schramel, Scott Schultz, Steve Schwandt, and Paul Stang.
---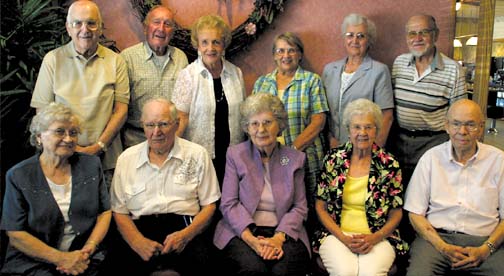 Class of 1942
The Payneville High School Class of 1942 celebrated their 66-year reunon on Wednesday, Aug. 6, in Paynesvile. The class originally had 36 members, of which 19 are still alive and 11 attended their August reunion.
Pictured are: (front) Dolores (Schrom) Stolpman, Owen Shelton, Valieta (Beyer) Norris, Alice (Schmidt) Sauer, and Clint Hoiseth; and (back) Walter Mathison, Calvin Steele, Carmen (Sheldon) Brown, Evelyn (Swanson) Bruntlett, Louise (Mehr) Korman, and Marv Liestman.
---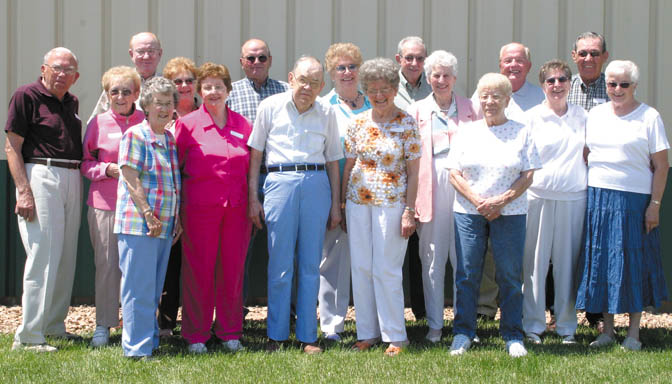 Class of 1948
The PHS Class of 1948 held their 60-year reunion on Thursday, June 19, at the Paynesville Legion.
Pictured are: (front) Faye (Anderson) Schultz, Jean (Wegner) Moe, Wayne Bast, Carol (Zimmerman) Heitke, and Ruth (Nauman) Deadrick; (middle) Willie Schultz, Winnie Schuelke, Marjorie (Stickney) Graetz, Juanita (Lang) Moser, Adeline (Rud) Lang, Bety (Knebel) Coulter, and Betty (Thomson) Stendahl; and (back) Louis "Red" Thielen, Ron Thorson, Tom Unger Jim Wegner, and Harold Fangmeier. Not pictured: Betty (Hendrickson) Crusoe.
---
---
Return to the top • Class Reunion page
---
---