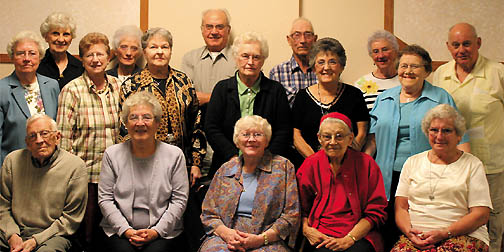 Class of 1947:
The PHS Class of 1947 held their 60-year reunion on Wednesday, Sept. 19, in Paynesville.
Pictured are: (front) Don Nepsund, Zella (Robbins) Putzke, Caroline (Borscheim) Melhus, Roberta ³Meredith² Coffey, and Alice (Marquardt) Kesselring;
(middle) Peggy (Haehn) Herges, Esther (Mehr) Libbesmeier, Lola (Hood) Hall, Delores (Pelkey) Schwandt, Verla (Galles) Meier, and Luella (Anderson) Schmidt;
(back) Olive (Neilson) Zoller, Patty (Stephen) Plum, Delmar Liestman, Arnold Busse, Lorraine (Schultz) Adams, and Ken Christenson.
---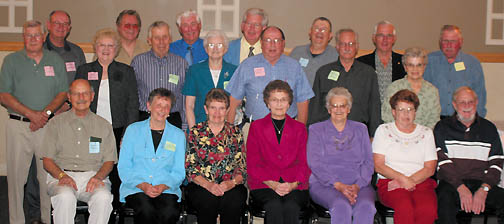 Class of 1952:
The PHS Class of 1952 held their 55-year reunion on Friday night, Sept. 21, in Paynesville.
Pictured are: (front) Sherwood Thompson, Evelyn (Herzberg) Smith, Leola (Bergstrom) Wendroth, Laura (Hopfer) Eickhoff, Donna (Hill) Hedke, Olivia (Ludwig) Salzt, and Tom Burr;
(middle) Donald Gustafson, Delores (Steele) Thompson, Jim Chesness, Marlene (Krueger) Pederson, David Otto, Syilvan Eliason, and Shirley (Thompson) Hendrickson;
(back) Harley Caldwell, Warren DeBlois, Merlin Krupke, Ed Erickson, Douglas Hendrickson, Jerry Haagenson, and Vic Topp.
---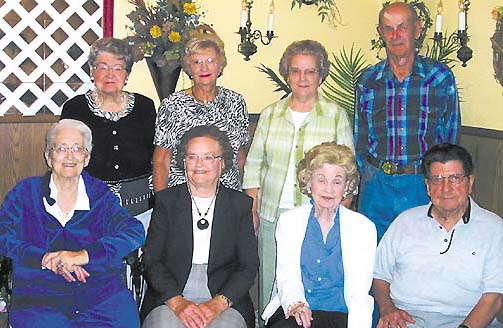 Class of 1943:
The Class of 1943 from Paynesville High School held their 65-year reunion on Saturday, Sept. 14, in Paynesville.
Attending were: (front) Ruth (Wolff) Pelkey, Dorothy (Pederson) Hendrickson, Clarice (Christianson) Davis, and Charlie Weidner;
and (back) Ruth (Knebel) Hoeft, Phyllis (Rutgers) Gelinas, Clarice (Haagenson) Rudd, and Charles Ampe.
---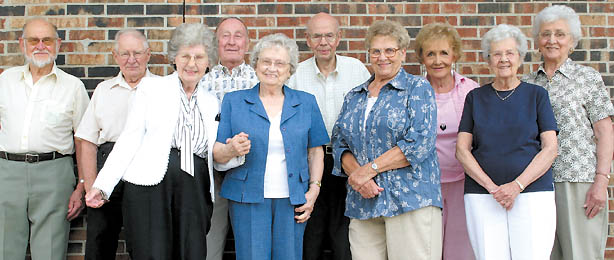 Class of 1942:
The Class of 1942 from Paynesville HIgh School celebrated their 65-year reunion on Wednesday, Aug. 15, in Paynesville.
Pictured are: (front) Valieta (Beyer) Norris, Dolores (Schrom) Stolpman, Evelyn (Swanson) Bruntlett, and Alice (Schmidt) Sauer;
(back) Marv Liestman, Owen Shelton, Calgvin Steele, Clint Hoiseth, Carmen (Sheldon) Brown, and Louise (Mehr) Korman.
Originally, their class had 36 members of which 19 are still alive and 10 attended their August reunion.
---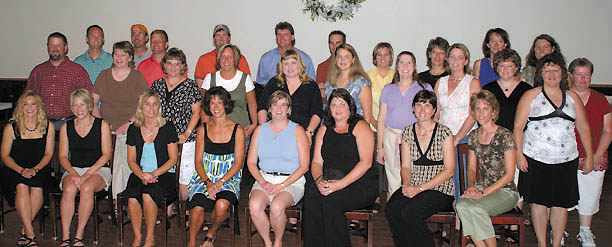 Class of 1987:
The PHS Class of 1987 celebrated their 20-year reunion on Saturday, Aug. 11, in Paynesville.
Pictured are: (front) Lisa (Holthaus) Burg, Wendy (Payne) Darling, Romi (Mohr) Hentges, Michele (Marthaler) Gonyea, Laurie (Jacobson) Rappa, Tami (Reutzel) Stanger, Nancy (Ludwig) Hoeft, Denise (Schmiginsky) Landsteiner, and Janice (Theise) Christiansen;
(middle) Roger Hemmesch, Kaye (Hopfer) Vig, Lisa (Fuchs) Hemmesch, Karlene (Webb) Gray, Lori (Guenther) Scalise, Peggy (Jacobs) Engler, Anne (Osendorf) Kalsow, Robin (McCoy) Sand, Mary (Heineman) Liser, and Jeannie (Bahner) Rudy;
(back) Greg Sullivan, Doug Meyer, Chad Christoperhson, Mark Welter, David Hanson, Chris Lieser, Jeanne (Schramel) Spanier, Janice (Schmidt) Schramel, Debra Bahr-Helgen, and Julia Weis.
---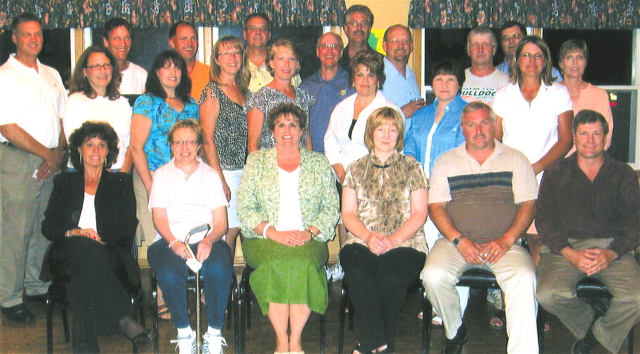 Class of 1977:
The Class of 1977 from PHS celebrated their 30-year reunion on Saturday, Aug. 11, in Paynesville.
Pictured are: (front) Cindy (Stern) Barten, Lois (Linn) Murphy, Gretchen (Heitke) O'Fallon, Ann (Albrecht) Peterson, Pete Dingmann, and Tim Wegner;
(middle) Nancy Reeck, Jan (Theel) Lundstrom, Darleen (Ludwig) Utsch, Teresa (Kahle) Nelson, Beth (Spaulding) Gjerde, Pat (Faber) Nistler, and Sandy (Rud) Lemke;
(back) Jim Torborg, Scott Weidner, Bruce Stang, Scott Hoiseth, Mike Nehring, Dan Wall, Dave Berscheid, Dale Schlangen, Adrean Louis, and Jan (Jacobson) Mathison. Not pictured is Steve Herding.
---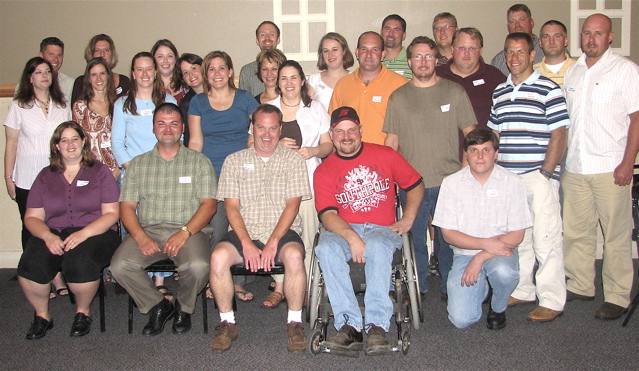 Class of 1992:
The Class of 1992 from Paynesville High School held their 15-year reunion on Saturday, Aug. 4, in Payneville.
Attending were: (front row) Kim (Hemmesch) Lee, Dean Horn, Joe Fasbender, David Kolb, and Simon Karles;
(middle row) Trudy (Madison) Roufs, Nikki Guptill, Shannon (Swanson) Koshiol, Amy Johnson, Amy (Vagle) Eisenbraun, Tanya (Olmscheid) Johnson, Dan Burg, Steve Bahner, George Schmitz, Brad Fenske, Jeff Zumwalde, and Shawn Gilbertson;
(back row) James "Freddie" Zwiefel, Brenda (Meyer) Corrow, Susanne (Skrypek) Hansen, Jeana (Fischer) Meyer, Steve Kjar, Anita (Johnson) Walz, Brian Kascht, Jeff Hammer, and Joe Schefers.
---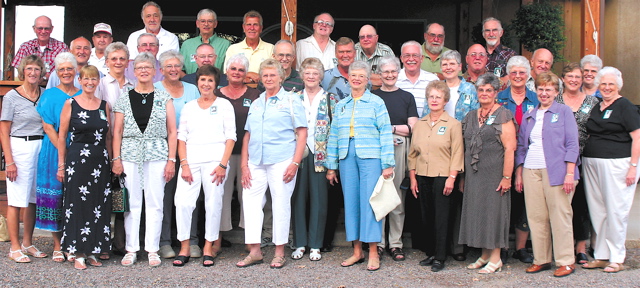 Class of 1957:
Thirty-seven members of the PHS Class of 1957 gathered on Friday, July 27, for their 50-year reunion.
Pictured are: (front row) Marie (Arnold-Sawrey) Kozulla, RoseAnn (Topp) Bergstrom, June (Schoenleben) Spaulding, Alice (Schaefer) Hemmesch, Irene (Thomsen) Bjerke, Louise (Mauer) Ziemer, Luann (Liestman) Wegener, June (Hoeft) Steman, and Marjorie (Haagneson) Anderson;
(second row) Alverna (Lieser) Kalthoff, Toma (Teaney) Chesness, Patricia (Groshens) Sommerfield, Eileen (Miller) Hertzberg, Yvonne (Wagner) Spaulding, Barbara (Laird) Hoffman, Kathryn (Kost) Lindquist, Janet (Hanson) Brown, Evelyn (Hoppe) Schmidt, Phyllis (Hess) Olmscheid, and Leora (Lieser) Lesser;
(third row) James Pung, Melvin Kunstleben, Edward Peine, Robert Mandernach, Richard Anderson, Steve Rud, Robert Spaulding, and Donald Noll;
(back row) Peter Ampe, Justin Clark, Lew Storkamp, Robert Tschann, Roger Hurd, Gerald Jergenson, Thomas Quarfot, Daniel Olson, and Charles Lister.
---
---
Return to the top • Class Reunion page
---
---