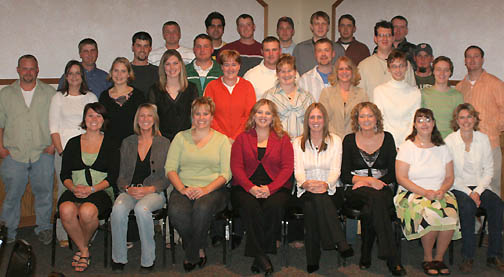 Class of 2000:
The Class of 2000 from Paynesville Area High School held their five-year class reunion on Saturday, Oct. 29, in Paynesville.
Pictured are: (row 1) Courtney Karsch, Tiffany Rausch, Rachel Miller, Jessi (Louis) Beckman, Kelsey Moser, Tanya Lieser, Ruth Schmitz, and Stephanie (Johnson) Kaufman;
(row 2) Brad Nelson, Missy Winter, Chrissy (Utsch) Derby, Tiffany (Higgins) Rodenwald, Susie Pelzer, Jaime (Robertson) Schlangen, Julie (Hemmesch) Ramthun, Cheryl (Guenther) Woodruff, and Amanda Reeck;
(row 3) John Hemmesch, Chad Utsch, Steve Flint, Adam Miller, Troy Schmidt, Nathan Brown, Shaun Fleischhacker, and Steve Gilk;
(row 4) Jon Kulzer, Curt Christian, Bob Braun, Chris Welle, Eric Gale, Josh Lang, and Brandon Christensen.
---

Class of 1950:
The Class of 1950 from Paynesville High School held their 55-year reunion on Saturday, Sept. 17.
Pictured are: (first row) Rita Muggli, Palmer Everson, Dorothy (Ribe) Erickson, Catherine (Hennen) Kramer, Mary (Knese) Zirbes, Melvin Spanier, Delores (Krueger) Schoenherr, Norma (Jacobson) Harper, Harlan Nepsund, and Gladys (Mackedanz) Orbeck;
(second row) Robert Chesness, Martin Schmitz, Nick Fischbach, Kenneth Haagenson, Richard Stephan, Duane Caldwell, Valerian Fischbach, Donald Kruger, Stanley Rausch, Ruth (Zimmerman) Moorman, and Mary Ann Kost;
(third row) Beverly (Holifer) Kelley, Rosemary (Thielen) Dilley, Marilyn (Brick) Golembeski, Leland Bluhm, Ellen (Foreman) Bills, Gordon Jacobson, Weston Nehring, DuWayne Brix, Lloyd Thompson, Darleen (Olson) Glenz, Evelyn (Foreman) Moore, and Cletus Kemper.
---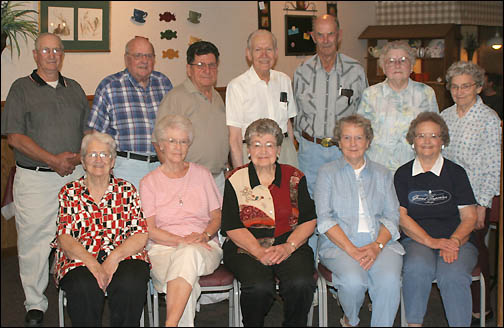 Class of 1943:
The Class of 1943 from Paynesville High School held a reunion on Saturday, Sept. 10, in Paynesville to celebrate 62 years since their graduation with 12 classmembers attending.
Pictured are: (front) Ruth (Wolff) Pelkey, Doris (Christenson) Behr, Ruth (Knebel) Hoeft, Clarice (Haagenson) Rud, and Dorothy (Pederson) Hendrickson;
(back) Frank Mehr, Cal Behr, Charlie Weidner, Art Schroeder, Charles Ampe, Jean (Nelson) Schultz, and Wava (Pauls) Johnson.
---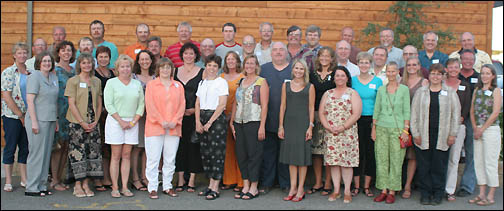 Class of 1975:
Members of the Class of 1975 from Paynesville High School held a 30-year class reunion on Saturday, Aug. 6, in Paynesville.
Pictured are: (first row) Judy (Jaszczak) Kulzer, Cheryl Fischbach, Cindy (Schmidt) Gray, Sue (Deadrick) Korman, Jeni (Hoiseth) Crump, Sara (Loomis) Turrell, Cindy (Bolstad) Howell, Valerie (Olson) Tollefson, Julie Sonstegard, and Laurie (Wegner) Magnam;
(second row) Patty (Mayer) Groshens, Lisa (Welle) Case, Sue (Tigner) Legred, Mary (Roeser) Druck, Sue (Peteler) Geppert, Lynn (Wendroth) Chapman, Kyle Person, Linda Paulson, Diane (Schmitt) Rothstein, Jodi (Cushman) Purcell, Mary (Orbeck) Nietfeld and Shirley (Thomes) Pelz;
(third row) Steve Dosdall, Ralph Schefers, Dennis Wall, Steve Meyer, Robert Meyer, Mark Herding, Reed Ringstad, Jerry Hoekstra, Ed Pratt, and John Gilbertson;
(fourth row) Pat Thompson, Ron Lahr, Steve Lieser, Bob Block, Ron Fuchs, Dan Fox, Dave Easterday, Richard Schmidt, Scott Groshens, Bruce Vanderpool, and Rick Thompson.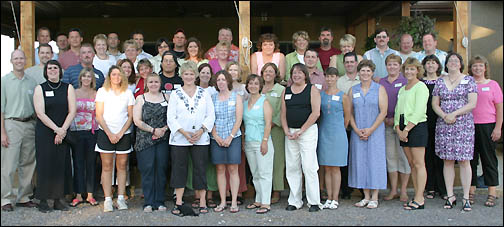 Class of 1975:
Members of the Class of 1985 from Paynesville High School held their 20-year class reunion on Saturday, July 30.
Pictured are: (front) Jeff Sullivan, Kari Pederson, Kim (Theisen) Sage, Barbie (Theisen) DeLong, Marie Theisen, Dana (Butler) Kubat, Jodi (Burr) Mottinger, Jill (Torborg) Neu, Julann (Nacey) Krupke, Denise Olson, Roxanne (Westvig) Nielsen, Tammy (Fischbach) Koop, Kristin (Pederson) Gulrud;
(2nd row) Dean Heitke, Paul Hartmann, Julie (Drimel) Rittenhouse, unidentified, Clare Skjonsby, JoAnn (Dahl) Spaulding, Linda (Kahle) VonRueden, Lisa (Drager) Setrum, Kellan Hemmesch, Mike Welter, Theresa (Schmitz) Braegelmann, Susan (Ludwig) Funk, Sharon (Leyendecker) Gertken;
(3rd row) Tom Spaulding, Ann (Voss) Richmond, Kathy (Fuchs) Blomker, Mary (Peters) Lack, Laura (Duscher) Tucker, Brenda (Mohs) Martin, Lori Ann (Kaiser) Olson, Sheela (Kunstleben) Arceneau, Mike Osendorf, Kim (Holstad) Johnson, John Schmitz, Pat Jaeger, Troy Boyle;
(back) Jay Vagle, Glen Fleischhacker, Nick Lieser, Robert Utsch, Jim Meyer, and Dave Heairet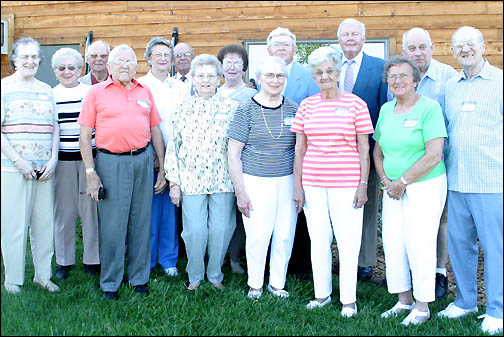 Class of 1945:
Thirteen members of the Class of 1945 from Paynesville High School - along with two former staff members - gathered to celebrate their 60th year since graduation with a class reunion on Thursday, July 21.
Pictured are: (front) Joan Kost, Rev. Calvin Gruetzmacher, Doris (Adams) Nehring, Jeanette Waldorf, Lorrainne (Schmidt) Putzke, and Bernie (Waldorf) Steidl;
(middle) secretary Winnie (Nehring) Schuelke, Evelyn (Wahl) Carlson, teacher Loretta (Kelly) Gavin, Dick Kannenberg, Jerry Pierce, Ken Christianson, and Vern Fischbach;
(back) Lee Herzog and Les Herzog.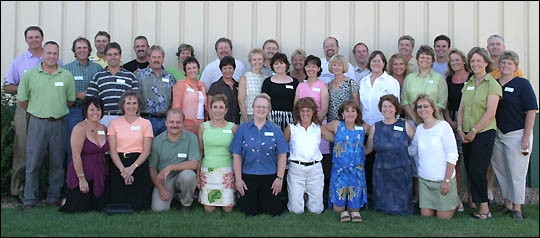 Class of 1980:
Members of the Class of 1980 from Paynesville High School held their 25-year class reunion on Saturday, July 30.
Pictured are: (front) Carman (Noonan) Schmidt, Sandy (Kraemer) Schroers, Tim Mackedanz, Mary (Fuchs) Jacobson, Lynne (Noren) Humphrey, Janet (Kellogg) Nacey, Louise (Mehr) Gabrielson, Ruth (Loxtercamp) Knowles, and Teresa (Kascht) Vait;
(middle) Scott Boie, Larry Wendroth, William Sieben, Todd Fenske, Deanna (Noonan) Lieser, Bonnie (Koglin) Hansen, Deb (Schoenherr) Bengtson, Theresa Voss, Carol (Bowar) Kubista, Lynn (Thielen) Steiner, Marilee Schwandt, Heidi Bruntlett, Kathy (Fischer) Schmidt, Rose (Boie) Welle, Jill (Brown) Palumbo, and Mary (O'Fallon) Mackedanz;
(back) Chris Welle, Dan Torborg, Dan Schwandt, Donna Binsfeld-Dilley, Ron Mehr, Al Faber, Roxanne (Mackedanz) Knisley, Myron Schmitz, Jim Meyer, Tom McCoy, Jeron Jaeger, and Mike Thyen.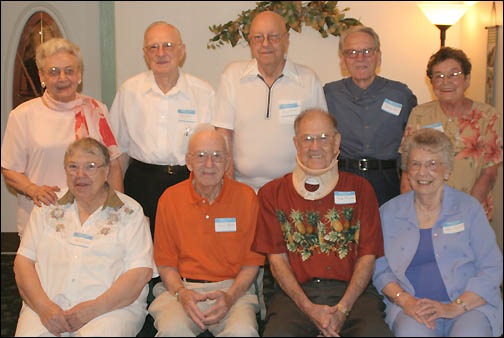 Class of 1941:
Nine members of the Class of 1941 from Paynesville High School met for a reunion, 64 years after their graduation, on Saturday, July 23.
Pictured are: (front) Teckla (Buettner) Gertken, Duane Bluhm, Math Mimbach, and Gloria (Young) Ringstad;
(back) Doris (Weidner) Miller, Leo Jonas, George Farnum, Marlan Pauls, and Valeria (Zapf) Conrey.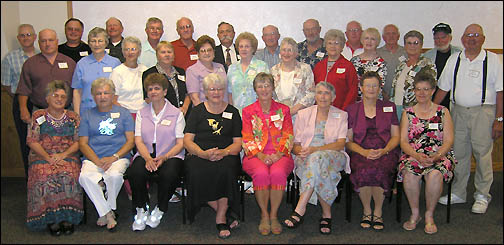 Class of 1955:
The Class of 1955 from Paynesville High School met on Saturday, July 2, for their 50-year reunion.
Pictured, left to right, are: (front) Gloria (Krupke) Scheel, Marilyn (Schafer) Kaschmitter, Genny (Lieser) Welle, Eleanor (Thompson) Deadrick, Shirley (Thorson) Peterson, Dorothy (Johnson) Martinson, Ann (Lieser) Patrick, and Beverly (Laird) Jones;
(middle) Ralph Lenarz, Sr. Mary Mandernach, Francis (Schmitz) Remer, Doris (Jacobson) Pelkey, MaryAnn (Ludwig) Fasbender, Sharon (Schultz) Schmidt, Mary (Eighner) Block, Venita (Nepsund) Haagenson, Norma (Johnson) Guerrero, Lavon (Hoppe) Theis and Vernon Thorson;
(back) Raymond Haagenson, Dirk Gaspar, Walter Spanier, Tony Peine, David Spanier, Jonathon Schauman, Harold Hickman, James Brick, Harold Thielen, Vernell Gjelhaug, and Richard Clark.
---
Return to the top • Class Reunion page
---
---