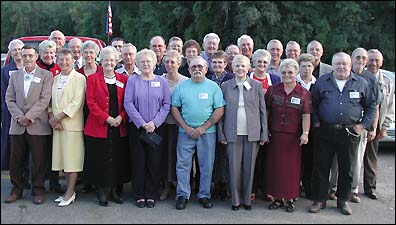 Class of 1952 reunion:
Thirty members of the Clas of 1952 from Paynesville High School held their 50th class reunion on Friday, Sept. 20. Pictured are: (front, left to right) Rodger Carey, Evelyn (Herzberg) Smith, Molly (Nepsund) Lester, Deloris (Steele) Thompson, Harry Wurzburger, Helen Person, Shirley (Thompson) Hendrickson, and Eugene Wendlandt; (middle) Rita (Sauer) Donlin, Carol (Landgraf) Bender, Marlene (Portinga) Fisher, Sylvan Eliason, Betty (Eighner) Jones, Leola (Bergstrom) Wendroth, Donna (Hill) Hedke, Olivia (Ludwig) Salzl, Tom Burr, and Jim Chesness; (back) David Foreman, Sherwood Thompson, Allen Orson, Harley Caldwell, Douglas Hendrickson, Laura (Hopfer) Eickhoff, LaVon Erickson, David Otto, Merlin Krupke, Jerry Haagenson, Victor Topp, and Art Ellsworth.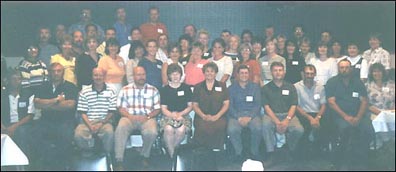 Class of 1977 reunion:
The Paynesville High School Class of 1977 held ther 25-year reunion on Saturday, Aug. 3. Attending were: (front,left to right) Dale Schlangen, Peter Dingmann, Mike Nehring, Tom Fuchs, Ann (Albrecht) Peterson, Gretchen (Heitke) O╣Fallon, Tim Wegner, Dan Jaeger, Steve Nietfeld, Dan Hopfer, and Margaret (Holper) Grondahl; (second row) Vicki Mehr, Darlene (Spanier) Schoenberg, Joleen (Lieser) Miller, Nancy (Fuchs) Hoppe, Anna (Wuertz) Erickson, Mary (Lounsbury) DeMorett, Beth (Spaulding) Gjerde, Mary (Weis) Surma, Debbie (Kunstleben) Glenz, Beth (Hoeft) Person, Jan (Jacobson) Mathison, Jan (Theel) Lundstrom, Bonnie (Fischbach) Schmidt, Pat (Faber) Nistler, and Debbie (Thorson) Keller; (third row) Mike Hartmann, Steve Herding, Lindy Jones, Scott Hoiseth, Jim Torborg, Scott Weidner, Craig Lang, Sue (Kingsriter) Brauchler, Kim (Heitke) Hoff, Jeanette (Kraemer) Clemens, Jean (Lenzmeier) Hallberg, Kellie (Cummings) Powers, Grace (Thomes) Jelle, and Cindy (Stern) Barten; (fourth row) Jesse Hemmesch, Marty Soukup, Bruce Stang, Scott Person, Tim Schaefer, Tom Utsch, Ralph Buermann, Dan Wall, and Adrean Louis.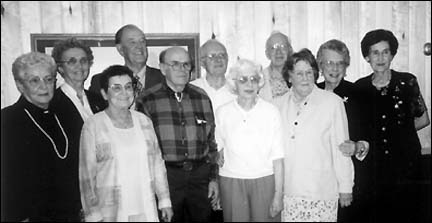 Class of 1941 reunion:
The Paynesville High School Class of 1941 celebrated their 61st reunion on Saturday, Aug. 17. Members in attendance were: (left to right) Doris (Weidner) Miller, Janet (Wagner) Gronli, Valeria (Zapf) Conry, Math Mimbach, Roger Sogge, Leo Jonas, Betty (Heitke) Pro, Duane Bluhm, Myrtle (Swanson) Atchinson, Gloria (Young) Ringstad, and Fern (Glenz) Herzberg.

Class of 1962 reunion:
The Paynesville High School Class of 1962 met June 13, 2002, to celebrate their 40th reunion. Seated (left to right) are: Craig Heitke, Duane Schoenherr, Glenn Young, Mary (Quarfot) Cushman, Karen (Schultz) Tordsen, Jeanette (Derichs) Walz, Pat (Welle) Hamlet; (second row) Donald Kadelbach, Colleen (Worner) Norrgard, Doreen (Heinen) Schaefer, Gloria (Daniels) Nelson, Donna (Hemmesch) Ahrens, Ronald Leither, Florence (Bertram) Groetsch, Katy (Reamer) Hubred; (back) Glenn Haagenson, Gordon Cyzcalla, Lynne (LeMasurier) Jacobson, Bernice (Schlangen) Ellis, Carol Bagley Jones, Brenda (Naumann) Rolfhus, Mary (Nistler) Herbert, Robert Monson, Faith (Reine) Shaw, Larry Sampson (hidden), Devon, (Opitz) Zarling (partially hidden), Doug Emerson, JoAnn (Niewind) Ripplinger, Charles Spanier, Roger Rothstein, Charles Foreman. Not pictured: Woody Manz and Linda (Jacobson) Manz.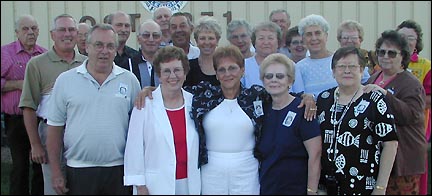 Class of 1956 reunion:
Members ofthe Class of 1956 meet jointly with the Class of 1957 on Saturday, July 13, at the Paynesville American Legion. Front row (from left to right): Eugene Schmidt, Barbara (Arnold) Nathe, Delores (Kalkbrenner) Johnson, Cyrilla (Schaefer) Nohner, Kathryn Chesness. Back row: Lyndon Bergland, Ronald Jonas, William Muggli, George Pitts, Richard Loesch, Donald Schmidt, Dallas Schultz, Vangie (Lind) Rowell, Elnora (Schaefer) Lieser, Marilyn (Boehl) Miller, Calvin Anderson, Joanne (Meyer) Spanier, Doris (Albrecht) Schmidt, Cleone (Wegner) McCoy, Alice (Wallace) Liebrenz, Elizabeth (Nehring) Schwarze. Not pictured: Mary Jean (Behr) Hahn, Allen Herzberg, Mary (Starken) Valdivia.

Class of 1957 reunion:
Members ofthe Class of 1957 meet jointly with the Class of 1956 on Saturday, July 13, at the Paynesville American Legion. Front row (from left to right): Leroy Mackedanz, Verna (Lieser) Kalthoff, Mary (Rausch) Schmidt, Carol Slavick, Marie (Arnold) Sawrey, LuAnn (Liestman) Wegener. Back row: Bob Tschann, Dan Olson, Roger Hurd, Tom Quarfort, Lew Storkamp, Irene (Thomsen) Bjerke, Bob Spaulding, Yvonne (Wagner) Spaulding, Steven Rud, Rose Ann (Topp) Bergstrom, Toma (Teany) Chesness, Pat (Groshens) Sommerfield, Margie (Haagenson) Anderson, Leora (Lieser) Lesser, Peter Ampe, Jim Pung, Mary (Spanier) Johnson, Evie (Hoppe) Schmidt, Katy (Kost) Lindquist, Jim Weber, June (Schoenleben) Spaulding, Edward Peine. Not pictured: John Kolb.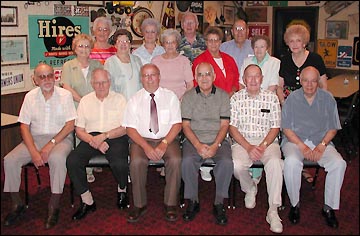 Class of 1942 reunion:
Sixeen members of the Class of 1942 from Paynesville High School held a reunion on Wednesday, June 26. Pictured are (front) Marvin Liestman, Owen Shelton, Vince Sturm, Walt Mathison, Calvin Steele, and Clint Hoiseth; (middle) Dolores (Schrom) Stolpman, Sally (Schlangen) Wlaznak, Alice (Schmidt) Sauer, Evelyn (Swanson) Bruntlett, Lois (Haines) Cook, and Carmen (Sheldon) Brown; (back) LuElla (Mehr) Neumann, Louise (Mehr) Korman, Loyd Johnson, and Kenny Seeland.
---
Return to the top • 2002 Reunions
---
---