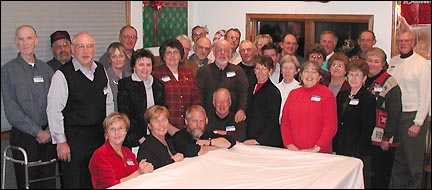 Class of 1961 reunion:
The Paynesville High School Class of 1961 held their 40th class reunion on Saturday evening. Attending were: (kneeling, left to right) Marilyn (Schefers) Schloeder, Carrie (Schefers) Sand, Ed Webb, Tom Schmidt; (middle row) Joe Pung, Joyce Welle, Geri (Hertzberg) Spanier, Gary Sonstegard (partially hidden), Jerry Liestman, Bob Lenarz, Robert Hemmesch, Joyce (Lahr) Wait, Conrad Soschnik, Maxine (Kadelbach) Smith, Bev (Rueckert) Pehler, Carolyn (Wegner) Swyter, Pat (Lindquist) Olson, Theresa (Hemmesch) Arnold, Carol (Niewind) Holthaus; (back row) Lee Starken, Stanley Gale, Pat (Wimmer) Shay, Ken Hemmesch, Jim Fischbach, Dan Williams, Bev (Stadley) Barnebey, Joe Lieser, Allen Anderson, Art Arnold, and Peter Jacobson.
---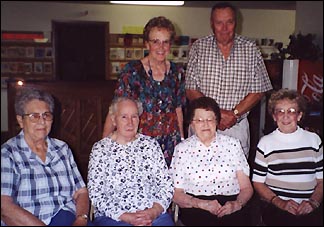 Class of 1938 reunion:
The Paynesville High School Class of 1938 held their 63rd reunion on Saturday, Aug. 28, at the Paynesville Area Center. Attending the reunion were (seated): Lenore (Harns) Holper, Mermyle (Sanders) Bennett, Lilah (Kruger) Herzberg, Winifred (Nehring) Schuelke; (back) Clarys (Sheldon) Anderson, and Hubert Schwandt.
---

Class of 1976 reunion:
Thirty members of the Paynesville High School's Class of 1976 held their 25th year reunion on Saturday, Aug. 11. Pictured are: (front row) Rhonda (Ahrens) Wendlandt, Deb (Fuchs) Butkofski, Cindy Schoenherr, Deb (Scheierl) Schreifels, Tami (Heitke) Meeker, and Bev (Donabauer) Fraelich; (second row) Cindy (Fischbach) Wendroth, Judith Hennen, Jill (Haines) Kack, Janet (Thielen) Morin, Debbie (Hemmesch) Meagher, Deb (Mehr) Imdieke (hidden), Michelle (Heairet) Lahr, and LeAnn (Hedlund) Buck; (third row) Mike Lindquist, Gayle (Anderson) Teskey, Warren Schoenherr, Lori (Krupke) Rohe, Margaret (VanderBeek) Knebel, Conrad Lauer, and Brad Glenz; (back row) Dennis Fleischhacker, Steve Peterson, Bob Brauchler, Lyle Wendroth, Gene Schultz, Paul Brunik, Jeff Mehr, Jim Knebel, and Jim O'Fallon.
---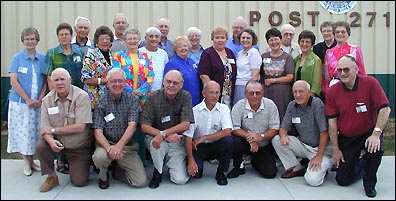 Class of 1951 reunion:
The Class of 1951 celebrated their 50-year reunion on Saturday, Aug. 11, at the Paynesville American Legion. Class members attending were (front, left to right): Larry Haines, Maynard Wood, Vern Topp, James Muggli, Charles Chesness, John Schultz, Benno Torborg; (center) Mary Christenson, Bernette (Bauman) Helling, Frances (Heinrich) Nierenhausen, Jeanette (Schmidt) Noyes, Wanda (Custer) Vadner, Delores (Everson) Pfau, Beatrice (Jenkinson) Camp, Dorothy (Eliason) Surma, Beverly (Anderson) Haagenson, Joanna (Waldorf) Pendergast, Joan (Liestman) Wicklund; (back) Kenneth Nathe, LeRoy Jonas, Harold Knutson, Rita (Grismer) Wolford, Jerome Mackedanz, Wesley Boehl, and Donna (Jaeger) Biren. Not pictured is Robert Stinton.
---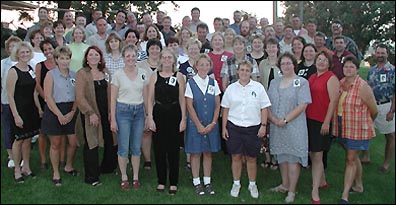 Class of 1981 reunion:
More than 60 members of the Class of 1981 from Paynesville High School attended their 25th anniversary reunion on Saturday, Aug. 4. Pictured are: (front) Ginny (Stanger) Schiffler, Debbie (Jude) Lieser, Linda (Noonan) Wander, Shiela (Holstad) Scheridan, Brenda (Gertken) Huseby, Kathy (Lieser) Welle, Lori (Burg) Lieser, Diane (Moore) Nelson, Pam (Nistler) VanderBeek, and Sue (Fischbach) Burris;
(second row) Sue (Spaulding) Lingl, Jane Haines, Tamara Mackedanz, Beth (Jones) Kendall, Donna (Ludwig) Mackedanz, Paula (Hemmesch) Davis, Carol (Pratt) Lundeen, and Malissa (Schauman) Johnson;
(third row) Diane Scheierl, Jennifer (Johnson) McCarthy, Joan (Haines) Edstrom, Kim (Rolfhus) Ruprecht, Jodi Winter, Kim (Ellis) McKigney, Lori Crusoe, and Rick Paul; (fourth row) Sue (Hartmann) Teicher, Lisa (Henricksen) Timek, Roger Mackedanz, Sharon (Reeck) Fish, Pieper (Fleck) Bloomquist, Tim Rittenhouse, Julie Koehnen, Kevin Schmitz, Kevin Wall, Terry Schaefer and Wade Wensmann;
(back) Doug Tigner, Dave Dilley, Mark Lingl, Bob Holper, Greg Welle, Jim Gabrielson, Troy Caldwell, Mike Bloomquist Wittgraf, Rod Beleview, Erin Meagher, Dave Binsfeld, Tom Johnson, Scott Minette, Kevin Lieser, Dennis Fuchs, Ron Fyle, Dennis Orbeck, Fred Lauer, Herb Berscheid, Dale Hess, Tom Johnson, and Marty Frank.
---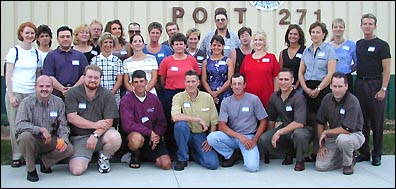 Class of 1986 reunion:
The Class of 1986 held their 15-year reunion on Saturday, Aug. 11, at the Paynesville American Legion. Class members attending were (kneeling, left to right): Ron Berscheid, Kurt Mueller, Terry Miller, Tory Tish, Mike Arnold, David Moore, David Notch; (center) Susan (Meagher) Bougie, Jason Jedlicka, Brenda (Leyendecker) Lieser, Susie (Mueller) Danielowski, Lyn (Wendlandt) Cromwell, Sherry (Burg) Bertram, Diane (Spanier) Welle, Carla (Hemmesch) Vagle; (back) Brenda (Utsch) Gertken, Lisa (Thelen) McComas, Troy Gilbertson, Karla (Lieser) Lauer, Tom Ahrens, Joyce (Orbeck) Fenske, Brian Mackedanz, Kristi (Weidner) Wessel, Meryl Frank, Jan (Drimel) Schmitz, Sara (Realdsen) Lein, Kristi (Lieser) Anderson, and Brent Anderson.
---
Return to the top • 2001 Reunions
---
---