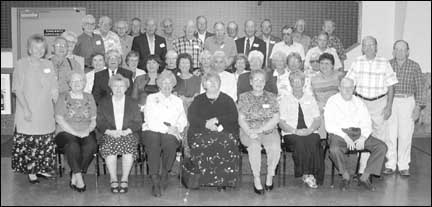 Class of 1950 reunion:
The Class of 1950 observed their 50th class reunion on Saturday, Sept. 16, at the Paynesville American Legion. Attending the reunion were (front row, left to right): Gladys (Mackedanz) Orbeck, Eileen (Kotschevar) Lieser, Delores (Krueger) Schoenherr, Mary (Knese) Zirbes, Rita Muggli, Laura (Jones) Bloomquist, Bev (Holifer) Kelly, Merle Hagen; (row two) Bob Chesness, Weston Nehring, Marilyn (Brick) Golembeski, Ardys (Erickson) Larson, Evelyn (Foreman) Moore, Rosemary (Thielen) Dilley, Barbara (Pitts) Kaspeazk, Maxine (Kalkbrenner) Kubesh, Melvin Spanier, Harlen Nepsund; (row three) Catherine (Hennen) Kramer, Norma (Jacobson) Harper, Mary Ann Kost, Ruth (Zimmerman) Moorman, Valaria (Duven) Tasto, Dorothy (Ribe) Erickson, Darleen (Olson) Glenz, Orlin Albrecht; (row four) DuWayne Brix, Kenneth Bergstrom, Kenneth Haagenson, Donald Kruger, Stan Rausch, Dick Stephen, Leland Bluhm, Valerian Fischbach, Jim Brown, Martin Schmitz, Gordon Jacobson, Nicholas Fischbach, Lloyd Thompson, LeRoy Laing, Palmer Everson, and Duane Caldwell.
---

Class of 1975 reunion:
Members of the Paynesville Area High School Class of 1975 attended their 25th class reunion at the Paynesville American Legion on Aug. 19. Attending were (front, left to right): Virl Liebrenz, Mary (Orbeck) Nietfeld, Dave Easterday, James Bahner, Jerry Hoekstra, Bruce Vanderpool, Lynn (Wendroth) Chapman, John Gilbertson; (row two): Julie Sonstegard, Sue (Dingmann) Linz, Sue (Peteler) Geppert, Karen (Schulte) Nyberg, Laurie (Wegner) Magnan, Cece (Lang) Scheierl, Linda (Paulson) Yank, Ralph Schefers, Larry Everson, Ron Fuchs, Rick Thompson, Dan (Fuchs) Fox, Jack Chladek; (row three): Cindy (Bolstad) Howell, Pam (Thoelke) Muth, Sara (Loomis) Turrell, Valerie (Olson) Tollefson, Jane (Spaulding) Gottwald, Nancy (Brossard) Mueller, Denise (Koglin) Rein, Peggy (Albrecht) Jensen, Debbie (Berg) Johnson, Linda (Lenzmeier) Maxwell, Jane (Schlangen) Konz, Marvin Spanier, Pat Thompson; (back row):Beth (Nelson) Hoeg, Tonia (Hendrickson) Gustafson, Jodi (Cushman) Purcell, John Weis, Jill (Wile) Puff, Sue (Tigner) Legred, Mark Herding, Ron Lahr, Cheryl Fischbach, Dick Knisley, Cindy (Schmidt) Gray, Pam (Adams) Osterberg, Kyle Person, Lisa (Welle) Case, Joan (Mehr) Bailey, Lee Person, Mary (Roeser) Druck, Jennifer (Hoiseth) Crump, Pete Holper, Jan (Herzig) Hegstad, Janice (Niewind) Rothstein, Steve Meyer, Patty (Mayer) Groshens, Judy (Dingmann) Gertken, John Majchrzak, Shirley (Thomes) Pelz, Steve Dosdall, Cheryl (Spanier) Lieberman, Reed Ringstad, Diane (Schmitt) Rothstein, Dennis Wall, Sandy (Lieser) Sheets, Steve Lieser, Tim Klenk, Mike Kellogg, Bob Block, Bob Meyer, and Scott Groshens.
---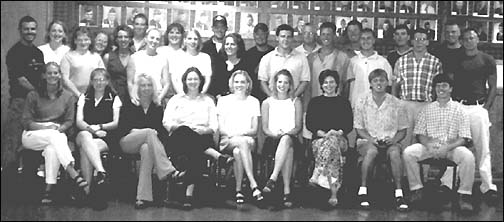 Class of 1995 reunion
The Class of 1995 held their five-year reunion on Saturday, Aug. 12, at the Paynesville American Legion. Attending were (front, left to right): Tricia Hennen, Julie (Lang) Pelzer, Melissa Orbeck, Heather Aagesen, Heather (Olmscheid) Hammer, Amy (Deadrick) Bollman, Erin (Hauer) Jacobson, Lance Anderson, Mike Thompson; (back) Roger Kotten, Beth Zimmerman, Jennie (Lang) Dufner, Becky Scott, Stacy (Bennett) Burg, Elisa Zwiefel, Nicole (Mohs) Wollin, Suzy Meyer, Cheryl Kolb, Shannon Olmscheid, Lisa Kollman, Steve Barten, Jared Scheierl, Jason Gilbertson, Ron Mehr, Travis Reutzel, Justin George, Greg Ramthun, Jed Scheierl, Derick Fincher, and Dion Johnson.
---
Class of 1985 reunion:
Members of the Class of 1985 held their 15-year reunion Aug. 5 at the Roadside Tavern in Roscoe. Attending the reunion were (front, left to right): Steve Hemmesch, Kim (Theisen) Sage, Doug Palm, Stacey Bulera, Jeff Sullivan, Todd Voss, Sheela (Kunstleben) Arceneau, Rob Utsch; (row two) Jay Vagle, Glen Fleischhacker, Julie (Drimel) Rittenhouse, Tom Spaulding, Kathy (Fuchs) Blomker, Linda (Kahle) VonRueden, Kim (Thomsen) Joos, Kim (Deadrick) Farley, Sharon (Leyendecker) Gertken, Lisa (Drager) Setrum, Jodi (Burr) Mottinger, JoAnn (Dahl) Spaulding, Dana (Butler) Kubat; (row three) John Schmitz, Troy Boyle, Jim Topp, Mike Osendorf, Dean Heitke, Tom Binsfeld, Kristin Pederson, Roxanne (Westvig) Nielsen, Susan (Kotten) Ritchie, Tammy (Fischbach) Koop, Terri (Schmitz) Braegelmann, David Heairet, Jill (Torborg) Neu, Kelly Hemmesch, Denise Olson, Mike Welter, Jim Meyer; (back row) Pat Jaeger, Sonia (Stang) Dickerson, Luanne (Lenzmeier) Garlets, Patti Fasbender, Joanne (VanNurrden) Noggle, Tracey (Sieben) Haines, Brenda (Beckius) Schmitz, Kim (Holstad) Johnson, Brenda (Mohs) Martin, Lori (Kaiser) Olson, Laura (Duscher) Tucker, Michelle (Winter) Reinke, Tom Jung, Chad Kulzer; (back) Harry Sand and Tammy (Lieser) Herdegen.
---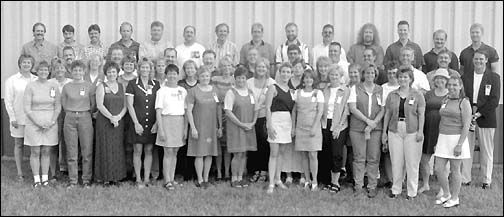 Class of 1980 reunion:
Members of the Class of 1980 held their 20th class reunion Saturday night at the Paynesville American Legion. Attending were (front, left to right): Mary (O╣Fallon) Mackedanz, Linda (Thomes) Mayer, Deanna (Noonan) Lieser, Rose (Boie) Welle, Carol (Bowar) Kubista, Kim (Heineman) Berkley, Bonnie (Koglin) Hansen, Mary (Fuchs) Jacobson, Louise (Mehr) Gabrielson, Lynn (Thielen) Steiner, Carol (Liestman) Scheierl, Cyndi (Kraemer) Humbert, Becky (Christian) Ahrens; (row two) Donna Binsfeld-Dilley, Roxann (Mackedanz) Knisley, Marcy (Dingman) Thompson, Kathy (Fischer) Schmidt, Kristi (Krupke) Wendlandt, Teresa (Kascht) Vait, Pam (Spanier) Bremseth, Marilee Schwandt, Jeanne (Hedlund) Halabi, Donna (Vagle) Wile, Heidi (Bruntlett) Engen, Linda (Flanders) Frieler, Ruth (Loxtercamp) Knowles; (row three) Danny Schwandt, Ron Mehr, Myron Schmitz, Al Faber, Dan Schultz, David Ampe, Matt Martinson, Jim Dahl, Mike Thyen, Dan Torborg, Chris Welle; (row four) Larry Wendroth, Leroy Lang, Bill Sieben, Jim Schmitz, Kevin Buermann, Greg Spanier, Jim Meyer, Gary Thompson, Ray Schoenherr, Ken Wendlandt, Loren Everson, Jim Hunter, Tim Mackedanz, and Rick Holthaus.
---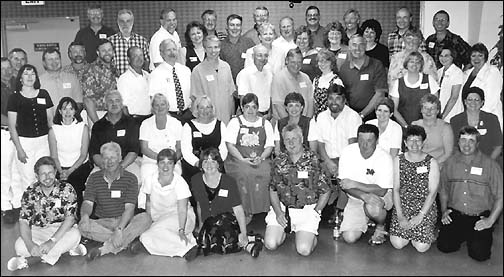 Class of 1970 reunion:
One-third of the largest class to graduate from Paynesville held their 30-year reunion on July 29 at the Paynesville American Legion. Attending the reunion were (front, left to right): Mike Given, Rick Glenz, Linda (Holper) Mueller, Nancy (Thomsen) Deadrick, John Wimmer, Chuck Hennen, Bev (Fischbach) Aas; Tom Mueller; (row two) Janet (Snyder) Pladson, Greg Bork, Debbie (Anderson) Bork, Kris Schmitt, Amy (Klein) Parker, Bonnie (Lieser) Spanier, Terry Sieben, Dorothy Ludwig, Deloris (Ludwig) Larson, Connie (Kankelfritz) Thomsen; (row three) Randy Lauer, Steve Hillbrand, Mary (Gilk) Lauer, Gary Reeck, Phil Miller, Jerry Wall, Kevin Spanier, Steve Brown, Dennis Herzig, Bob Scheierl, Jim Schmidt, Sue (Lind) Theisen, Dave Hartmann, Betty (Putzke) Freilinger, Lorraine (May) Svihel, Jill Bugbee; (back) Steve Quill, Steve Hartmann, Tim Jones, Jan (Philabaum) Ehrlichman, Duane Mehr, Dick Lahr, Doug Thomsen, Debbie Dilley, Jim Scheierl, Ann (Schlick) Lauer, Cecil Louis, Judy (Nelson) Deadrick, Harlan Schoenherr, Linda (Laage) Olson, Dennis Zimmerman, Sharon (Leither) Torborg, and Jeff Thompson.
---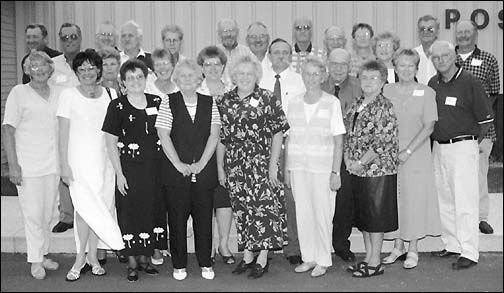 Class of 1955 reunion:
Members of the Class of 1955 attending their 45th reunion were: (front, left to right): Dorothy Martinson, Sandra Bereman, Mary Ann Fasbender, Doris Pelkey, Marilyn Kaschmitter, Frances Remer, Gloria Scheel; (second row): Lovey Theis, Shirley Peterson, Beverly Jones, Jonathan Schaumann, William Hendrickson, Dorothy Anderson, Harry Thielen; (back row): Jim Olson, Val Warnert, Ray Haagenson, Vern Gjelhaug, Ron Everson, James Brick, Vern Thorson, David Spanier, Harold Hickman, Ann Patrick, Venita Haagenson, Toney Peine, Walter Spanier.
---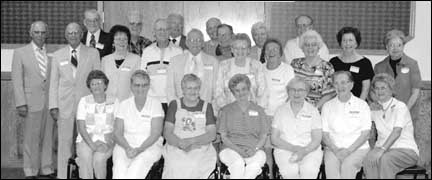 Class of 1945 reunion:
Members of the Class of 1945 held their 55th reunion Friday night at the Paynesville American Legion. Attending were (seated, left to right): Muretta (Jones) Prokes, Eileen (Pelkey) Bratsch, Alice (Hess) Younkin, Lorraine (Schmidt) Putzke, Jeanette Waldorf, Joan Kost, and Evelyn (Wahl) Carlson; (center) Lee Herzog, Les Herzog, instructor Loretta (Kelly) Gavin, Vern Fischbach, Cal Gruetzmacher, Ralph Leyendecker, Doris (Adams) Nehring, Bernie Waldorf Steidl, Alice (Johnson) Thompson, Ramona (Stinton) Olsen, Audrey (Custer) Thayer; (back) Lloyd Drakenberg, Bob Erickson, Jerry Pierce, Ken Christianson, Dick Kannenberg, and Norval Nehring.
---
Return to the top • 1999 Reunions
---
---