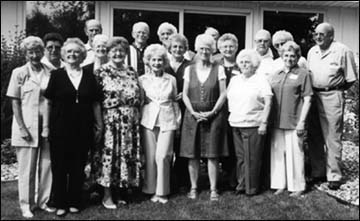 Class of '43 reunion:
The PHS class of 1943 held their 55th class reunion in Sept. 12 at the Blue Heron in Cold Spring.
Pictured in the front row (L to R) are: Phyllis (Rutgers) Pearson, Dorothy (Pederson) Hendrickson, Ruth (Knebel) Hoeft, Clarice (Christianson) Davis, Doris (Christenson) Behr, Sheila (Martinson) Bauer, and Wava (Pauls) Johnson.
Middle row: Charlie Weidner, Ruth (Wolff) Pelkey, Clarice (Haagenson) Rud, Jean (Nelson) Schultz, Kermit Otteson, Frances (Johnston) Ruffcorn, and Cal Behr.
Back row: Charlie Ampe, Alan Johnson, Norman Bork and Frank Mehr.
---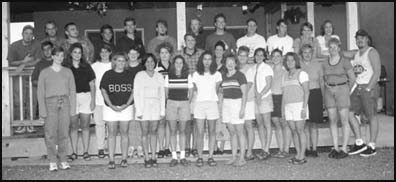 Class of '93 reunion:
Members of the PAHS Class of 1993 recently attended their five-year reunion at Roadside Tavern. Attending were (front): Bill Bertram, Louise Soine, Sandra Marthaler Gruber, Gina Mehr, Heather Kunstleben Fredrick, Laurie Sieben Peterson, Melissa Stadley, Jennifer Mueller Kettering, Terri Schleper, Braden Leimer, Amy Krupke, Traci Anderson, Shannon Hoeft Topp, Tina Eveslage Mages, Bridget Weber Gruby, Julie Torborg, Mindy Jansen, Becky Nistler Bengtson, Amy Hemmesch Ostendorf and Ken Ostendorf;
(back) Lucas Jones, Corey Klehr, Ron Garvick, Tony Tschann, Jeremy Brown, Roger Theel, Jim Schlangen, Ricky Beecher, Kyle Palmer, John Beek, Linnea Louis, and Christine Ramthun.
---

Class of '58 reunion:
Members of the Class of 1958 attending their 40th class reunion on July 11 were (front, left to right): Viola Utsch Kremer, Theresa Torborg Becker, Marian Schaumann Tezel, Marie Hoeft Deadrick, Fran Nehring Gorman, Kathy Heinen Nett, Gayle Harnit Miller, Ramona Schmidt Frank, DeVona Krupke Thompson, Lorraine Nathe Putzke, Joyce Mehr Nault, Jeanette Weber Mackedanz, Don Liestman, Jerry Burr, Wayne Olson, Beverly Rud Schultz;
(row two) Art Voss, Dan Deadrick, John Unger, John Olson, Cecelia Blonigen Bentler, Ken Pung, Donna Christensen Green, Dennis Heinrich, Diane Nelson Schultz, Bruce Johnson, Karen Greeley Wendroth, Denny Dahl, Evangeline Heitke Elmhorst, Dave Stanger, Don Jones, and Victor Fischer.
---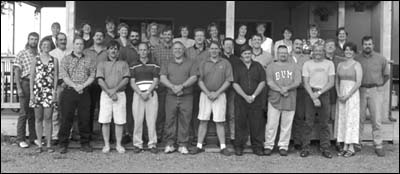 Class of '83 reunion:
Members of the Class of 1983 attending their 15th class reunion on July 18 were (front, left to right): Karleen Meyer, Joel Burr, Ron Kern, Len Gilmore, Mark Fenske, Kurt Hemmesch, Paul Larson, Greg Kotten, Kevin Orbeck, Milissa Wensman Broger;
(row two) Jim Strodtman, Jim Kohnen, Craig Olson, Mark Fuchs, Pat Schaumann, Dan Meyer, John Elfering, Wayne Schmitz, Ed Gottwald, Andy Anderson, Rob Hoiseth;
(back) Angie Klover VanVleet, Anita Dingmann, Pat Hanson Suter, Scheila Keller Abraham, Jill Nepsund Paul, Denise Everson, LeAnn Wendroth Lymburner, Joan Gilk O'Brian, Michele Barg, Marilyn Hemmesch Drontle, Lori Soine Gehrt, Becky Johnson Peterson.
---

Class of '78 reunion:
Members of the Class of 1978 attending their 20th class reunion on July 11 were (front, left to right): Barry Flanders, George Dingmann, Karl Schlangen, Steve Hoppe, Cedric Buermann, Nate Mohr, Father LeRoy Scheierl, Dale Berg, Lorie Schmidt Meagher, Pat Meagher, TyLynn Dietrich Theis, Mark Mackedanz, Janet Wall Jaeger, Jeanie Burr Diggs, Bob Fuchs, Bonnie Mayer Thomes;
(row two) Randy Jones, Greg Fuchs, Dave Mehr, Russ Orson, Paul Weis, Janelle Heairet Leyendecker, Mark Leyendecker, Gary Dosdall, Pam Hanson, Karen Strodtman Bachman, Randy Bluhm, Russ Jacobson, Kathy Ampe Moyer;
(row three) Rita Kraemer Lindquist, Marilyn Peltz Lieser, LuAnn Orbeck, Becky Johnson, Della Klein Tazelaar, Sue Olson, Karla Anderson, Diane Kunstleben Lieser, Pam Lenzmeier Lehner, Dennis Spaulding, Lisa Kalkbrenner Wagner, Steve Schultz, Mary Meagher Stommes, Doris Ludwig Wendlandt, Carol Lauer Mohrenweiser, Cindy Holthaus Cawson, Kathy Thorson Welle; (top) Don Lang and Scott Schramel.
---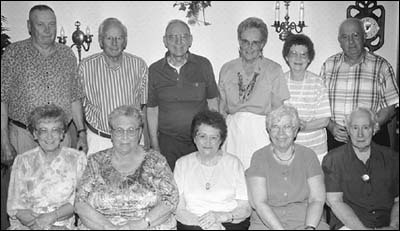 Class of '38 reunion:
The PHS Class of1938 held their 60th class reunion on Saturday, July 11, at Wishin Well Cafe. There were 33 members in the class, and 20 of them are still alive. Of those 20, nine began school in first grade together. Attending the reunion were (front): Winifred Nehring Schuelke, Lenora Haines Hopfer, Lilah Kruger Herzberg, Mona Bliven Martinson, Mermyle Sanders Bennett;
(back) Hubert Schwandt, George Milton, Gustav Schoenherr, Clarice Sheldon Anderson, Lorraine Andrews Perkins and Arthur Norris.
---

Class of '48 reunion:
Members of the Class of 1948 attending their 50th class reunion recently were (front, left to right): Dick Haines, Julie Erickson Gee, Adeline Rud Lang, Vince Mackedanz, Carol Zimmerman Heitke, John Kost, Roger Glenz, Betty Thompson Sotendahl, Marjorie Stickney Graetz, Tom Unger, Jean Wegner Moe, Juanita Lang Moser, Lorraine Stern Oehlert, Margaret Jones Schnell, Kathryn Everson Ryks, Jim Wegner, Faye Anderson Schultz, Caroline Kelm Schoenleben, Louis Thielen, Winnie Nehring Schuelke, Ronald Thorson, Bety Lou Knebel Coulter, Dick Hoppe, Ruth Nauman Deadrick, Norbert Middendorf, Bill Schultz, Delroy Schoenleben and Luverne Bohning. Not pictured is Stu Bennett.
---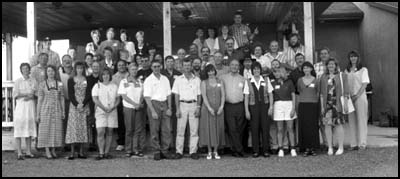 Class of '73 reunion:
Members of the Class of 1973 attending their 25th class reunion recently were (front, left to right): Margaret Ampe Buttweiler, Beverly Schefers Sauer, Dawn Glenz Schramel, Jeanne Lounsbury Miller, Beverly Adams Olsen, John Fuchs, Kenneth Utsch, Diann Ludwig Bellmont, Dave Heitke, Helen Utsch Orbeck, Susan Daniels Litsau, Sharon Gully Welke, Gretchen Anderson Jensen, Jeanne Torborg Bales; (row two) Harvey Lieser, Keith Hemmesch, Dale Lauer, Richard Sturtz, Rick Flanders, Bill Heitke, Gordon Buermann, Keith Lang, Gary Buermann, Ken Gilk, Tim Deadrick, Randy Mayer; (row three) Tom Mackedanz, Marvin Leither, Deb Schmidt Johnson, Paula Stadum Lang, Marlys Schoenherr Houk, Ellen Schroeder Mohr, Pam Dilley Mitchell, Gwen Allen Thomas, Marlin Pauly, Duane Fischer, Tom Wendlandt, Brian Schramel, Peter Gottwald, Kevin Lang, Arnold Buermann, (upper left) Darcy Morelan Hagen, Sue Easterday Putzke, Carla Winters Kannenberg, Karen Wuertz Stanchfield; (upper right) MaryAnn Kuefler Schmidt, Lois Thielen Rausch, Sandy Lieser Hemmesch and Terry Owen.
---
Return to the top • 1999 Reunions
---
---