---
Sports Stories
For the week of March 29, 2006
---
Middle schoolers hit the weights...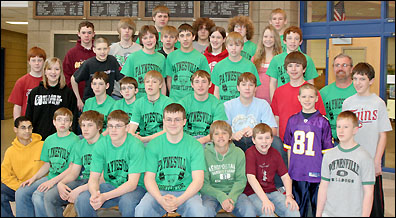 More than 50 student-athletes at Paynesville Area Middle School
have been hitting the weights since winter sports ended
and before spring sports begin. (Junior high spring sports
do not begin until the weather allows for outdoor practices.)
Teacher/coach Tracey Piepenburg said a small group began lifting weights
last spring and resumed this fall after fall sports finished and
winter sports began. The student-athletes work hard and are getting
good results, said Piepenburg, who rewards the students with T-shirts
after enough weightlifting sessions. Pictured are: (middle) Trey Stanger,
Kayla Lieser, Matthew Doom, Dylan Sheridan, Hayden Spaeth, Justin Wendlandt,
Michael Doom, Jordan Severance, Josh Bungum, Piepenburg, and Daniel Weidner;
(back) Nick Hemmesch, Sam Bungum, Eric Fenske, Jordan Schleper, Matt Schmiesing,
Ben Olson, Dustin Sieben, Andrew Doll, Jordan Spaulding, Trevor Gilbertson,
Chris Moser, Taylor Haag, Tyler Hemmesch, and Tanner Wendroth.




---

Return to Archives • Return to Sports
---
[ Home | News | Marketplace | Community ]

---
Comments regarding this web page can be
addressed to paypress@paynesvillepress.com

Comments regarding the stories can be
addressed to editor@paynesvillepress.com

© 2006, Paynesville Press, Inc. All rights reserved.
---