Volleyball team splits first two games
This article submitted by Laura Mages & Courtney Karsch on 9/8/98.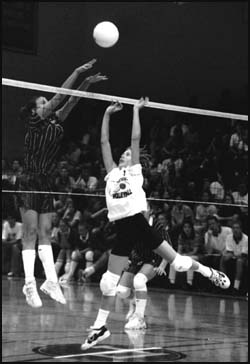 The Paynesville varsity volleyball team had a great and promising week. They had their first official game on Sept. 1 against Sauk Centre at home. On Thursday, they traveled to Litchfield.


Litchfield
The volleyball team went to Litchfield for their first away game on Sept. 3. Before the game, the locker room was rockin. Paynesville was excited and wanted to take home a victory. Thatís just what they did. Their were some roller coaster games, but the girls were really fired up and played like a team the entire game.

The second game Litchfield snuck by with a win but that didnít stop the Bulldogs. There was a lot of good serving, digs, and hits. They played hard and had fun as well.

Paynesville: 15 13 15 15
Litchfield : 13 15 8 7

Sauk Centre
The girls were very excited before their first match of the season against Sauk Centre. They had worked hard in practice and knew what they had to do. Unfortunately, they didnít leave the court with a victory.

The first game was very intense and close. Paynesville was defeated by only two points. Even though they didnít win, the girls still had positive attitudes. In the following two games, the team worked hard, were aggressive, but still recorded no wins.

Paynesville : 13 3 6
Sauk Centre : 15 15 15

The Paynesville volleyball team traveled to Long Prairie yesterday (Tuesday, Sept. 8) and they have a home game tomorrow (Thursday, Sept. 10) against Melrose. Come and support the girls and have fun too!

---