Ground work for geo thermal loop continues
This article submitted by Linda Stelling on 9/22/98.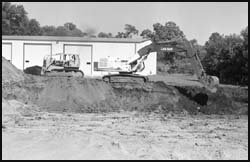 Volunteers were busy preparing the Paynesville Civic Arena area for a geo thermal ground loop system. The system will transfer heat from the ice arena to an area east of the arena.

Last week an 80 -foot wide and 220 -foot long hole was dug for the system. Otto Naujokas, arena volunteer, said they laid 15 loops of piping, 1,000 feet each for a total of 15,000 feet of pipe.

Working on Sunday laying pipe were (left to right) Otto Naujokas, Johnnie Olson, Mike Mackedanz, Dan Purkat, Rick Paul, and Pat Anderson. Warren Nehring is running the skid loader.

Naujokas said the system can be reversed and transfer heat from the ground to the building when needed. Their target date to have artificial ice in the arena is Oct. 14.