Regal takes second in the state Class C Baseball Tournament
This article submitted by Michael Pauly on 9/2/97.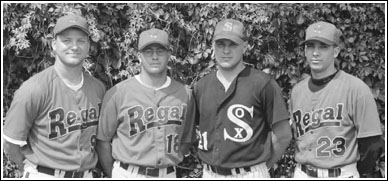 Four Regal players made the all-tournament team:
Ron Fuchs, Mike Tangen, Chad Hess, and Mike Beier.
Regal ended the 1997 baseball season this past weekend by taking second place in the Class C Baseball Tournament held in Maple Lake and Delano.
Regal had to play five games over the Labor Day weekend and was 3-2 with both losses coming against the St. Michael Saints. Overall, Regal played seven games in the tournament and was 5-2.
In the first two weekends of the state tournament, the Eagles had a 9-1 win over Windom and a 6-3 win over St. Cloud Orthopedic. An 8-6 win over Hinckley on Friday night, Aug. 29, put the Eagles into the final four and double elimination. A 15-4 win over Elko on Saturday night, a 5-4 loss in 10 innings to St. Michael on Sunday afternoon, and a 9-7 win over Elko Sunday night put Regal in line to play St. Michael again on Monday for the championship. The Eagles suffered a 13-0 loss to St. Michael on Monday morning and claimed second place in Class C.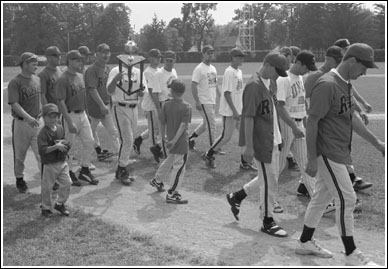 Regal players with the second place trophy
they won in the Class C Amateur Baseball Tournament.
Regal 8
Hinckley 6
On Friday night against Hinckley, Regal had to come from 6-2 deficit after an early 2-0 lead to win 8-6.

Regal did not play their usual errorless game and had three errors in one inning. Regal also received some breaks in the game.
Regal scored six runs in the sixth inning.
Regal: 020 006 000- 8 7 3
Hinckley: 000 420 000- 6 7 1

Regal 15
Elko 4
After Friday nightís win, Regal was now in the final four and the state tournament changed to double elimination.
In the 15-4 win on Saturday over Elko, Regal had only one error and had their hitting shoes on with fourteen hits.
Regal: 014 005 005- 15 14 1
Elko: 100 010 010- 4 10 1

St. Michael 5
Regal 4
On Sunday afternoon Regal took on St. Michael, both teams were the only two undefeated teams left in the tournament.
The game went back and forth with Regal taking an early lead when Ron Fuchs hit a solo home run in the bottom of the first inning.
The Saints scored single runs in the second and third innings to take a 2-1 lead. Regal tied the score in the bottom of the third.
The Saints added two runs in the fourth. Regal added single runs in the fourth and seventh inning to tie the score at 4-4.
In the tenth inning, the Saints got their lead off man on with a walk. They bunted the runner to second with the next batter. Their next batter singled to put runners on first and third. The next batter laid down a bunt on a suicide squeeze to score the runner from third to take a 5-4 lead and the win.
Draftee Jeff Wollin from Litchfield pitched brilliantly into the ninth inning and was relieved by Tim Haines.
Saints: 011 200 0001- 5 11 1
Regal: 101 100 1000- 4 8 1

Regal 9
Elko 7
Regal had to play Elko, who had defeated New Prague earlier in the day, right after their game Sunday with St. Michael to see who would have to play St. Michael on Monday for the championship.
Both teams had tired, overworked pitchers. Regal took an 8-2 lead after six innings and hung on to defeat the Express by a score of 9-7 in a three-hour and 15-minute game.
Elko: 000 020 302- 7 8 1
Regal: 110 015 01x- 9 14 2

St. Michael 13
Regal 0
In the Class C championship game on Monday, Regal met St. Michael again. The Eagles had only lost to the Saints 5-4 in 10 innings on Saturday morning, but on Monday they lost to them 13-0 in seven innings.
Regal had used up all their pitching in the previous three games over the last two days and some were pitching on one or two days rest. Regal tried five pitchers in an effort to stop the bats of St. Michael, but to no avail.
In addition, Regal would have had to beat St. Michael twice for the Eagles to win the championship.
St. Michael and Regal will be put into Class B baseball for the next two years.
Regal: 000 000 0- 0 3 3
Saints: 062 005x- 13 18 0

---