PYHA constructs a geo-thermal rink at civic arena
This article submitted by Aaron Ziemer on 8/4/98.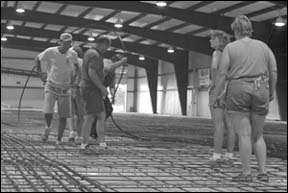 The Paynesville Youth Hockey Association constructs a new geo-thermal rink at the ice arena in Paynesville.

The rink will have ice from the middle of October to sometime in March.

The hockey association received $250,000 from the state to build the new rink.

Greg Jorgenson, Winnipeg, from Energy Efficient Engineering, oversaw the work.

ďThis system uses one-third to one-quarter of the energy of a conventional type of system,Ē said Jorgenson.

Jorgenson has been working with these types of rinks for about 10 years.

Jorgenson also added that most of the work was done by volunteer labor, but he said it was one of the better rinks that he has ever seen.

Most ice arenas are industrial and it needs to be run by licensed operators and expensive contracts. This type of system is commercial and anyone can run it and local people can use it, according to Jorgenson.

The rink will be used for practices of both the high school boys and girls hockey teams on alternating weeks. It will also be used for the Paynesville Hockey Associationís youth hockey program including having many games played there. It will also be available for public skating and available to Com-munity Education and phy-ed classes.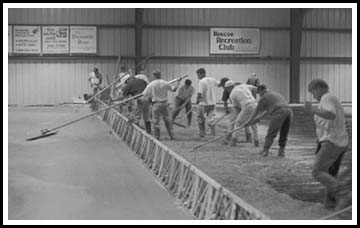 ďThe River Lakes Arena has helped the Richmond community and, hopefully, this one can do the same for our community, espicially with tour-naments,Ē said Otto Naujokas.
The geo-thermal rink has been a year in the planning, and was a $550,000 project for the hockey association.
The association still must raise $300,000 and is hoping to do it by private funds, business contributions, and advertising.
It works by using a series of heat pumps uses a refrigerant to cool the methanol which will go through 71,000 feet of tube. The chilled methanol will drain the ground of heat and then use that heat to heat the arena and surrounding storage buildings.
Volunteers from the hockey association helped lay 86,000 feet of pipe for the new rink.
Beaver Masonry was in charge of the cement work that went into the new rink. They poured 336 yards of cement which is about 17,000 square feet of cement.
ďWe pumped the money we received from the state, back into the local economy,Ē said Naujokas.
The rink does have the capability of holding year-round ice, but it will only be used from October through the end of March, for now.