Local racer doing well at Grove Creek Raceway
This article submitted by Aaron Ziemer on 8/4/98.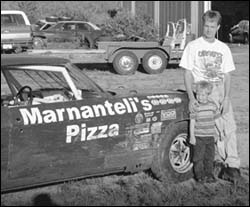 Jason Huber, Paynesville, races at Grove Creek Raceway in Grove City.

This is Huberís first full season in racing. Last year he only raced in a few races.

Huber races a 1968 Chevrolet Chevelle, and has done very well. Huberís car is purple number 18. With his recent Saturday night victories at Grove Creek in both the heat and feature events he has won six heat races and five feature races.

Recently Huber has been on a feature winning streak, where he has won three features in four weeks.

Currently Huber is in sixth place with points for the track championship, but there are six races remaining.

He races what is called a pure-stock. At Grove Creek, he is in the Creek Stock division.

Grove Creek has been averaging seven cars in a heat, with 15 for the feature races.

The track is three-eighths of a mile long and there is usually about a 12-lap feature.

Huber said on the straightaways he can get his car up to speeds around 70, and in the turns about 45.

Huberís main sponsors include, Paynesville Machine and Supply, who has built his engine, Marnanteliís Pizza has the biggest name on the car, and Binsfeld Tire in Litchfield provides his tires.

ďI could not make it without my sponsors,Ē said Huber. Huber also said that none of this would happen without his pitman, Mike Honebrink.

Huber said the danger of racing never has bothered him and he has always enjoyed driving.

He saw one roll over last year, and that was about the worst accident he has seen. He also saw a couple of cars hit the wall, and was even knocked into the wall himself a few weeks ago.

Huber said he is not real crazy about watching NASCAR, because it makes him want to be there driving himself. He thinks it would be very interesting to drive a NASCAR stock car.

Huber is thinking about moving up a level next year and racing at the street stock level.

He would still race at Grove Creek, he would just take a step up from where he is now.

Huber said he doesnít race for the money. It is the thrill of winning and the people that make it fun to race.

ďWhen you get people cheering for you it is very nice,Ē said Huber.
---