Local girls in Star of the North games
This article submitted by Lynne Jacobson on 8/4/98.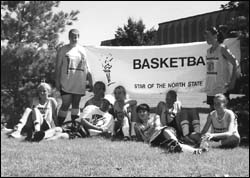 Paynesville girls from different grade levels and teams came together to play at the Star of the North games in Brooklyn Park this past June.

High scorers for the three games the team played were Jamie Wuertz, Mellody Veldkamp and Amanda Olmscheid.

On Friday night, the team was put into coolers at Perkinís and Dennyís restaurants during a tornado warning. Fortunately, no tornado appeared, but they went without supper to a blacked-out hotel as a large portion of the city was without power from the storm.

Team members pictured above are: (L to R) Kartrina Orbeck, Krista Bengtson, Jamie Wuertz, coach Cameron Mahlum, Amanda Olmscheid, Mellody Veldkamp, Lisa Hemingson, Heidi Jansen, and Mindy Meagher.
---