Little Crow Ski Team to compete at nationals
This article submitted by Aaron Ziemer on 8/4/98.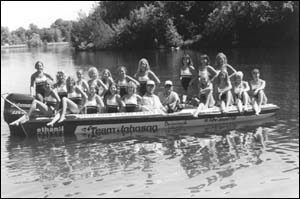 After winning first place at the Mid States competition, the Little Crow Water Ski Team will be competing at the National Show Ski Tournament on the Miami River in Hamilton, Ohio on Aug. 8-9. The team was invited to the National Show Ski competition as a result of the 1997 National Show Ski Tournament Second Place finish at Janesville, Wis.

Team competition begins on Saturday, Aug. 8 at 9 a.m. Little Crow will ski on Sunday, Aug. 9 after 2:30 p.m. Some of the other teams that will be performing are the 1997 defending champions, Rock Aqua Jays of Janesville, Badgerland, and Wonder Lake Ski teams.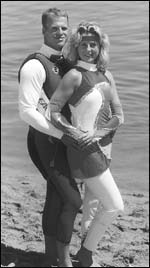 The National Show Ski Individual events competition takes place on Friday, Aug. 7, starting at noon. The top finishing Little Crow contestants at Mid States were swivel skiers Joquel Rudningen winning first place and Jessica Vagle finishing second. Little Crow had many other individuals place in different events ranging from doubles, free-style jumping, to wake board.
The Mid States Show Ski Tournament was held on July 25 and 26 on the Mississippi River. The team skied on Sunday with wind conditions that challenged the team with choppy water. They were commended for their extra effort. The swivel line and girlís ballet line, which Paynesville native Holly Whitcomb is in, performed well in costumes and on the water movements. The doubles, strap doubles, swivel skiers, and jumpers also entertained the crowd at the Mid-State.
Jay Vagle, a former Paynesville native, is one of the show directors.
Little Crow will return from Nationals to their scheduled shows in August at Neer Park on Friday nights at 7 p.m.
---