PHS football team preparing for first game
This article submitted by Linda Stelling on 8/25/98.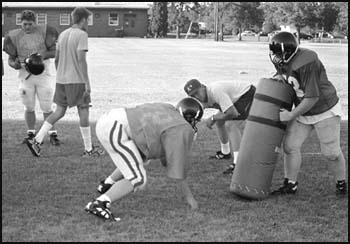 Fifty-seven high school football players turned out for the first week of practice at the Paynesville Area High School.

Of the total number out for football, 33 players are in grades 10 to 12 and 24 ninth graders. There are five seniors on the squad: Josh Jones, Dustin Looman, Tyler Wuertz, Karl Sanborn, and a newcomer Kendall Mohr, a transfer from Sartell.

Team captains are Tyler Wuertz, Dustin Looman, Josh Roemeling, and Jeff Voss.

The team is under the coaching of Kyle Nehowig, head coach; Ron Fuchs, assistant coach; Tim Woehler, junior varsity; and Cameron Mahlum, ninth grade.

ďMy goal for the season is to be competitive against teams like Albany, Melrose and Litchfield,Ē coach Nehowig said. Albany won the state title last year.

ďWe want to end on a winning note,Ē he added. The team ended the 1997-98 season with a 2-4 conference record and a 3-5 overall record.

After graduating 13 players from last yearís squad, the Bulldogs have 12 returning lettermen. They are: Josh Jones, Dustin Looman, Tyler Wuertz, Matt Brauchler, Josh Roemeling, Karl Ainsley, Jeff Voss, Karl Sanborn, Josh Bork, Shaun Fleischhacker, Chris Sogge, Jim Mehr and Eric Habben.

The Bulldogs will take on Big Lake in their first game of the season at Big Lake. Game time is 7 p.m.

The ninth grade team will play Eden Valley on Monday, Aug. 31, at 6 p.m.

The first game for the junior varsity is at home on Tuesday, Sept. 8, against Long Prairie-Grey Eagle (LPGE) at 5 p.m.
---