Cross country ready for the start of the season
This article submitted by Aaron Ziemer on 8/25/98.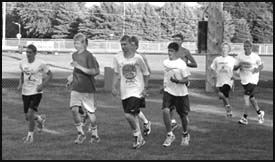 The Paynesville cross-country team started practice on Monday, Aug. 17. Over the course of the week, they practiced twice daily running at 7 a.m. and 7 p.m. everyday.

There are 30 runners out for cross country this year. They are: Troy Wendlandt, Camille Flanders, Justin Mueller, Lynn Stoneburner, Kurt Habben, Tiffany Rausch, Luke Trees, Erin Aagesen, Troy Schmidt, Anne Janotta, Adam Utsch, Missy Winter, Clayton Lang, Travis Flanders, Ryan Flanders, Eric Korman, Carin Frenchick, Mellody Veldkamp, Jen Hess, Rachel Koehn, Eric Rausch, Mesa Frenchick, Andrew Jones, Rachel Sogge, Jamie Wendlandt, Riley Flanders, Freddie Stock, Trisha Wendlandt, Christina Utsch, and Peggy Thompson.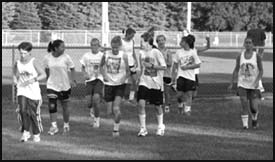 The team opens Sept. 1 at the Morris Invitational. The Paynesville Invitational is on Oct. 1, and Paynesville will also be hosting the conference championships on Oct. 13.
ďThe atheletes are working very hard and are really enthusiastic for the season,Ē said coach Darrel Carstens.
Any interested athletes are still encouraged to join the team.
---