Region 15C Baseball: Richmond and St. Martin advance to state
This article submitted by Aaron Ziemer on 8/18/98.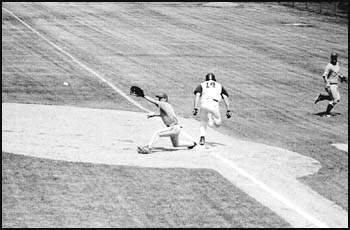 Richmond and St. Martin advance to the Minnesota State Amateur baseball tournament.

On Saturday Richmond defeated St. Martin and then the Martins rallied back to win on Sunday and clinch their trip to state.

Ryan Wuertz and Mike Stalboerger were the Royals draft picks.

Ryan Wuertz had a big day on Saturday as he started on the mound against St. Martin and pitched well against them, and also hit two home runs in the game.

St. Martin defeated Sauk Centre 9-5 on Sunday as they clinched a trip to state.

St. Martin drafted Roger Wuertz from Lake Henry and Aaron Nett from Farming.

Roger Wuertz started against Sauk Centre and threw five innings giving up two runs and five hits in the game. Nett earned the victory going the final three innings keeping the Titans off the scoreboard.

Richmond won the tournament, as they defeated St. Martin in the championship.

Both teams will advance to the state competition in Hamburg.
---