Heitke and Liestman place 7th at Canadian fishing tournament
This article submitted by Aaron Ziemer on 8/18/98.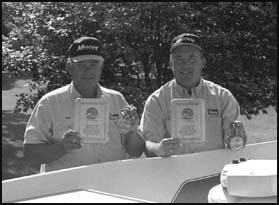 John Liestman and Dave Heitke returned home from Canada after finishing seventh in the 11th Annual Kenora Bass Tournament.

This year they were on team USA and led the team in overall weight.

Liestman and Heitke also hold the lead in total weight of fish caught in the 11 years of the tournament with 296 pounds of fish. They lead by seven pounds over the second place team.

ďThe whole tournament was a struggle,Ē said Heitke.

On the first day from 7:30 a.m. until noon Heitke and Liestman didnít have any fish.

They decided to switch spots and find a spot to go after the small-mouth bass to try and get some total weight. They ended the day with 13 and one-half pounds of fish and that put them in 54th place.

On the second day they were able to move up to 17th place because they were able to find some of their luck that deserted them on the first day of the tournament.

On the third day things looked like they were going to become tough again, because the weather changed and many of the boats came in with low weights. They were able to get about 13 pounds again though and were able to get into seventh place for the tournament.

ďWe struggled back from what could have been a disaster to a moral victory,Ē said Liestman.

This was the first time they had been on team USA, despite doing fairly well up there. They ended up finishing two pounds out of third place and four pounds out of first.

ďWe tended to go for weight for the team, rather than going after the bigger fish for just us,Ē said Liestman.

They finished in first place on the team by almost two pounds.

ďIt was a lot of added pressure to be on team USA,Ē said Heitke.

They were both very satisfied with where they finished. Other than the two years back-to-back when they took second this was the best they had finished since then.

With this yearís tournament over they were already talking and preparing for next yearís tournament.

---