Football camp held for area youth
This article submitted by Aaron Ziemer on 8/18/98.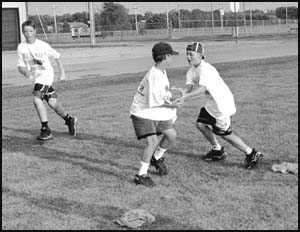 The varsity football coaches and players put on a youth football camp during the days of Aug. 11 until Aug. 14. The camp time was run from 6:30 until 8 p.m.

The camp was for fourth, fifth, and sixth graders who were interested in playing football.

There were between 35-40 kids out for the camp. They learned many things, from the running holes, to how to kick a field goal.

This was the first time many of the kids were able to learn anything about how real football is played. They were taught the offensive line holes. They were also taught how to make corrtect fakes, execute plays, punt kick off, and kick field goals.

---