Regal wins Region 15C championship

Regal and Richmond play this weekend in state tourney

This article submitted by Michael Pauly on 8/12/97.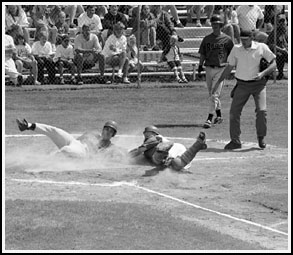 Jeff Deming of Regal slides into first base safely
to score the fourth run for Regal in the first inning.
Regal will advance on to the Class C State Baseball Tournament as the Region 15C champion after beating Richmond on Sunday by a score of 11-4.
Richmond will also represent Region 15C as the runner-up team. Richmond got into the finals by beating Litchfield 8-4 on Saturday. All Region 15C games were held in Regal.
Sunday afternoon, Regal took an early lead by scoring four runs in the bottom of the first inning. Mike Beier singled and went to third on a double by Tim Haines. Ron Fuchs singled scoring Beier. Jeff Deming was then hit by a pitch loading the bases. Chad Hess, a drafted catcher from Melrose, then hit a line drive off of the pitcherís leg but was thrown out at first base scoring Haines. Aaron Schultz singled scoring Ron Fuchs. Randy Beier then hit a sacrifice fly scoring Deming for the fourth run.
In the fourth inning, Richmond answered with two runs on a double by John Dold and a two-run home run by Pat Jaeger, a drafted catcher from Lake Henry.
Regal scored one run in the bottom of the fourth inning when Randy Beier singled, stole second, went to third on a single by Dave Zaeska, and scored on a single by Mike Tangen.
Richmond came within one run with two runs in the top of the fifth inning with a bases loaded walk and a sacrifice fly. Regal still had a 5-4 lead.
In the bottom of the fifth, Regal also managed two runs. Jeff Deming walked and scored on a home run by Chad Hess.
Regal added a single run in the sixth inning on a home run by Mike Beier. This made the score 8-4 in Regalís favor.
Regal added three more runs in the eighth inning. Mike Tangen led off with a double and with one out, Tim Haines hit a two-run home run. Ron Fuchs followed with a solo home run. This made the final score, Regal 11- Richmond 4.
Ryan Spanier started for Regal and was relieved by Mike Beier in the fifth inning who got the win. Beier is undefeated for the season with an 12-0 record. Roger Wuertz, a draftee from Lake Henry, took the loss for Richmond.
Leading hitters for Regal were: Mike Beier, 2-5 with a home run and an RBI; Tim Haines, 2-4 with a double, a home run, and two RBIs; Ron Fuchs, 2-5 with a solo home run and two RBIs; Chad Hess, 2-5 with a home run and three RBIs; Dave Zaeska, 2-4; and Mike Tangen, 2-4 with a double and one RBI.

Richmond: 000 220 000- 4 4 2
Regal: 400 121 03x- 11 16 1

Class C State Baseball Tournament
Regal and Richmond start play in the Class C State Baseball Tournament this Friday. The state tournament is being held this year at Delano and Maple Lake.
Richmond, Region 15C runner-up, will meet Jackson on Friday at 5 p.m. in Delano.
As the Region 15C champions, Regalís first opponent in the state tournament will be Windom The game will begin at 7:30 p.m., also in Delano.



---