Skoglund receives Vernice Kampsen award
This article submitted by Aaron Ziemer on 8/11/98.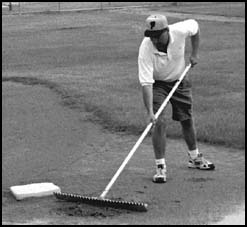 Brad Skoglund, Paynesville, received the Vernice Kampsen award from the County Line League for promoting the game of baseball.

Skoglund, Paynesvilleís high school and Legion baseball coach, has done many things to help the game in the community over the past several years. Skoglund started teaching in Paynesville in 1986.

The award is a traveling award. Skoglund is the 18th person to have his name put on the plaque, and it has room for two more names on it. It is given each year to a new person who has promoted the game of baseball.

ďIt was a very nice honor to have received,Ē said Skoglund. ďI was a little surprised when they announced that I had received the award.Ē

Some of the accomplishments that Skoglund has done with the Paynesville baseball park since he has been here are getting a new electric scoreboard for the field, building a press box and concession stand, painting and making the dugouts larger, and the lights for night games. Skoglund has received word that they will be hosting the Region Legion Baseball Tournament next year.

Skoglund has coached some very successful teams since he has been in Paynesville, including the Legion team that finished third in the state in 1997.

Skoglund believes that by keeping the ball park looking nice, he is giving a good impression of Paynesville to the people and fans who come in to play and watch the games here.

ďI love the game and doing this gives back to the kids and community,Ē said Skoglund. ďBy doing this I am giving something back to the game and giving other people opportunities.Ē

He would like to thank his wife and family for their support.

---